KKR makes $12 billion approach to take Telecom Italia private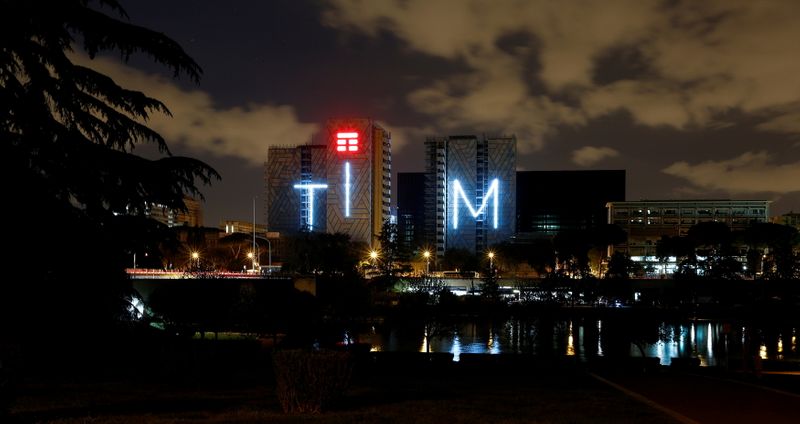 © Reuters. FILE PHOTO: Telecom Italia's logo for the TIM brand is seen on a building in Rome, Italy, April 9, 2016. REUTERS/Alessandro Bianchi/File Photo
By Elvira Pollina, Valentina Za and Pamela Barbaglia
MILAN (Reuters) – Telecom Italia (MI:) (TIM) said on Sunday it had received a 10.8 billion euros ($12 billion) approach from U.S. fund KKR aimed at taking Italy's biggest phone group private.
KKR's move comes as TIM's CEO Luigi Gubitosi battles for survival after coming under fire from top investor Vivendi (OTC:) following two profit warnings in three months.
TIM said KKR had set an indicative price of 0.505 euros for its possible buyout offer — a 45.7% premium to the ordinary shares' closing price on Friday. KKR would also offer the same price for TIM's savings shares.
The TIM board, chaired by former Bank of Italy official Salvatore Rossi, met for several hours on Sunday afternoon but in a short statement it gave no indication of whether it would support the approach. It noted that KKR had termed its action as "friendly" and aimed at winning the backing of the company.
Vivendi, which is pushing to replace Gubitosi, believes KKR's offer does not adequately value TIM, a person close the French media group said. Vivendi faces a steep capital loss on its 24% TIM stake for which it has spent on average 1.071 euros a share.
A new owner would also have to assume the group's 29 billion euro gross debt.
The government, which is preparing to tap billions of euros of European Union recovery funds to boost broadband connectivity in Italy, is aware of the need to find a way to shore up the former telecoms monopoly and protect its 42,500 domestic workers, sources have said.
KKR'S CURRENT ROLE
Gubitosi brought KKR onboard last year in a 1.8 billion euro deal that handed the New York-based fund a 37.5% stake in FiberCop, the unit holding TIM's last-mile network connecting street cabinets to people's homes.
Vivendi sees Gubitosi as a short-term solution for TIM, people close to the matter have said. One person said on Sunday KKR's plan may buy Gubitosi a few more months.
TIM's fixed line business is its most prized asset and is deemed strategic by Rome which can block any unwanted moves.
Unable to stem TIM's revenue haemorrhage, Gubitosi has started looking at ways to squeeze money out of TIM's assets, revisiting in particular a plan to merge TIM's fixed-line grid with that of fibre optic rival Open Fiber.
Sponsored by the previous government, that project had run aground under Prime Minister Mario Draghi.
KKR's plan would see TIM carve out its fixed network to be run as a government-regulated asset along the model used by energy grid company Terna or gas grid firm Snam, two sources close to the matter said earlier on Sunday.
Separately private equity firms CVC and Advent have studied possible plans for TIM, working with former TIM CEO Marco Patuano, now a senior adviser to Nomura in Italy.
A spokesperson for the two funds said they were open to working with all stakeholders on a solution to strengthen TIM, denying any contacts with Vivendi.
A spokesperson for Vivendi said the French media group remained ready to work alongside Italy's authorities and institutions for TIM's long-term success.
Vivendi had wanted TIM to retain control of the combined network assets in any Open Fiber deal.
However, ceding control increasingly appears as the only way to overcome political and regulatory opposition to the single network plan.
TAKEOVER SHIELD
To oversee a strategic asset such as TIM's fixed line, state investor CDP has taken a 9.8% stake becoming the group's second-largest investor after Vivendi.
KKR's plan can only proceed with the government's assent because Rome has special anti-takeover powers to shield companies deemed of strategic importance from foreign bids.
TIM's fixed network is also a key asset supporting the debt burden which was cut further below the investment grade level by credit rating agency S&P on Friday.
TIM's revenue have shrunk by a fifth over the past five years hit by aggressive competition at home from rivals such as Iliad, Vodafone (NASDAQ:), Wind Tre and Fastweb.
European stock indices are falling following Asian stock markets on Monday
Major European stock indices are falling under pressure from Asian markets, according to trading data and analyst commentary.
The British FTSE 100 index is down 0.71% to 7431.66 points, French CAC 40 is down 0.64% to 6667.31 points and German DAX is down 0.58% to 14456.82 points.
Why are European stock indices down? 
On Monday, investors' attention was turned to the situation around the coronavirus in China. The country has seen a record surge in cases of coronavirus for several days in a row, and authorities have imposed a lot of new anti-coviral restrictions. As a result, Shanghai residents demonstrated on Sunday against the restrictions imposed by the authorities.
Against this backdrop, Asia-Pacific stock indexes ended Monday's trading in the negative, which had an impact on the mood of traders in Europe.
"China will be the main driver today because any political instability in the country is a source of uncertainty and anxiety for markets," Jaime Espejo, an equity fund manager at Imantia Capital in Madrid, told Bloomberg.
One of the main events for investors in Europe this week will be the statistical data on consumer prices in the euro area. Analysts think that, according to preliminary estimations, annual inflation slowed down to 10.4% from 10.6% in October.
Earlier we reported that the U.S. had banned imports of equipment by Huawei and several other companies from China.
Huawei is banned in the US: the US has banned the import of equipment from Huawei and several other companies from China
Huawei is banned in the US. The Federal Communications Commission for the first time recognized products of a lot of Chinese companies banned for import and sale because of national security risks. Commission member Carr said that China threatens U.S. interests through espionage.
Telecommunications and surveillance equipment manufactured by Huawei, ZTE, Hytera and several other Chinese companies are banned from importation and sale in the United States because of "unacceptable risks" to national security. This was announced by the Federal Communications Commission (FCC) on its website.
Huawei banned in the U.S. – what is banned?
The products of the subsidiaries and affiliates mentioned in the list of companies fall under the ban. Brendan Carr, a member of the Federal Communications Commission, called the decision unprecedented and unanimously adopted with the support of both parties in Congress. This is the first time in the history of the agency, he noted, that the distribution of communications and electronic equipment has been banned because of national security reasons.
Carr pointed out that "Communist China and other malevolent actors" are too eager to use loopholes in U.S. electronic systems to obtain sensitive information, they are trying to "compromise American interests through espionage, intellectual property theft, blackmail, foreign influence campaigns and other nefarious activities."
Two years ago, the commission had already banned using government subsidies to buy equipment from Huawei and other Chinese companies, he recalled, and as a result many operators had refused to cooperate with such firms. But that decision left a loophole for buying equipment with private funds, and it's time to close it, Carr said.
Huawei was put on U.S. sanctions lists more than three years ago, in May 2019. Washington accused the company of industrial espionage, stealing technology and threatening the U.S. economy. In February 2020, The Wall Street Journal, citing statements from U.S. officials, reported that Huawei had covert access to cell phone networks around the world.
The CIA believes Huawei was funded by Chinese intelligence, the Chinese Armed Forces and the Republic's National Security Central Committee, sources told The Times. At the same time, the FBI believes that Huawei equipment installed on cellular towers near US military bases can jam and intercept Defense Department communications, including those used by the US Strategic Command, which is responsible for nuclear weapons.
Earlier, we reported that Bloomberg named the most profitable stock market in 2022.
What is the most profitable stock market? Bloomberg called it the most profitable stock market in 2022
What is the most profitable stock market? The stock market of Turkey, which is the most profitable stock market in the world, has become the growth leader this year, ahead of U.S., European and Asian platforms, Bloomberg wrote. The benchmark index Borsa Istanbul 100 (BIST 100) since the beginning of the year rose 78% in dollar terms.
In lira terms, the index, which includes shares of the 100 largest Turkish companies listed on the Istanbul Stock Exchange, has risen by more than 150% since January. This was the best result since 1999, the publication calculated. Most European financial markets have shown negative dynamics this year.
What is the most profitable stock market?
Turkey's stock market hit an all-time high in November 2022 as private investors invested in Turkish assets to protect against high inflation. The Borsa Istanbul 100 index rose to a new record high of 4,784 points in trading on Nov. 16. During trading on Tuesday, Nov. 22, the BIST 100 index gained 3.6 percent to trade at 4,734 points.
Domestic investors are investing in stocks as Turkey's central bank pursues a policy of lowering interest rates to spur economic growth, even as the country's inflation rate exceeds 80 percent. Despite high inflation, the country's regulator has conducted monetary policy easing cycles in 2021, which goes against current monetary policy. The rate cut has helped weaken the Turkish lira and turned equities into one of the few income-generating havens for investors.
Inflation in Turkey surpassed 85% in October for the first time in 25 years, and while the country's central bank predicts it could fall to 65.2% by year's end, price growth remains among the highest in the world.
Stocks have become favorites of Turkish investors. The number of stock trading accounts opened by private investors rose 32% this year to 3.1 million as of Nov. 18, according to Turkey's Central Securities Depository.
According to Evren Kirikoglu, founder of Istanbul-based Sardis Research Consultancy, Turkish stocks are likely to remain attractive to investors for at least the first half of next year, even as inflation in the country begins to decline.
Earlier we reported that the U.S. stock market was up more than 1% for the day.