Lyft reports an adjusted profit as riders, drivers return; shares jump
By Tina Bellon and Nivedita Balu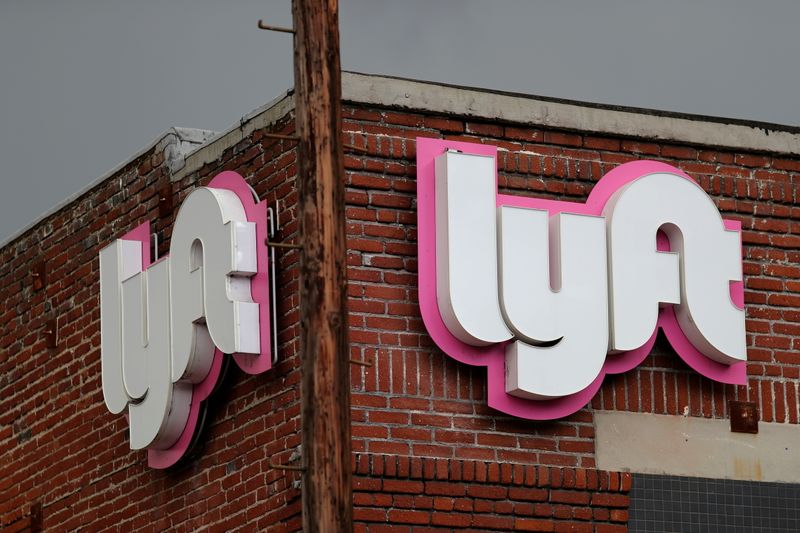 © Reuters. FILE PHOTO: The Lyft Driver Hub is seen in Los Angeles, California, U.S., March 20, 2019. REUTERS/Lucy Nicholson/File Photo
By Tina Bellon and Nivedita Balu
NEW YORK (Reuters) -Lyft Inc on Tuesday reported an adjusted profit for the third quarter as a bruising year of pandemic-related cost cuts paid off and more drivers and riders returned to the company's now leaner ride-hailing platform.
Shares rose 12.5% in extended trading after closing the regular session down 2.3%.
The Uber Technologies (NYSE:) Inc rival said consumers were traveling again after being homebound for more than a year in a sign of a broader U.S. economic recovery.
Rides to airports, which are among the most profitable routes, tripled from a year ago, Lyft (NASDAQ:) President John Zimmer told Reuters. Active riders overall rose 11% to 18.9 million in the quarter ended Sept. 30.
According to the California-based company's own measure, Lyft was profitable for the second time in its nine-year history.
Lyft reported adjusted earnings before interest, taxes, depreciation and amortization, a measure that excludes one-time costs, primarily stock-based compensation, of $67.3 million. The metric came in significantly ahead of a Wall Street estimate for $30.7 million, according to Refinitiv data.
Overall, Lyft's third-quarter revenue rose about 73% on a yearly basis to $864.4 million, beating the Wall Street estimate of $862.68 million, according to Refinitv IBES data.
Revenue increased around 13% from last quarter, while total costs and expenses grew only 4% from the second quarter in a sign that Lyft is making do on its promise to cut both fixed and variable costs. Lyft's contribution margin, indicating the company's profitability excluding variable costs, rose to a record 59.4%.
Lyft's net loss narrowed to $71.5 million, or 21 cents per share, from $459.5 million, or $1.46 per share last year, but Zimmer declined to say whether or when the company would target net profit.
The company posted surprise adjusted earnings per share of 5 cents in the quarter compared with a loss of 3 cents expected by Wall Street.
Uber, which will report results on Thursday after the bell, at the end of September said it expected adjusted EBITDA to break even in the third quarter for the first time.
Lyft said driver supply was up 45% compared with last year, but did not share how far off driver numbers remained from pre-pandemic levels.
Zimmer said in an interview with Reuters that drivers were feeling safer thanks to the availability of COVID-19 vaccines and were returning to the road in greater numbers after enhanced federal unemployment payments ended in September.
"We're seeing the right things happening in the market and will begin to taper incentives in the quarter ahead," he said.
Lyft and Uber have been spending heavily to lure drivers with big incentives as the pandemic opened up new jobs at Amazon.com Inc (NASDAQ:)'s warehouses, Instacart's grocery services and restaurant deliveries.
But Zimmer said most ride-hail drivers worked on the platform part-time as a way to supplement income from other jobs, enjoying the flexibility provided by gig work.
"I feel very good about the supply conditions, and our ability to compete in the marketplace for talent, given the type of work and earnings that we offer," he said.
European stock indices are falling following Asian stock markets on Monday
Major European stock indices are falling under pressure from Asian markets, according to trading data and analyst commentary.
The British FTSE 100 index is down 0.71% to 7431.66 points, French CAC 40 is down 0.64% to 6667.31 points and German DAX is down 0.58% to 14456.82 points.
Why are European stock indices down? 
On Monday, investors' attention was turned to the situation around the coronavirus in China. The country has seen a record surge in cases of coronavirus for several days in a row, and authorities have imposed a lot of new anti-coviral restrictions. As a result, Shanghai residents demonstrated on Sunday against the restrictions imposed by the authorities.
Against this backdrop, Asia-Pacific stock indexes ended Monday's trading in the negative, which had an impact on the mood of traders in Europe.
"China will be the main driver today because any political instability in the country is a source of uncertainty and anxiety for markets," Jaime Espejo, an equity fund manager at Imantia Capital in Madrid, told Bloomberg.
One of the main events for investors in Europe this week will be the statistical data on consumer prices in the euro area. Analysts think that, according to preliminary estimations, annual inflation slowed down to 10.4% from 10.6% in October.
Earlier we reported that the U.S. had banned imports of equipment by Huawei and several other companies from China.
Huawei is banned in the US: the US has banned the import of equipment from Huawei and several other companies from China
Huawei is banned in the US. The Federal Communications Commission for the first time recognized products of a lot of Chinese companies banned for import and sale because of national security risks. Commission member Carr said that China threatens U.S. interests through espionage.
Telecommunications and surveillance equipment manufactured by Huawei, ZTE, Hytera and several other Chinese companies are banned from importation and sale in the United States because of "unacceptable risks" to national security. This was announced by the Federal Communications Commission (FCC) on its website.
Huawei banned in the U.S. – what is banned?
The products of the subsidiaries and affiliates mentioned in the list of companies fall under the ban. Brendan Carr, a member of the Federal Communications Commission, called the decision unprecedented and unanimously adopted with the support of both parties in Congress. This is the first time in the history of the agency, he noted, that the distribution of communications and electronic equipment has been banned because of national security reasons.
Carr pointed out that "Communist China and other malevolent actors" are too eager to use loopholes in U.S. electronic systems to obtain sensitive information, they are trying to "compromise American interests through espionage, intellectual property theft, blackmail, foreign influence campaigns and other nefarious activities."
Two years ago, the commission had already banned using government subsidies to buy equipment from Huawei and other Chinese companies, he recalled, and as a result many operators had refused to cooperate with such firms. But that decision left a loophole for buying equipment with private funds, and it's time to close it, Carr said.
Huawei was put on U.S. sanctions lists more than three years ago, in May 2019. Washington accused the company of industrial espionage, stealing technology and threatening the U.S. economy. In February 2020, The Wall Street Journal, citing statements from U.S. officials, reported that Huawei had covert access to cell phone networks around the world.
The CIA believes Huawei was funded by Chinese intelligence, the Chinese Armed Forces and the Republic's National Security Central Committee, sources told The Times. At the same time, the FBI believes that Huawei equipment installed on cellular towers near US military bases can jam and intercept Defense Department communications, including those used by the US Strategic Command, which is responsible for nuclear weapons.
Earlier, we reported that Bloomberg named the most profitable stock market in 2022.
What is the most profitable stock market? Bloomberg called it the most profitable stock market in 2022
What is the most profitable stock market? The stock market of Turkey, which is the most profitable stock market in the world, has become the growth leader this year, ahead of U.S., European and Asian platforms, Bloomberg wrote. The benchmark index Borsa Istanbul 100 (BIST 100) since the beginning of the year rose 78% in dollar terms.
In lira terms, the index, which includes shares of the 100 largest Turkish companies listed on the Istanbul Stock Exchange, has risen by more than 150% since January. This was the best result since 1999, the publication calculated. Most European financial markets have shown negative dynamics this year.
What is the most profitable stock market?
Turkey's stock market hit an all-time high in November 2022 as private investors invested in Turkish assets to protect against high inflation. The Borsa Istanbul 100 index rose to a new record high of 4,784 points in trading on Nov. 16. During trading on Tuesday, Nov. 22, the BIST 100 index gained 3.6 percent to trade at 4,734 points.
Domestic investors are investing in stocks as Turkey's central bank pursues a policy of lowering interest rates to spur economic growth, even as the country's inflation rate exceeds 80 percent. Despite high inflation, the country's regulator has conducted monetary policy easing cycles in 2021, which goes against current monetary policy. The rate cut has helped weaken the Turkish lira and turned equities into one of the few income-generating havens for investors.
Inflation in Turkey surpassed 85% in October for the first time in 25 years, and while the country's central bank predicts it could fall to 65.2% by year's end, price growth remains among the highest in the world.
Stocks have become favorites of Turkish investors. The number of stock trading accounts opened by private investors rose 32% this year to 3.1 million as of Nov. 18, according to Turkey's Central Securities Depository.
According to Evren Kirikoglu, founder of Istanbul-based Sardis Research Consultancy, Turkish stocks are likely to remain attractive to investors for at least the first half of next year, even as inflation in the country begins to decline.
Earlier we reported that the U.S. stock market was up more than 1% for the day.