Move to hinterland triggers brain drain at Korea's mega pension fund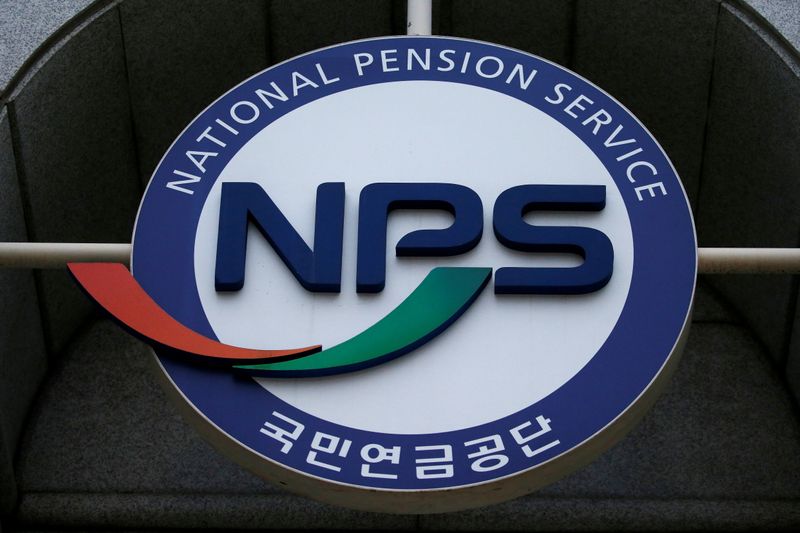 © Reuters. FILE PHOTO: The logo of National Pension Service (NPS) is seen at its branch office in Seoul, South Korea, November 4, 2016. REUTERS/Kim Hong-Ji
By Cynthia Kim, Jihoon Lee and Yena Park
SEOUL (Reuters) – Earlier this year, Lee left her fund management job at South Korea's national pension fund, the world's third-largest, fed up with long commutes between her home in Seoul and her office in Jeonju, 200 kilometers away.
For four years, Lee lived in a studio apartment in Jeonju, a city of 658,000, on weekdays, and traveled back to Seoul for the weekend. She feared her family would break up if she didn't make the hard decision to quit.
Lee is one of some 140 money managers who has left the 930.5 trillion won ($788 billion) National Pension Service since 2016, shortly before it moved to Jeonju, a sleepy provincial capital, as part of the government's relocation of major agencies away from the capital Seoul.
That is almost half the 320 currently working at the fund's investment arm, an alarming brain drain for the main public retirement plan of Asia's fourth-largest economy and a major investor in Korean blue-chips such as Samsung Electronics (OTC:) and Hyundai Motor Co..
"Staying in Jeonju for the weekdays, I felt I was missing out on so much of my life, I couldn't stand it anymore and decided to head up to Seoul," said Lee, who now works for an asset manager based in Seoul's financial district and agreed to be identified only by her surname.
With assets valued at nearly half the nation's gross domestic product, the NPS manages pensions for private sector workers and self-employed South Koreans.
A massive wave of retirements due in coming years in the world's fastest aging society has raised the stakes for management at the fund.
Over the past five years, however, the NPS has only filled 57% of jobs it opened.
An NPS official said that partly reflects the greater number of openings as the fund grows investments but acknowledged the issues around the relocation.
"Although it has stabilised a lot compared to before our relocation to Jeonju, the issue regarding manpower seems to have re-emerged because we recently increased job openings in a large scale which seemingly pushed up the relative vacancy rate," the official told Reuters in response to queries.
"As our overseas investment expands, so are opportunities to work abroad, and efforts are being made to motivate talent to stay in service by improving working conditions, and we also have talent development programmes."
To plug staff shortages, it removed the mandatory one-year work experience requirement for the first time from its job postings in September and began offering opportunities to work abroad, even to domestic equity fund managers.
The NPS's annualised investment return for 2020 was 9.7%, below 25.15% for Japan's GPIF in fiscal 2020 and 20.4% at Canada Pension Plan Investment Board.
That partly reflects the more conservative nature of its investments, fund managers say, which also means it is less exposed during downturns.
However, the NPS now plans to expand its overseas investment allocations to 50% by 2024 from 34% in 2019.
It has 30 staff across branches in New York, London and Singapore as of 2020, far fewer than the 351 staff at Canada's CPPIB and 252 at Norway's NBIM in their various overseas offices, 2020 data from the NPS shows.
More ambitious returns would demand a deeper pool of investment talent, which has become harder to attract and retain since the relocation in 2017.
"When I was a manager there about eight to 10 applicants used to compete for one fund manager position, after we screened out inexperienced ones, and that's when the fund's pay level was even lower," said Hong Chun-uk, who resigned from a senior fund manager position at the NPS in 2015.
He left the fund after it announced its relocation and has since become an economist at Seoul-based brokerage.
BIG MONEY, SMALL TOWN
The NPS is one of about 150 state agencies and public corporations that have moved out of Seoul since 2005, with another batch of about 100 institutions, including part of the National Assembly, also planned for relocation.
The major shift was part of a government plan to decentralise economic and political power away from Seoul, ease congestion in the capital and develop regional cities.
The struggle to fill roles at the fund has fueled debate over the merits of relocating crucial public institutions.
Two fund managers who left the NPS said the brain drain issue hasn't adversely affected the fund's performance yet but pension experts say it will.
"In Korea, there's strong preference to live in the capital Seoul, among families, for schools and lifestyle," Yun Suk-myung, head of the Korean Pension Association said. "Obviously the political push ignored that and having inexperienced, incompetent fundies will eventually hurt its investment returns."
For many fund managers used to a certain standard of urban living, Jeonju has its limitations.
"There is one popular restaurant I went to often and I used to meet my boss and folks from other teams all there," Lee said. "Everyone at the NPS kind of expects colleagues to be around the town."
European stock markets mostly closed lower
In yesterday's trading, most European stock markets declined after the release of statistical data, which showed a decline in business activity in the region for the fifth month in a row.
The composite index of the largest companies in the region, Stoxx Europe 600, by market close fell by 0.3% to 441.47 points. Germany's Dax Index fell by 0.56%; France's CAC 40 – by 0.67%; Italy's FTSE MIB – by 0.3% and Spain's IBEX 35 – by 0.15%. Meanwhile, the British FTSE 100 added 0.15%, thanks to growth in shares of some major companies. 
Why are European stock markets falling?
According to final data, the composite purchasing managers' index (PMI) of the euro area, calculated by S & P Global, in November rose to 47.8 points from 47.3 points a month earlier. The dynamics of the indicator coincided with the preliminary estimate and with the expectations of analysts.
The indicator value below 50 points indicates a reduction in business activity in the sector. The index has remained below that mark for five consecutive months amid an energy and geopolitical crisis in Europe, the acceleration of inflation and rising interest rates, says Trading Economics.
PMI in the euro area services sector in November was 48.5 points, down 0.1 points compared with October. Preliminary data indicated that the indicator remained at the October level of 48.6 points.
Retail sales in the euro area fell 1.8 percent in October compared with the previous month, according to a report from the European Union Statistics Office (Eurostat). Analysts polled by Bloomberg expected on average a decline of 1.7 percent.
Sales of food, beverages and tobacco products in the currency bloc fell 1.5% in October compared with the previous month, with non-food products down 2.1%. Motor fuel sales increased by 0.3%.
Meanwhile, some support to the European market was provided by news about the relaxation of anti-coronavirus restrictions in several major cities in China.
The attention of market participants is gradually shifting to the last meetings of the US Federal Reserve System (Fed) and the European Central Bank (ECB) this year, which will be held next week.
The consensus is that both the U.S. and European Central Banks will slow the pace of key interest rate hikes to 50 basis points. The Fed has raised the rate by 75 bps at the previous four meetings, while the ECB has raised the rate at two meetings.
Earlier we reported that the main European stock indices fell during the trading on December 3.
Stats had a positive effect on the European stock market. European growth stocks
West European stock indexes closed Wednesday's trading with a confident growth. Traders evaluated the fresh batch of statistics and bought European growth stocks.
What influenced European stocks to high growth?
GDP volume in France rose 0.2% in the third quarter compared to the previous three months, final data from the national statistics institute Insee showed. The final data coincided with a preliminary estimate. Analysts, on average, had not expected a revision, according to a Trading Economics survey. GDP growth slowed from a 0.5% rebound in the second quarter.
Consumer prices in France, harmonized with European Union standards, rose 7.1% year-over-year in November. Insee also reported. The November rate of increase in consumer prices coincided with that of October, and analysts polled by Trading Economics expected inflation to remain at the same level.
Consumer spending in the country collapsed by 2.8% in October compared with the previous month. Analysts polled by Bloomberg expected a more moderate decline of 1 percent. The consensus forecast of experts polled by Trading Economics envisioned a 0.6% decline. The decrease in consumer spending was the maximum since April 2021.
The number of unemployed in Germany increased by 17 thousand in November, according to the Federal Employment Agency of Germany. The rise in the index was marked at the end of the sixth month in a row. Experts interviewed by Bloomberg agency, on average, predicted an increase of 13.5 thousand. Respondents to Trading Economics expected an increase of 13 thousand.
Additional positives for investors in European markets on Wednesday were messages about easing of coronavirus restrictions in a lot of cities in China. Note that Amazon's stock price is also rising if you are interested in the U.S. stock market.
Earlier, we reported that U.S. stock indices were up 2.2-4.4%.
U.S. stock indices today rose 2.2-4.4%
The U.S. stock indices today closed the trading on Wednesday with the confident growth due to the statements of the Federal Reserve Chairman, Jerome Powell, who confirmed that the U.S. Central Bank could slow down the basic rate rise as early as in December.
Judging by the quotations of futures on the level of the prime rate, U.S. stock market indices expect the Federal Reserve to raise it by 50 basis points (bps) in December – to 4.25-4.5%. The U.S. Central Bank has increased the rate by 75 bps at each of the previous four meetings. Against this background, the current stock price of Facebook also rose.
The report by the industry organization ADP, published on Wednesday, showed a slowdown in job growth in the U.S. private sector. Their number increased by 127,000 in November, the lowest rate since January, said the ADP. Analysts polled by The Wall Street Journal on average had forecast job growth of 190,000 after a jump of 239,000 in October.
Data from the U.S. Commerce Department, also released Nov. 30, showed higher-than-reported growth in the U.S. economy in the third quarter. U.S. GDP grew at an annualized rate of 2.9% in the July-September quarter, rather than the previously reported 2.6%. Experts polled by Trading Economics had expected an average revision of 2.7%.
Also, the Federal Reserve released its regional Beige Book survey Wednesday, showing that economic activity in the United States was little changed in the fall.
Federal Reserve banks in five counties reported a weak increase in activity in October and November, while the other seven reported a stable or slightly declining economy.
The Dow Jones Industrial Average index was up 737.24 points (2.18%) at 34589.77 as of Wednesday's market close.

Standard & Poor's 500 rose 122.48 points (3.09%) to 4,080.11 points.

The Nasdaq Composite added 484.22 points (4.41%) to 1,468.
All three U.S. stock market indices closed November, with the Dow Jones gaining 5.3%; the S&P 500 gaining 4.6%, and the Nasdaq Composite gaining 3.3%.
Earlier we reported that Main European stock indices were rising during trading.