NASA launches revolutionary space telescope to give glimpse of early universe
5/5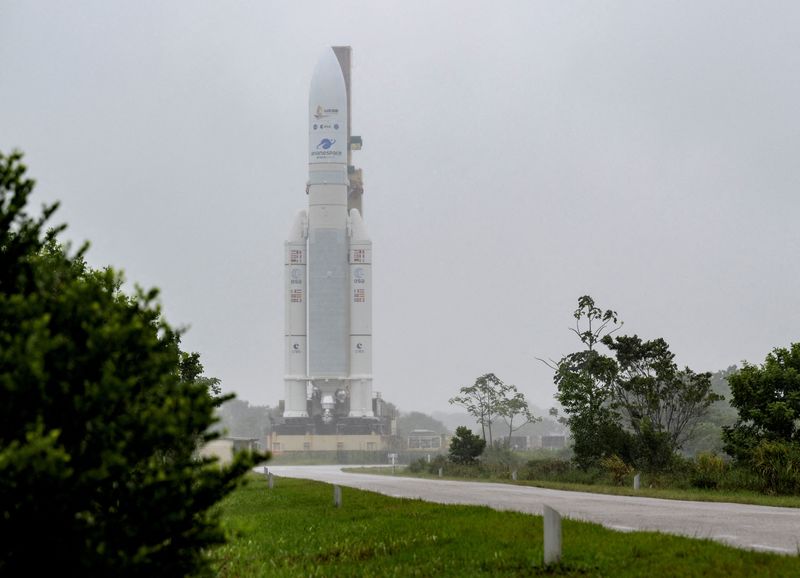 © Reuters. Arianespace's Ariane 5 rocket, with NASA's James Webb Space Telescope onboard, is rolled out to the launch pad at Europe's Spaceport, the Guiana Space Center in Kourou, French Guiana December 23, 2021. Picture taken December 23, 2021. NASA/Bill Ingalls
2/5
By Steve Gorman
(Reuters) -NASA's James Webb Space Telescope, built to give the world its first glimpse of the universe as it existed when the earliest galaxies formed, was launched by rocket early Saturday from the northeastern coast of South America, opening a new era of astronomy.
The revolutionary $9 billion infrared telescope https://graphics.reuters.com/SPACE-EXPLORATION/TELESCOPE/klvyknwbrvg, described by NASA as the premiere space-science observatory of the next decade, was carried aloft inside the cargo bay of an Ariane 5 rocket that blasted off at about 7:20 a.m. EST (1220 GMT) from the European Space Agency's (ESA) launch base in French Guiana.
The flawless Christmas Day launch, with a countdown conducted in French, was carried live on a joint NASA-ESA webcast. The liftoff capped a project decades in the making, coming to fruition after years of repeated delays and cost over-runs.
"From a tropical rain forest to the edge of time itself, James Webb begins a voyage back to the birth of the universe," a NASA commentator said as the two-stage launch vehicle, fitted with double solid-rocket boosters, roared off its launch pad into cloudy skies.
After a 27-minute, hypersonic ride into space, the 14,000-pound instrument was released from the upper stage of the French-built rocket about 865 miles above the Earth, and should gradually unfurl to nearly the size of a tennis court over the next 13 days as it sails onward on its own.
Live video captured by a camera mounted on the rocket's upper stage showed the Webb gliding gently away after it was jettisoned, drawing cheers and applause from jubilant flight engineers in the mission control center.
Flight controllers confirmed moments later, as the Webb's solar-energy array was deployed, that its power supply was working.
Coasting through space for two more weeks, the Webb telescope will reach its destination in solar orbit 1 million miles from Earth – about four times farther away than the moon. And Webb's special orbital path will keep it in constant alignment with the Earth as the planet and telescope circle the sun in tandem.
By comparison, Webb's 30-year-old predecessor, the Hubble Space Telescope, orbits the Earth from 340 miles away, passing in and out of the planet's shadow every 90 minutes.
Named after the man who oversaw NASA through most of its formative decade of the 1960s, Webb is about 100 times more sensitive than Hubble and is expected to transform scientists' understanding of the universe and our place in it.
NASA Administrator Bill Nelson, striking a spiritual tone as he addressed the launch webcast by video link, quoted the Bible and hailed the new telescope as a "time machine" that will "capture the light from the very beginning of the creation."
COSMOLOGICAL HISTORY LESSON
Webb mainly will view the cosmos in the infrared spectrum, allowing it to peer through clouds of gas and dust where stars are being born, while Hubble has operated primarily at optical and ultraviolet wavelengths.
The new telescope's primary mirror – consisting of 18 hexagonal segments of gold-coated beryllium metal – also has a much bigger light-collecting area, enabling it to observe objects at greater distances, thus farther back into time, than Hubble or any other telescope.
That, astronomers say, will bring into view a glimpse of the cosmos never previously seen – dating to just 100 million years after the Big Bang, the theoretical flashpoint that set in motion the expansion of the observable universe an estimated 13.8 billion years ago.
Hubble's view reached back to roughly 400 million years following the Big Bang, a period just after the very first galaxies – sprawling clusters of stars, gases and other interstellar matter – are believed to have taken shape.
While Hubble caught glimmers of "toddler" galaxies, Webb will reveal those objects in greater detail while also capturing even fainter, earlier "infant" galaxies, astrophysicist Eric Smith, NASA's Webb program scientist, told Reuters hours before the launch.
Aside from examining the formation of the earliest stars and galaxies, astronomers are eager to study super-massive black holes believed to occupy the centers of distant galaxies.
Webb's instruments also make it ideal to search for evidence of potentially life-supporting atmospheres around scores of newly documented exoplanets – celestial bodies orbiting distant stars – and to observe worlds much closer to home, such as Mars and Saturn's icy moon Titan.
The telescope is an international collaboration led by NASA in partnership with the European and Canadian space agencies. Northrop Grumman Corp (NYSE:) was the primary contractor. The Arianespace launch vehicle is part of the European contribution.
"The world gave us this telescope, and we handed it back to the world today," Gregory Robinson, Webb program director for NASA told reporters at a post-launch briefing.
Webb was developed at a cost of $8.8 billion, with operational expenses projected to bring its total price tag https://www.reuters.com/article/us-usa-nasa-telescope/northrop-ceo-grilled-by-u-s-lawmakers-over-space-telescope-idUSKBN1KG2US to about $9.66 billion, far higher than planned when NASA was previously aiming for a 2011 launch.
Astronomical operation of the telescope, to be managed from the Space Telescope Science Institute in Baltimore, is expected to begin in the summer of 2022, following about six months of alignment and calibration of Webb's mirrors and instruments.
It is then that NASA expects to release the initial batch of images captured by Webb. Webb is designed to last up to 10 years.
Singapore Airlines sees no big growth risk from Boeing 777X delays
© Reuters. FILE PHOTO: A woman walks past a Singapore Airlines (SIA) logo at a ticketing booth at Changi airport in Singapore May 14, 2013. REUTERS/Edgar Su
(Reuters) -Singapore Airlines Ltd (SIA) does not expect its growth plans to take a major hit because Boeing (NYSE:BA) Co pushed back the date for delivery of its first 777X planes, the carrier's chief executive said on Thursday.
Last month, Boeing confirmed a delay to 2025 in handing customers the first 777X jet from a prior target of late in 2023, but said it retained confidence in the programme.
Before the delays, SIA had expected to receive by the end of 2023 the first of the 31 777X planes it has on order, Chief Executive Goh Choon Phong told analysts and media.
"At the moment I don't think that our growth plan will be severely hampered," he said.
"We do have some flexibility in terms of making up for any potential loss of capacity," he said, referring to the airline's fleet plan.
The comments came after the carrier posted on Wednesday a narrower annual loss of S$962 million ($693.63 million) for the 12 months ended March 31, including second-half operating profit of S$10 million as border curbs eased and passenger numbers rose.
SIA said passenger capacity would average about 61% of pre-pandemic levels in the first quarter and 67% in the second quarter of the current financial year.
($1=S$1.3869)
Guatemalan congress approves $500 million loan from World Bank
GUATEMALA CITY (Reuters) – Guatemala's congress approved on Wednesday a $500 million loan from the World Bank that the government has said will be used to pay down debt, freeing up funds for social spending.
The loan was supported by the government and its allies and passed with 86 votes in the Central American country's 160-seat legislature.
Finance Minister Alvaro Gonzalez Ricci said this month that the "indispensable" loan would save funds that could be used for social spending.
The minister said a 0.75% annual interest rate would save some 1.8 billion quetzales ($233.7 million) over the loan's 13-year period by substituting more expensive treasury bonds.
"It is a rate that is impossible to obtain in international or local financial markets," Gonzalez Ricci said.
In April, Fitch Ratings revised Guatemala's rating outlook from stable to positive, citing its strong economic recovery and fiscal consolidation.
Guatemala reached a deal for the loan in 2020 but the government presented it to congress this year.
General elections are scheduled for next year.
Some critics have said the government should not be taking on the loan amid questions about how the funds will be spent, media has reported.
"Hopefully, the people of Guatemala will raise their voice against this brazenness," opposition lawmaker Samuel Perez said before voting against the loan.
U.S. files third labor complaint in Mexico, on behalf of Panasonic workers
© Reuters. FILE PHOTO: A logo of Panasonic Corp is pictured at the CEATEC JAPAN 2017 (Combined Exhibition of Advanced Technologies) at the Makuhari Messe in Chiba, Japan, October 2, 2017. REUTERS/Toru Hanai
By Daina Beth Solomon
MEXICO CITY (Reuters) -U.S. labor officials asked Mexico on Wednesday to probe whether workers at a Panasonic (OTC:PCRFY) auto parts factory were denied their rights, marking the third U.S. labor complaint under a new trade deal that aims to improve workplace conditions in Mexico.
The request from the U.S. Trade Representative (USTR) follows a petition from a Mexican union asking the U.S. government to probe a Panasonic plant in the northern border city of Reynosa, alleging violations of the 2020 United States-Mexico-Canada Agreement (USMCA).
U.S. Trade Representative Katherine Tai said in a letter to Mexico's Economy Minister Tatiana Clouthier that the agency was concerned workers at Panasonic Automotive Systems de Mexico were being denied rights to free association and collective bargaining, in breach of the USMCA.
Panasonic Corp of North America said it "respects and supports" those rights and that it did not believe they had been denied. The unit of the Japanese conglomerate added it would cooperate with Mexican authorities.
Tai noted that previous USMCA labor complaints – one targeting automaker General Motors (NYSE:GM) and another against auto parts plant Tridonex – led to worker benefits.
The U.S. government reached agreements with both companies without imposing USMCA sanctions, which can include revoking tariff-free status.
"When concerns arise, we will work swiftly to stand up for workers on both sides of the border," Tai said in a statement.
The Mexican government has 10 days to decide whether to conduct a review. The Economy Ministry said it received the U.S. request and would consult with the Labor Ministry before sending a response.
The Mexican union that requested the inquiry, SNITIS, accused Panasonic of signing a union contract behind workers' backs and of firing several dozen employees who protested. Days after submitting the petition last month, SNITIS won a sweeping vote to become the plant's new labor representation.
U.S. Representative Bill Pascrell, a Democrat, called for Panasonic to enter negotiations with SNITIS in good faith, and applauded the USTR complaint.
"Improving labor conditions is absolutely needed to ensure jobs here at home are not being undermined," he said.