NASA's revolutionary new space telescope launched from French Guiana
4/4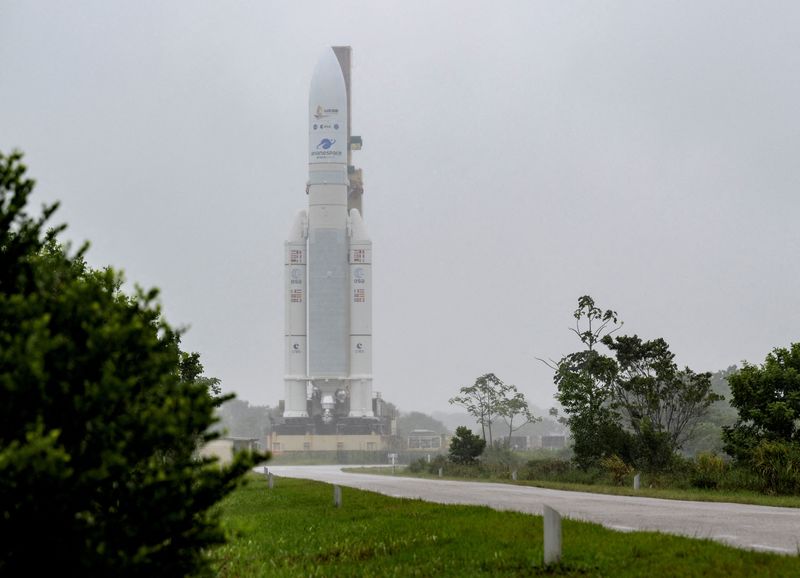 © Reuters. Arianespace's Ariane 5 rocket, with NASA's James Webb Space Telescope onboard, is rolled out to the launch pad at Europe's Spaceport, the Guiana Space Center in Kourou, French Guiana December 23, 2021. Picture taken December 23, 2021. NASA/Bill Ingalls
2/4
By Steve Gorman
(Reuters) -NASA's James Webb Space Telescope, a revolutionary instrument built to peer the farthest yet into the cosmos, was launched by rocket early Saturday from South America's northeastern coast, opening a much anticipated new era of astronomical exploration.
The powerful $9 billion infrared telescope, hailed by NASA as the premiere space-science observatory of the next decade, was carried aloft inside the cargo bay of an Ariane 5 rocket that blasted off at about 7:30 a.m. EST (1230 GMT) from the European Space Agency's (ESA) launch base in French Guiana.
The launch was carried live on a joint NASA-ESA webcast.
If all goes as planned, the 14,000-pound instrument will be released from the French-built rocket after a 26-minute ride into space and gradually unfurl to nearly the size of a tennis court over the next 13 days as it sails onward.
Coasting through space for two more weeks, the Webb telescope will reach its destination in solar orbit 1 million miles from Earth – about four times farther away than the moon. And Webb's special orbital path will keep it in constant alignment with Earth as the planet and telescope circle the sun in tandem.
By comparison, Webb's 30-year-old predecessor, the Hubble Space Telescope, orbits the Earth from 340 miles away, passing in and out of the planet's shadow every 90 minutes.
Named after the man who oversaw NASA through most of its formative decade of the 1960s, Webb is about 100 times more sensitive than Hubble and is expected to transform scientists' understanding of the universe and our place in it.
Webb mainly will view the cosmos in the infrared spectrum, allowing it to peer through clouds of gas and dust where stars are being born, while Hubble has operated primarily at optical and ultraviolet wavelengths.
COSMOLOGICAL HISTORY LESSON
The new telescope's primary mirror – consisting of 18 hexagonal segments of gold-coated beryllium metal – also has a much bigger light-collecting area, enabling it to observe objects at greater distances, thus farther back into time, than Hubble or any other telescope.
That, astronomers say, will bring into view a glimpse of the cosmos never previously seen – dating to just 100 million years after the Big Bang, the theoretical flashpoint that set in motion the expansion of the observable universe an estimated 13.8 billion years ago.
Hubble's view reached back to roughly 400 million years following the Big Bang, revealing objects that Webb will be able to re-examine with far greater clarity.
Aside from examining the formation of the earliest stars in the universe, astronomers are eager to study super-massive black holes believed to occupy the centers of distant galaxies.
Webb's instruments also make it ideal to search for evidence of potentially life-supporting atmospheres around scores of newly documented exoplanets – celestial bodies orbiting distant stars – and to observe worlds much closer to home, such as Mars and Saturn's icy moon Titan.
The telescope is an international collaboration led by NASA in partnership with the European and Canadian space agencies. Northrop Grumman Corp (NYSE:) was the primary contractor. The Arianespace launch vehicle is part of the European contribution.
Webb was developed at a cost of $8.8 billion, with operational expenses projected to bring its total price tag https://www.reuters.com/article/us-usa-nasa-telescope/northrop-ceo-grilled-by-u-s-lawmakers-over-space-telescope-idUSKBN1KG2US to about $9.66 billion, far higher than planned when NASA was previously aiming for a 2011 launch.
Astronomical operation of the telescope, to be managed from the Space Telescope Science Institute in Baltimore, is expected to begin in the summer of 2022, following about six months of alignment and calibration of Webb's mirrors and instruments.
It is then that NASA expects to release the initial batch of images captured by Webb. Webb is designed to last up to 10 years.
Citi promotes Asia-based banker Valderrabano as global wealth COO
© Reuters. FILE PHOTO: The Citigroup Inc (Citi) in Toronto, Ontario, Canada October 19, 2017. Picture taken October 19, 2017. REUTERS/Chris Helgren
By Selena Li
HONG KONG (Reuters) – Citi has appointed Valentin Valderrabano as its new chief operating officer (COO) for Citi Global Wealth, effective in July, according to an internal memo reviewed by Reuters.
Valderrabano, who reports to the bank's global wealth head Jim O'Donnell, was most recently consumer business manager for Citibank Korea with nearly 20 years of experience at the bank.
He will replace Citi's current COO Eduardo Martinez Campos, who will move to lead Citi Wealth Services and Strategic Investments.
The U.S. bank's wealth business brought in $7.5 billion in revenue globally in 2021, running over $800 billion in client assets with more than 3,000 client advisers.
Analysis-Rare double whammy hits investors: steep slumps for both stocks and bonds
© Reuters. FILE PHOTO: A Wall Street sign outside the New York Stock Exchange in New York City, New York, U.S., October 2, 2020. REUTERS/Carlo Allegri/File Photo/File Photo/File Photo
By David Randall and John McCrank
NEW YORK (Reuters) – From meme-stock enthusiasts to retirees, this year's steep dive for both stocks and U.S. Treasury prices has upended portfolios for individual investors who had enjoyed watching their wealth grow during the historic rally in financial assets early in the coronavirus pandemic in 2020.
Wall Street's brutal tumble continued on Wednesday, with the worst one-day loss since June 2020 for the S&P 500 . The benchmark index is now down 17.5% from its peak at the start of the year, erasing $499 billion in market value. At one point the S&P was down nearly 20% and on the cusp of confirming a bear market.
Unlike many past market selloffs, this downturn has also slammed U.S. Treasuries prices, pushing up yields, as the Federal Reserve began to reverse the easy money policies that supported the economy during pandemic lockdowns.
Growing more pessimistic, retail traders sold $87 million in equities on net in the past week up to Tuesday, versus a one-year average of $3.3 billion in net buys, according to a note from JPMorgan (NYSE:JPM).
Normally, Treasuries have been considered among the world's safest investments. But so far in 2022, the ICE (NYSE:ICE) BofA US Treasury Index is down 9.3%, the worst start to the year for Treasuries since 1830 according to Deutsche Bank (ETR:DBKGn). This has slammed investors who counted on the bond market for income and as a buffer against potential stock market losses.
"Most investors have never seen a market environment like this," said Christine Benz, director of personal finance at Morningstar. "It could get worse before it gets better, and that will really test investors' patience."
Many high-flying growth and tech stocks soared during the pandemic, and their steep decline has rattled investors who had bet on them, hoping for the kind of eye-popping rallies seen early last year in GameStop (NYSE:GME) and other so-called meme stocks.
"What I'm seeing is the same thing everyone else is seeing who started 18-to-24 months ago, like, 'oh, look at all of the green, going up, up, up,' and then all of a sudden it's like, 'oh crud, what is happening?'", said Alex Rutfield, 29, an engineer in the Boston suburbs who has invested over $50,000 in stocks and ETFs that include internet and robotics firms. He said the value of his portfolio has fallen back to around even.
DOUBLE WHAMMY
The dual selloffs in stocks and bonds have been particularly difficult on individual investors who counted on a mix of stocks and bonds to blunt declines in their portfolios, with stocks ideally rising amid economic optimism and bonds strengthening during turbulent times.
That strategy does not work when stocks and bonds fall in unison. The BlackRock (NYSE:BLK) 60/40 Target (NYSE:TGT) Allocation fund, which follows a standard portfolio technique of keeping 60% of its assets in equities and 40% in fixed income to limit risk, is down nearly 12% since the start of the year, its worst performance since it launched in 2006.
The bulk of the selling in both stocks and bonds has been coming from wealthier and older investors, who are reducing their overall risk exposure, mainly through the selling of mutual funds, according to data from Vanda (NASDAQ:VNDA) Research.
Bruce Bagley, 69, founder Santa Rosa Uniform & Career Apparel in Santa Rosa, California, said he has held the course so far in his portfolio, which is 55% stocks, 40% bonds, with the rest in cash, even though everything but his REIT investments have been falling.
"Where else are you going to put your money?" he said.
Investors who had large allocations to bonds, which make up some 20% of retirement accounts on average, according to Morningstar, have canceled vacation plans, are eating in more often, and have reconsidered assistance to other family members, said Melanie Nichols, a wealth advisor at WA Asset Management in Birmingham, Alabama.
"When you have one part of a portfolio that is providing all your income and now you see it down 10% that's frightening," she said. "People are not used to those returns because we don't have those returns in the bond market very often."
Other retirees are looking for other sources of income to try to rebuild their nest egg.
"You think you have enough to live off for years and now you don't know if it will come back," said one 73-year old former marketing executive in the Cleveland suburbs who had about 30% of her portfolio in bonds and said she was considering finding part-time work to help preserve her retirement savings.
"Clients who had larger allocations to bonds and who really did not want to experience volatility are feeling this, and it has been very destabilizing for those folks," said John Cunnison, chief investment officer at Baker Boyer in Walla Walla, Washington.
Woodside shareholders approve BHP petroleum merger
© Reuters. FILE PHOTO: The logo for Woodside Petroleum, Australia's top independent oil and gas company, adorns a promotional poster on display at a briefing for investors in Sydney, Australia, May 23, 2018. REUTERS/David Gray/File Photo
By Sonali Paul
BRISBANE (Reuters) -Shareholders in Woodside (OTC:WOPEY) Petroleum approved on Thursday a merger with BHP Group (NYSE:BHP)'s petroleum arm to create a top 10 global independent oil and gas producer worth $40 billion, according to proxy votes shown at the company's annual meeting.
More than 97% of proxy and direct votes received were in favour of the deal.
The merger, agreed last August, advances top global miner BHP's effort to move away from fossil fuels as it looks to decarbonise, while doubling Woodside's oil and gas production and beefing up its funding for growth.
"The merger is an opportunity for Woodside to increase its contribution to the world's growing energy needs and build the scale, resilience and diversity to thrive through the energy transition," Woodside Chief Executive Officer Meg O'Neill told shareholders.
BHP will be paid in Woodside shares, giving BHP investors a 48% stake in the merged group, which will have assets in Australia, the United States, Mexico, Senegal and Trinidad.
Woodside shareholders also approved a change of the company's name to Woodside Energy Group Ltd.