Nasdaq set for record open as economic concerns drive tech gains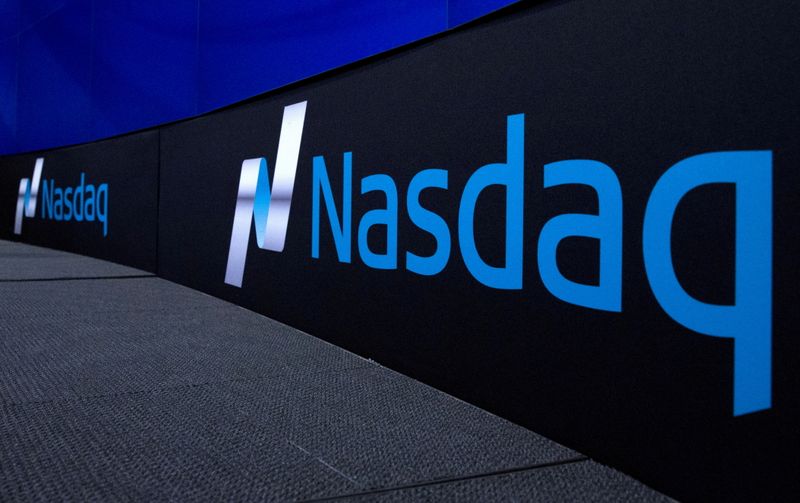 © Reuters. FILE PHOTO: The Nasdaq logo is displayed at the Nasdaq Market site in New York September 2, 2015. REUTERS/Brendan McDermid/File Photo
By Ambar Warrick and Devik Jain
(Reuters) – The Nasdaq was set for a record open on Friday as investors sought sectors less exposed to economic ructions ahead of voting on President Joe Biden's $1.75 trillion spending bill, while rising COVID-19 cases in Europe also dented sentiment.
The and Dow Jones were set to fall tracking losses in banks, airlines and other economically sensitive sectors. Uncertainty over rising inflation and the Federal Reserve's policy tightening also kept demand for cyclical stocks low.
The U.S. House of Representatives early on Friday delayed an anticipated vote on passage of Biden's social programs and climate change investment bill, and reconvened at 8 a.m. EST (1300 GMT) to complete the legislation.
In Europe, rising COVID-19 cases saw Austria outline plans for a full lockdown, while Germany could follow suit amid a new wave of infections.
"There's some pandemic risk. However, I don't believe that the U.S. will head in the direction like Austria headed today. If Germany institutes a full lockdown, that would probably have an impact, again, to the supply chain," said Tom Mantione, managing director, UBS Private Wealth Management in Stamford, Connecticut.
"The biggest risk here to the market is not legislative policy or pandemic… If the Fed chooses to react quickly and aggressively to persistent inflation, then the markets (are) going to have a problem."
Shares of Alphabet (NASDAQ:) Inc, Amazon.com (NASDAQ:) and Microsoft Corp (NASDAQ:) – stocks which have largely persevered through economic shocks since 2020 – rose between 0.3% and 0.7% in premarket trade, while Netflix (NASDAQ:) added more than 1%.
Chipmaker Nvidia (NASDAQ:) also boosted Nasdaq futures, rising 1.3% in heavy trade after posting strong quarterly results late Wednesday.
On the other hand, carriers including Delta Air Lines (NYSE:), United Airlines and American Airlines (NASDAQ:), and cruiseliners Norwegian Cruise Line (NYSE:) and Carnival (NYSE:) Corp fell between 1.4% and 3.3%.
Major oil firms, including Exxon Mobil (NYSE:) and Chevron Corp (NYSE:), slipped 2.4% and 3.3% as crude prices sank, while Wall Street's big banks were down between 1.4% and 2.5%, tracking a fall in U.S. Treasury yields. [O/R][US/]
At 8:35 a.m. ET, were down 230 points, or 0.64%. were down 11.75 points, or 0.25% and were up 67.75 points, or 0.41%.
The S&P 500 and the Nasdaq eked out record highs on Thursday following strong technology and retail earnings. Both indexes were headed for mild weekly gains, while the Dow Jones was set for a second straight week of losses.
Among major premarket movers, Intuit Inc (NASDAQ:) jumped 12.7% as brokerages raised their price targets on the income tax software company after it beat quarterly estimates and raised forecast. The stock was the top S&P 500 gainer in premarket trade.
Applied Materials Inc (NASDAQ:) dropped 6.1% after the chipmaker forecast first-quarter sales and profit below market estimates on supply chain woes.
Stats had a positive effect on the European stock market. European growth stocks
West European stock indexes closed Wednesday's trading with a confident growth. Traders evaluated the fresh batch of statistics and bought European growth stocks.
What influenced European stocks to high growth?
GDP volume in France rose 0.2% in the third quarter compared to the previous three months, final data from the national statistics institute Insee showed. The final data coincided with a preliminary estimate. Analysts, on average, had not expected a revision, according to a Trading Economics survey. GDP growth slowed from a 0.5% rebound in the second quarter.
Consumer prices in France, harmonized with European Union standards, rose 7.1% year-over-year in November. Insee also reported. The November rate of increase in consumer prices coincided with that of October, and analysts polled by Trading Economics expected inflation to remain at the same level.
Consumer spending in the country collapsed by 2.8% in October compared with the previous month. Analysts polled by Bloomberg expected a more moderate decline of 1 percent. The consensus forecast of experts polled by Trading Economics envisioned a 0.6% decline. The decrease in consumer spending was the maximum since April 2021.
The number of unemployed in Germany increased by 17 thousand in November, according to the Federal Employment Agency of Germany. The rise in the index was marked at the end of the sixth month in a row. Experts interviewed by Bloomberg agency, on average, predicted an increase of 13.5 thousand. Respondents to Trading Economics expected an increase of 13 thousand.
Additional positives for investors in European markets on Wednesday were messages about easing of coronavirus restrictions in a lot of cities in China. Note that Amazon's stock price is also rising if you are interested in the U.S. stock market.
Earlier, we reported that U.S. stock indices were up 2.2-4.4%.
U.S. stock indices today rose 2.2-4.4%
The U.S. stock indices today closed the trading on Wednesday with the confident growth due to the statements of the Federal Reserve Chairman, Jerome Powell, who confirmed that the U.S. Central Bank could slow down the basic rate rise as early as in December.
Judging by the quotations of futures on the level of the prime rate, U.S. stock market indices expect the Federal Reserve to raise it by 50 basis points (bps) in December – to 4.25-4.5%. The U.S. Central Bank has increased the rate by 75 bps at each of the previous four meetings. Against this background, the current stock price of Facebook also rose.
The report by the industry organization ADP, published on Wednesday, showed a slowdown in job growth in the U.S. private sector. Their number increased by 127,000 in November, the lowest rate since January, said the ADP. Analysts polled by The Wall Street Journal on average had forecast job growth of 190,000 after a jump of 239,000 in October.
Data from the U.S. Commerce Department, also released Nov. 30, showed higher-than-reported growth in the U.S. economy in the third quarter. U.S. GDP grew at an annualized rate of 2.9% in the July-September quarter, rather than the previously reported 2.6%. Experts polled by Trading Economics had expected an average revision of 2.7%.
Also, the Federal Reserve released its regional Beige Book survey Wednesday, showing that economic activity in the United States was little changed in the fall.
Federal Reserve banks in five counties reported a weak increase in activity in October and November, while the other seven reported a stable or slightly declining economy.
The Dow Jones Industrial Average index was up 737.24 points (2.18%) at 34589.77 as of Wednesday's market close.

Standard & Poor's 500 rose 122.48 points (3.09%) to 4,080.11 points.

The Nasdaq Composite added 484.22 points (4.41%) to 1,468.
All three U.S. stock market indices closed November, with the Dow Jones gaining 5.3%; the S&P 500 gaining 4.6%, and the Nasdaq Composite gaining 3.3%.
Earlier we reported that Main European stock indices were rising during trading.
Main European stock indices rise in trading
Main European stock indices are rising during trading on Thursday. The Stoxx Europe 600 composite index of the largest companies in the region rose 0.58% to 442.60 points. German DAX is up 0.34%, British FTSE 100 is up 0.15%, French CAC 40 is up 0.01%, Italian FTSE MIB is up 0.47% and Spanish IBEX 35 is up 0.45%.
What affected the best European stock indices?
During a speech at the Brookings Institution on Wednesday, Powell reiterated that the Fed could slow the rise in the prime rate as early as December. "The time to moderate the pace of rate hikes may come as early as the next meeting," Powell said. 
The Fed chair, meanwhile, tried to balance those words with "hawkish" signals. Market Watch notes. He said that the U.S. Central Bank will have to raise the rate higher than could be expected a few months ago. Moreover, Powell made it clear that the issue of rate cuts is irrelevant at the moment. By the way, his words influenced the growth of the current stock price of the NASDAQ-100. 
Another Fed official, Board of Governors member Lisa Cook said she believes the regulator needs to keep raising rates as inflation is still too high. "We've started to get more favorable inflation data. But I would be cautious about drawing big conclusions on just one month's worth of data," Cook said during a speech at the Detroit Economic Club.
Earlier, we reported on how European stock indexes were falling following Asian stock markets.