Paytm's Sharma goes from 'ineligible' bachelor to billionaire
2/2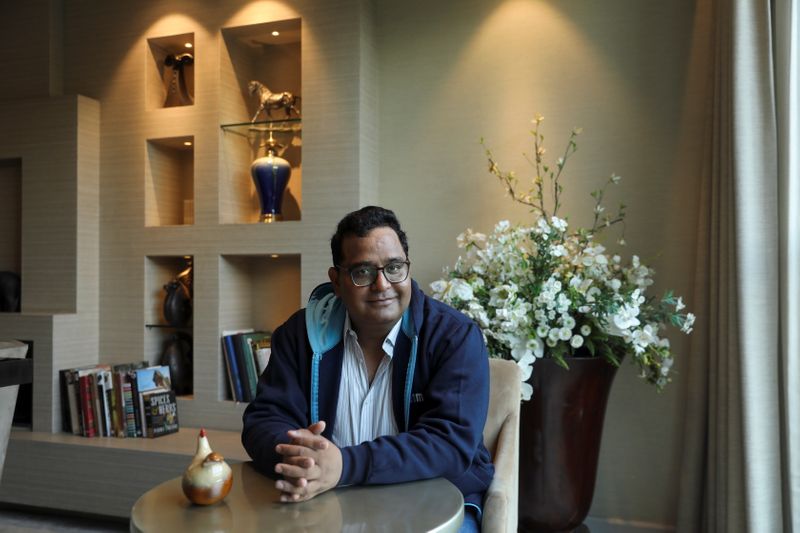 © Reuters. Paytm founder and CEO Vijay Shekhar Sharma poses for a picture at a clubhouse of a residential building in New Delhi, November 14, 2021. Picture taken on November 14, 2021. REUTERS/Anushree Fadnavis
2/2
By Sankalp Phartiyal
NEW DELHI (Reuters) – At 27, Vijay Shekhar Sharma was making 10,000 rupees ($134.30) a month, a modest salary that did not help his marriage prospects.
"In 2004-05, my father asked me to shut my company and take up a job even if it was for 30,000 rupees," Sharma, who went on to found digital payments firm Paytm in 2010, told Reuters.
At the time, the trained engineer sold mobile content via a small company.
"Families of prospective brides would never call us back after finding out that I earn around 10,000 rupees a month," Sharma said. "I had become an ineligible bachelor for my family."
Last week, the 43-year-old Sharma led Paytm's $2.5 billion initial public offering (IPO). The fintech firm has become the toast of a new India, where the first-generation of the country's startups are making stellar stock market debuts and minting new millionaires.
Born to a school teacher father and a home maker mother in a small city in India's most populous Uttar Pradesh state, Sharma, who became India's youngest billionaire in 2017, still loves having tea at a roadside cart and often takes short morning walks to buy milk and bread.
"For a long time my parents had no idea what their son was doing," Sharma said of the time China's Ant Group first invested in Paytm in 2015. "Once my mother read about my net worth in a Hindi newspaper and asked me, 'Vijay do you really have the kind of money they say you have?'"
Forbes puts Sharma's net worth at $2.4 billion.
"WHAT ARE MY ODDS?"
Paytm began just over a decade ago as a mobile recharge company and grew quickly after ride-hailing firm Uber (NYSE:) listed it as a quick payment option in India. Its use leapfrogged in 2016 when India's shock ban on high-value currency notes boosted digital payments.
Paytm, which also counts SoftBank and Berkshire Hathaway (NYSE:) as its backers, has since branched out into services including insurance and gold sales, movie and flight ticketing, and bank deposits and remittances.
While Paytm pioneered digital payments in India, the space soon became crowded as Google (NASDAQ:), Amazon (NASDAQ:), WhatsApp and Walmart (NYSE:)'s PhonePe launched payment services to grab a slice of a market expected to grow to more than $95.29 trillion by the end of March 2025, according to EY.
That push by global giants gave Sharma a rare moment of doubt, which he raised with SoftBank's tycoon billionaire founder Masayoshi Son.
"I called up Masa and said – now everyone's here, what do you think are my odds?"
Son, an early investor in Yahoo! (NASDAQ:) and Alibaba (NYSE:), told Sharma to "raise more money, double down and go all in" and focus all his energy on building payments, unlike rivals which had other primary businesses.
Sharma, who is married and has a son, said he has never looked backed since.
While some market analysts have concerns over when Paytm will turn profitable, Sharma is confident of his company's success.
In 2017, Paytm launched a bill payments app in Canada and a year later entered Japan with a mobile wallet.
"My dream is to take the Paytm flag to San Francisco, New York, London, Hong Kong and Tokyo. And when people see it they say – you know what, that's an Indian company," Sharma said.
($1 = 74.4650 Indian rupees)
European stock indices are falling following Asian stock markets on Monday
Major European stock indices are falling under pressure from Asian markets, according to trading data and analyst commentary.
The British FTSE 100 index is down 0.71% to 7431.66 points, French CAC 40 is down 0.64% to 6667.31 points and German DAX is down 0.58% to 14456.82 points.
Why are European stock indices down? 
On Monday, investors' attention was turned to the situation around the coronavirus in China. The country has seen a record surge in cases of coronavirus for several days in a row, and authorities have imposed a lot of new anti-coviral restrictions. As a result, Shanghai residents demonstrated on Sunday against the restrictions imposed by the authorities.
Against this backdrop, Asia-Pacific stock indexes ended Monday's trading in the negative, which had an impact on the mood of traders in Europe.
"China will be the main driver today because any political instability in the country is a source of uncertainty and anxiety for markets," Jaime Espejo, an equity fund manager at Imantia Capital in Madrid, told Bloomberg.
One of the main events for investors in Europe this week will be the statistical data on consumer prices in the euro area. Analysts think that, according to preliminary estimations, annual inflation slowed down to 10.4% from 10.6% in October.
Earlier we reported that the U.S. had banned imports of equipment by Huawei and several other companies from China.
Huawei is banned in the US: the US has banned the import of equipment from Huawei and several other companies from China
Huawei is banned in the US. The Federal Communications Commission for the first time recognized products of a lot of Chinese companies banned for import and sale because of national security risks. Commission member Carr said that China threatens U.S. interests through espionage.
Telecommunications and surveillance equipment manufactured by Huawei, ZTE, Hytera and several other Chinese companies are banned from importation and sale in the United States because of "unacceptable risks" to national security. This was announced by the Federal Communications Commission (FCC) on its website.
Huawei banned in the U.S. – what is banned?
The products of the subsidiaries and affiliates mentioned in the list of companies fall under the ban. Brendan Carr, a member of the Federal Communications Commission, called the decision unprecedented and unanimously adopted with the support of both parties in Congress. This is the first time in the history of the agency, he noted, that the distribution of communications and electronic equipment has been banned because of national security reasons.
Carr pointed out that "Communist China and other malevolent actors" are too eager to use loopholes in U.S. electronic systems to obtain sensitive information, they are trying to "compromise American interests through espionage, intellectual property theft, blackmail, foreign influence campaigns and other nefarious activities."
Two years ago, the commission had already banned using government subsidies to buy equipment from Huawei and other Chinese companies, he recalled, and as a result many operators had refused to cooperate with such firms. But that decision left a loophole for buying equipment with private funds, and it's time to close it, Carr said.
Huawei was put on U.S. sanctions lists more than three years ago, in May 2019. Washington accused the company of industrial espionage, stealing technology and threatening the U.S. economy. In February 2020, The Wall Street Journal, citing statements from U.S. officials, reported that Huawei had covert access to cell phone networks around the world.
The CIA believes Huawei was funded by Chinese intelligence, the Chinese Armed Forces and the Republic's National Security Central Committee, sources told The Times. At the same time, the FBI believes that Huawei equipment installed on cellular towers near US military bases can jam and intercept Defense Department communications, including those used by the US Strategic Command, which is responsible for nuclear weapons.
Earlier, we reported that Bloomberg named the most profitable stock market in 2022.
What is the most profitable stock market? Bloomberg called it the most profitable stock market in 2022
What is the most profitable stock market? The stock market of Turkey, which is the most profitable stock market in the world, has become the growth leader this year, ahead of U.S., European and Asian platforms, Bloomberg wrote. The benchmark index Borsa Istanbul 100 (BIST 100) since the beginning of the year rose 78% in dollar terms.
In lira terms, the index, which includes shares of the 100 largest Turkish companies listed on the Istanbul Stock Exchange, has risen by more than 150% since January. This was the best result since 1999, the publication calculated. Most European financial markets have shown negative dynamics this year.
What is the most profitable stock market?
Turkey's stock market hit an all-time high in November 2022 as private investors invested in Turkish assets to protect against high inflation. The Borsa Istanbul 100 index rose to a new record high of 4,784 points in trading on Nov. 16. During trading on Tuesday, Nov. 22, the BIST 100 index gained 3.6 percent to trade at 4,734 points.
Domestic investors are investing in stocks as Turkey's central bank pursues a policy of lowering interest rates to spur economic growth, even as the country's inflation rate exceeds 80 percent. Despite high inflation, the country's regulator has conducted monetary policy easing cycles in 2021, which goes against current monetary policy. The rate cut has helped weaken the Turkish lira and turned equities into one of the few income-generating havens for investors.
Inflation in Turkey surpassed 85% in October for the first time in 25 years, and while the country's central bank predicts it could fall to 65.2% by year's end, price growth remains among the highest in the world.
Stocks have become favorites of Turkish investors. The number of stock trading accounts opened by private investors rose 32% this year to 3.1 million as of Nov. 18, according to Turkey's Central Securities Depository.
According to Evren Kirikoglu, founder of Istanbul-based Sardis Research Consultancy, Turkish stocks are likely to remain attractive to investors for at least the first half of next year, even as inflation in the country begins to decline.
Earlier we reported that the U.S. stock market was up more than 1% for the day.