Skies darken for Indian IPOs after Paytm's diappointing debut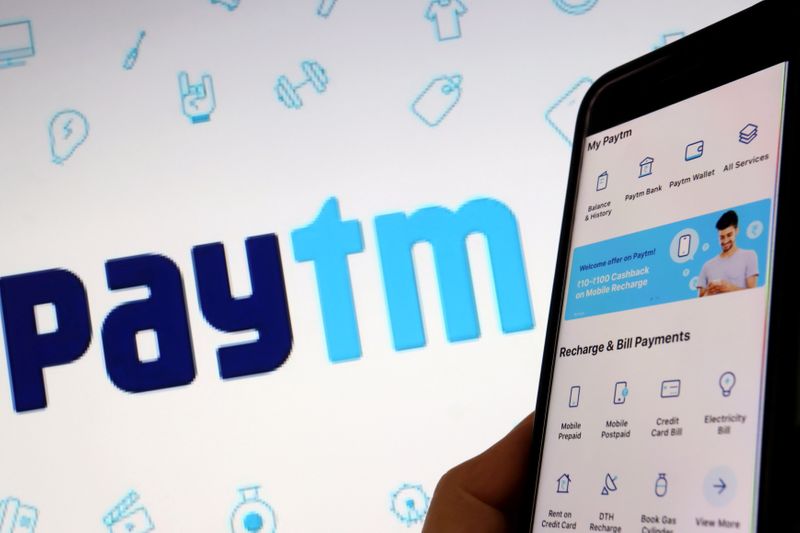 © Reuters. FILE PHOTO: The interface of Indian payments app Paytm is seen in front of its logo displayed in this illustration picture taken July 7, 2021. REUTERS/Florence Lo/Illustration
By Abhirup Roy, Scott Murdoch and Anshuman Daga
MUMBAI (Reuters) – Paytm's dismal stock market debut this week is likely to put a damper on future offerings after the IPO of the digital payments firm ranked among the worst-performing in Indian history, six analysts and bankers said on Friday.
Indian companies have raised a staggering $9.7 billion through initial share sales in the first nine months of 2021, for the highest such tally in any of the corresponding periods of the last two decades, said accountants EY.
But offerings planned for later this year, such as those by payments rival MobiKwik and hotel aggregator OYO, will face questions after Paytm's debut plunge of more than 27%, as investors turned queasy at its lack of profits and lofty value.
"This episode should hopefully bring some realism to valuations that promoters expect from the public markets," said Kristy Fong, a senior investment director at fund manager abrdn, based in Singapore.
Investors and analysts who expressed concern over the IPO valuation of the loss-making Paytm at about $18.7 billion had cautioned that "frothy" valuations with unclear business models might not end up well in the current market.
"It will take three to four months for people to forget Paytm and that it destroyed wealth," said Jimeet Modi, founder of Mumbai-based brokerage Samco Securities.
"Until that time, it's going to be tough for all super-expensive IPOs."
But the debut of Paytm, which is backed by Ant Group and SoftBank, was in stark contrast to that of food delivery firm Zomato, which surged 66% in July after raising $1.2 billion.
Similarly, shares in FSN E-Commerce, which owns cosmetics-to-fashion platform Nykaa, jumped 80% on their debut this month.
Now analysts fear that even approaching IPOs which have seen huge demand may take a beating on listing.
"This will put spokes in the market … even the ones that have seen huge subscriptions will see a drop in the premiums," Arun Kejriwal, founder of independent research firm KRIS, told Reuters.
BEHEMOTH LIC IN THE WINGS
All eyes are turning to plans for India's biggest-ever IPO, that of state-owned life insurance behemoth LIC, which is expected by the end of March 2022 and could raise more than $10 billion if the government offers a stake of 10%.
Some analysts see little risk from the Paytm fallout for LIC, however, as it is a household name in India, commanding more than 60% of the life insurance market, with assets exceeding $500 billion.
"My sense is even if they price LIC a little higher, I think given what it is, and what it stands for, and what's been built over many years, I don't think it'll be a problem," said an executive at a boutique investment bank who sought anonymity.
"There's tremendous interest and there's money in the market."
Some say concerns over LIC cannot be ruled out, though, despite a business model that is starkly different from that of Paytm.
"Everybody will be in a bit of a learning mode after this (Paytm) listing," said one of the investment bankers working on LIC's IPO, adding that they remained confident about its chances.
The government has named Goldman Sachs (NYSE:), Citigroup (NYSE:), SBI Capital Market, JM Financial, Axis Capital (NYSE:), Nomura, BofA Securities, J.P. Morgan India, ICICI Securities and Kotak Mahindra to handle the IPO.
($1=74.2490 rupees)
Stats had a positive effect on the European stock market. European growth stocks
West European stock indexes closed Wednesday's trading with a confident growth. Traders evaluated the fresh batch of statistics and bought European growth stocks.
What influenced European stocks to high growth?
GDP volume in France rose 0.2% in the third quarter compared to the previous three months, final data from the national statistics institute Insee showed. The final data coincided with a preliminary estimate. Analysts, on average, had not expected a revision, according to a Trading Economics survey. GDP growth slowed from a 0.5% rebound in the second quarter.
Consumer prices in France, harmonized with European Union standards, rose 7.1% year-over-year in November. Insee also reported. The November rate of increase in consumer prices coincided with that of October, and analysts polled by Trading Economics expected inflation to remain at the same level.
Consumer spending in the country collapsed by 2.8% in October compared with the previous month. Analysts polled by Bloomberg expected a more moderate decline of 1 percent. The consensus forecast of experts polled by Trading Economics envisioned a 0.6% decline. The decrease in consumer spending was the maximum since April 2021.
The number of unemployed in Germany increased by 17 thousand in November, according to the Federal Employment Agency of Germany. The rise in the index was marked at the end of the sixth month in a row. Experts interviewed by Bloomberg agency, on average, predicted an increase of 13.5 thousand. Respondents to Trading Economics expected an increase of 13 thousand.
Additional positives for investors in European markets on Wednesday were messages about easing of coronavirus restrictions in a lot of cities in China. Note that Amazon's stock price is also rising if you are interested in the U.S. stock market.
Earlier, we reported that U.S. stock indices were up 2.2-4.4%.
U.S. stock indices today rose 2.2-4.4%
The U.S. stock indices today closed the trading on Wednesday with the confident growth due to the statements of the Federal Reserve Chairman, Jerome Powell, who confirmed that the U.S. Central Bank could slow down the basic rate rise as early as in December.
Judging by the quotations of futures on the level of the prime rate, U.S. stock market indices expect the Federal Reserve to raise it by 50 basis points (bps) in December – to 4.25-4.5%. The U.S. Central Bank has increased the rate by 75 bps at each of the previous four meetings. Against this background, the current stock price of Facebook also rose.
The report by the industry organization ADP, published on Wednesday, showed a slowdown in job growth in the U.S. private sector. Their number increased by 127,000 in November, the lowest rate since January, said the ADP. Analysts polled by The Wall Street Journal on average had forecast job growth of 190,000 after a jump of 239,000 in October.
Data from the U.S. Commerce Department, also released Nov. 30, showed higher-than-reported growth in the U.S. economy in the third quarter. U.S. GDP grew at an annualized rate of 2.9% in the July-September quarter, rather than the previously reported 2.6%. Experts polled by Trading Economics had expected an average revision of 2.7%.
Also, the Federal Reserve released its regional Beige Book survey Wednesday, showing that economic activity in the United States was little changed in the fall.
Federal Reserve banks in five counties reported a weak increase in activity in October and November, while the other seven reported a stable or slightly declining economy.
The Dow Jones Industrial Average index was up 737.24 points (2.18%) at 34589.77 as of Wednesday's market close.

Standard & Poor's 500 rose 122.48 points (3.09%) to 4,080.11 points.

The Nasdaq Composite added 484.22 points (4.41%) to 1,468.
All three U.S. stock market indices closed November, with the Dow Jones gaining 5.3%; the S&P 500 gaining 4.6%, and the Nasdaq Composite gaining 3.3%.
Earlier we reported that Main European stock indices were rising during trading.
Main European stock indices rise in trading
Main European stock indices are rising during trading on Thursday. The Stoxx Europe 600 composite index of the largest companies in the region rose 0.58% to 442.60 points. German DAX is up 0.34%, British FTSE 100 is up 0.15%, French CAC 40 is up 0.01%, Italian FTSE MIB is up 0.47% and Spanish IBEX 35 is up 0.45%.
What affected the best European stock indices?
During a speech at the Brookings Institution on Wednesday, Powell reiterated that the Fed could slow the rise in the prime rate as early as December. "The time to moderate the pace of rate hikes may come as early as the next meeting," Powell said. 
The Fed chair, meanwhile, tried to balance those words with "hawkish" signals. Market Watch notes. He said that the U.S. Central Bank will have to raise the rate higher than could be expected a few months ago. Moreover, Powell made it clear that the issue of rate cuts is irrelevant at the moment. By the way, his words influenced the growth of the current stock price of the NASDAQ-100. 
Another Fed official, Board of Governors member Lisa Cook said she believes the regulator needs to keep raising rates as inflation is still too high. "We've started to get more favorable inflation data. But I would be cautious about drawing big conclusions on just one month's worth of data," Cook said during a speech at the Detroit Economic Club.
Earlier, we reported on how European stock indexes were falling following Asian stock markets.