Stocks kick off big central bank week near peaks
By Danilo Masoni and Tom Westbrook
2/2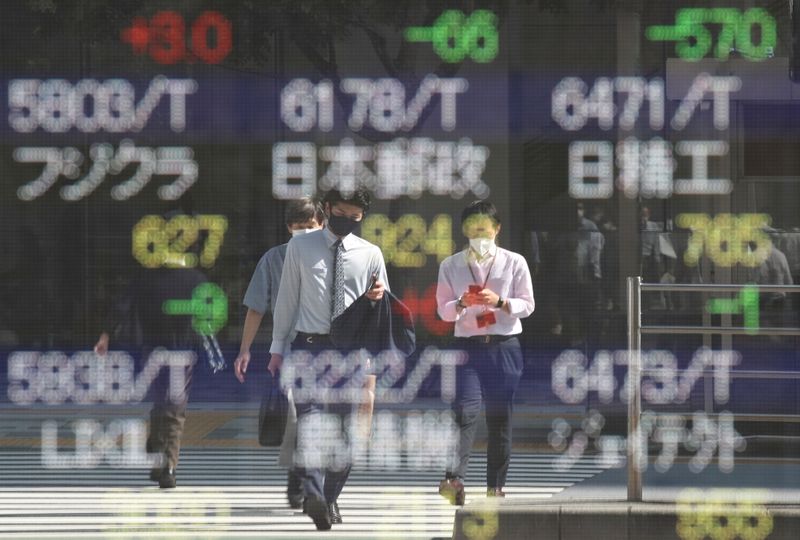 © Reuters. FILE PHOTO: People wearing protective masks, amid the coronavirus disease (COVID-19) outbreak, are reflected on an electronic board displaying Japan's stock prices outside a brokerage in Tokyo, Japan, October 5, 2021. REUTERS/Kim Kyung-Hoon
2/2
By Danilo Masoni and Tom Westbrook
MILAN (Reuters) – World stocks kicked off a big week for central bank meetings near record highs, helped by bets of fiscal stimulus in Japan and undeterred by concerns of interest rate hikes that have instead hit bonds hard.
The MSCI world equities index, which tracks shares in 50 countries, rose 0.2% by 0934 GMT on Monday, just below a record high hit in September as stronger-than-expected earnings offset worries over inflation and supply bottlenecks.
rose 2.6% after Prime Minister Fumio Kishida's Liberal Democratic Party won an unexpected comfortable victory, raising hopes for political stability and stimulus in the term ahead.
Trade elsewhere in equities was soft, with MSCI's index of Asia-Pacific shares outside Japan dragged 0.3% lower by selling in Hong Kong after data showed a sharper-than-expected contraction of Chinese factory activity.
rose 0.5%.
"While bears keep pointing to a myriad of concerns, we believe that the risk-reward for stocks is still positive," said JP Morgan strategist Mislav Matejka. "The Fed is starting to taper, but we believe that key central banks will stay dovish".
Bond markets calmed down following last week's brutal sell-off when investors moved to price in faster policy normalisation just ahead of a number of central bank meetings this week including in the United States, Britain and Australia.
"I think we may come out of (the) week past peak yield volatility, or at least, past peak rate hike fever," said NatWest Markets strategist John Briggs.
"A lot of the things that went parabolic and took market rate hike expectations to a boil are at least looking like they are calming a bit."
The yield on two-year Treasuries, which had soared to an almost 20-month high of 0.5640% last week, was last up about 1.4 basis points at 0.5149%. Benchmark 10-year Treasury yields were up 2.2 bps at 1.5838%. [US/]
The U.S. dollar was little changed against a basket of currencies, remaining near a 2-1/2-week high ahead of the Fed policy decision. The greenback approached a 1-1/2-week high against the yen as the safe-haven Japanese currency weakened after a strong showing for the ruling party in weekend elections [FRX/]
Commodities also stabilised, with a slight easing of oil prices and a further drop in Chinese coal prices pushing them 50% below last month's record high.
LIVE MEETINGS
The Fed is the highlight of a week full of central bank meetings likely to move markets, with policy adjustments possible at the Bank of England and Reserve Bank of Australia.
The Fed, which concludes a two-day meeting on Wednesday, is expected to say it will start to taper bond purchases, though markets' focus is on clues about rates lift-off.
Fed funds futures are pricing in hikes beginning early in the second half of 2022 and Goldman Sachs (NYSE:) pulled forward its hike forecast to July next year from the third quarter of 2023.
"While maintaining the view that most of the inflation we are seeing will prove transitory, a risk management mindset has taken over, and developed market central banks are now changing tack," analysts at Goldman Sachs said in a late-Friday note.
"The Bank of England looks likely to raise rates (and) the Reserve Bank of Australia appears to have abandoned its yield curve peg."
Swaps pricing points a better-than-even chance of the BoE hiking on Thursday, while the RBA will likely make some sort of guidance adjustment after again declining to defend its yield target on Monday.
Sterling fell 0.2% to $1.3657. [GBP/]
Gold added 0.1% following Friday's losses amid caution ahead of the Fed meeting. held its $60,000 support level.
Morgan Stanley: bear market rally to continue
One of Wall Street's best-known bears, Michael Wilson, thinks the S&P 500 will rise another 7% before turning down, so the bear market rally will continue for now, writes Market Watch.
After the Dow Jones, S&P 500 and Nasdaq Composite joined their strongest weekly gains since at least May last Friday, Wilson, who is chief strategist and head of U.S. equity markets at Morgan Stanley (NYSE:MS), told clients that there could be another 5% to 7% before the downward trajectory of U.S. stocks resumes during the latest bear market recovery.
Wilson has held a bearish view of the stock market for about 2 years and correctly predicted a sell-off this year.
Wilson explained in a research note sent out to clients on Monday that a pullback in the 38-50% drop in the stock market this year "would not seem like something unnatural, not consistent with the previous bear market rally."
While growth concerns have triggered a sell-off in commodities and lowered inflation expectations, the fact that the U.S. economy is already slowing and heading toward recession means that any market rally is likely to be short-lived, and U.S. stocks are likely to eventually fall.
Wilson mentioned in the note that the bear market is not over yet, although it may appear otherwise in the next few weeks as the market takes the rate cut as a sign that the Fed can still manage a "soft landing" and prevent a meaningful revision to earnings forecasts.
U.S. stocks rose last week as investors now hope the slowing economy and falling commodity prices may inspire the Fed to raise interest rates less sharply. Federal funds futures, a derivative used by investors to bet on the pace of the Fed's monetary policy changes, estimate with a high probability that the Fed will be forced to start cutting interest rates again as soon as next summer.
They also consider the lower peak in the federal funds rate: it will peak around 3.5% at the end of 2022 instead of 3.75% just a couple of weeks ago. Wilson also pointed out the drop in Treasury yields: the 10-year Treasury bond yield went from 3.230% to a low of 3.07% on Friday before rebonding again on Monday.
Wilson expects the S&P 500 index to fall to around 3,400 points if the U.S. Federal Reserve manages to get a "soft landing" for the economy — which Fed Chairman Jerome Powell said last week would be "a very difficult thing to do."
Wilson expects that if the U.S. economy plunges into recession, the S&P 500 index will fall to around 3,000 points. In any case, Wilson believes that U.S. stocks are still highly valued because the risk premium — that is, the measure of compensation that investors receive for the extra risk of owning stocks instead of bonds — remains about 300 basis points higher than the 10-year Treasury bond yield, which is considered a "risk-free rate." 
Easing chip shortages to help Volkswagen in H2 – CEO
© Reuters. FILE PHOTO: Volkswagen logo is pictured at the 2022 New York International Auto Show, in Manhattan, New York City, U.S., April 13, 2022. REUTERS/Brendan McDermid/File Photo
BERLIN (Reuters) – Volkswagen (ETR:VOWG_p) sees a strong second half of 2022 and expects progress in catching up with rival Tesla (NASDAQ:TSLA) as easing chip shortages start to offset supply chain bottlenecks and rising costs, the carmaker's CEO said on Tuesday.
"We are earning more than ever," Chief Executive Herbert Diess said at a works meeting, adding Volkswagen is ramping up electric vehicle volumes in its biggest markets in Germany and China thanks to easing semiconductor shortages.
This should allow the carmaker to narrow the Volkswagen-Tesla gap this year and meet its goal of becoming market leader by 2025 if it seizes the moment while the U.S. electric car maker burns cash on large investments, the CEO said.
"Elon (Musk) has to ramp up two highly complex factories in Austin and Gruenheide at the same time – as well as expand production in Shanghai. That's going to take strength out of him," Diess said.
Reliance Chairman Mukesh Ambani steps down as director of telecom arm
© Reuters. FILE PHOTO: Mukesh Ambani, Chairman and Managing Director of Reliance Industries, arrives to address the company's annual general meeting in Mumbai, India July 5, 2018. REUTERS/Francis Mascarenhas
BENGALURU (Reuters) – Reliance Industries Chairman Mukesh Ambani has stepped down as director of Reliance Jio Infocomm Ltd, the conglomerate's telecom arm said on Tuesday.
Reliance Jio said https://refini.tv/3Nrs773 it has appointed Mukesh's son and non-executive director Akash Ambani as the chairman of its board. Akash has been involved with the telecom unit since its launch in late 2016, where he started as a director.
India's telecoms sector had been upended after the entry of Jio, which triggered a price war that forced some rivals out of the market and turned profits into losses.
Jio, which started out offering mobile teleservices, has been aggressively investing in services like internet broadband and forging ties with handset makers to launch low-cost smartphones and providing 5G services.