Telecom Italia board meets to discuss takeover proposal from KKR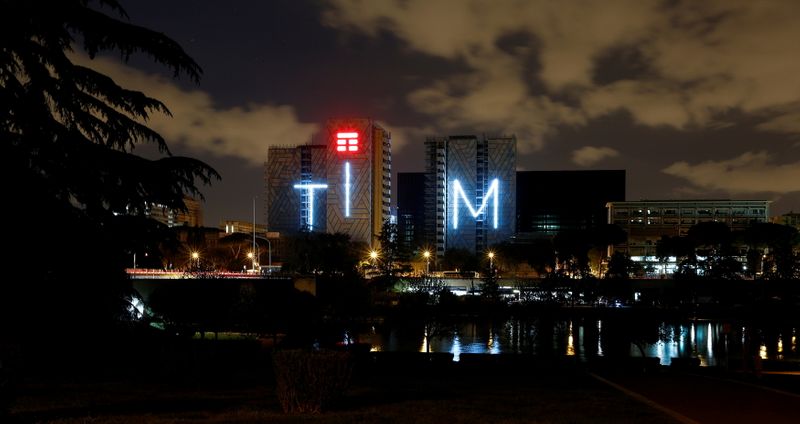 © Reuters. FILE PHOTO: Telecom Italia's logo for the TIM brand is seen on a building in Rome, Italy, April 9, 2016. REUTERS/Alessandro Bianchi/File Photo
By Elvira Pollina, Valentina Za and Pamela Barbaglia
MILAN (Reuters) -The board of Telecom Italia (MI:) (TIM) meets on Sunday at 1400 GMT to discuss a takeover proposal from KKR, two sources said, adding the U.S. fund plans to carve out the Italian phone group's fixed network in which it is already an investor.
TIM's fixed line is its most prized asset and is deemed strategic by Rome, which has powers to block any unwanted moves.
The government of Prime Minister Mario Draghi is also aware of the need to stem TIM's revenue haemorrhage, shoring up the debt-laden group at a time when it needs to step up investments, and protect its 42,500 domestic workers, sources have said.
TIM CEO Luigi Gubitosi last year struck a 1.8 billion euro ($2 billion) deal with KKR which handed the New York-based fund a 37.5% stake in FiberCop, the unit holding TIM's last-mile network connecting street cabinets to people's homes.
Under fire by TIM's top investor Vivendi (OTC:), Gubitosi has been looking at how to squeeze money out of TIM's assets, revisiting in particular a plan to merge TIM's fixed-line grid with that of fibre optic rival Open Fiber.
Sponsored by the previous government, that project had run aground under Draghi's executive.
KKR's scheme envisages a single network to be run as a government-regulated asset along the model used by energy grid company Terna or gas grid firm Snam, one of the two sources and a third person close to the matter said.
Also rival private equity firm CVC has studied possible plans for TIM working with former TIM CEO Marco Patuano, now a senior adviser to Nomura in Italy, four people close to the matter said.
To overcome political and regulatory opposition to the single network's plan, Gubitosi has opened up to the possibility of TIM ceding control of the combined entity, something which Vivendi had always been opposed to.
Vivendi, which is pushing to replace Gubitosi at the helm and faces a steep capital loss on its 24% stake in TIM's as its shares languish near all-time lows, does not oppose KKR's proposal, two of the sources said.
One of them said Vivendi could also be open to considering CVC's one were it to go ahead with it. Vivendi generally looks favourably on all options to boost TIM's value but wants to be directly involved in discussions, another source said.
A spokesperson for Vivendi denied any contacts with funds at present and said the French media group remained ready to work alongside Italy's authorities and institutions for TIM's long-term success.
GOLDEN POWERS
The activism around TIM comes as Italy prepares to deploy billions of euros of European Union's recovery funds to boost digital connectivity in the country and catch up with the rest of the bloc.
To oversee a strategic asset such as TIM's fixed-line grid, state investor CDP has taken a 9.8% stake in the former phone monopolist, becoming its second-largest investor after Vivendi.
CDP will present a new strategic plan on Thursday after Dario Scannapieco, a close ally of PM Draghi, recently took the reins.
CDP has invested in both Terna and Snam, as well as gas distribution grid Italgas, through its CDP Reti vehicle it set up in 2012 to hold stakes in network assets.
KKR plan can only proceed with the government's assent because Rome has special anti-takeover powers to shield companies deemed of strategic importance from foreign bids.
Italy has so far used these so-called "golden powers" four times since 2012 to veto foreign interests in the country. Two of these have been under Draghi's ninth-month old government.
TIM's fixed network is also a key asset supporting the group's 29 billion euro gross debt which was cut further below the investment grade level by credit rating agency S&P on Friday.
S&P said the single-network project could weaken TIM's business profile if it lost control of the combined entity, however it was impossible to evaluate the impact of a potential transaction without knowing the details, because the proceeds could also help TIM cut debt and counter falling revenues.
News of Sunday's extraordinary board meeting was first reported by Italian daily Corriere della Sera.
TIM's revenue have shrunk by a fifth over the past five years hit by aggressive competition at home from rivals such as Iliad, Vodafone (NASDAQ:), Wind Tre and Fastweb.
($1 = 0.8859 euros)
(Additional reporting and writing by Valentina Za; editing by Andrew Heavens and David Evans)
U.S. stock market indices are down 1-2%
U.S. stock market indices declined yesterday on growing fears of a recession in the U.S. economy, with the S&P 500 index falling for the fourth consecutive time.
U.S. stock indices list – what's happening right now?
Inflation will drain Americans' financial reserves and could lead to a recession sometime in the middle of next year, according to the head of JPMorgan Chase & Co (NYSE:JPM). Jamie Dimon. His Goldman Sachs Group (NYSE:GS) colleague David Solomon also expects a recession in the coming months, and he believes markets are in for a turbulent period. The situation also affected T-Bond Futures.
Meanwhile, the U.S. Commerce Department said Tuesday that the country's trade deficit widened 5.5 percent to $78.2 billion in October, the highest in four months but below analysts' expectations of $80 billion.
Previously published positive data on business activity in the service sector and the number of new jobs in the U.S. economy have led investors to doubt that the Federal Reserve is willing to slow the pace of key interest rate increases, writes Trading Economics.
"The market got off to a nervous start this week as strong U.S. statistics hit investors' hopes that the Fed would soften its stance in the coming months," wrote SPI Asset Management managing partner Stephen Innes. "Ultimately, it's more important exactly where the Fed stops, not how quickly they get to it. A stronger-than-expected labor market and positive business sentiment make it more likely that the rate will exceed 5%," he added.
Market participants also watched for corporate news. The Dow Jones Industrial Average fell 350.76 points (1.03%) to 33596.34.
Earlier, we reported that European stock indicators on December 7 showed a contradictory mood.
Current European stock market shows a contradictory mood
European stock indexes today do not show unified dynamics during trades. Composite index of the largest companies in the region, Stoxx Europe 600, decreased by 0.29% to 437.66 points.
Current European stock market – current situation
Germany's DAX stock index was down 0.25%. France's CAC 40 was down 0.09% and Spain's IBEX 35 was down 0.06%. The British FTSE 100 rose 0.16%, the Italian FTSE MIB – 0.13%.
Investors are increasingly concerned about the negative impact of tightening financial conditions on economic growth in the region and the profits of companies, writes Trading Economics. The situation was also reflected in the Euro Fx Futures.
Market participants are waiting for meetings of several major central banks next week and are assessing statements by representatives of the European Central Bank (ECB).
Inflation in the eurozone is close to a peak, ECB Chief Economist Philip Lane said the day before.
"It is too early to conclude that inflation has peaked, but I can say with confidence that we are close to peaking," Lane told Italian newspaper Milano Finanza.
The ECB raised all three key interest rates by 75 bps in October. The benchmark interest rate on loans was raised to 2%; the rate on deposits – to 1.5%; the rate on margin loans – to 2.25%. Since July this year, the ECB has raised key rates by 200 bp.
Experts expect the lending rate to rise to at least 2% from 1.5% in December.
Meanwhile, data from Germany's Federal Statistical Office (Destatis) released Wednesday showed that industrial production in Germany fell by 0.1% in October compared to the previous month. Analysts polled by Trading Economics had on average expected a larger decline of 0.6%.
Earlier we reported that data on a decline in Chinese exports dropped Asia's stock market.
Asian stock market news: Data on decline in Chinese exports caused Asia's stock market to plummet
Asian stock market news: Asian stock indices fell in today's trading after data showed a decline in Chinese exports.
China's exports fell 8.7 percent year on year in November to $296.1 billion, official data showed. The index fell for the second month in a row (in October it dropped by 0.3%), and the rate of its decline was the highest since February 2020. Experts attribute this reduction mainly to a drop in demand in the world amid a slowdown in the global economy. Even EURODOLLAR futures were affected by the situation.
Asian stock market today – what's happening right now?
Imports fell 10.6% year-on-year last month to $226.2 billion, after declining by 0.7% a month earlier. China's foreign trade surplus narrowed to its lowest since April, $69.84 billion in November, down from $85.15 billion a month earlier and $71.7 billion a year earlier.
Meanwhile, investors welcomed the news of further easing of coronavirus restrictions in China. Now, entire neighborhoods and blocks will not be closed for lockdowns, as they used to be, but only residential floors and buildings. Also, people who test positive for COVID-19 will be able to self-isolate at home rather than in overcrowded hospitals. Also, schools that have not had outbreaks will have to return to the face-to-face format.
Japan's Nikkei 225 stock index was down 0.7%. Australia's S&P/ASX 200 index was down 0.9%. Australia's GDP rose 0.6% in Q3 from the previous quarter, according to the country's Bureau of Statistics. Analysts on average had expected the Australian economy to grow by 0.7% in July-September, Trading Economics wrote.
The country's GDP grew by 0.9% in the 2nd quarter. Thus, the Australian economy has shown an upturn for the fourth consecutive quarter. but the rate of increase was the weakest in that period amid weak growth in consumer spending due to high inflation and higher interest rates. On an annualized basis, GDP rose 5.9% in Q3 after climbing 3.4% in Q2 and compared to the 6.2% expected by analysts.
Earlier, we reported that European stock markets mostly closed lower on December 5.