U.S. airlines scrap nearly 1,000 Christmas Day flights due to Omicron
2/2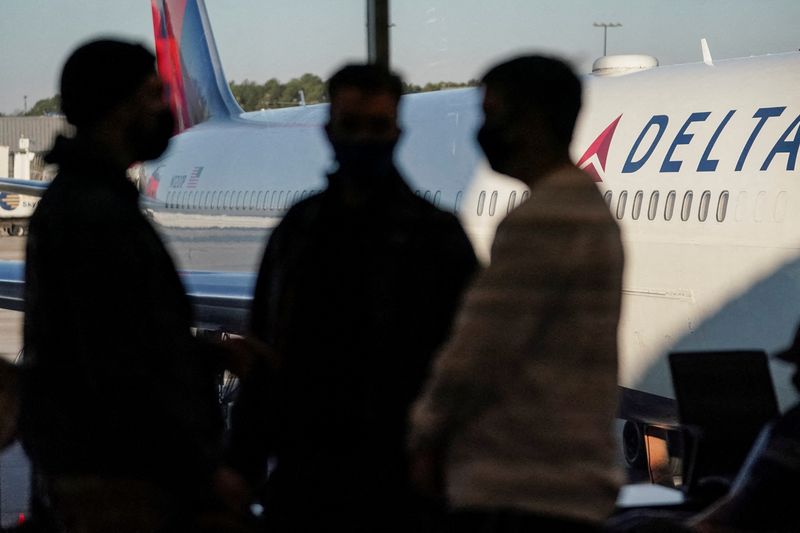 © Reuters. FILE PHOTO: Travelers form lines during the holiday season as the coronavirus Omicron variant threatens to increase case numbers at Hartsfield-Jackson Atlanta International Airport in Atlanta, Georgia, U.S. December 22, 2021. REUTERS/Elijah Nouvelage
2/2
By Humeyra Pamuk and Joel Schectman
WASHINGTON (Reuters) -U.S. airlines scrapped nearly 1,000 flights on Saturday, the second straight day of massive cancellations as surging COVID-19 infections have sidelined some pilots and other crew members, upending plans for tens of thousands of holiday travelers over the Christmas weekend.
A total of 957 Christmas Day flights, including domestic flights and those into or out of the country, were canceled, up from 690 on Christmas Eve, according to a running tally on flight-tracking website FlightAware.com. Nearly 2,000 flights were delayed.
At least one airline said that it expects hundreds more cancellations on Sunday.
The Christmas holidays are typically a peak time for air travel, but the rapid spread of the highly transmissible Omicron variant has led to a sharp increase in COVID-19 infections, forcing airlines to cancel flights as pilots and crew need to be quarantined.
United Airlines canceled 230 flights while American Airlines (NASDAQ:) called off 90 flights, representatives for the companies said in separate statements.
"The nationwide spike in Omicron cases this week has had a direct impact on our flight crews and the people who run our operation," United spokesperson Maddie King said. She said the cancellations made up a small portion of United's 4,000 average daily flights during the holiday season.
"We are working hard to rebook as many people as possible and get them on their way for the holidays," she said.
Winter weather and Omicron forced Delta Air Lines (NYSE:) to scrub 344 flights on Saturday, of approximately 3,000 scheduled flights, "after exhausting all options and resources to prevent those cancellations," a spokesperson for the company said, adding that the impact was likely to persist on Sunday.
"Delta expects more than 300 of its flights will be canceled on Sunday, Dec. 26," the spokesperson said. "Delta people are working together around the clock to reroute and substitute aircraft and crews to get customers where they need to be as quickly and safely as possible."
Globally, FlightAware data showed that just over 2,700 flights were called off on Saturday and another 7,049 were delayed, as of 5.30 p.m. EST (2230 GMT).
Among the most impacted U.S. airports were Atlanta's Hartsfield-Jackson International, New Jersey's Newark Liberty International, Los Angeles International and New York's JFK International. Six out of the 10 global airports most hit by the cancellations were Chinese.
Not all airlines were affected equally. A spokesperson for Southwest Airlines (NYSE:) said there were no issues to report with the carrier's flights on Saturday.
The Omicron variant was first detected in November and now accounts for nearly three-quarters of U.S. cases and as many as 90% in some areas, such as the Eastern Seaboard.
The average number of new U.S. coronavirus cases has risen 45% to 179,000 per day over the past week, according to a Reuters tally.
While recent research suggests Omicron produces milder illness and a lower rate of hospitalizations than previous variants of COVID-19, health officials have maintained a cautious note about the outlook.
Ahead of the Christmas holiday, Americans scrambled for COVID-19 tests and many went ahead with their travel plans.
U.S. officials have said that people who are fully vaccinated should feel comfortable proceeding with holiday travel.
Singapore Airlines sees no big growth risk from Boeing 777X delays
© Reuters. FILE PHOTO: A woman walks past a Singapore Airlines (SIA) logo at a ticketing booth at Changi airport in Singapore May 14, 2013. REUTERS/Edgar Su
(Reuters) -Singapore Airlines Ltd (SIA) does not expect its growth plans to take a major hit because Boeing (NYSE:BA) Co pushed back the date for delivery of its first 777X planes, the carrier's chief executive said on Thursday.
Last month, Boeing confirmed a delay to 2025 in handing customers the first 777X jet from a prior target of late in 2023, but said it retained confidence in the programme.
Before the delays, SIA had expected to receive by the end of 2023 the first of the 31 777X planes it has on order, Chief Executive Goh Choon Phong told analysts and media.
"At the moment I don't think that our growth plan will be severely hampered," he said.
"We do have some flexibility in terms of making up for any potential loss of capacity," he said, referring to the airline's fleet plan.
The comments came after the carrier posted on Wednesday a narrower annual loss of S$962 million ($693.63 million) for the 12 months ended March 31, including second-half operating profit of S$10 million as border curbs eased and passenger numbers rose.
SIA said passenger capacity would average about 61% of pre-pandemic levels in the first quarter and 67% in the second quarter of the current financial year.
($1=S$1.3869)
Guatemalan congress approves $500 million loan from World Bank
GUATEMALA CITY (Reuters) – Guatemala's congress approved on Wednesday a $500 million loan from the World Bank that the government has said will be used to pay down debt, freeing up funds for social spending.
The loan was supported by the government and its allies and passed with 86 votes in the Central American country's 160-seat legislature.
Finance Minister Alvaro Gonzalez Ricci said this month that the "indispensable" loan would save funds that could be used for social spending.
The minister said a 0.75% annual interest rate would save some 1.8 billion quetzales ($233.7 million) over the loan's 13-year period by substituting more expensive treasury bonds.
"It is a rate that is impossible to obtain in international or local financial markets," Gonzalez Ricci said.
In April, Fitch Ratings revised Guatemala's rating outlook from stable to positive, citing its strong economic recovery and fiscal consolidation.
Guatemala reached a deal for the loan in 2020 but the government presented it to congress this year.
General elections are scheduled for next year.
Some critics have said the government should not be taking on the loan amid questions about how the funds will be spent, media has reported.
"Hopefully, the people of Guatemala will raise their voice against this brazenness," opposition lawmaker Samuel Perez said before voting against the loan.
U.S. files third labor complaint in Mexico, on behalf of Panasonic workers
© Reuters. FILE PHOTO: A logo of Panasonic Corp is pictured at the CEATEC JAPAN 2017 (Combined Exhibition of Advanced Technologies) at the Makuhari Messe in Chiba, Japan, October 2, 2017. REUTERS/Toru Hanai
By Daina Beth Solomon
MEXICO CITY (Reuters) -U.S. labor officials asked Mexico on Wednesday to probe whether workers at a Panasonic (OTC:PCRFY) auto parts factory were denied their rights, marking the third U.S. labor complaint under a new trade deal that aims to improve workplace conditions in Mexico.
The request from the U.S. Trade Representative (USTR) follows a petition from a Mexican union asking the U.S. government to probe a Panasonic plant in the northern border city of Reynosa, alleging violations of the 2020 United States-Mexico-Canada Agreement (USMCA).
U.S. Trade Representative Katherine Tai said in a letter to Mexico's Economy Minister Tatiana Clouthier that the agency was concerned workers at Panasonic Automotive Systems de Mexico were being denied rights to free association and collective bargaining, in breach of the USMCA.
Panasonic Corp of North America said it "respects and supports" those rights and that it did not believe they had been denied. The unit of the Japanese conglomerate added it would cooperate with Mexican authorities.
Tai noted that previous USMCA labor complaints – one targeting automaker General Motors (NYSE:GM) and another against auto parts plant Tridonex – led to worker benefits.
The U.S. government reached agreements with both companies without imposing USMCA sanctions, which can include revoking tariff-free status.
"When concerns arise, we will work swiftly to stand up for workers on both sides of the border," Tai said in a statement.
The Mexican government has 10 days to decide whether to conduct a review. The Economy Ministry said it received the U.S. request and would consult with the Labor Ministry before sending a response.
The Mexican union that requested the inquiry, SNITIS, accused Panasonic of signing a union contract behind workers' backs and of firing several dozen employees who protested. Days after submitting the petition last month, SNITIS won a sweeping vote to become the plant's new labor representation.
U.S. Representative Bill Pascrell, a Democrat, called for Panasonic to enter negotiations with SNITIS in good faith, and applauded the USTR complaint.
"Improving labor conditions is absolutely needed to ensure jobs here at home are not being undermined," he said.