U.S. expands COVID-19 booster eligibility to all adults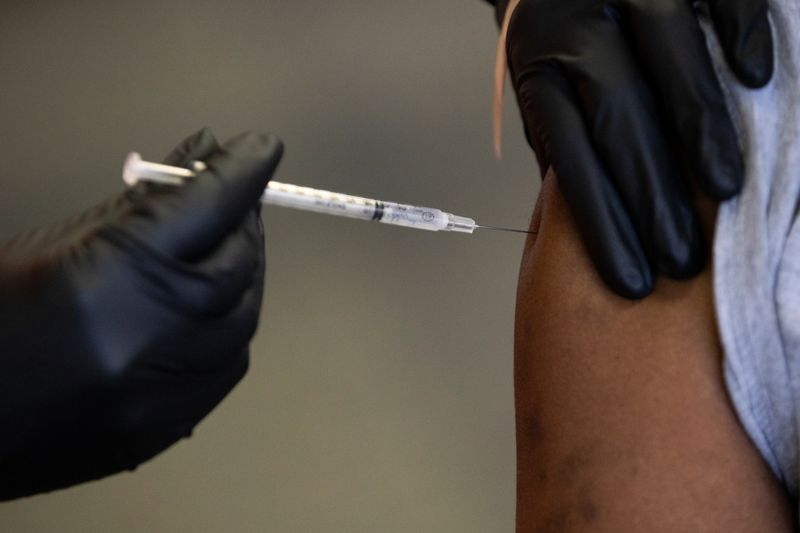 © Reuters. FILE PHOTO: A patient receives their coronavirus disease (COVID-19) vaccine booster during a Pfizer-BioNTech vaccination clinic in Southfield, Michigan, U.S., September 29, 2021. REUTERS/Emily Elconin
By Michael Erman and Manas Mishra
(Reuters) – U.S. regulators expanded eligibility for booster shots of COVID-19 vaccines to all adults on Friday, allowing millions more Americans to get additional protection against the virus amid a recent rise in infections.
The director of the Centers for Disease Control and Prevention, Rochelle Walensky, signed off on the expanded eligibility on Friday evening after the U.S. Food and Drug Administration broadened its authorization of booster doses to all adults who had received their second shot of either the Pfizer/BioNTech or Moderna (NASDAQ:) Inc vaccine at least six months prior.
Regulators had previously authorized boosters for all recipients of Johnson & Johnson (NYSE:)'s one-dose vaccine, two months after their primary dose.
"Booster shots have demonstrated the ability to safely increase people's protection against infection and severe outcomes and are an important public health tool to strengthen our defenses against the virus as we enter the winter holidays," Walensky said in a statement.
Most adults were already eligible for the additional shots, but fewer than 18% had received one, according to CDC data. But many public health officials felt the previous eligibility requirements were too complicated.
"The current guidelines – though well intentioned and thoughtful – generate an obstacle to uptake of boosters. In pursuit of precision, they create confusion," said Nirav Shah, a top Maine public health official and president of the Association of State and Territorial Health Officials.
"Our concern is that eligible individuals are not receiving boosters right now," Shah said.
According to an agency spokesperson, the CDC stopped short of saying all adults should get a booster. For those aged 18 to 49, the agency said individuals may get the vaccine if they choose to.
The CDC also moved to further clarify recommendations for people aged 50 to 64, suggesting all in this age group should get a booster, rather than only those with underlying medical conditions that put them at risk.
The agency's guidelines mirrored recommendations unanimously backed by a panel of CDC advisers earlier in the day.
CASES ON THE RISE
After about two months of declining infections, the United States has reported daily increases for the past two weeks, driven by the more easily transmitted Delta variant of the virus and people spending more time indoors due to colder weather.
Dr. Eric Topol, director of the Scripps Research Translational Institute in La Jolla, California, said the guidance did not go far enough to encourage booster doses.
The United States could face a major wave of COVID-19 cases this winter, Topol said, and protection is now waning.
"We're sitting ducks," he said
The nation's top infectious disease expert, Dr. Anthony Fauci, said this week that boosters, along with increasing overall vaccination, should help the country move beyond the worst of the pandemic in the coming months.
The FDA said its decision was supported by data showing that a third round of shots increased the immune response to the virus in studies of both the Moderna and Pfizer/BioNTech vaccines.
Some scientists remain concerned about rare cases of heart inflammation in young men following vaccination, particularly for recipients of Moderna's vaccine. Data from Israel suggested the rate of heart inflammation following a third dose of the Pfizer (NYSE:) vaccine is lower than after a second dose.
The Biden administration first proposed boosters for everyone in August, but has made them available in stages as health experts argued there was not enough data to support the need for further vaccination in all groups.
More than 32 million Americans have received boosters, which had been authorized for the immunocompromised, those aged 65 and above, and for individuals with health issues that put them at high risk of severe disease, including obesity, or who are regularly exposed to the virus through work or living conditions.
Nearly 60% of adult Americans – some 195.7 million people – are considered fully vaccinated, having received two doses of either the Pfizer/BioNTech or Moderna vaccines, or one shot of J&J's vaccine.
Huawei is banned in the US: the US has banned the import of equipment from Huawei and several other companies from China
Huawei is banned in the US. The Federal Communications Commission for the first time recognized products of a lot of Chinese companies banned for import and sale because of national security risks. Commission member Carr said that China threatens U.S. interests through espionage.
Telecommunications and surveillance equipment manufactured by Huawei, ZTE, Hytera and several other Chinese companies are banned from importation and sale in the United States because of "unacceptable risks" to national security. This was announced by the Federal Communications Commission (FCC) on its website.
Huawei banned in the U.S. – what is banned?
The products of the subsidiaries and affiliates mentioned in the list of companies fall under the ban. Brendan Carr, a member of the Federal Communications Commission, called the decision unprecedented and unanimously adopted with the support of both parties in Congress. This is the first time in the history of the agency, he noted, that the distribution of communications and electronic equipment has been banned because of national security reasons.
Carr pointed out that "Communist China and other malevolent actors" are too eager to use loopholes in U.S. electronic systems to obtain sensitive information, they are trying to "compromise American interests through espionage, intellectual property theft, blackmail, foreign influence campaigns and other nefarious activities."
Two years ago, the commission had already banned using government subsidies to buy equipment from Huawei and other Chinese companies, he recalled, and as a result many operators had refused to cooperate with such firms. But that decision left a loophole for buying equipment with private funds, and it's time to close it, Carr said.
Huawei was put on U.S. sanctions lists more than three years ago, in May 2019. Washington accused the company of industrial espionage, stealing technology and threatening the U.S. economy. In February 2020, The Wall Street Journal, citing statements from U.S. officials, reported that Huawei had covert access to cell phone networks around the world.
The CIA believes Huawei was funded by Chinese intelligence, the Chinese Armed Forces and the Republic's National Security Central Committee, sources told The Times. At the same time, the FBI believes that Huawei equipment installed on cellular towers near US military bases can jam and intercept Defense Department communications, including those used by the US Strategic Command, which is responsible for nuclear weapons.
Earlier, we reported that Bloomberg named the most profitable stock market in 2022.
What is the most profitable stock market? Bloomberg called it the most profitable stock market in 2022
What is the most profitable stock market? The stock market of Turkey, which is the most profitable stock market in the world, has become the growth leader this year, ahead of U.S., European and Asian platforms, Bloomberg wrote. The benchmark index Borsa Istanbul 100 (BIST 100) since the beginning of the year rose 78% in dollar terms.
In lira terms, the index, which includes shares of the 100 largest Turkish companies listed on the Istanbul Stock Exchange, has risen by more than 150% since January. This was the best result since 1999, the publication calculated. Most European financial markets have shown negative dynamics this year.
What is the most profitable stock market?
Turkey's stock market hit an all-time high in November 2022 as private investors invested in Turkish assets to protect against high inflation. The Borsa Istanbul 100 index rose to a new record high of 4,784 points in trading on Nov. 16. During trading on Tuesday, Nov. 22, the BIST 100 index gained 3.6 percent to trade at 4,734 points.
Domestic investors are investing in stocks as Turkey's central bank pursues a policy of lowering interest rates to spur economic growth, even as the country's inflation rate exceeds 80 percent. Despite high inflation, the country's regulator has conducted monetary policy easing cycles in 2021, which goes against current monetary policy. The rate cut has helped weaken the Turkish lira and turned equities into one of the few income-generating havens for investors.
Inflation in Turkey surpassed 85% in October for the first time in 25 years, and while the country's central bank predicts it could fall to 65.2% by year's end, price growth remains among the highest in the world.
Stocks have become favorites of Turkish investors. The number of stock trading accounts opened by private investors rose 32% this year to 3.1 million as of Nov. 18, according to Turkey's Central Securities Depository.
According to Evren Kirikoglu, founder of Istanbul-based Sardis Research Consultancy, Turkish stocks are likely to remain attractive to investors for at least the first half of next year, even as inflation in the country begins to decline.
Earlier we reported that the U.S. stock market was up more than 1% for the day.
US stock market news today: U.S. stock market closed with more than a percent gain
US stock market news today. U.S. stock indices closed Tuesday, trading up more than 1 percent in anticipation of the Federal Reserve's (Fed) November meeting minutes.
US stock market analysis
The Dow Jones Industrial Average gained 397.82 points (1.18 per cent) and was up 34098.1 points. Intel Corp (NASDAQ:INTC) and Salesforce (NYSE:CRM) Inc (+3%) were the top gainers among the index components. Only three of the 30 companies in the index's calculation finished with losses, including shares of Walt Disney Co (NYSE:DIS), which fell 1.4 percent.
Standard & Poor's 500 rose 53.64 points (1.36%) to 4,003.58 points. The Nasdaq Composite added 149.9 points (1.36%) to 11174.41 points.
The Fed minutes will be released tonight. At its last meeting, the Fed once again raised the rate by 75 basis points and hinted at the possibility of a slowdown in rate hikes at later meetings.
On Monday, Federal Reserve Bank of Cleveland and San Francisco governors Loretta Mester and Mary Daly signaled that the Fed would slow the pace of interest rate hikes next month, while stressing that the need for further policy tightening remains.
Senior strategist at B. Riley Wealth Management Art Hogan recalled that the U.S. market will be closed Thursday due to the Thanksgiving holiday, and many traders will take Friday off, so trading volumes this week will be lower than usual.
"Under such conditions, moves in both directions are often particularly pronounced," he said.
Market participants were also assessing corporate news.
Earlier we reported that stock markets in Europe are changing in different directions.