U.S. regulators recommend issuers of 'stablecoins' be policed like banks
By Pete Schroeder and Michelle Price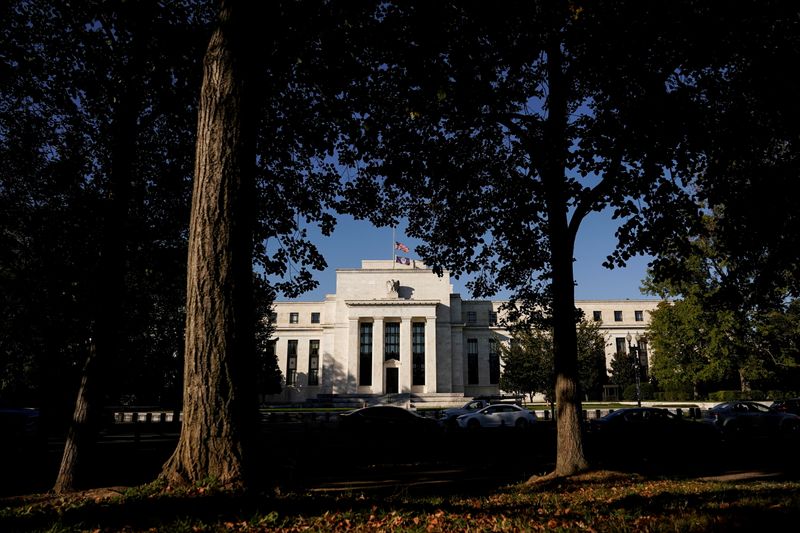 © Reuters. FILE PHOTO: The Federal Reserve building is seen in Washington, U.S., October 20, 2021. REUTERS/Joshua Roberts/File Photo
By Pete Schroeder and Michelle Price
WASHINGTON (Reuters) -A U.S. Treasury Department-led regulatory body called on Monday for Congress to regulate issuers of "stablecoins" like banks and urged financial agencies to assess whether the role of these fast-growing digital assets in the country's payments system posed a systemic risk.
The hotly awaited report by the President's Working Group on Financial Markets will likely boost policymakers' efforts to put guardrails around stablecoins, a type of digital asset pegged to traditional currencies which the body said could pose threats to the broader financial system.
Stablecoins, which include the likes of , and Binance USD, ballooned 500% to reach a market cap of $127 billion over the past 12 months, according to the report.
"The rapid growth of stablecoins increases the urgency of this work," the report stated. "Failure to act risks growth of payment stablecoins without adequate protection for users, the financial system, and the broader economy."
While stablecoins are primarily used to facilitate trading in other cryptocurrencies, they could become widely used by households and businesses to make payments, the report said.
Currently, though, stablecoins have a wide range of policies governing disclosures, what assets are held in reserve to back the coins, and around redemption rights, all of which could make them susceptible to runs if users lose confidence in the asset.
"Runs could spread contagiously from one stablecoin to another, or to other types of financial institutions that are believed to have a similar risk profile. Risks to the broader financial system could rapidly increase as well, especially in the absence of prudential standards," the report warned.
Chief among the report's recommendations is for Congress to "urgently" pass a law that would regulate stablecoin issuers akin to insured depository institutions, subjecting them to strict supervision by banking regulators while also providing some form of government backstop in the event of crises.
The report said Congress should also require stricter oversight of stablecoin wallet providers which hold the digital currency on behalf of customers.
That conclusion is likely to disappoint advocates of stronger oversight, since it can take years for Congress to pass such laws.
If Congress fails to act, the Financial Stability Oversight Council, a body of U.S. regulators created following the 2007-09 financial crisis, could designate some stablecoin activities — most notably payment, clearing and settlement — as a systemic risk, which would subject them to stricter oversight.
The President's Working Group (PWG) has been researching stablecoins, in consultation with the financial industry, academics and advocacy groups, for the past few months after Treasury Secretary Janet Yellen said policymakers must move quickly to build a regulatory regime for the asset class.
The PWG traditionally includes the Treasury, Federal Reserve, Securities and Exchange Commission (SEC) and the Commodity Futures Trading Commission (CFTC), but the Federal Deposit Insurance Corporation and the Office of the Comptroller of the Currency are also involved in the stablecoin work.
Monday's report also affirmed that both the SEC and the CFTC have jurisdiction to police stablecoin activity as securities or derivatives, respectively.
SEC Chairman Gary Gensler said in a statement those agencies plan to "deploy the full protections" of relevant laws to stablecoins while Congress considers legislation.
Morgan Stanley: bear market rally to continue
One of Wall Street's best-known bears, Michael Wilson, thinks the S&P 500 will rise another 7% before turning down, so the bear market rally will continue for now, writes Market Watch.
After the Dow Jones, S&P 500 and Nasdaq Composite joined their strongest weekly gains since at least May last Friday, Wilson, who is chief strategist and head of U.S. equity markets at Morgan Stanley (NYSE:MS), told clients that there could be another 5% to 7% before the downward trajectory of U.S. stocks resumes during the latest bear market recovery.
Wilson has held a bearish view of the stock market for about 2 years and correctly predicted a sell-off this year.
Wilson explained in a research note sent out to clients on Monday that a pullback in the 38-50% drop in the stock market this year "would not seem like something unnatural, not consistent with the previous bear market rally."
While growth concerns have triggered a sell-off in commodities and lowered inflation expectations, the fact that the U.S. economy is already slowing and heading toward recession means that any market rally is likely to be short-lived, and U.S. stocks are likely to eventually fall.
Wilson mentioned in the note that the bear market is not over yet, although it may appear otherwise in the next few weeks as the market takes the rate cut as a sign that the Fed can still manage a "soft landing" and prevent a meaningful revision to earnings forecasts.
U.S. stocks rose last week as investors now hope the slowing economy and falling commodity prices may inspire the Fed to raise interest rates less sharply. Federal funds futures, a derivative used by investors to bet on the pace of the Fed's monetary policy changes, estimate with a high probability that the Fed will be forced to start cutting interest rates again as soon as next summer.
They also consider the lower peak in the federal funds rate: it will peak around 3.5% at the end of 2022 instead of 3.75% just a couple of weeks ago. Wilson also pointed out the drop in Treasury yields: the 10-year Treasury bond yield went from 3.230% to a low of 3.07% on Friday before rebonding again on Monday.
Wilson expects the S&P 500 index to fall to around 3,400 points if the U.S. Federal Reserve manages to get a "soft landing" for the economy — which Fed Chairman Jerome Powell said last week would be "a very difficult thing to do."
Wilson expects that if the U.S. economy plunges into recession, the S&P 500 index will fall to around 3,000 points. In any case, Wilson believes that U.S. stocks are still highly valued because the risk premium — that is, the measure of compensation that investors receive for the extra risk of owning stocks instead of bonds — remains about 300 basis points higher than the 10-year Treasury bond yield, which is considered a "risk-free rate." 
Easing chip shortages to help Volkswagen in H2 – CEO
© Reuters. FILE PHOTO: Volkswagen logo is pictured at the 2022 New York International Auto Show, in Manhattan, New York City, U.S., April 13, 2022. REUTERS/Brendan McDermid/File Photo
BERLIN (Reuters) – Volkswagen (ETR:VOWG_p) sees a strong second half of 2022 and expects progress in catching up with rival Tesla (NASDAQ:TSLA) as easing chip shortages start to offset supply chain bottlenecks and rising costs, the carmaker's CEO said on Tuesday.
"We are earning more than ever," Chief Executive Herbert Diess said at a works meeting, adding Volkswagen is ramping up electric vehicle volumes in its biggest markets in Germany and China thanks to easing semiconductor shortages.
This should allow the carmaker to narrow the Volkswagen-Tesla gap this year and meet its goal of becoming market leader by 2025 if it seizes the moment while the U.S. electric car maker burns cash on large investments, the CEO said.
"Elon (Musk) has to ramp up two highly complex factories in Austin and Gruenheide at the same time – as well as expand production in Shanghai. That's going to take strength out of him," Diess said.
Reliance Chairman Mukesh Ambani steps down as director of telecom arm
© Reuters. FILE PHOTO: Mukesh Ambani, Chairman and Managing Director of Reliance Industries, arrives to address the company's annual general meeting in Mumbai, India July 5, 2018. REUTERS/Francis Mascarenhas
BENGALURU (Reuters) – Reliance Industries Chairman Mukesh Ambani has stepped down as director of Reliance Jio Infocomm Ltd, the conglomerate's telecom arm said on Tuesday.
Reliance Jio said https://refini.tv/3Nrs773 it has appointed Mukesh's son and non-executive director Akash Ambani as the chairman of its board. Akash has been involved with the telecom unit since its launch in late 2016, where he started as a director.
India's telecoms sector had been upended after the entry of Jio, which triggered a price war that forced some rivals out of the market and turned profits into losses.
Jio, which started out offering mobile teleservices, has been aggressively investing in services like internet broadband and forging ties with handset makers to launch low-cost smartphones and providing 5G services.