U.S. states vary on inoculating kids against COVID-19, mostly along party lines
By Carl O'Donnell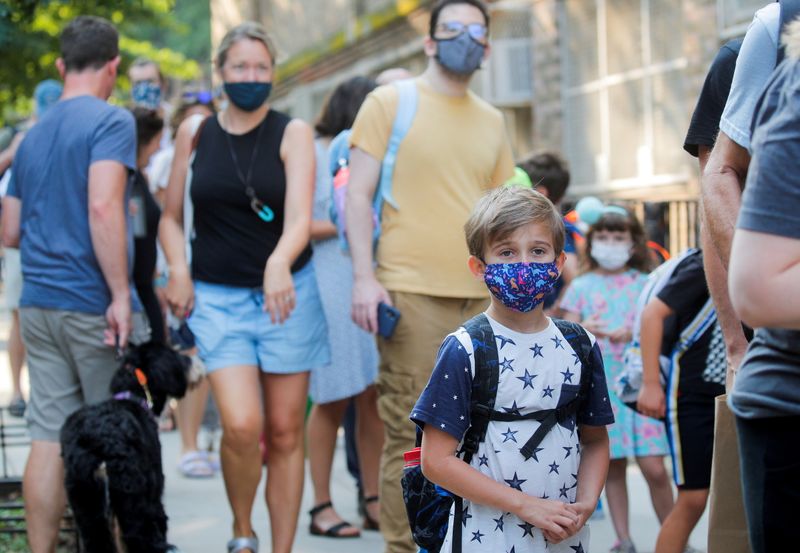 © Reuters. FILE PHOTO: A child wears a face mask on the first day of New York City schools, amid the coronavirus disease (COVID-19) pandemic in Brooklyn, New York, U.S. September 13, 2021. REUTERS/Brendan McDermid
By Carl O'Donnell
(Reuters) – U.S. states with the highest adult vaccination rates against COVID-19 are planning a big push to get children inoculated compared to states where hesitancy remains strong, potentially widening the gaps in protection nationwide, public health officials and experts said.
The U.S. Food and Drug Administration on Friday authorized the COVID-19 vaccine developed by Pfizer Inc (NYSE:) and BioNTech SE (NASDAQ:) for children aged 5 to 11 years old, paving the way for some 50 million doses to start being distributed to states. The Centers for Disease Control and Prevention is expected to give final clearance for the shot to be administered to this age group as soon as Tuesday.
From there, the path to inoculating children will vary greatly depending on their location, according to more than two dozen state officials surveyed by Reuters.
"We're going to be left with a bifurcated situation like we have with the adults, where you have the northeast, West Coast, and some of the Upper Midwest vaccinated, and then the rest of the country partly vaccinated at best," said Ira Loss, a senior healthcare analyst at Washington Analysis, a research firm.  
California, New York and Washington, all led by Democratic governors who have promoted vaccination and mask-wearing during the pandemic, are setting up mobile sites and high-volume vaccination clinics for children and launching advertising and social media campaigns to promote pediatric vaccines, spokespeople for those states' public health department said.
California has also mandated that school-age children get a COVID-19 vaccine once their age group is eligible, a measure being considered in New York and Washington.
On the contrary, Republican state governors have largely resisted measures such as mask mandates or vaccine requirements in workplaces, schools and public venues. More than a dozen states, including Florida and Texas, have made efforts to prevent businesses or schools in their state from imposing such requirements themselves.
Public health officials in some of those states, including Arkansas, Nebraska, Indiana, and South Carolina, told Reuters they plan to rely on local healthcare providers to make shots available to children.
"We plan to use the current vaccination infrastructure already in place for vaccinating children rather than have large scale events," said a spokeswoman for Arkansas' public health department.
Nebraska has not prepared an advertising campaign to promote children's COVID-19 vaccination and it is leaving the task of administering shots primarily to local health departments and healthcare providers, a spokesperson told Reuters.
A spokesperson for South Carolina said that the supply shots in the state has consistently exceeded demand but it has "enough vaccine available to accommodate what we hope will be a heightened demand" for children's vaccines.
While children becoming seriously ill or dying from COVID-19 is rare compared with adults, cases among unvaccinated people under 17 have increased in recent months due to the easily transmitted Delta variant of the coronavirus and now account for more than 25% of U.S. infections. Infected children can also pass COVID-19 to other people at higher risk of serious illness, including people who have already been vaccinated.
Some public health experts say the most effective way to ensure children get vaccinated is to make it mandatory for school attendance, but few states are considering such a move.
"We think that this is the best way to protect children from any of the consequences of the illness but also their relatives and their immune suppressed friends," said Pamela Zeitlin, the chair of the department of pediatrics at National Jewish Health, hospital in Colorado.
But too many states "are hands off about this sort of thing," she said.
European stock indices are falling following Asian stock markets on Monday
Major European stock indices are falling under pressure from Asian markets, according to trading data and analyst commentary.
The British FTSE 100 index is down 0.71% to 7431.66 points, French CAC 40 is down 0.64% to 6667.31 points and German DAX is down 0.58% to 14456.82 points.
Why are European stock indices down? 
On Monday, investors' attention was turned to the situation around the coronavirus in China. The country has seen a record surge in cases of coronavirus for several days in a row, and authorities have imposed a lot of new anti-coviral restrictions. As a result, Shanghai residents demonstrated on Sunday against the restrictions imposed by the authorities.
Against this backdrop, Asia-Pacific stock indexes ended Monday's trading in the negative, which had an impact on the mood of traders in Europe.
"China will be the main driver today because any political instability in the country is a source of uncertainty and anxiety for markets," Jaime Espejo, an equity fund manager at Imantia Capital in Madrid, told Bloomberg.
One of the main events for investors in Europe this week will be the statistical data on consumer prices in the euro area. Analysts think that, according to preliminary estimations, annual inflation slowed down to 10.4% from 10.6% in October.
Earlier we reported that the U.S. had banned imports of equipment by Huawei and several other companies from China.
Huawei is banned in the US: the US has banned the import of equipment from Huawei and several other companies from China
Huawei is banned in the US. The Federal Communications Commission for the first time recognized products of a lot of Chinese companies banned for import and sale because of national security risks. Commission member Carr said that China threatens U.S. interests through espionage.
Telecommunications and surveillance equipment manufactured by Huawei, ZTE, Hytera and several other Chinese companies are banned from importation and sale in the United States because of "unacceptable risks" to national security. This was announced by the Federal Communications Commission (FCC) on its website.
Huawei banned in the U.S. – what is banned?
The products of the subsidiaries and affiliates mentioned in the list of companies fall under the ban. Brendan Carr, a member of the Federal Communications Commission, called the decision unprecedented and unanimously adopted with the support of both parties in Congress. This is the first time in the history of the agency, he noted, that the distribution of communications and electronic equipment has been banned because of national security reasons.
Carr pointed out that "Communist China and other malevolent actors" are too eager to use loopholes in U.S. electronic systems to obtain sensitive information, they are trying to "compromise American interests through espionage, intellectual property theft, blackmail, foreign influence campaigns and other nefarious activities."
Two years ago, the commission had already banned using government subsidies to buy equipment from Huawei and other Chinese companies, he recalled, and as a result many operators had refused to cooperate with such firms. But that decision left a loophole for buying equipment with private funds, and it's time to close it, Carr said.
Huawei was put on U.S. sanctions lists more than three years ago, in May 2019. Washington accused the company of industrial espionage, stealing technology and threatening the U.S. economy. In February 2020, The Wall Street Journal, citing statements from U.S. officials, reported that Huawei had covert access to cell phone networks around the world.
The CIA believes Huawei was funded by Chinese intelligence, the Chinese Armed Forces and the Republic's National Security Central Committee, sources told The Times. At the same time, the FBI believes that Huawei equipment installed on cellular towers near US military bases can jam and intercept Defense Department communications, including those used by the US Strategic Command, which is responsible for nuclear weapons.
Earlier, we reported that Bloomberg named the most profitable stock market in 2022.
What is the most profitable stock market? Bloomberg called it the most profitable stock market in 2022
What is the most profitable stock market? The stock market of Turkey, which is the most profitable stock market in the world, has become the growth leader this year, ahead of U.S., European and Asian platforms, Bloomberg wrote. The benchmark index Borsa Istanbul 100 (BIST 100) since the beginning of the year rose 78% in dollar terms.
In lira terms, the index, which includes shares of the 100 largest Turkish companies listed on the Istanbul Stock Exchange, has risen by more than 150% since January. This was the best result since 1999, the publication calculated. Most European financial markets have shown negative dynamics this year.
What is the most profitable stock market?
Turkey's stock market hit an all-time high in November 2022 as private investors invested in Turkish assets to protect against high inflation. The Borsa Istanbul 100 index rose to a new record high of 4,784 points in trading on Nov. 16. During trading on Tuesday, Nov. 22, the BIST 100 index gained 3.6 percent to trade at 4,734 points.
Domestic investors are investing in stocks as Turkey's central bank pursues a policy of lowering interest rates to spur economic growth, even as the country's inflation rate exceeds 80 percent. Despite high inflation, the country's regulator has conducted monetary policy easing cycles in 2021, which goes against current monetary policy. The rate cut has helped weaken the Turkish lira and turned equities into one of the few income-generating havens for investors.
Inflation in Turkey surpassed 85% in October for the first time in 25 years, and while the country's central bank predicts it could fall to 65.2% by year's end, price growth remains among the highest in the world.
Stocks have become favorites of Turkish investors. The number of stock trading accounts opened by private investors rose 32% this year to 3.1 million as of Nov. 18, according to Turkey's Central Securities Depository.
According to Evren Kirikoglu, founder of Istanbul-based Sardis Research Consultancy, Turkish stocks are likely to remain attractive to investors for at least the first half of next year, even as inflation in the country begins to decline.
Earlier we reported that the U.S. stock market was up more than 1% for the day.