Hero or vigilante? Rittenhouse verdict reignites polarized U.S. gun debate
2/2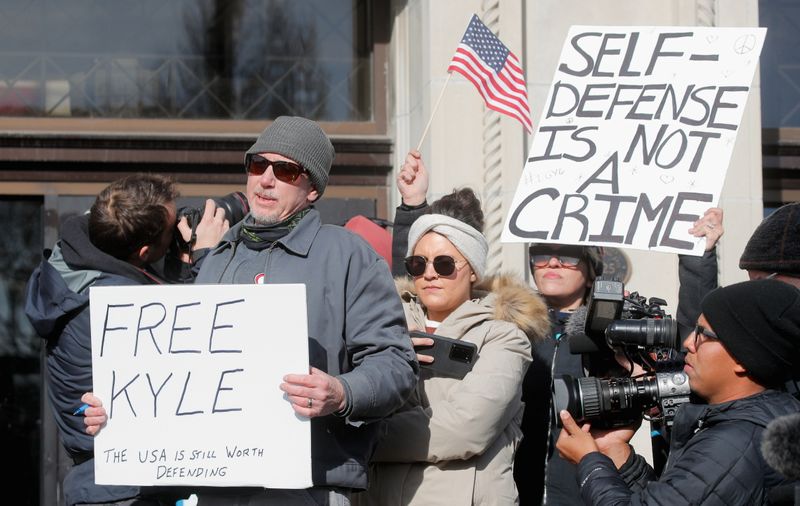 © Reuters. People await the verdict in the trial of Kyle Rittenhouse, outside the Kenosha County Courthouse in Kenosha, Wisconsin, U.S., November 19, 2021. REUTERS/Brendan McDermid
2/2
By Joseph Ax
(Reuters) – Kyle Rittenhouse's acquittal on murder charges on Friday opened yet another front in America's longstanding fight over gun rights: Is it acceptable for a teenager to bring an assault-style rifle to a protest?
Conservatives hailed Rittenhouse as a hero for exercising his right to self-defense when he fatally shot two demonstrators and wounded a third who he said attacked him last year at a racial justice protest in Kenosha, Wisconsin.
Gun control advocates warned the jury's verdict could inspire a new wave of armed vigilantism, after Rittenhouse – armed with an AR-15-style rifle – traveled in August 2020 from his Illinois home to Kenosha after demonstrations erupted following the police shooting of a Black man, Jacob Blake.
Guns have long been a potent political issue in the United States, where permissive laws have led to the highest rate of civilian firearm ownership in the world. Mass shootings, which are far more rare in other wealthy nations, have plagued the country for decades.
Rittenhouse's decision, at age 17, to roam the streets of Kenosha toting a weapon in the name of protecting private property from rioters struck a particular nerve about just how far gun rights should extend.
"As the tragic events on that night in August showed, a 17-year-old arming himself with an AR-15 makes no one safer," top officials at Giffords, the gun safety group, said in a statement. "Today's verdict sends a troubling message that will encourage further vigilante violence and murder."
Gun rights organizations and Rittenhouse supporters celebrated the outcome as a major victory.
Within minutes of the verdict, the National Rifle Association posted on Twitter (NYSE:) the language of the U.S. Constitution's Second Amendment: "A well regulated militia, being necessary to the security of a free state, the right of the people to keep and bear arms, shall not be infringed."
Brandon Lesco, who was standing outside the Kenosha courthouse holding a "Free Kyle!" sign, said the verdict was just.
"Someone needs to be there to defend the American towns that people try to burn. I respect that he was there, I respect he carried a weapon, he used it properly, he used it legally. The jurors agree," said Lesco.
The trial judge earlier this week had dismissed a misdemeanor charge against Rittenhouse for illegally possessing the rifle he used in the shootings, citing vagueness in the law.
'UNACCEPTABLE MESSAGE'
Liberals denounced Rittenhouse's acquittal as further evidence of a racially biased criminal justice system. Rittenhouse, like the men he shot, is white.
"That a white male youth can travel across state lines, armed with an assault rifle, and engage in armed confrontation resulting in multiple deaths without facing criminal accountability, is the all too familiar outcome in a country where systemic racism continues to rot the system," Margaret Huang, president and CEO of the Southern Poverty Law Center, said in a statement.
Some legal experts were careful to draw a distinction between the specific facts of Rittenhouse's case and the broader message it might send.
Prosecutors had a high bar to clear to convince jurors that Rittenhouse did not reasonably fear for his life at the time he fired, according to Janine Geske, a former Wisconsin Supreme Court justice. Under state law, he was legally permitted to carry his weapon openly.
But Geske said she worried the trial will teach the wrong lesson: "When you're out protesting or counter-protesting, it is perfectly fine to bring loaded weapons to 'protect yourself.' We're going to have substantial issues of who's defending themselves, when you've got two people with a gun?"
That sentiment was echoed by Karen Bloom and John Huber, the parents of Anthony Huber, one of the men killed by Rittenhouse.
"It sends the unacceptable message that armed civilians can show up in any town, incite violence, and then use the danger they have created to justify shooting people in the street," they said in a statement.
Why are modern video games an art form?
Has anyone ever wondered why games are not art? After all, making games is not such an easy job. Creating a game is a thousand times harder than writing a book.
Video games are like movies
We all love to watch movies. We worry about heroes; we can love or hate, the villain or the hero; we watch TV series without missing a single episode.
Games are essentially the same as movies or TV series. Take RD2, for example. A game that made you shed a tear at some points, get nervous, get scared. We feel the same way when we watch our favorite films or TV series. Red Dead Redemption 2 key today you can get at a nice price.
Let's remember the nineties. A time when games had a minimal emphasis on story. For example: Mario. At the very beginning of the game the Princess is kidnapped and that's it, the rest of the time we just run, jump, collect coins, and only at the end we finish the game by killing the boss. The plot was, at a minimum. Now the big companies have screenwriters working for them. It depends on them what kind of story the game will have. Therefore, games can be perceived as movies.
Video games are like fine art
Many have been to art galleries. Everyone has seen many famous works of art on the covers of books, whether it's Mona Lisa or Claude Monet's The Poppy Field near Vetheuil. We have marveled at the beauty of these paintings.
The same could be said of games. Dozens of artists in companies work hard to make their world look really picturesque. For example, RD2 is a really beautiful game. The landscapes are very mesmerizing. The game wanted to go through many times to enjoy these landscapes. If you still haven't managed to do it, use the Red Dead Redemption 2 Steam key.
Also Ori and The Blind Forest game can be referred to as this example. The visual style is made on high. You will not see such landscapes in real life. Not a single element is duplicated. The artists did a great job. Such would be the envy of any modern artist.
Games as architecture
When we come to rest in any country, we necessarily visit historic monuments, created by great masters of architecture. The creation of urban locations in modern video games involved the same architects, but instead of a ruler and pencil in their hands using the mouse, graphics tablets and other tools.
Video games as literature
Everyone has read books and in the course of reading imagined what was happening in the story in their imagination. Some games are just like a book, but you don't have to use your imagination: the developers did it for you. Many of the games were developed based on the books of the same name. The developers managed to convey the atmosphere that we are immersed in while reading the books.
Maybe now a lot of people have a different view on video games. A lot of people think games are something bad, they try to ban them, but you know, you are trying to ban the same art.
U.S. Capitol riot panel promises new evidence at surprise Tuesday hearing
2/2
© Reuters. FILE PHOTO: A video of former U.S President Donald Trump speaking is shown on a screen during the fifth public hearing of the U.S. House Select Committee to Investigate the January 6 Attack on the United States Capitol, on Capitol Hill in Washington, U.S.
2/2
By Richard Cowan and Moira Warburton
WASHINGTON (Reuters) -A U.S. congressional committee plans to reveal new evidence about the Jan. 6, 2021, assault on the U.S. Capitol by Donald Trump's supporters at a public hearing on Tuesday it hastily announced a mere 24 hours earlier.
The House of Representatives committee, investigating the first attempt to prevent the peaceful transfer of power in U.S. history, declined to answer questions about who might testify or what evidence would be presented.
Cassidy Hutchinson, a former aide to then-President Donald Trump's chief of staff Mark Meadows, is expected to testify, several media outlets reported. Representatives of the panel did not immediately respond to a request for comment on the reports.
The meeting, announced on Monday, is scheduled for 1 p.m. ET (1700 GMT) on Tuesday.
Testimony at five prior hearings has shown how Trump, a Republican, riled thousands of supporters with false claims that he lost the 2020 election to Democrat Joe Biden because of massive voter fraud.
British filmmaker Alex Holder, who spent time filming Trump and his family in the weeks after the election, has in recent days testified before the committee behind closed doors and shared video of his interviews with Trump and his family, according to media reports.
The committee has said it intends to interview Virginia "Ginni" Thomas, wife of Supreme Court Justice Clarence Thomas, following reports she may have been involved in efforts to stop Biden's victory certification at the Capitol on Jan. 6. She has said she intended to speak to the panel.
U.S. law enforcement last week raided the home of Jeffrey Clark, a former Justice Department official, who was an enthusiastic supporter of Trump's false fraud claims.
This month's hearings featured videotaped testimony from figures including Trump's oldest daughter, Ivanka Trump, and his former attorney general, Bill Barr. They and other witnesses testified that they did not believe Trump's false claims of widespread fraud and tried to dissuade him of them.
Dozens of courts, state election officials and reviews by Trump's own administration rejected his claims of fraud, some of which included outlandish stories about an Italian security firm or the late Venezuelan President Hugo Chavez tampering with U.S. ballots.
Trump, who is publicly flirting with another White House run in 2024, has denied wrongdoing and accused the committee of engaging in a political witch hunt. He has leveled harsh criticism particularly at Representative Liz Cheney, one of just two Republicans on the nine-member committee.
A Reuters/Ipsos poll early this month found that about two-thirds of U.S. Republicans believe Trump's false election fraud claims.
The committee, sometime next month, is expected to hold one or two hearings on possible coordination of the Jan. 6 attack by right-wing extremist groups.
During the assault on the Capitol, thousands of Trump supporters smashed windows, fought with police and sent lawmakers, including Trump's vice president, Mike Pence, fleeing for their lives.
Four people died the day of the attack, one fatally shot by police and the others of natural causes. More than 100 police officers were injured, and one died the next day. Four officers later died by suicide.
Rescuers dig for survivors after Russian missiles demolish Ukrainian shopping mall
6/6
© Reuters. Rescuers work at a site of a shopping mall hit by a Russian missile strike, as Russia's attack on Ukraine continues, in Kremenchuk, in Poltava region, Ukraine June 27, 2022. Picture taken June 27, 2022. REUTERS/Anna Voitenko
2/6
By Simon Lewis
KREMENCHUK, Ukraine (Reuters) -Firefighters and soldiers searched on Tuesday for survivors in the rubble of a shopping mall in central Ukraine after a Russian missile strike killed at least 18 people in an attack condemned by the United Nations and the West.
More than 1,000 people were inside when two Russian missiles slammed into the mall in Kremenchuk, about 300 km (200 miles) southeast of the capital Kyiv, Ukrainian President Volodymyr Zelenskiy said.
At least 18 people were killed and 25 hospitalised, while about 36 were missing, Poltava region governor Dmytro Lunin said.
Zelenskiy, in an overnight video address, called the attack deliberate, saying it was "a calculated Russian strike exactly onto this shopping centre".
Russia said the incident was caused by a strike on a legitimate military target. Its defence ministry, quoted by the RIA state news agency, said it had fired missiles at a storage depot for Western weapons in Kremenchuk, and the detonation of stored ammunition there had caused the fire at the nearby mall.
Ukraine's Prosecutor General Iryna Venediktova told Reuters a missile had also struck a nearby factory, but it was closed and not a military target.
"It's a question about crimes against humanity," she said. "I think it's like systematical shelling of civilian infrastructure – with what aim? To scare people, to kill people to make terror in our cities and villages."
Relatives of the missing lined up at a hotel across the street where rescue workers set up a base after Monday's strike.
A survivor receiving treatment at Kremenchuk's public hospital, Ludmyla Mykhailets, 43, said she was shopping with her husband when the blast threw her into the air.
"I flew head first and splinters hit my body. The whole place was collapsing," she said.
"It was hell," said her husband, Mykola, 45, blood seeping through a bandage around his head.
At the scene of the blaze on Tuesday morning, exhausted-looking firefighters sat on a kerb. Oleksandr, wetting his face from a water bottle on a bench, said his team had worked all night picking through the rubble.
"We pulled out five bodies. We didn't find anybody alive," he said.
Leaders of the Group of Seven (G7) major democracies, at a summit in Germany, said the attack was "abominable".
"Russian President Putin and those responsible will be held to account," they said in a joint statement.
BATTLE FOR LYSYCHANSK
Russia denies intentionally targetting civilians in its "special military operation" which has destroyed cities, killed thousands of people and driven millions from their homes.
The U.N. Security Council, where Moscow wields a veto, will meet on Tuesday at Ukraine's request following the attack. U.N. spokesperson Stephane Dujarric said the missile strike was deplorable.
Elsewhere on the battlefield, Ukraine endured another difficult day following the loss of the now-ruined city of Sievierodonetsk.
Russian artillery pounded Lysychansk, Sievierodonetsk's twin city across the Siverskyi Donets River. Ukraine said the Russians attempted to storm it.
Lysychansk is the last big city held by Ukraine in eastern Luhansk province, a main target for the Kremlin after Russian troops failed to take Kyiv early in the war.
Eight residents including a child were killed and 21 wounded by shelling when they gathered to get drinking water in Lysychansk on Monday, Luhansk Governor Serhiy Gaidai said.
Ukrainian forces controlled the city but its loss was possible as Russia poured resources into the fight, he added.
"They really want this and a lot of reserves are being thrown just for this…We do not need to lose an army for the sake of one city," he told Reuters in an interview.
Rodion Miroshnik, the ambassador to Moscow of the separatist Luhansk People's Republic, said Russian troops and their Luhansk Republic allies were advancing westward into Lysychansk and street battles had erupted around the city stadium.
Fighting was going on in several surrounding villages, and Russian and allied troops had entered the Lysychansk oil refinery where Ukrainian troops were concentrated, Miroshnik said on Telegram.
Russia also shelled the city of Kharkiv in northeast Ukraine on Monday, hitting apartment buildings and a primary school, the regional governor said.
The shelling killed five people and wounded 22. There were children among the wounded, the governor said.
During their summit in Germany, G7 leaders vowed to stand with Ukraine "for as long as it takes" and tighten the squeeze on Russia's finances with new sanctions that include a proposal to cap the price of Russian oil.