Israel targets Gaza tunnels, Palestinian rocket attacks persist
By Nidal al-Mughrabi and Jeffrey Heller
2/2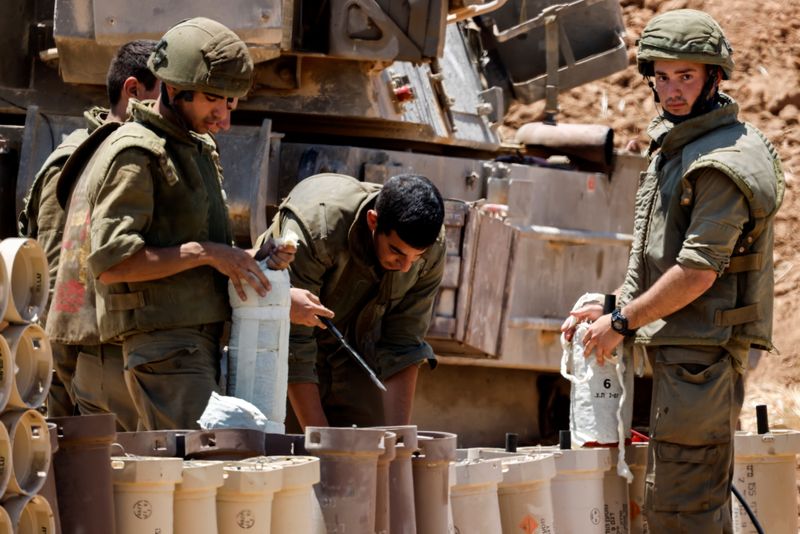 © Reuters. Israeli soldiers check artillery shells in an area near the border with Gaza, in southern Israel May 13, 2021. REUTERS/Amir Cohen
2/2
By Nidal al-Mughrabi and Jeffrey Heller
GAZA/JERUSALEM (Reuters) -Israel fired artillery and mounted extensive air strikes on Friday against a network of Palestinian militant tunnels under Gaza that it dubbed "the Metro", amid persistent rocket attacks on Israeli towns.
An Israeli military spokesman said that while ground forces had taken part in the 40-minute, pre-dawn offensive, none had crossed into the Gaza Strip, as hostilities entered their fifth day with no sign of abating.
Health officials in northern Gaza said a woman and her three children were killed during the Israeli operation and that their bodies were recovered from the rubble of their home.
Rocket barrages against southern Israel swiftly followed the Israeli strikes, which the spokesman said included artillery and tank fire from inside Israeli territory.
The most serious fighting between Israel and Gaza militants since 2014 began on Monday after the enclave's ruling Hamas group fired rockets at Jerusalem and Tel Aviv in retaliation for Israeli police clashes with Palestinians near al-Aqsa mosque in Jerusalem.
At least 119 have been killed in Gaza, including 31 children and 19 women, and 830 others wounded in the current hostilities, Palestinian medical officials said.
The death toll in Israel stood at eight: a soldier patrolling the Gaza border, six Israeli civilians – including a an elderly woman who fell on the way to a shelter on Friday and two children – and an Indian worker, Israeli authorities said.
In northern and eastern parts of Gaza, the sound of artillery fire and explosions echoed early on Friday. Witnesses said many families living near the border left their homes, some seeking shelter at United Nations-run schools.
Lieutenant Colonel Jonathan Conricus, an Israeli military spokesman, said 160 aircraft as well as artillery and armoured units, "not inside the Gaza Strip", had taken part in what he called the largest operation against a specific target since the fighting began.
"What we were targeting is an elaborate system of tunnels that spans underneath Gaza, mostly in the north but not limited to, and is a network that the operatives of Hamas use in order to move, in order to hide, for cover," he said in a briefing to foreign reporters.
"We refer to (it) as the Metro," he said, adding that a final assessment on the outcome of the operation was pending.
Israeli Prime Minister Benjamin Netanyahu said on Thursday the campaign "will take more time". Israeli officials said Hamas, Gaza's most powerful militant group, must be dealt a strong deterring blow before any ceasefire.
U.S. President Joe Biden called on Thursday for a de-escalation of the violence, saying he wanted to see a significant reduction in rocket attacks.
TENSIONS IN ISRAEL
The hostilities have fuelled tension between Israeli Jews and the country's 21% Arab minority who live alongside them in some communities.
Violence continued overnight in mixed communities of Arabs and Jews. Over the past several days, synagogues were attacked and fighting broke out on the streets of some towns, prompting Israel's president to warn of civil war.
On Thursday, the Israeli military said it was building up forces on the Gaza border, raising speculation about a possible ground invasion, a move that would recall similar incursions during Israel-Gaza wars in 2014 and 2009.
But an invasion looked unlikely, given Israel's reluctance to risk a sharp increase in military casualties on Hamas turf.
The U.N. Security Council will publicly discuss the worsening violence between Israel and Palestinian militants on Sunday, diplomats said after the United States had objected to a meeting on Friday.
Truce efforts by Egypt, Qatar and the United Nations had yet to deliver a sign of progress.
The Israeli military has put the number of militants killed in Israeli attacks at between 80 and 90. It said that so far, some 1,800 rockets have been fired at Israel, of which 430 fell short in the Gaza Strip or malfunctioned.
On the Israeli political front, Netanyahu's chances to remain in power after an inconclusive March 23 election appeared to improve significantly after his main rival, centrist Yair Lapid, suffered a major setback in efforts to form a government.
Dueling rallies as U.S. Supreme Court confronts abortion rights case
2/2
© Reuters. FILE PHOTO: The United States Supreme Court in Washington, U.S., May 17, 2021. REUTERS/Evelyn Hockstein/File Photo
2/2
By Gabriella Borter, Julia Harte and Jan Wolfe
WASHINGTON (Reuters) -Carrying signs and playing music, hundreds of people favoring and opposing abortion rights staged dueling rallies in front of the U.S. Supreme Court on Wednesday as the nine justices prepared to hear arguments in a case that could overturn the 1973 Roe v. Wade ruling that legalized abortion nationwide.
The groups stood close together and tried to yell over each other. Abortion rights activists chanted, "What do we want? Abortion access. When do we want it? Now." Anti-abortion protesters held huge signs reading "abortion is murder," some carrying Christian crosses and others playing Christian music.
The justices will consider Mississippi's bid to revive a Republican-backed 2018 state law, blocked by lower courts, banning abortion at 15 weeks of pregnancy.
Jen Rudolph, 52, and her daughter Ella, 17, drove four hours from Raleigh, North Carolina, to join the rally for abortion rights.
"We're here to be part of this crowd and support Roe v. Wade," Jen Rudolph said. "Republicans get abortions, Democrats get abortions. It's a healthcare right."
J.C. Carpenter, 49, drove from Marysville, California, to voice her opposition to abortion.
"I think Roe needs to be abolished. It was one of the biggest mistakes our country ever made," Carpenter said. "I am feeling optimistic," she added.
At noon, about 60 pro-choice activists will engage in an act of "civil disobedience" outside the courthouse, according to one of the participants, Heidi Sieck, the CEO and co-founder of #VOTEPROCHOICE, a voter mobilization project dedicated to electing candidates who support abortion access.
Sieck said the group will "engage in radical self-expression" with signs, songs and costumes, and that they plan to sit in the streets until forced to move, which could run afoul of local laws against blocking city streets to traffic.
"If that does include an arrest, so be it," Sieck said on Tuesday.
The fact that the court, which has a 6-3 conservative majority, agreed to hear the Mississippi case does "not bode well" for advocates of abortion rights, Sieck said.
Anti-abortion activists rallying outside the Supreme Court on Wednesday also expected the justices to limit abortion access.
"The fact that four justices decided to even hear the case tells you that they want to do something about abortion and Roe v. Wade, whether that means a full overturn or some kind of degrading of it," said Mark Harrington, the president of anti-abortion group Created Equal, in an interview on Tuesday.
Deadly Michigan school shooting baffles police as young suspect stays silent
2/2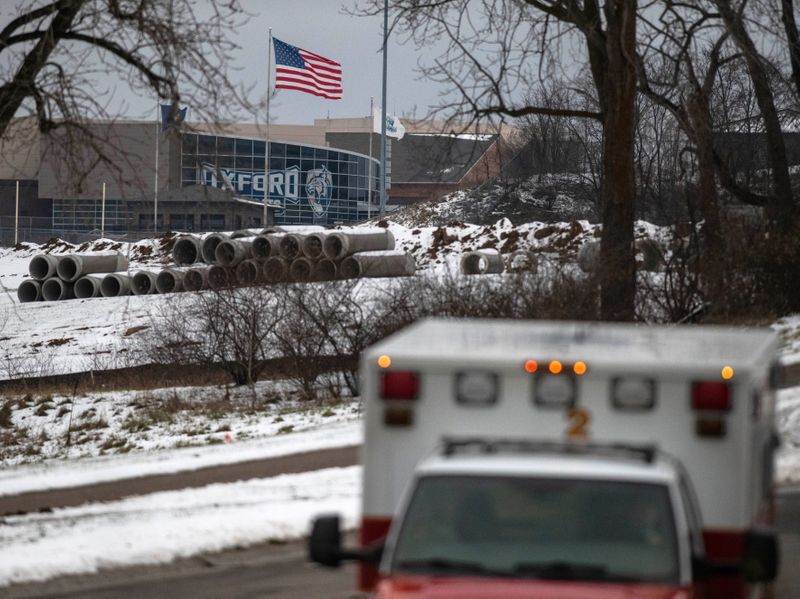 © Reuters. Emergency personnel respond to the scene of a deadly shooting where at least three were killed and six were wounded at a high school in Oxford, Michigan, about 35 miles (55 km) north of Detroit, U.S., November 30, 2021. REUTERS/Seth Herald
2/2
By Steve Gorman and Brendan O'Brien
(Reuters) -Investigators were reviewing video and reading the writings of a 15-year-old boy on Wednesday as they sought clues to what drove him to go on a deadly shooting spree at his high school north of Detroit, where he killed four fellow students.
The suspect, whose name was withheld by officials because he is a minor, opened fire on Tuesday http://reuters.com/world/us/least-4-hurt-shooting-michigan-high-school-suspect-custody-report-2021-11-30 with a handgun his father had purchased four days earlier, killing three students in Oxford, Michigan, about 40 miles (65 km) from Detroit.
Tate Myre, 16, died in a patrol car en route to a hospital. Hanna St. Julian, 14 and Madisyn Baldwin, 17, also died on Tuesday. A fourth student, 17-year-old Justin Shilling, died on Wednesday, the Detroit News reported.
A teacher and six other students were wounded, some critically, authorities said.
By Wednesday morning, more than 50,000 people had signed an online petition to rename the school's stadium after Myre, who was a member of Oxford High's football team, saying he tried to disarm the shooter.
"Tate is not just a hero to his fellow students at Oxford high school but a legend, his act of bravery should be remembered forever and passed down through generations," the petition on Change.org said.
The shooting spree was the deadliest on U.S. school property this year, according to Education Week. It was the latest in a decades-long string of deadly American school shootings that will likely fuel debates about gun control and mental health care.
Oakland County Sheriff Michael Bouchard said in an interview on CNN on Wednesday that it was clear that the shooter intended to kill people.
"He was shooting people at close range, oftentimes towards the head and chest. … It's just absolutely coldhearted murders," he said, adding that the shooter fired at least 30 shots.
Bouchard said investigators were poring over writings of the shooter they obtained in the middle of the night that contain "some of his thoughts." They were also watching surveillance videos of the incident.
"We can't get the motive from the suspect that we have in custody, but we think we've got a path to get a lot of supportive information as to how and why this occurred," he said.
The suspect was armed with a 9mm semi-automatic handgun his father had purchased on Nov. 26, along with three 15-round magazines. Seven live rounds remained in the gun when the youth was arrested, the sheriff said late on Tuesday.
The suspect was disarmed and taken into custody by sheriff's deputies minutes after the shooting began. He declined to speak with investigators after his parents retained a lawyer and denied authorities permission to interview their son, Bouchard said.
"The person who's got the most insight on motive is not talking," the sheriff said.
Bouchard said he was unaware of any previous run-ins with law enforcement by the suspect, a high school sophomore, adding that investigators had so far seen nothing to suggest a history of disciplinary problems or threats.
He said forensic technicians were collecting evidence from the crime scene, while detectives began collecting video footage from security cameras mounted around the school and interviewing witnesses and those acquainted with the suspect.
The sheriff said a search warrant was executed at the suspect's home in Oxford and his cellphone was seized.
SWIFT ACTION SAVED LIVES
Bouchard credited swift action by his deputies for preventing greater loss of life, saying they arrived on the scene within minutes and moved straight toward the sound of gunshots.
Officers confronted the young assailant advancing down a hallway toward them with a loaded weapon, and he put his hands over his head and surrendered, Bouchard said.
The precise sequence of events during the violence remained unclear, but police believe the student carried the weapon into school in a backpack, the sheriff said.
"The only information I have is that he came out of a bathroom with a weapon, and I don't know where he went first," Bouchard said.
Prosecutors will decide what charges to bring and whether the suspect should be treated as an adult or juvenile, the sheriff said.
The boy, who was unharmed, was being detained in a special cell under suicide watch at a juvenile detention center, Oakland County Executive David Coulter said.
The boy apparently "had been shooting" the gun before Tuesday's attack and had posted pictures of the weapon and a target he was using, according to the sheriff.
(By Steve Gorman in Los Angeles and Brendan O'Brien in Chicago; Editing by Lincoln Feast and Jonathan Oatis)
Moderna could be sued over vaccines as court upholds patents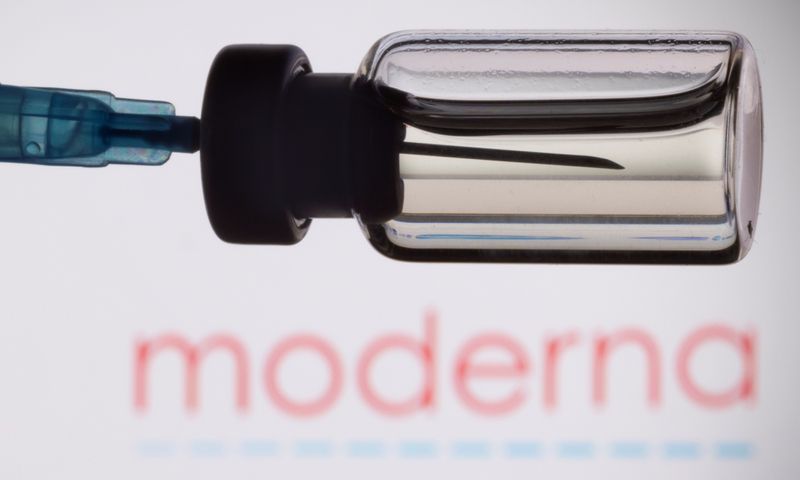 © Reuters. FILE PHOTO: A vial and a syringe are seen in front of a displayed Moderna logo, in this illustration taken, November 27, 2021. REUTERS/Dado Ruvic/Illustration
By Brendan Pierson
(Reuters) -Moderna Inc could face a patent infringement lawsuit over its COVID-19 vaccine after a federal appeals court on Wednesday rejected its challenge to patents belonging to Arbutus Biopharma (NASDAQ:) Corp.
The Federal Circuit U.S. Court of Appeals let stand an administrative panel's findings that Arbutus' patents, which may cover technology used in the vaccines, are not obvious in light of previously known science and so are valid.
Arbutus shares were up $1.63, or 51% higher, at $4.83. Moderna (NASDAQ:) shares fell almost 9% to $321.15.
Moderna and Arbutus did not immediately respond to requests for comment.
Moderna previously said in court filings that it believes Arbutus could bring a lawsuit demanding royalties from its COVID-19 vaccine if the patents are upheld.
The company last month forecast 2021 sales of between $15 billion and $18 billion, and 2022 sales of between $17 billion and $22 billion, for its COVID-19 vaccine.
Both patents in question involve the so-called lipid nanoparticles that enclose the genetic material, known as messenger RNA (mRNA), in the vaccine. The technology could prove useful in developing future mRNA-based vaccines against other illnesses as well.
Moderna initially challenged the patents before the U.S. Patent Trial and Appeal Board, part of the federal patent office. The board agreed with Moderna that some portions of one of the patents were invalid but otherwise sided with Arbutus, and the Federal Circuit upheld its findings.
Disclaimer:
Fusion Media
would like to remind you that the data contained in this website is not necessarily real-time nor accurate. All CFDs (stocks, indexes, futures) and Forex prices are not provided by exchanges but rather by market makers, and so prices may not be accurate and may differ from the actual market price, meaning prices are indicative and not appropriate for trading purposes. Therefore Fusion Media doesn`t bear any responsibility for any trading losses you might incur as a result of using this data.
Fusion Media or anyone involved with Fusion Media will not accept any liability for loss or damage as a result of reliance on the information including data, quotes, charts and buy/sell signals contained within this website. Please be fully informed regarding the risks and costs associated with trading the financial markets, it is one of the riskiest investment forms possible.