Dow Jones and S&P 500 are down 0.3-0.5%. Nasdaq is on the weak side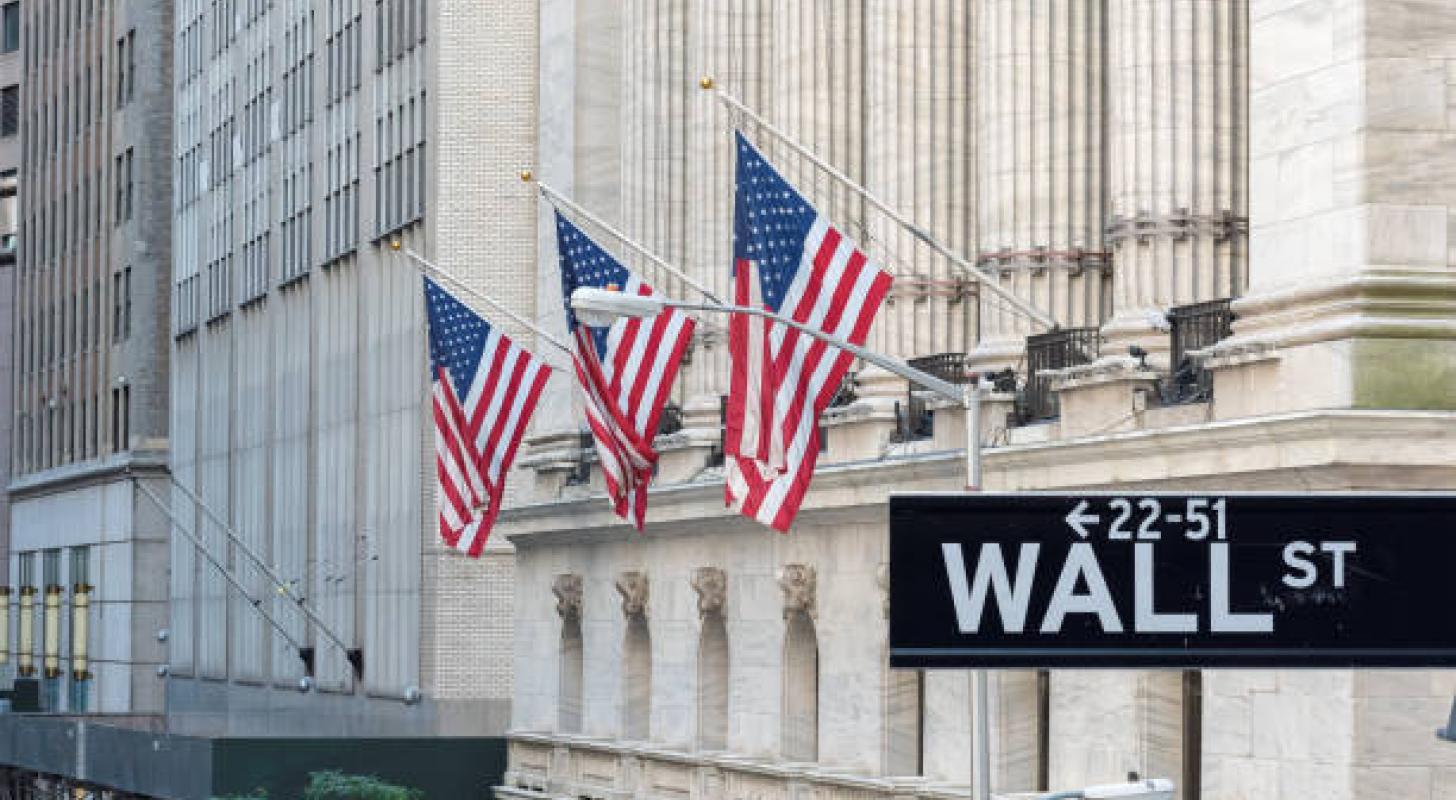 The U.S. stock indexes Dow Jones Industrial Average and S&P 500 ended Thursday trading lower but well above intraday lows, while the Nasdaq Composite came out with a small plus.
Traders were assessing the prospects of the Federal Reserve (Fed) raising the benchmark interest rate at its July meeting, as well as U.S. bank reports for the past quarter.
U.S. Labor Department data published on Wednesday, which showed an increase in inflation in the country to a maximum of nearly 41 years, 9.1%, led investors to revise their forecasts about the pace of the Fed's rate hike. At first, the rate futures quotes showed that traders were 85% confident in the likelihood of the U.S. Central Bank rate hike by 100 basis points (bps) in July.
However, Fed Board of Governors member Christopher Waller said that the market may be "getting a little ahead of itself" by expecting a 100bp rate hike. He noted that he still favors a 75-bp rate hike in July, but acknowledged that economic data to be released shortly could change his mind in favor of a sharper hike. 
"If this data turns out to be substantially stronger than expected, I might lean toward a larger rate hike in July because it would mean that demand in the economy is not weakening fast enough to contain inflation," he said.
Following Waller's statements, the futures market's estimate of the chances of a rate hike of 100 bps in July dropped to 42%; Market Watch notes. On Friday, the University of Michigan will release the preliminary value of its consumer confidence index for July. The index fell to a record low of 50 points in June. 
The University of Michigan data also includes trends in Americans' inflation expectations, which last month stood at 5.3 percent for the medium term (next year) and 3.1 percent for the long term (five years). "We're waiting on this data to see if inflation expectations in the U.S. have strengthened," notes LPL Financial analyst Quincy Crosby. – If they rise, the Fed will probably discuss a 100-bp rate hike. Or the central bank will have to hike the rate at a 75-bp pace longer than it anticipated."
Data released Thursday showed an acceleration in U.S. producer price growth in June to 11.3 percent annualized from 10.9 percent a month earlier. The rate of increase in producer prices reached a record 11.6% in March of this year. Negative for the market Thursday were weak financial reports from banks JPMorgan Chase & Co. and Morgan Stanley for the past quarter.
"High inflation, weakening consumer confidence, uncertainty about how high rates will be raised and unprecedented quantitative tightening and its impact on global liquidity are very likely to have a negative impact on the global economy," said JPMorgan Chief Executive James Dimon. – We're prepared for whatever happens."
The Dow Jones Industrial Average index fell 142.62 points (0.46%) to 30630.17 points in trading Thursday.

Standard & Poor's 500 fell 11.4 points (0.3%) to 3,790.38 points.

The Nasdaq Composite rose 3.6 points (0.03%) to 11251.19 points.
The decline in net income at JPMorgan, the largest U.S. bank, by assets, exceeded analysts' forecasts. In addition, the financial institution said it was suspending its share buybacks. Morgan Stanley also reported weaker-than-expected quarterly adjusted earnings and revenue. JPMorgan's shares fell 3.5% in trading on Thursday, while Morgan Stanley's fell 0.4%.
Conagra Brands, a prepared foods maker, fell 7.3 percent. The company nearly halved its net income in the fourth quarter of fiscal 2022, and its revenue was worse than market forecasts.
Shares of Cisco Systems Inc. fell 0.9 percent after experts at JPMorgan cut recommendations for the securities of the U.S. network equipment maker to "neutral" from "above market. The bank also lowered its outlook on Cisco shares to $51 from $62.
The value of Tesla Inc. securities rose by 0.5%. The day before, it became known that Andrei Karpaty, director of artificial intelligence and head of the development group for autopilot in cars, Tesla, left the company.
Citigroup Inc. and Wells Fargo & Co. will publish their results for the past quarter on Friday. The consensus forecast by analysts surveyed by FactSet suggests that S&P 500 index companies' overall earnings rose an average of 4.3% in the past quarter, the slowest pace since late 2020. 
China's declining oil demand impacts global markets – Citigroup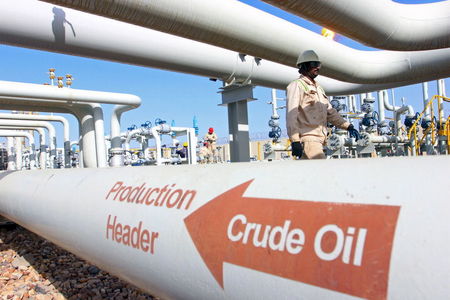 © Reuters.
China's decreased oil demand is playing a significant role in the global oil market, countering recent crude price surges, according to Citigroup (NYSE:). Analysts there highlighted this shift on Monday, underscoring China's growing significance in the oil markets, now comparable to OPEC+.
They pointed out that China has been transitioning from expensive crude imports to refined product exports and has amassed sizable oil inventories that exceed the 90-day global standard. This shift is suppressing oil price increases despite OPEC+'s supply cuts.
In addition to China's pullback, overlooked new supplies from Iran, Iraq, Libya, Nigeria, and Venezuela have also been noted by the analysts as factors contributing to the current market dynamics. These sources of supply were not adequately considered by OPEC and the International Energy Agency (IEA), according to Citi.
Looking ahead, the analysts predict a surplus in the 2023 oil market with prices potentially plunging to the low $70s per barrel. This is attributed to China's pullback and fears of a US economic slowdown. They reminded that oil prices have recently slipped below $90 a barrel.
The declining oil demand in Europe and the United States was also recognized by the analysts as a factor suppressing crude price surges. As these major economies grapple with their respective challenges, their reduced demand for oil is impacting the global market.
In summary, China's evolving role and behavior in the global oil market are becoming increasingly important. The country's shift away from costly crude imports towards refined product exports and its large oil inventories are influencing global prices and supply dynamics.
This article was generated with the support of AI and reviewed by an editor. For more information see our T&C.
Oil tumbles 2% to 3-week low on strong dollar, profit taking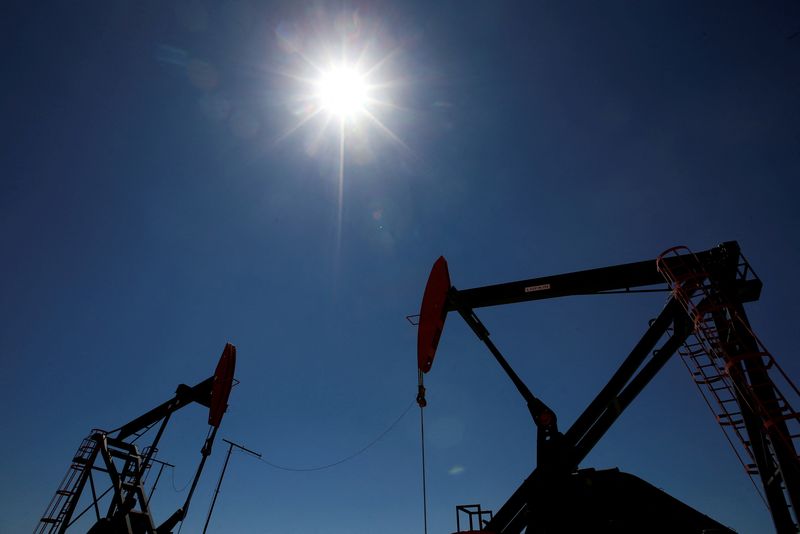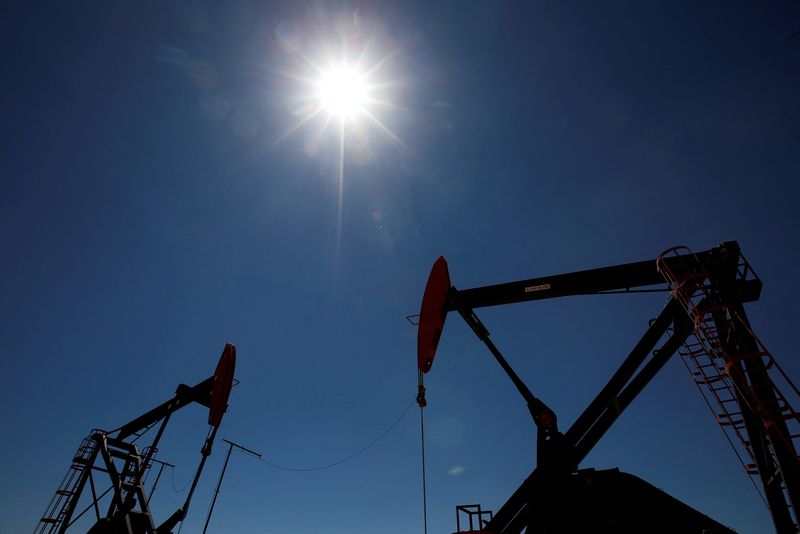 © Reuters. FILE PHOTO: Oil rigs are seen at Vaca Muerta shale oil and gas drilling, in the Patagonian province of Neuquen, Argentina January 21, 2019. REUTERS/Agustin Marcarian/File Photo
By Scott DiSavino
NEW YORK (Reuters) -Oil prices fell about 2% on Monday to a three-week low as a higher-priced contract expired, the U.S. dollar strengthened and traders took profits, concerned about rising crude supplies and pressure on demand from high interest rates.
On its first day as the front-month, Brent futures for December delivery settled $1.49, or 1.6%, lower at $90.71 a barrel, or down about 5% from where the November contract expired on Friday. That was the Brent front-month's biggest daily percentage decline since early May.
U.S. West Texas Intermediate crude (WTI) , meanwhile, fell $1.97, or 2.2%, to settle at $88.82 per barrel.
Analysts said some traders took profits after crude prices rose nearly 30% to 10-month highs in the third quarter.
Before the crude price pullback that started on Sept. 28, U.S. speculators boosted their net long futures and options positions on the New York Mercantile and Intercontinental Exchanges to the highest since May 2022, according to the U.S. Commodity Futures Trading Commission.
It is "highly likely that profit-taking by speculators is currently playing a role (in the recent price decline) and should cease weighing on markets as the days pass," analysts at energy consulting firm Gelber and Associates said in a note.
On Monday, the U.S. dollar rose to a 10-month high against a basket of other currencies after the U.S. government avoided a partial shutdown and economic data fuelled expectations the U.S. Federal Reserve will keep rates higher longer, which could slow economic growth.
Higher interest rates along with a stronger dollar, which makes oil more expensive for holders of other currencies, could dent oil demand.
"The global outlook is quickly taking a turn for the worse and that is both driving the king dollar trade again and weighing on the crude demand outlook," said Edward Moya, senior market analyst at data and analytics firm OANDA, noting that soaring bond yields were also pressuring crude prices.
In Europe, manufacturing data showed the euro zone, Germany and Britain remained mired in a downturn in September.
In China, the world's biggest oil importer, the World Bank maintained its forecast for 2023 economic growth at 5.1%, but trimmed its prediction for 2024, citing persistent weakness of its property sector.
MORE OIL COMING
Pumping more crude supply into the system, Turkey's energy minister said the country will restart operations this week on a pipeline from Iraq that has been suspended for about six months.
Additionally, Saudi Arabia could start to ease its additional voluntary supply cut of 1 million barrels per day (bpd), ING analysts said in a note.
OPEC+, the Organization of the Petroleum Exporting Countries (OPEC) plus Russia and other allies, will meet on Wednesday but is unlikely to tweak its current oil output policy.
A Reuters survey showed OPEC oil output rose for a second straight month in September despite cuts by Saudi Arabia.
Oil tumbles on risk aversion as Q4 starts; bulls look to OPEC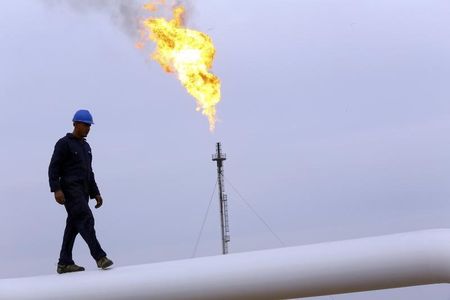 © Reuters.
Investing.com – No market operates in a vacuum — including oil, no matter what the proponents of higher crude prices think.
Worries that inflation will rear its ugly head again to suppress demand in almost everything set off a wave of risk aversion on Monday that handed global markets an ominous start to the fourth quarter. 
The surge to a new 10-month high added to the weight of commodities denominated in the U.S. currency. The dollar shot up as a number of policy-makers at the Federal Reserve hinted on Tuesday at another rate hike in either November or December to keep under control and nearer to the central bank's 2% per annum target from a current 3.7%.
On the crude oil front, New York-traded West Texas Intermediate, or WTI, and London's Brent fell about 2% each, extending losses from Friday. The two crude benchmarks had risen nearly 30% in the third quarter, threatening a new round of chaos to economies in non-oil producing countries.
While September manufacturing data, via the , improved in both the United States and Europe, economists saw that as more of a work-off on inventories of raw materials in hold. The concern is how the global economy would fare for the rest of 2023 if energy prices continue rising without control, adding an onerous burden to overheads.
"The damage that can be done to the economy by high oil prices is very real and it's completely delusional to think this is acceptable for the bulk of the world which does not produce oil but instead consumes it," said John Kilduff, partner at New York energy hedge fund Again Capital.
for delivery in November settled at $88.82 — below the key $90 per barrel mark — after sliding $1.97, or 2.2%, on the day. The U.S. crude benchmark hit a three-week low of $88.47 earlier.
for the most-active December contract settled at $90.71, down $1.49 cents or 1.6%. The global crude benchmark plunged to $90.36 earlier.
On the brighter side of oil, OPEC+, the 23-nation alliance of oil producers, is to meet on Wednesday. The proponents of higher crude prices are counting on OPEC+ — which groups the 13-member Saudi-led Organization of the Petroleum Exporting Countries with 10 independent oil producers steered by Russia — to reignite the upward momentum held by the market over the past four months.
But sources within OPEC+, speaking privately to media, said the alliance is unlikely to tweak production targets for November and December. 
The Saudis and Russians pledged last month to cut at least 1.3 million barrels per day of their regular production until the end of the year, in what many believe was a bid to bring crude back to $100 a barrel or more. U.S. crude went from lows of beneath $64 a barrel in May to above $95 in September, while global benchmark rallied from below $72 to above $97 in the same span.
At the same time, OPEC+ may have paid a different "price" for such action. 
Asia's crude oil imports slipped for a second consecutive month in September as refinery maintenance trimmed demand and the impact of higher prices started to weigh, Reuters reported, citing LSEG data. 
The world's top importing region saw arrivals of 24.95 million barrels per day in September, down from August's 25.22 million, according to LSEG.
Saudi Arabia and Russia are also anticipating an array of different challenges for the October-December stretch that could make a repeat of their third-quarter market performance difficult.
Notwithstanding the view that OPEC+ might not make changes to its production, pressure appears to be building on the Saudis and Russians to ease back on some of their output cuts in order to have adequate oil for cargoes scheduled for year-end delivery. 
There is also the notion, especially among the Saudis, that they need to protect market share for their oil with the current high prices for a barrel that expose them to risk of under-cutting by their allies, including the Russians. 
Already, India's imports of Saudi oil were at below 500,000 barrels per day in September — the lowest in almost a decade.
Mixed Chinese data 
On China, ING's energy analysts observed in a note that while Chinese manufacturing PMI returned to expansion territory in September for the first time since March,  "the Saudis have said that there is still concern over Chinese demand".
Official data on Saturday showed that China's factory activity expanded for the first time in six months in September, adding to a run of indicators suggesting the world's second-largest economy has begun to stabilize.
However, a private-sector survey on Sunday was less encouraging, showing the country's factory activity expanded at a slower pace in September.
Indeed, a durable recovery in China's economy is being delayed by a property slump, falling exports and high youth unemployment, raising fears of weaker fuel demand.
Saudis might need to produce more oil, not less
Thus, the Saudis might need to produce more in October — not the same of what they pumped in September and certainly not less — to keep China, India and other important customers happy. 
In fact, crude shipments from Saudi ports likely rose between 300,000 and 400,000 barrels per day last month from August — despite their so-called "lollypop cut" of one million barrels per day — OilPrice.com noted in a roundup of market intelligence gathered from various sources.
And the trend could continue, it said.
The Saudis have also been quite restrained in adding to the Official Selling Price, or OSP, of their crude despite Brent's runaway rally, that market roundup showed. Saudi Arabia's medium sour crude grades were hiked by $0.10 per barrel each, moving Arab Light to a $3.60 per barrel premium vs Oman/Dubai. The only Saudi crude grade that saw a notable increase in October was Arab Super Light, a very rare condensate-like grade that sees 1-2 cargoes per month, which rose by $0.50 per barrel. 
"In an environment like this, Saudi Arabia's national oil company Saudi Aramco (TADAWUL:) was expected to hike Asian prices by a solid margin," the OilPrice roundup said. "Surprisingly, the anticipated OSP increase did not happen."
"Overall, the lack of pricing ambition reflected wider worries about the health of Chinese demand into the remaining months of 2023, as well as significantly lower Indian nominations lately." 
To Moscow's benefit, India has begun buying Russian urals crude at around $80 per barrel — markedly higher than the $60 price cap set by the G7, but still lower than the flat price of Brent.
But Russia, which has committed to the Saudi production squeeze plan by announcing a 300,000-barrel per day cut of its own, is also under pressure to keep up with deliveries promised to customers.
Russia seen rolling back on fuel export ban  
Moscow recently eased its separate ban on fuel exports introduced to stabilize the domestic market. Analysts do not expect those restrictions to stay for long because they may hit refinery runs and impact relations with customers.
Turkey, Brazil, Morocco, Tunisia and Saudi Arabia were among the main destinations for Russian diesel this year, JPMorgan said in a note.
"(A) protracted export ban would negatively impact the relationship with the new customers that Russian oil companies have so painstakingly built over the last year and a half," according to JPMorgan.
Even so, Russia has not discussed a possible crude oil supply increase to compensate for Moscow's fuel exports ban with OPEC+, the Kremlin has said.
That communication might be made directly when the Russians and Saudis hold talks at Wednesday's OPEC+ meeting.
After having psyched the trade into believing their production cuts could go on indefinitely and against market reality, it would be important for neither side not to publicly admit anything to the contrary and work instead in keeping up the narrative they have created.