Oil ends with 1st weekly loss in 4; Russia fuel exports ban limits downside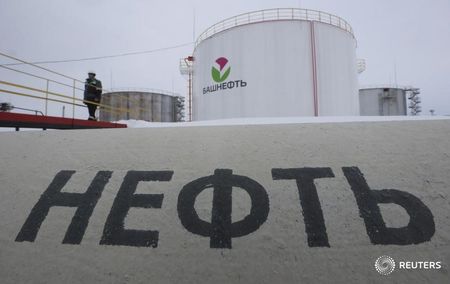 © Reuters.
Investing.com — Crude prices had first weekly loss in four after the Federal Reserve signaled it might raise interest rates again before the end of the year — and anytime inflation gets out of hand. 
The downside in oil prices was, however, limited by Russia's export ban on fuels, which counteracted fears that slowing economies and high interest rates could crimp demand for energy.
New York-traded West Texas Intermediate, or , crude for delivery in November settled at $90.03 per barrel, 40 cents, or 0.5%, on the day. WTI earlier hit an intraday high of $91.31, after Tuesday's 10-month high of $93.74. For the week, the U.S. crude benchmark was down 0.6%, after a cumulative gain of almost 14% over three weeks.
London-traded settled at $93.27 a barrel up, down 3 cents, or 0.03%. Brent rose to as high as $94.64 earlier on the day, after Tuesday's 10-month high of $95.96. The global oil benchmark was down 0.7% on the week, after a cumulative gain of nearly 11% over three weeks.
The dollar strengthened after the Fed projected another quarter-percentage point by the year-end, despite leaving rates unchanged for September itself at a policy meeting on Wednesday.
"We are prepared to raise rates further, if appropriate," Fed Chairman Jerome Powell told a news conference. "The fact that we decided to maintain the policy rate at this meeting doesn't mean we have decided that we have or have not at this time reached that stance of monetary policy that we are seeking."
Energy-driven inflation one of the Fed's concerns
Powell said energy-driven inflation, led by the 30% rally in oil prices since June, was one of the Fed's bigger concerns.
The Fed had raised interest rates 11 times between February 2022 and July 2023, adding a total of 5.25 percentage points to a prior base rate of just 0.25%. 
Economists fear that the Fed's renewed hawkish stance will dampen global growth though many also agree that a lid has to be put on oil prices if the Fed is to achieve its annual inflation target of 2%.
Russia said on Friday it has implemented an immediate 'temporary' suspension of gasoline and diesel exports to all countries except for four former Soviet states and its own overseas military bases, with the goal of stabilizing its domestic market.
Kremlin fuel export ban will further tighten oil market
Russia's Transneft then suspended deliveries of diesel to the key Baltic and Black Sea (NYSE:) terminals of Primorsk and Novorossiysk on Friday, state media agency Tass said.
The Kremlin said the ban was "temporary" and designed to address rising energy prices in Russia. Russian wholesale gasoline prices were down nearly 10% and diesel down 7.5% on Friday after the ban. 
The ban will "bring new uncertainty into an already tight global refined product supply picture and the prospect that the impacted countries will be seeking to bid up cargoes from alternative suppliers," RBC said in a note.
Diesel is the workhorse fuel of the global economy, playing a crucial role in freight, shipping and aviation. Derivatives of diesel such as are particularly susceptible to winter price surges. Germany and the north-east of the U.S. are both heavily reliant on the fuel for heating homes.
Russia is the world's second-largest seaborne exporter of diesel after the U.S., according to Kpler, a freight data analytics company, and before its invasion of Ukraine was the single biggest diesel exporter to the EU. The EU and U.S. have largely banned imports of Russian refined fuel since February, forcing Moscow to reroute its sales to Turkey and countries in North Africa and Latin America.
Russian refined fuel sales, particularly diesel, remain a critical part of oil supplies. In August Russia exported more than 30mn barrels of diesel and gas-oil — a diesel proxy — by sea, according to oil cargo tracker Kpler.
(Peter Nurse and Ambar Warrick contributed to this item)
Oil prices steady on OPEC+ cut uncertainty and Middle East tension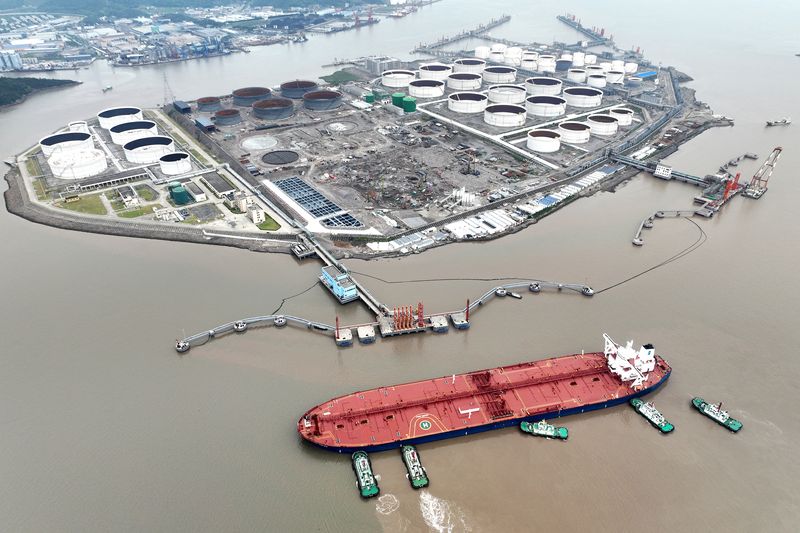 © Reuters. FILE PHOTO: An aerial view shows tugboats helping a crude oil tanker to berth at an oil terminal, off Waidiao Island in Zhoushan, Zhejiang province, China July 18, 2022. cnsphoto via REUTERS/File Photo
By Natalie Grover
London (Reuters) -Oil prices were little changed on Tuesday against a backdrop of uncertainty over voluntary output cuts by the OPEC+ group of producers, tensions in the Middle East and some encouraging economic signals in Europe.
futures edged down by 25 cents, or 0.3%, to $77.78 a barrel by 1301 GMT. U.S. West Texas Intermediate crude futures lost 21 cents, or 0.3%, to $72.83.
Comments by Saudi Arabia's energy minister that OPEC+ production cuts could continue past the first quarter of 2024 lent some price support, said OANDA analyst Kelvin Wong.
Oil prices had declined on Monday on doubts that OPEC+ supply cuts would have a significant impact, said CMC Markets (LON:) analyst Tina Teng.
On Tuesday, however, the Kremlin said that the cuts agreed by the OPEC+ group will take time to kick in.
The Organization of the Petroleum Exporting Countries and allies including Russia, together known as OPEC+, agreed on Thursday to voluntary output cuts of about 2.2 million barrels per day (bpd) for the first quarter of 2024.
At least 1.3 million bpd of those cuts, however, were an extension of voluntary curbs that Saudi Arabia and Russia already had in place.
The additional cuts were below the 1 million bpd reduction that was already baked into market expectations in the run-up to the OPEC+ meeting, FGE analysts wrote in a note, adding that in practice they expect the overall OPEC+ cut to be closer to 500,000 bpd more than the reductions to fourth-quarter output.
Meanwhile, the resumption of fighting in the Israel-Hamas war has stoked supply concerns, as did attacks on three commercial vessels in international waters in the southern Red Sea.
There was a bright spot on the demand side, with European Central Bank board member Isabel Schnabel telling Reuters the bank can take further interest rate hikes off the table after a "remarkable" fall in inflation.
In the United States, however, data on Tuesday showed factory orders fell by more than analysts had expected in October and the most in more than three years, raising concerns about the health of U.S. demand.
That bolstered the view that increases to interest rates are beginning to limit spending, analysts said.
Oil falls on demand fears and doubts over OPEC+ cuts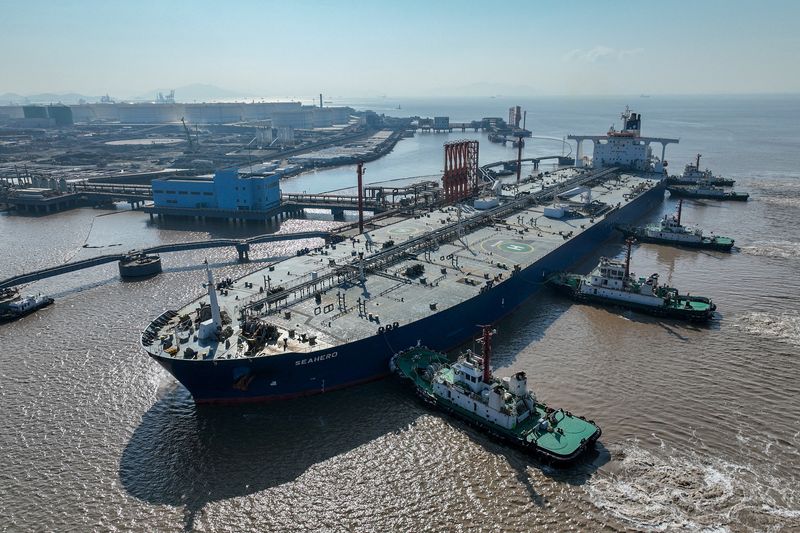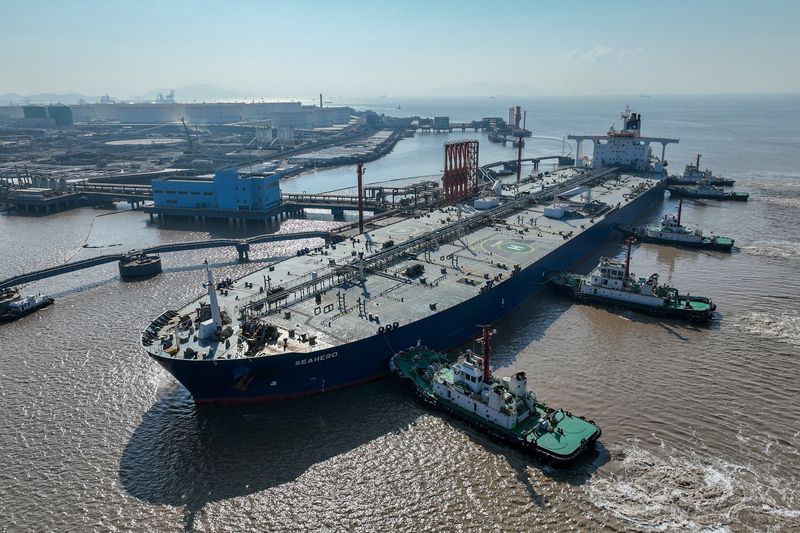 © Reuters. FILE PHOTO: An aerial view shows a crude oil tanker at an oil terminal off Waidiao island in Zhoushan, Zhejiang province, China January 4, 2023. China Daily via REUTERS
By Alex Lawler
LONDON (Reuters) – Oil prices extended declines on Monday, pressured by investor scepticism over the latest OPEC+ decision on supply cuts and uncertainty surrounding global fuel demand, though the risk of supply disruptions from the Middle East conflict limited losses.
Monday's fall adds to a 2% decline last week after the supply cuts announced on Thursday by the Organization of the Petroleum Exporting Countries (OPEC) and allies including Russia, together known as OPEC+.
futures were down 45 cents, or 0.6%, at $78.43 a barrel by 1243 GMT. U.S. West Texas Intermediate crude futures fell 43 cents, or 0.6%, to $73.64.
"Crude seems to be under continued pressure from the OPEC+ decision," said Vandana Hari, founder of oil market analysis provider Vanda (NASDAQ:) Insights.
The OPEC+ cuts were voluntary in nature, raising doubts about whether or not producers would fully implement them. Investors were also unsure about how the cuts would be measured.
"The OPEC+ 'deal' last week was unconvincing to say the least," said Craig Erlam, analyst at brokerage OANDA. "And with markets seemingly anticipating more of an economic slowdown next year, the announcement simply doesn't go far enough."
Surveys on Friday showed global manufacturing activity remained weak in November on soft demand, with euro zone factory activity contracting, while there were mixed signs on the strength of China's economy.
Geopolitical considerations were back in focus as fighting resumed in Gaza, lending some support to prices. Three commercial vessels came under attack in international waters in the southern Red Sea, the U.S. military said on Sunday.
Elsewhere, Western countries have stepped up efforts to enforce the $60 a barrel price cap on seaborne shipments of Russian oil imposed to punish Moscow for its war in Ukraine.
Washington on Friday imposed additional sanctions on three entities and three oil tankers.
Gold prices hit record high on bets of early Fed rate cuts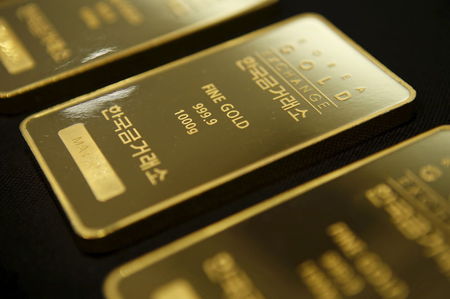 © Reuters.
Investing.com — Gold prices touched an all-time high on Monday, but later pared back some of these gains, as traders bet on the potential for a Federal Reserve interest rate cut next year. 
By 07:26 ET (12:26 GMT),  was mostly unchanged at $2,071.29 a troy ounce, retreating slightly from an earlier rally that had lifted the typical safe haven asset to a record $2,135 per troy ounce. Gold posted strong gains last week, and also rose for a second consecutive month in November.
The yellow metal has appreciated sharply in recent sessions as easing inflation, soft labor market data, and less-hawkish signals from the Fed bolstered speculation that the bank will bring down borrowing costs from a more than two-decade peak in 2024.
Near-term demand for gold was also fueled by an attack on an American warship and commercial vessels in the Red Sea, which ramped up concerns over an escalation in the violence in the Middle East.
Speaking on Friday, Fed Chair Jerome Powell reiterated his stance that U.S. rates will remain higher for longer. But some changes in his language — particularly an acknowledgement of progress made towards curbing inflation and the potential for a "soft landing" for the U.S. economy — reinforced expectations that the Fed will no longer hike rates in December and possibly begin cutting them by March 2024. 
More economic cues on tap this week
shows an almost 97% chance that the Fed will keep rates on hold at a range of 5.25% to 5.50% when policymakers meet later this month. Meanwhile, there is a more than 50% probability that the central bank will trim rates by 25 basis points as soon as March of next year, up from around 21% one week ago.
The prospect of falling borrowing costs bodes well for gold, given that elevated rates push up the opportunity cost of investing in non-interest bearing assets like the metal. This notion had battered bullion prices over the past year.  
But markets still have a slew of economic figures to assess. data for November — a key gauge of the labor market — is due later this week, while inflation readings for the remainder of the year are also slated for release in the coming weeks. 
Some facets of the labor market remain strong, while inflation is still comfortably above the Fed's 2% target — a trend that, if persistent, may diminish the chances of an early rate cut.
Ambar Warrick contributed to this report.