Oil tumbles on risk aversion as Q4 starts; bulls look to OPEC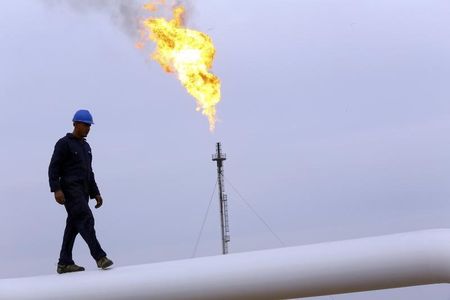 © Reuters.
Investing.com – No market operates in a vacuum — including oil, no matter what the proponents of higher crude prices think.
Worries that inflation will rear its ugly head again to suppress demand in almost everything set off a wave of risk aversion on Monday that handed global markets an ominous start to the fourth quarter. 
The surge to a new 10-month high added to the weight of commodities denominated in the U.S. currency. The dollar shot up as a number of policy-makers at the Federal Reserve hinted on Tuesday at another rate hike in either November or December to keep under control and nearer to the central bank's 2% per annum target from a current 3.7%.
On the crude oil front, New York-traded West Texas Intermediate, or WTI, and London's Brent fell about 2% each, extending losses from Friday. The two crude benchmarks had risen nearly 30% in the third quarter, threatening a new round of chaos to economies in non-oil producing countries.
While September manufacturing data, via the , improved in both the United States and Europe, economists saw that as more of a work-off on inventories of raw materials in hold. The concern is how the global economy would fare for the rest of 2023 if energy prices continue rising without control, adding an onerous burden to overheads.
"The damage that can be done to the economy by high oil prices is very real and it's completely delusional to think this is acceptable for the bulk of the world which does not produce oil but instead consumes it," said John Kilduff, partner at New York energy hedge fund Again Capital.
for delivery in November settled at $88.82 — below the key $90 per barrel mark — after sliding $1.97, or 2.2%, on the day. The U.S. crude benchmark hit a three-week low of $88.47 earlier.
for the most-active December contract settled at $90.71, down $1.49 cents or 1.6%. The global crude benchmark plunged to $90.36 earlier.
On the brighter side of oil, OPEC+, the 23-nation alliance of oil producers, is to meet on Wednesday. The proponents of higher crude prices are counting on OPEC+ — which groups the 13-member Saudi-led Organization of the Petroleum Exporting Countries with 10 independent oil producers steered by Russia — to reignite the upward momentum held by the market over the past four months.
But sources within OPEC+, speaking privately to media, said the alliance is unlikely to tweak production targets for November and December. 
The Saudis and Russians pledged last month to cut at least 1.3 million barrels per day of their regular production until the end of the year, in what many believe was a bid to bring crude back to $100 a barrel or more. U.S. crude went from lows of beneath $64 a barrel in May to above $95 in September, while global benchmark rallied from below $72 to above $97 in the same span.
At the same time, OPEC+ may have paid a different "price" for such action. 
Asia's crude oil imports slipped for a second consecutive month in September as refinery maintenance trimmed demand and the impact of higher prices started to weigh, Reuters reported, citing LSEG data. 
The world's top importing region saw arrivals of 24.95 million barrels per day in September, down from August's 25.22 million, according to LSEG.
Saudi Arabia and Russia are also anticipating an array of different challenges for the October-December stretch that could make a repeat of their third-quarter market performance difficult.
Notwithstanding the view that OPEC+ might not make changes to its production, pressure appears to be building on the Saudis and Russians to ease back on some of their output cuts in order to have adequate oil for cargoes scheduled for year-end delivery. 
There is also the notion, especially among the Saudis, that they need to protect market share for their oil with the current high prices for a barrel that expose them to risk of under-cutting by their allies, including the Russians. 
Already, India's imports of Saudi oil were at below 500,000 barrels per day in September — the lowest in almost a decade.
Mixed Chinese data 
On China, ING's energy analysts observed in a note that while Chinese manufacturing PMI returned to expansion territory in September for the first time since March,  "the Saudis have said that there is still concern over Chinese demand".
Official data on Saturday showed that China's factory activity expanded for the first time in six months in September, adding to a run of indicators suggesting the world's second-largest economy has begun to stabilize.
However, a private-sector survey on Sunday was less encouraging, showing the country's factory activity expanded at a slower pace in September.
Indeed, a durable recovery in China's economy is being delayed by a property slump, falling exports and high youth unemployment, raising fears of weaker fuel demand.
Saudis might need to produce more oil, not less
Thus, the Saudis might need to produce more in October — not the same of what they pumped in September and certainly not less — to keep China, India and other important customers happy. 
In fact, crude shipments from Saudi ports likely rose between 300,000 and 400,000 barrels per day last month from August — despite their so-called "lollypop cut" of one million barrels per day — OilPrice.com noted in a roundup of market intelligence gathered from various sources.
And the trend could continue, it said.
The Saudis have also been quite restrained in adding to the Official Selling Price, or OSP, of their crude despite Brent's runaway rally, that market roundup showed. Saudi Arabia's medium sour crude grades were hiked by $0.10 per barrel each, moving Arab Light to a $3.60 per barrel premium vs Oman/Dubai. The only Saudi crude grade that saw a notable increase in October was Arab Super Light, a very rare condensate-like grade that sees 1-2 cargoes per month, which rose by $0.50 per barrel. 
"In an environment like this, Saudi Arabia's national oil company Saudi Aramco (TADAWUL:) was expected to hike Asian prices by a solid margin," the OilPrice roundup said. "Surprisingly, the anticipated OSP increase did not happen."
"Overall, the lack of pricing ambition reflected wider worries about the health of Chinese demand into the remaining months of 2023, as well as significantly lower Indian nominations lately." 
To Moscow's benefit, India has begun buying Russian urals crude at around $80 per barrel — markedly higher than the $60 price cap set by the G7, but still lower than the flat price of Brent.
But Russia, which has committed to the Saudi production squeeze plan by announcing a 300,000-barrel per day cut of its own, is also under pressure to keep up with deliveries promised to customers.
Russia seen rolling back on fuel export ban  
Moscow recently eased its separate ban on fuel exports introduced to stabilize the domestic market. Analysts do not expect those restrictions to stay for long because they may hit refinery runs and impact relations with customers.
Turkey, Brazil, Morocco, Tunisia and Saudi Arabia were among the main destinations for Russian diesel this year, JPMorgan said in a note.
"(A) protracted export ban would negatively impact the relationship with the new customers that Russian oil companies have so painstakingly built over the last year and a half," according to JPMorgan.
Even so, Russia has not discussed a possible crude oil supply increase to compensate for Moscow's fuel exports ban with OPEC+, the Kremlin has said.
That communication might be made directly when the Russians and Saudis hold talks at Wednesday's OPEC+ meeting.
After having psyched the trade into believing their production cuts could go on indefinitely and against market reality, it would be important for neither side not to publicly admit anything to the contrary and work instead in keeping up the narrative they have created.
Oil prices steady on OPEC+ cut uncertainty and Middle East tension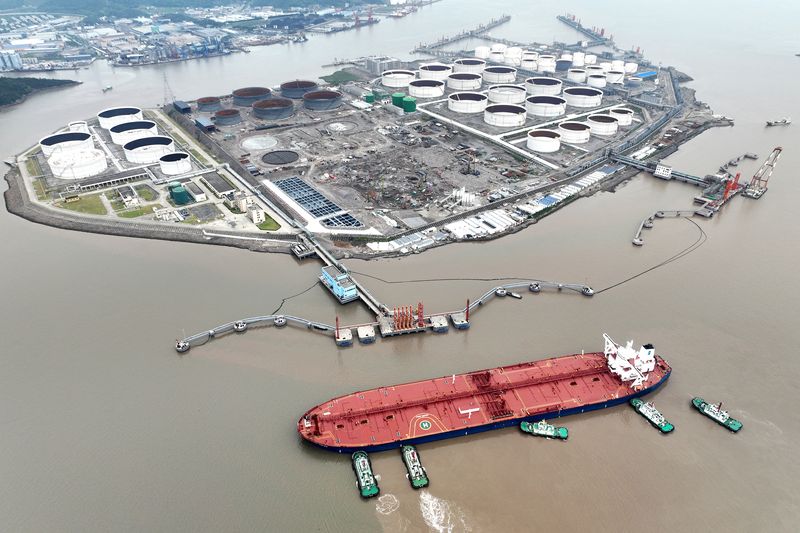 © Reuters. FILE PHOTO: An aerial view shows tugboats helping a crude oil tanker to berth at an oil terminal, off Waidiao Island in Zhoushan, Zhejiang province, China July 18, 2022. cnsphoto via REUTERS/File Photo
By Natalie Grover
London (Reuters) -Oil prices were little changed on Tuesday against a backdrop of uncertainty over voluntary output cuts by the OPEC+ group of producers, tensions in the Middle East and some encouraging economic signals in Europe.
futures edged down by 25 cents, or 0.3%, to $77.78 a barrel by 1301 GMT. U.S. West Texas Intermediate crude futures lost 21 cents, or 0.3%, to $72.83.
Comments by Saudi Arabia's energy minister that OPEC+ production cuts could continue past the first quarter of 2024 lent some price support, said OANDA analyst Kelvin Wong.
Oil prices had declined on Monday on doubts that OPEC+ supply cuts would have a significant impact, said CMC Markets (LON:) analyst Tina Teng.
On Tuesday, however, the Kremlin said that the cuts agreed by the OPEC+ group will take time to kick in.
The Organization of the Petroleum Exporting Countries and allies including Russia, together known as OPEC+, agreed on Thursday to voluntary output cuts of about 2.2 million barrels per day (bpd) for the first quarter of 2024.
At least 1.3 million bpd of those cuts, however, were an extension of voluntary curbs that Saudi Arabia and Russia already had in place.
The additional cuts were below the 1 million bpd reduction that was already baked into market expectations in the run-up to the OPEC+ meeting, FGE analysts wrote in a note, adding that in practice they expect the overall OPEC+ cut to be closer to 500,000 bpd more than the reductions to fourth-quarter output.
Meanwhile, the resumption of fighting in the Israel-Hamas war has stoked supply concerns, as did attacks on three commercial vessels in international waters in the southern Red Sea.
There was a bright spot on the demand side, with European Central Bank board member Isabel Schnabel telling Reuters the bank can take further interest rate hikes off the table after a "remarkable" fall in inflation.
In the United States, however, data on Tuesday showed factory orders fell by more than analysts had expected in October and the most in more than three years, raising concerns about the health of U.S. demand.
That bolstered the view that increases to interest rates are beginning to limit spending, analysts said.
Oil falls on demand fears and doubts over OPEC+ cuts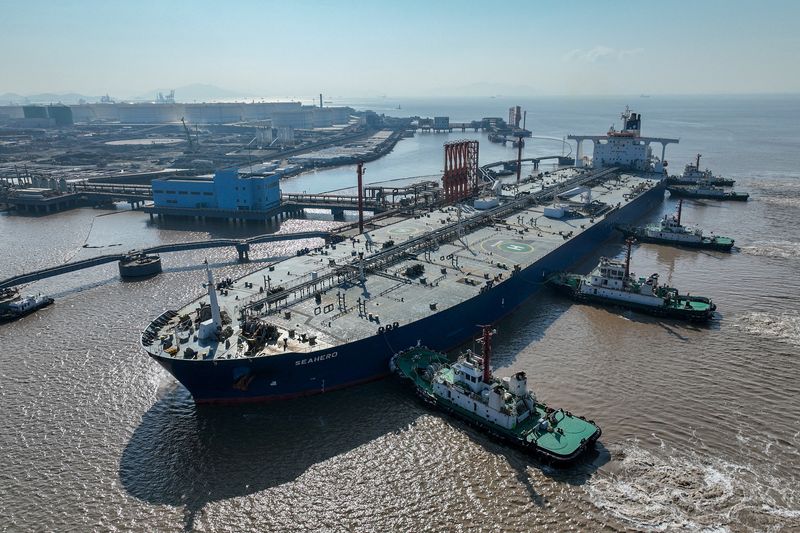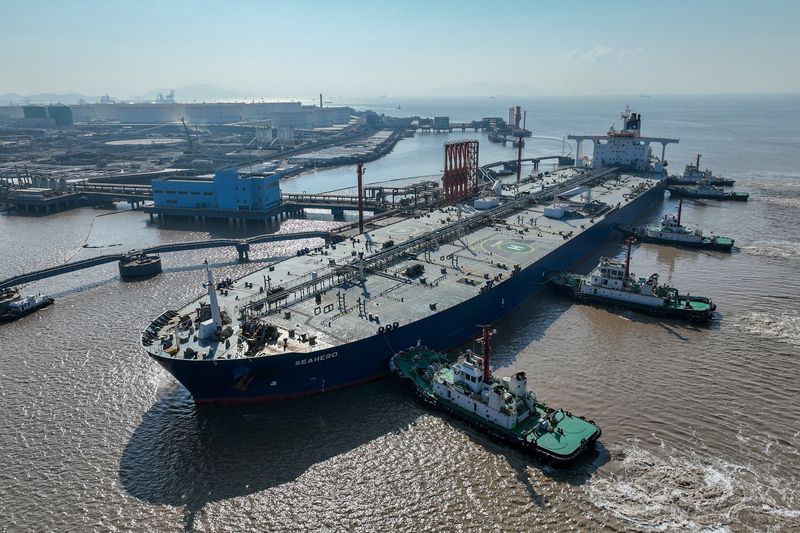 © Reuters. FILE PHOTO: An aerial view shows a crude oil tanker at an oil terminal off Waidiao island in Zhoushan, Zhejiang province, China January 4, 2023. China Daily via REUTERS
By Alex Lawler
LONDON (Reuters) – Oil prices extended declines on Monday, pressured by investor scepticism over the latest OPEC+ decision on supply cuts and uncertainty surrounding global fuel demand, though the risk of supply disruptions from the Middle East conflict limited losses.
Monday's fall adds to a 2% decline last week after the supply cuts announced on Thursday by the Organization of the Petroleum Exporting Countries (OPEC) and allies including Russia, together known as OPEC+.
futures were down 45 cents, or 0.6%, at $78.43 a barrel by 1243 GMT. U.S. West Texas Intermediate crude futures fell 43 cents, or 0.6%, to $73.64.
"Crude seems to be under continued pressure from the OPEC+ decision," said Vandana Hari, founder of oil market analysis provider Vanda (NASDAQ:) Insights.
The OPEC+ cuts were voluntary in nature, raising doubts about whether or not producers would fully implement them. Investors were also unsure about how the cuts would be measured.
"The OPEC+ 'deal' last week was unconvincing to say the least," said Craig Erlam, analyst at brokerage OANDA. "And with markets seemingly anticipating more of an economic slowdown next year, the announcement simply doesn't go far enough."
Surveys on Friday showed global manufacturing activity remained weak in November on soft demand, with euro zone factory activity contracting, while there were mixed signs on the strength of China's economy.
Geopolitical considerations were back in focus as fighting resumed in Gaza, lending some support to prices. Three commercial vessels came under attack in international waters in the southern Red Sea, the U.S. military said on Sunday.
Elsewhere, Western countries have stepped up efforts to enforce the $60 a barrel price cap on seaborne shipments of Russian oil imposed to punish Moscow for its war in Ukraine.
Washington on Friday imposed additional sanctions on three entities and three oil tankers.
Gold prices hit record high on bets of early Fed rate cuts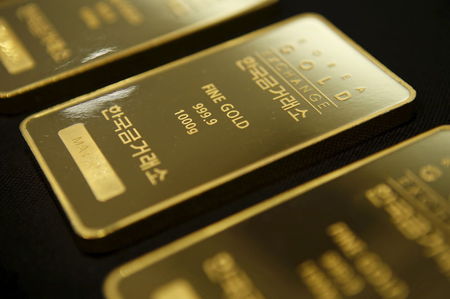 © Reuters.
Investing.com — Gold prices touched an all-time high on Monday, but later pared back some of these gains, as traders bet on the potential for a Federal Reserve interest rate cut next year. 
By 07:26 ET (12:26 GMT),  was mostly unchanged at $2,071.29 a troy ounce, retreating slightly from an earlier rally that had lifted the typical safe haven asset to a record $2,135 per troy ounce. Gold posted strong gains last week, and also rose for a second consecutive month in November.
The yellow metal has appreciated sharply in recent sessions as easing inflation, soft labor market data, and less-hawkish signals from the Fed bolstered speculation that the bank will bring down borrowing costs from a more than two-decade peak in 2024.
Near-term demand for gold was also fueled by an attack on an American warship and commercial vessels in the Red Sea, which ramped up concerns over an escalation in the violence in the Middle East.
Speaking on Friday, Fed Chair Jerome Powell reiterated his stance that U.S. rates will remain higher for longer. But some changes in his language — particularly an acknowledgement of progress made towards curbing inflation and the potential for a "soft landing" for the U.S. economy — reinforced expectations that the Fed will no longer hike rates in December and possibly begin cutting them by March 2024. 
More economic cues on tap this week
shows an almost 97% chance that the Fed will keep rates on hold at a range of 5.25% to 5.50% when policymakers meet later this month. Meanwhile, there is a more than 50% probability that the central bank will trim rates by 25 basis points as soon as March of next year, up from around 21% one week ago.
The prospect of falling borrowing costs bodes well for gold, given that elevated rates push up the opportunity cost of investing in non-interest bearing assets like the metal. This notion had battered bullion prices over the past year.  
But markets still have a slew of economic figures to assess. data for November — a key gauge of the labor market — is due later this week, while inflation readings for the remainder of the year are also slated for release in the coming weeks. 
Some facets of the labor market remain strong, while inflation is still comfortably above the Fed's 2% target — a trend that, if persistent, may diminish the chances of an early rate cut.
Ambar Warrick contributed to this report.