Caroline Ellison speaks on FTX-Binance war, SEC won't appeal Grayscale BTC ETF: Hodler's Digest, Oct. 8-14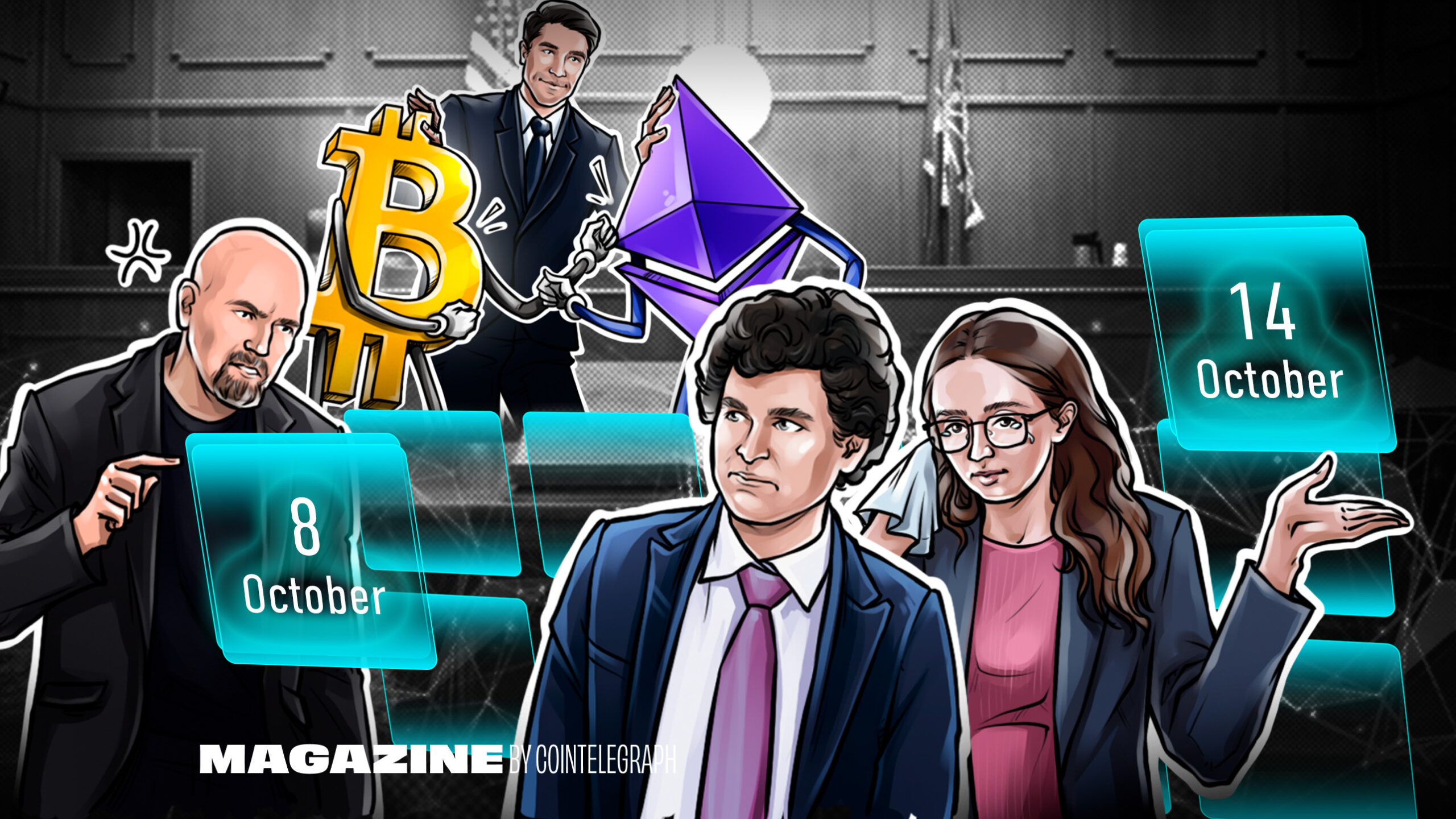 Top Stories This Week
Caroline Ellison wanted to step down but feared a bank run on FTX
Caroline Ellison, former CEO of Alameda Research, testified for over 10 hours this week at Sam Bankman-Fried's trial, offering deeper details on the events that anticipated the FTX debacle in November 2022. From Ellison's testimony, jurors learned that she planned to leave Alameda months before its collapse, but feared a bank run on FTX amidst the crypto market downturn. The week also featured a recording presented as evidence in the case showing the exact moment Ellison told employees about Alameda's use of FTX customer deposits. Among the key moments of Bankman-Fried's trial were revelations of fabricated balance sheets in order to deceive crypto lenders, as well as BlockFi CEO Zac Prince's testimony. Check out this week's highlights from Cointelegraph's team on the ground.
Months before the collapse of crypto exchange FTX, former CEO Sam Bankman-Fried was "freaking out" about buying shares in Snapchat, raising capital from Saudi royalty and getting regulators to crack down on rival crypto exchange Binance, according to evidence presented in court this week as a part of the ongoing criminal trial. Bankman-Fried believed Binance leaked an Alameda balance sheet to the media in 2022. According to a document from Nov. 6, 2022, Bankman-Fried wrote that Binance had been "engaging in a PR campaign against us." It continued, saying that Binance "leaked a balance sheet; blogged about it; fed it to Coindesk; then announced very publicly that they were selling $500m of FTT in response to it while telling customers to be wary of FTX."
SEC reportedly won't appeal court decision on Grayscale Bitcoin ETF
The United States Securities and Exchange Commission reportedly has no plans to appeal the recent court decision that favored Grayscale Investments. The ruling requires the SEC to review the firm's spot Bitcoin exchange-traded fund (ETF) application. The SEC's supposed decision not to appeal doesn't necessarily mean Grayscale's application is set to be approved. If the reports are true, the SEC will need to follow the court's August order and review Grayscale's application to change its Grayscale Bitcoin Trust into a spot Bitcoin ETF.
Terraform Labs contends Citadel Securities had a hand in its stablecoin collapse
Terraform Labs has again pointed the finger at market maker Citadel Securities for its role in an alleged "concerted, intentional effort" to cause the depeg of its TerraUSD stablecoin in 2022. On Oct. 10, Terraform Labs filed a motion in the United States to compel Citadel Securities to produce documents relating to its trading activity in May 2022, when TerraUSD Classic depegged. In its motion, Terraform argued that the documents are crucial for its defense in the lawsuit filed by the U.S. Securities and Exchange Commission in February, which alleged Terraform Labs and its founder, Do Kwon, had a hand in "orchestrating a multi-billion dollar crypto asset securities fraud." Citadel Securities has, however, previously denied trading the TerraUSD stablecoin in May 2022.
Mastercard announces successful wrapped CBDC trial results
Mastercard has completed a trial involving wrapping central bank digital currencies (CBDCs) on different blockchains, similar to wrapped Bitcoin and wrapped Ether. The trial was conducted with the Reserve Bank of Australia and the country's Digital Finance Cooperative Research Centre CBDC. Mastercard said the solution allowed a CBDC owner to purchase a nonfungible token (NFT) listed on Ethereum. "The process 'locked' the required amount of a pilot CBDC on the RBA's pilot CBDC platform and minted an equivalent amount of wrapped pilot CBDC tokens on Ethereum," the payment processor wrote.
Winners and Losers
At the end of the week, Bitcoin (BTC) is at $26,892, Ether (ETH) at $1,551 and XRP at $0.48. The total market cap is at $1.05 trillion, according to CoinMarketCap.
Among the biggest 100 cryptocurrencies, the top three altcoin gainers of the week are Loom Network (LOOM) at 86.71%, Trust Wallet Token (TWT) at 16.72% and Tether Gold (XAUt) at 5.16%. 
The top three altcoin losers of the week are Mantle (MNT) at -17.27%, Rocket Pool (RPL) at -14.39% and Avalanche (AVAX) at -13.39%.
For more info on crypto prices, make sure to read Cointelegraph's market analysis.
Most Memorable Quotations

"That's our homework, actually. To really educate people about the benefit of using blockchain."
Grace Sabandar, co-founder of the Indonesia Blockchain and Metaverse Center
"Crypto-assets markets, including DeFi, do not represent meaningful risks to financial stability at this point."
European Securities and Markets Authority
"I was worrying about customer withdrawals from FTX, this getting out, people to be hurt. […] I didn't feel good. If people found out [about Alameda using FTX funds], they would all try to withdraw from FTX."
Caroline Ellison, former CEO of Alameda Research
"It's alarming and should be a wakeup call for lawmakers and regulators that digital wallets connected to Hamas received millions of dollars in cryptocurrencies."
Elizabeth Warren, U.S. senator
"Bitcoin and Ethereum may seem like opposites, but they can co-exist and complement each other."
Willem Schroé, CEO of Botanix Labs
"People who believe SBFraud is a 'good guy' who made 'mistakes', and FTX grew too fast and it all got away from him, should NEVER be in charge of other people's money."
John Deaton, attorney and crypto advocate
Prediction of the Week 
Ethereum losing streak vs. Bitcoin hits 15 months — Can ETH price reverse course?
The price of Ethereum's native token, Ether, is trading around a 15-month low versus Bitcoin, and the lowest since Ethereum switched to proof-of-stake. The ETH/BTC pair dropped to as low as 0.056 BTC earlier this week. In doing so, the pair broke below its 200-week exponential moving average (200-week EMA; the blue wave) near 0.058 BTC, raising downside risks further into 2023.
The 200-week EMA has historically served as a reliable support level for ETH/BTC bulls.
ETH/BTC stares at similar selloff risks in 2023 after losing its 200-week EMA as support. In this case, the next downside target looks to be around its 0.5 Fibonacci line near 0.051 BTC in 2023, down about 9.5% from current price levels.
Conversely, ETH price may rebound toward its 50-week EMA (the red wave) near 0.065 BTC if it reclaims the 200-week EMA as support.
FUD of the Week 
Mistake or money laundering? User pays $1.6 million for CrypToadz NFT
One of the CrypToadz NFTs, whose average price doesn't exceed $1,000, was bought for an astonishing 1,055 wrapped Ether, an equivalent of $1.6 million. The CrypToadz collection was launched during the NFT boom of 2021 and surpassed a trading volume of $38 million worth of Ether during its first 10 days on the market. The price paid by the anonymous user for the NFT raised questions among the community. Two weeks ago, this item was acquired for 0.95 ETH (around $1,600), only to be sold for a price a thousand times higher.
USDR stablecoin depegs to $0.53, but team vows to provide solutions
Real estate-backed stablecoin USDR lost its peg to the United States dollar after a rush of redemptions caused a draining of liquid assets such as Dai from its treasury. USDR, backed by a mixture of cryptocurrencies and real estate holdings, is issued by the Tangible protocol, a decentralized finance project that seeks to tokenize housing and other real-world assets. During the crisis, a trader reportedly exchanged 131,350 USDR for 0 USD Coin, resulting in a complete loss on investment.
HTX claws back $8M in stolen funds, issues 250 ETH bounty to hacker
Huobi Global's crypto exchange HTX has confirmed the return of the funds stolen by a hacker in late September and issued a 250 Ether bounty after resolving the issue. One of HTX's hot wallets was drained of 5,000 ETH on Sept. 25, worth roughly $8 million at the time. Shortly after the hack occurred, the firm contacted the hacker and claimed to know their identity. HTX ultimately offered to pay a 5% bounty worth around $400,000 and not to take any legal action if they returned 95% of the funds before a deadline of Oct. 2.
Beyond crypto: Zero-knowledge proofs show potential from voting to finance
An emerging cryptographic technology may provide help with two gaping 21st-century needs: Privacy and truth.
Eleanor Terrett on impersonators and a better crypto industry
Fox Business producer Eleanor Terrett's following exploded after she began providing commentary on the SEC v. Ripple lawsuit.
SBF's alleged Chinese bribe, Binance clarifies account freeze: Asia Express
SBF allegedly bribes Chinese officials with $150 million to unfreeze accounts, Binance justifies blocking Hamas users, meanwhile, Huobi hacker returns all $8M in stolen assets.
Subscribe
The most engaging reads in blockchain. Delivered once a
week.
BTC price holds 6% gains as Bitcoin battles for 'crucial' $28K support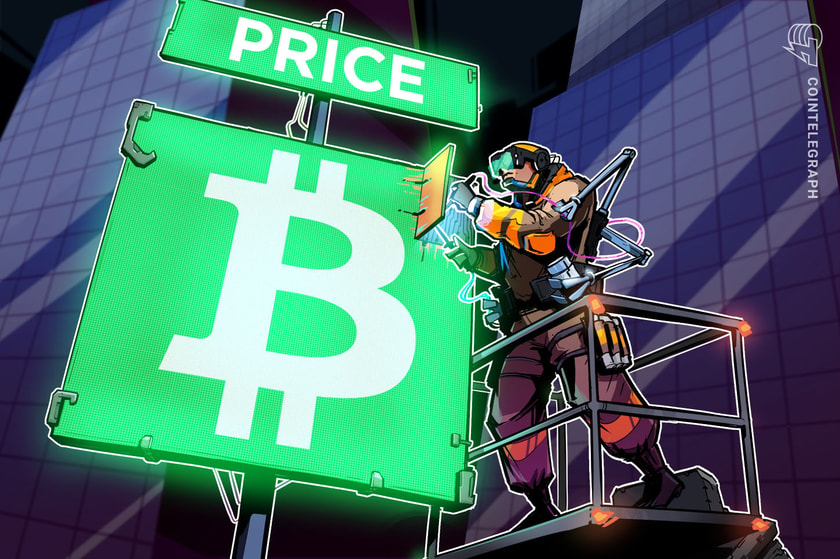 Bitcoin (BTC) passing $28,000 hints at bullish sentiment, but reclaiming it for good is essential, analysis says.
In an X (formerly Twitter) post on Oct. 17, Yann Allemann and Jan Happel, co-founders of on-chain analytics firm Glassnode, described the $28,000 mark as a "critical milestone" for the BTC price.
Glassnode: "Keep an eye out" for $28,000
After snap volatility, which caused Bitcoin to hit $30,000 for the first time since August, the largest cryptocurrency has managed to preserve some of its gains.
At the time of writing, BTC/USD is circling $28,500, per data from Cointelegraph Markets Pro and TradingView — still up around 6% since the weekly open.
For Allemann and Happel, the pair is now at a defining crossroads.
"The crypto market is hinged on BTC's ability to breach and consistently maintain a value north of $28k," part of their commentary stated.
$28,000 has formed a battleground ever since Bitcoin first crossed it in early 2021, and liquidity has traditionally surrounded it as bulls and bears fight to secure control over long-term trajectory.
Data from the trading suite DecenTrader, among others, confirms that the status quo remains despite recent BTC price moves, with $28,000 lying in a zone between major longs and shorts of varying leverage.
"While this pivotal milestone was momentarily attained on futures, the spot market price peaked at $27.98k earlier today. It's evident just how crucial this price point is in the larger scheme," Allemann and Happel added.
"The rapid movements and these price thresholds aren't just numbers. They signify investor sentiment, market dynamics. Keep an eye out for the 28k level."
Road to Bitcoin halving contested
As Cointelegraph reported, predictions over what the future will bring for Bitcoin both before and after its next block subsidy halving in April 2024 differ considerably.
Related: Mining BTC is harder than ever — 5 things to know in Bitcoin this week
In an interview last month, DecenTrader co-founder Filbfilb eyed BTC price galvanizing itself for upside during Q4, possibly reaching $46,000 by the halving.
Some well-known market participants, however, remain risk-averse. Among them, popular trader Crypto Tony and others are betting on a pre-halving return to $20,000 for a final local bottom.
"Many can scream they are long right now and caught that move, but if your not taking profit here at resistance your doing something wrong," he told X subscribers about the recent surge.
"I personally will not be long unless we flip that $28,500 level into support."
This article does not contain investment advice or recommendations. Every investment and trading move involves risk, and readers should conduct their own research when making a decision.
Ripple job posting hints at possible IPO, XRP community says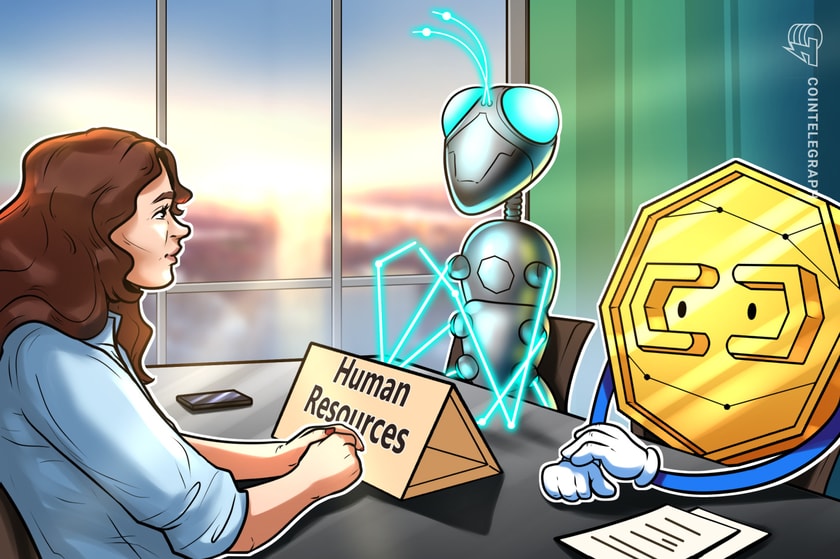 Fintech payments company Ripple released a new job posting on Oct. 16 for a shareholder communications senior manager across multiple locations in and outside the United States. The job posting prompted many crypto enthusiasts to label it as an official hint about the company's plans to go public.
The job posting outlines that the role will require direct communication with shareholders — a concept generally associated with publicly traded companies. The chosen candidate would be responsible for developing and implementing communication and relationship management strategies for "existing and prospective investors, current shareholders, and financial analysts."
The job description emphasizes the candidate's need to create strategic plans specifically suited for situations like "M&A [mergers and acquisitions], investments, liquidity events, and other high-impact moments."
The role includes creating investor-focused materials like "presentations, fact sheets, case studies, and analyses" to inform and educate potential investors about the company's prospects and performance — a necessary component of the initial public offering (IPO) preparation process. The responsibilities of the post also include maintaining a shareholder database and managing routine communications like quarterly updates.
Related: How are crypto firms responding to US regulators' enforcement actions?
Many XRP (XRP) proponents and the pro-Ripple community on X (formerly Twitter) are referring to the job posting as a hint that there may be an IPO. Some key executives from the company have also alluded to the possibility that Ripple might go public but haven't given any indication of timing.
Anyone notice the recent job openings at #Ripple?

The only reason you need a Shareholders Communication Manager.. is for an IPO.

😉 https://t.co/jpte8wUiFu pic.twitter.com/VAcIKgPltF

— Chad Steingraber (@ChadSteingraber) October 16, 2023
The crypto-focused payments company has recently been in the limelight due to the U.S. Securities and Exchange Commission's (SEC) lawsuit alleging XRP is a security. Ripple scored a major win in the lawsuit in July when a judge ruled that XRP is not a security in terms of sale on digital asset exchanges.
Key Ripple executives have claimed that even though the SEC lawsuit has cost them many business opportunities in the U.S., most of its remittance business lies outside America.
Magazine: US enforcement agencies are turning up the heat on crypto-related crime
Banks' crypto exposure must be disclosed — BIS' Basel Committee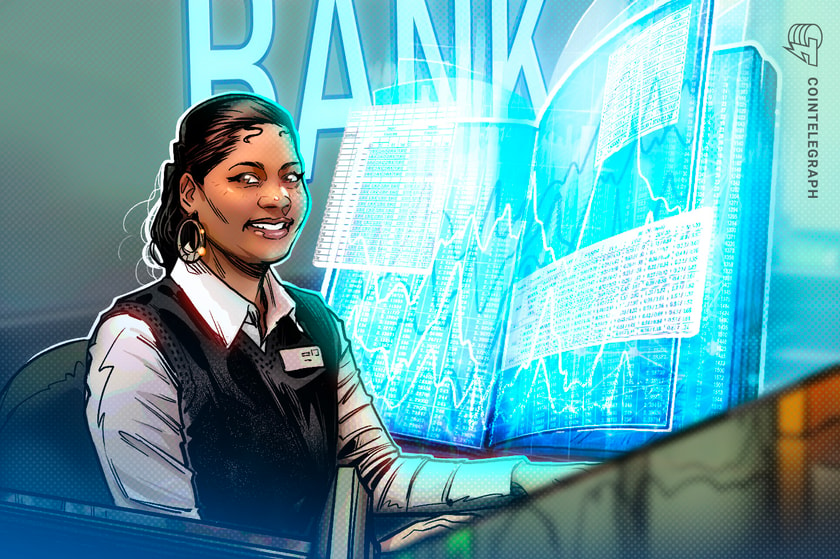 The Basel Committee on Banking Supervision of the Bank for International Settlements (BIS) released a consultation paper on Oct. 17, proposing to make it compulsory for banks to disclose their crypto exposure.
The Basel Committee comprises central banks and financial authorities from 28 jurisdictions and is a forum for regulatory cooperation on banking supervisory matters. The latest consultation paper is based on the disclosure guidelines in the final prudential standard on how banks should handle their exposure to crypto assets released in December 2022.
The consultation paper aims to set a standardized "disclosure table and set of templates for banks' crypto-asset exposures," with a proposed implementation date of Jan. 1, 2025. The Basel Committee has opened the proposal for public comment until Jan. 31, 2024, after which the results will be published on its website.
Under the new proposed regulations, banks would be required to provide quantitative data on exposures to crypto assets and the corresponding capital and liquidity requirements. Banks would also be required to offer qualitative data on their activities linked to cryptocurrencies.
Additionally, banks would be required to offer information on the accounting classifications of their exposure to crypto assets and liabilities. In its proposal, the committee claimed that using a uniform disclosure format will encourage the application of market discipline and lessen information asymmetry between banks and market participants.
Related: Ripple joins BIS cross-border payments task force
The committee also reviewed crypto assets and bank exposure in June. At the time, the committee didn't delve deeply into the topic, mentioning only that it was focusing on permissionless blockchains and the eligibility criteria for "Group 1" stablecoins.
The BIS has been actively involved in crypto consultations and examining the regulatory aspect of decentralized technology. Recently, the BIS and a handful of European central banks published details of a concept to develop a system to track international flows of cryptocurrencies.
Magazine: Blockchain detectives: Mt. Gox collapse saw birth of Chainalysis