Businessman Noboa to face economic, security hurdles as Ecuador president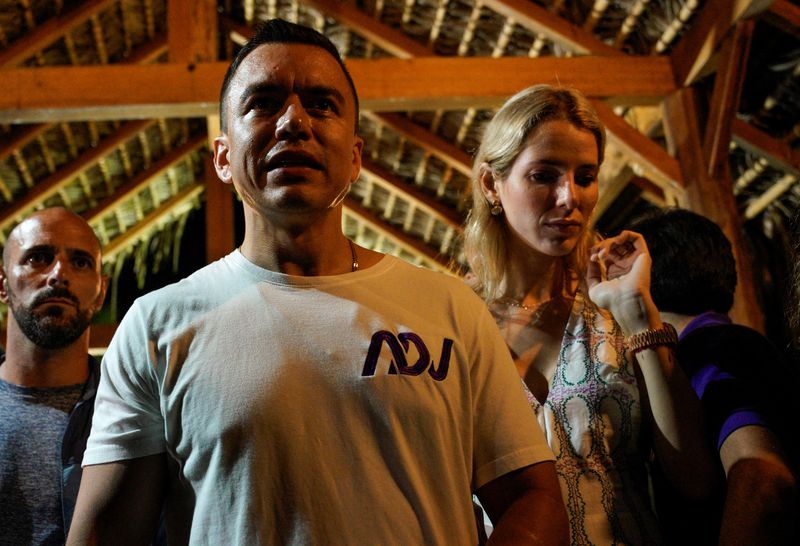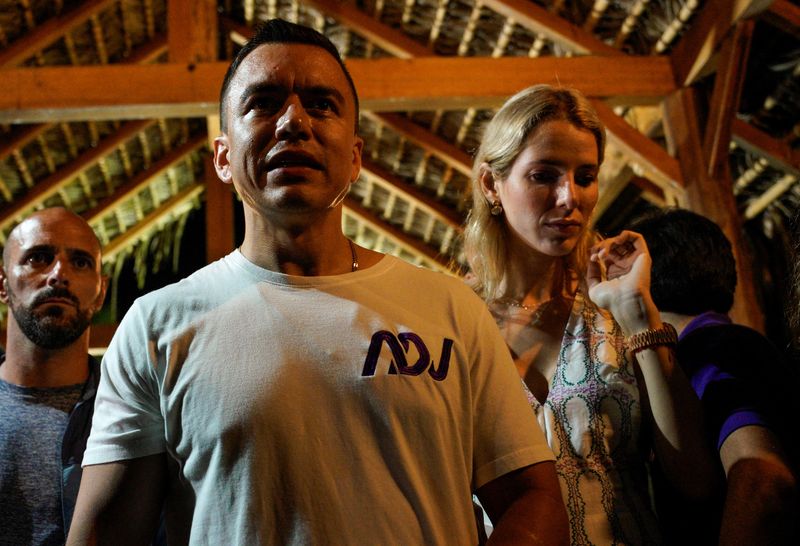 © Reuters. Ecuadorian presidential candidate Daniel Noboa and his wife Lavinia Valbonesi, attend a presidential election night gathering, in Santa Elena, Ecuador October 15, 2023. REUTERS/Santiago Arcos
By Alexandra Valencia
QUITO (Reuters) -Business heir Daniel Noboa will face significant challenges as he seeks to revive Ecuador's battered economy and tackle rising crime during a truncated 17-month presidential term, after winning the country's top job on Sunday.
The 35-year-old Noboa vowed in his victory speech to rebuild the South American country, whose economy has struggled since the COVID-19 pandemic, motivating many thousands of Ecuadoreans to migrate.
Noboa's victory eliminated some immediate market risks that could have arisen if his rival, leftist Luisa Gonzalez, a protege of former President Rafael Correa, had been elected instead, Wall Street analysts said.
Ecuadorean bonds rallied on the vote as Noboa's business background provided a boost for investors that had seen the country's dollar debt fall some 17% this year.
   "Overall, investors are likely to be reassured by the election results as Mr. Noboa was seen by market participants as a more pro-business candidate compared to his more state-centric rival," wrote Goldman Sachs analysts in a Monday note.
   "The risks of policies becoming more populist remain as the focus of the incoming administration will quickly turn to the next general election on February 2025," the note added.
"We do not anticipate the Noboa administration will be in the position to carry out deep structural reforms."
   Noboa is set to take office in December and complete the current administration's term through May 2025.
JPMorgan said in a separate note that any fiscal consolidation during Noboa's coming term is unlikely, especially if the El Nino weather phenomenon causes significant economic pressures, but an outright debt restructuring is unlikely.
Noboa has pledged to attract foreign investors and create jobs for young people, but has also said he will balance meeting foreign debt obligations with the needs of the population.
Ecuador has repeatedly turned to multilateral funding since the pandemic.
Doubts remain about whether Noboa will follow an orthodox path on the economy, JPMorgan added, because he has said he could dip into $1.5 billion in international reserves if needed.
Noboa's campaign has said he will announce his cabinet picks next week, likely signaling his economic strategy.
QUICK WINS
Noboa has said he will tackle sharply rising crime with a new intelligence unit, tactical weapons for security forces, prison ships to house the country's most dangerous convicts and a beefed-up presence at ports and airports, hot spots for drug smuggling.
Increased violence, which the outgoing government blames on drug gangs, reached a crescendo during the campaign with the murder of anti-corruption candidate Fernando Villavicencio, who was shot to death in August as he left a Quito campaign event.
Noboa will need to ensure some quick security wins during his first 90 days in office to appease social and political pressures, JPMorgan added.
Noboa won 52% of the vote to Gonzalez's 48%, with nearly all ballot boxes counted.
Noboa's victory fulfills a long-held family ambition – he grew up accompanying his banana baron father Alvaro during the latter's multiple failed attempts to become president.
Noboa resigned from the family firm to run for the national legislature in 2021, where he served until outgoing President Guillermo Lasso dissolved the chamber and called the election to avoid impeachment on charges he disregarded warnings of embezzlement at a state company. He has denied the charges.
He will be delighted to see Noboa at the presidential palace on Tuesday, Lasso said on social media late on Sunday, adding work on the transition must begin right away.
Noboa's campaign has said he will spend Monday with advisers and future lawmakers belonging to his National Democratic Action party, before seeing Lasso on Tuesday.
Noboa, Ecuador's youngest president in recent history, would be able to run again in the regularly scheduled 2025 contest.
Noboa made a special point to woo young people, with some supporters touting his victory as a fresh start for the country's politics.
Fed pivot to interest-rate cuts seen likely to start in May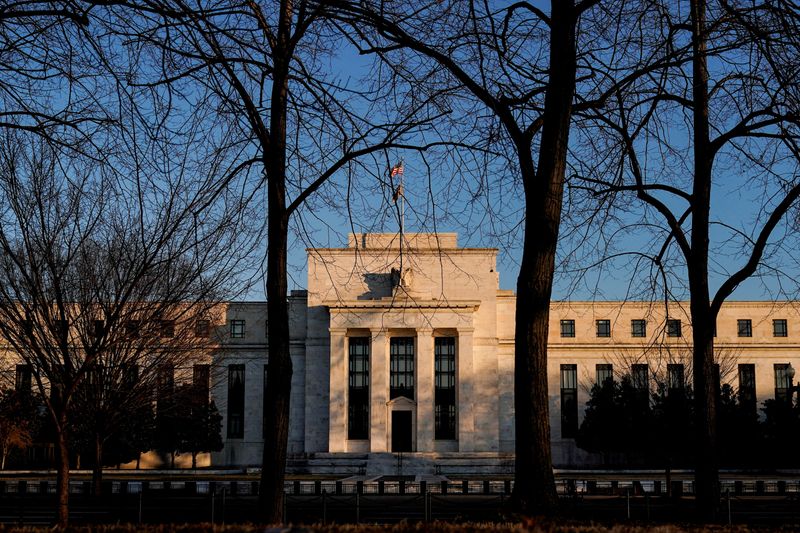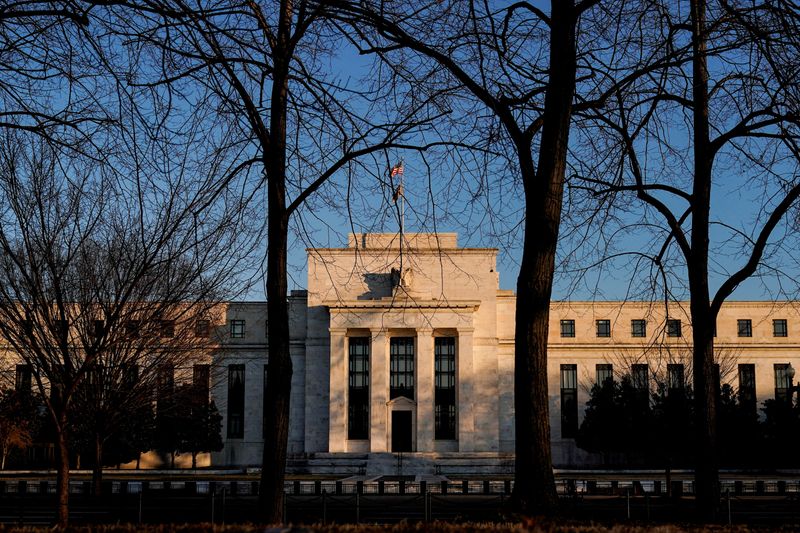 © Reuters. FILE PHOTO: The Federal Reserve building is seen in Washington, U.S., January 26, 2022. REUTERS/Joshua Roberts/File Photo
By Ann Saphir
(Reuters) – A stronger-than-expected U.S. labor market won't keep the Federal Reserve from pivoting to a series of interest-rate cuts next year, but it could take until May for it to deliver the first reduction, traders bet on Friday.
Employers added 199,000 workers to their payrolls in November, the Labor Department's monthly jobs report showed, more than the 180,000 that economists had expected, and the unemployment rate unexpectedly fell to 3.7%, from 3.9% in October.
Hourly earnings ticked up 0.4% from a month earlier, more than expected and an acceleration from the prior month. But the labor force participation rate also rose, to 62.8%, easing the prospect that an overheated job market will short-circuit progress on the Fed's inflation battle.
A separate report Friday showed U.S. consumer sentiment improved more than expected in December as households saw inflation pressures easing.
The U.S. central bank is expected to keep rates in the current 5.25%-5.50% range when it meets next week, leaving policy on hold since July. Traders before Friday's jobs report had put about a 60% probability on a March start to Fed rate cuts, but after the data reduced that to just under 50%, with a first reduction seen as more likely to come in May.
Further rate cuts are priced in for the rest of 2024, with the policy rate seen ending the year in the 4%-4.25% range as the Fed adjusts borrowing costs downward not as an antidote to a weaker labor market but rather to keep pace with an expected continued cooling in inflation.
The pace of that improvement in inflation will help determine the timing of the Fed's pivot to rate cuts, analysts said.
"We maintain our call for the Fed to start cutting rates by mid-year, but it is contingent on inflation continuing to trend lower and further weakening in economic activity," wrote Nationwide economist Kathy Bostjancic after the report.
Fed policymakers will release their own views of where the economy, inflation, and interest rates will go next year when they wrap up their last meeting of the year on Wednesday. 
US consumers' moods brighten as inflation worries subside – UMich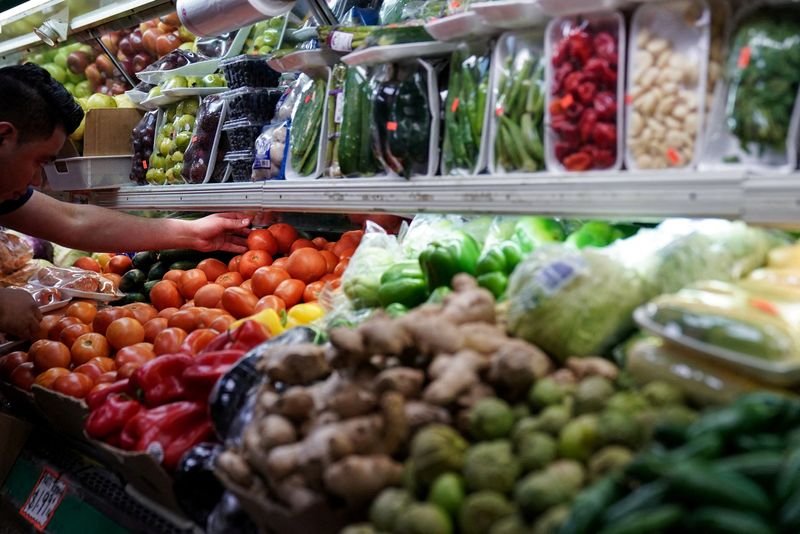 © Reuters. FILE PHOTO: A person arranges groceries in El Progreso Market in the Mount Pleasant neighborhood of Washington, D.C., U.S., August 19, 2022. REUTERS/Sarah Silbiger/File Photo
(Reuters) -U.S. consumer sentiment perked up much more than expected in December, snapping four straight months of declines, as households saw inflation pressures easing, a survey showed on Friday.
The University of Michigan's preliminary reading of its Consumer Sentiment Index shot up to 69.4, the highest since August, from November's final reading of 61.3.
The median expectation among economists in a Reuters poll had been for the index to edge up to 62.0.
"Consumer sentiment soared 13% in December, erasing all declines from the previous four months, primarily on the basis of improvements in the expected trajectory of inflation," survey Director Joanne Hsu said in a statement.
The survey's preliminary gauge of current conditions rose to 74.0 from last month's final level of 68.3, while the expectations index climbed to 66.4, the highest since July, from 56.8 in November.
Consumers' outlook for inflation in the year ahead plunged to 3.1% – the lowest since March 2021 – from November's final expectation of 4.5%. The 1.4 percentage point decline was the largest monthly drop in one-year inflation expectations in 22 years.
Over a five-year horizon, consumers expect inflation to average a three-month low of 2.8%, down from 3.2% in November, which had been the highest since March 2011, when it reached the same level.
Russian inflation accelerates in November, rate hike beckons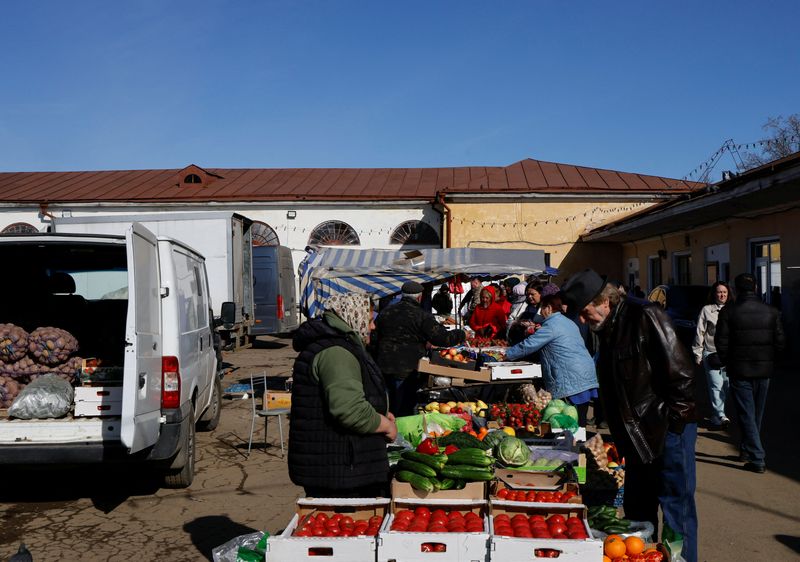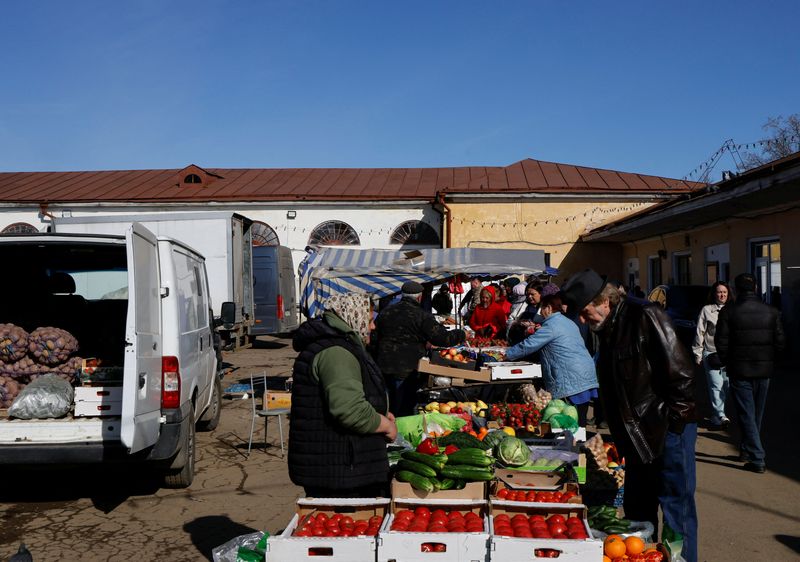 © Reuters. FILE PHOTO: People shop at a local market in the town of Rostov in the Yaroslavl Region, Russia April 15, 2023. REUTERS/Evgenia Novozhenina/File Photo
MOSCOW (Reuters) – Inflation in Russia accelerated in November, data from state statistics service Rosstat showed on Friday, cementing expectations that the central bank will hike interest rates as it meets for the final time this year on Dec. 15.
The central bank has now raised rates by 750 basis points since July, including an unscheduled emergency hike in August, under pressure from a weak rouble, tight labour market and strong consumer demand. Analysts widely expect another hike, to 16%, next week.
High interest rates are one of several irksome economic challenges facing President Vladimir Putin, who on Friday said he would run again for president next year, although none seem insurmountable thanks to Russia's success in evading a Western oil price cap helping to drive a recovery in economic growth.
In November, annual inflation stood at 7.48% year-on-year, up from 6.69% a month earlier and just shy of analysts' expectations of a 7.6% reading.
The data suggests that annual inflation will exceed the central bank's expectation of year-end inflation at the upper end of the 7.0%-7.5% range, which is well above its 4% target.
On a monthly basis, the consumer price index (CPI) rose 1.11% in November after a 0.83% increase in October, the data showed, coming just below analyst forecasts of a 1.2% increase. That was the fastest monthly rise since April 2022.
In the week up to Dec. 4, consumer prices rose 0.12%, separate Rosstat data showed.
Russian households regularly cite inflation as a major concern, with many having no savings after a decade of economic crises, while rising prices dragged living standards down across the country.
Rosstat gave the following details:
RUSSIAN CPI Nov 23 Oct 23 Nov 22
Mth/mth pct change +1.11 +0.83 +0.37
– food +1.55 +1.35 +0.40
– non-food +0.53 +0.55 +0.06
– services +1.23 +0.48 +0.76
Y/Y pct change +7.48 +6.69 +11.98
Core CPI y/y pct change +6.36 +5.50 +15.06