ECB to tackle excess liquidity in next stage of inflation fight -sources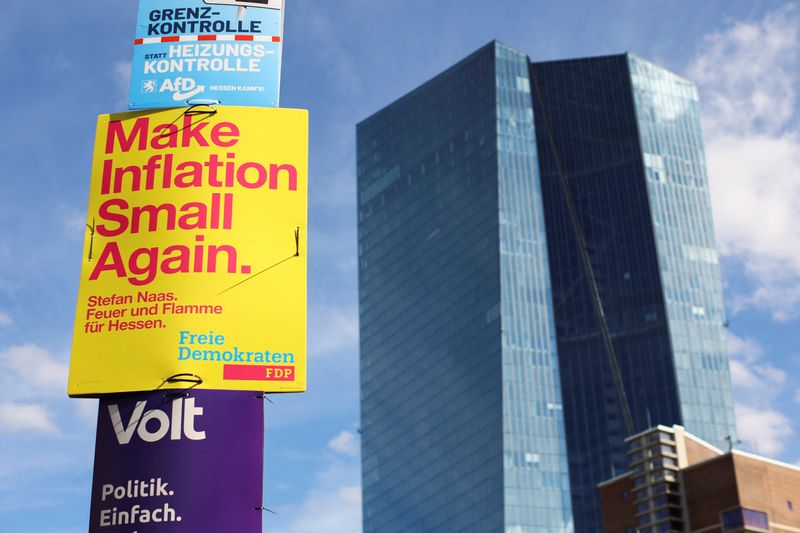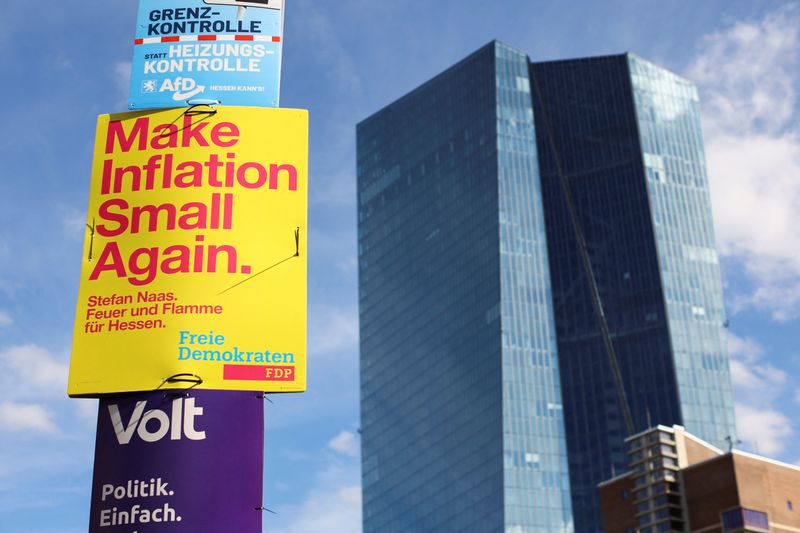 © Reuters. A view shows the placards of the political parties in front of the European Central Bank (ECB) building in Frankfurt, Germany, September 14, 2023. REUTERS/Wolfgang Rattay
By Francesco Canepa and Balazs Koranyi
FRANKFURT (Reuters) -European Central Bank policymakers want to soon start discussing how to tackle the multi-trillion-euro pool of excess liquidity sloshing around banks, with raising reserve requirements a possible first move, six sources told Reuters.
The debate, likely to start at the ECB's next meeting in Athens on Oct. 26 or at an autumn retreat for policymakers, marks a new phase in its fight against inflation.
The central bank for the 20 countries that use the euro has already raised interest rates 10 times to record levels but inflation remains well above its 2% target.
With rates likely on hold at least until December, policymakers are now starting to shift their focus to the cash that they injected into the banking system over a decade of bond purchases.
This stash of money dulls the impact of their rate hikes by reducing competition for deposits and results in hefty interest payments — and ensuing losses — by some central banks.
Discussions on how to reduce excess liquidity will focus on three areas, the sources said: the amount of reserves banks must keep at the ECB, the unwinding of its bond-buying programmes and a new framework for steering short-term interest rates.
An ECB spokesperson declined to comment for this story.
RAISING RESERVE REQUIREMENT
Several policymakers are in favour of raising the amount of reserves that banks must park at the central bank – on which they do not earn interest – from 1% of customer deposits to a figure that could be closer to 3% or 4%, the sources said.
The sources said this would have the dual benefit of mopping up cash from the banking system and reducing how much the ECB and the euro zone's 20 national central banks pay out in interest on deposits, which has led to large losses for some.
They thought this could be an easier step for the ECB to take, because policymakers had already discussed it at July's meeting and because mandatory reserves are currently puny at 165 billion euros ($176.02 billion) compared to excess liquidity of 3.7 trillion euros.
However, one source said some policymakers wanted to bundle a decision on reserves with those on the ECB's asset purchase schemes and interest-rate framework, which could be a much slower process.
The debate about shrinking the 4.8 trillion euro pile of debt hoovered up under different schemes by the ECB since 2015, mostly to avert the risk of deflation, was seen by the sources as more difficult.
Most saw scope for phasing out the ECB's Pandemic Emergency Purchase Programme (PEPP) by not replacing maturing bonds, but all were nervous about upsetting financial markets, particularly investors in Italy's government bonds.
ECB President Christine Lagarde said last week that policymakers had not discussed the bond-buying schemes at their latest policy meeting. She described the PEPP as the ECB's "first line of defence" to preserve policy transmission – central bank jargon for bond market stability in the most indebted countries.
Slovenian central bank governor Bostjan Vasle recently backed selling bonds bought under the ECB's older Asset Purchase Programme, which is less flexible than the PEPP. But one of the sources pointed out that this would result in even bigger losses for the ECB as those bonds were mostly bought at higher prices.
The sources said that delicate balance meant a decision on the bond-buying schemes might not come this year, and that any change was very unlikely to take effect until early 2024 or even later in the spring.
Slovakian governor Peter Kazimir said on Monday he would wait another six months before making a decision on PEPP.
Finally the sources said they had not even really started debating the policy framework – whether the ECB wants to continue setting a floor for the interbank rate or go back to a corridor-system in which it provides a lower and upper limit.
The former requires the ECB to keep more excess liquidity in the banking system, although none of the sources would venture a guess about how much, saying it depended on the exact design.
The sources expected this debate to spill over into 2024 and saw no need to rush it as the amount of excess reserves sitting at banks meant the ECB was effectively stuck with a floor system for years to come.
A study presented at the ECB's summer symposium in Sintra showed that now monetary stimulus is no longer needed, the ECB could shrink bank liquidity to between 521 billion euros and 1.4 trillion euros while still meeting banks' need for reserves.
($1 = 0.9374 euros)
Fed's Powell: Economy still working through the impact of the pandemic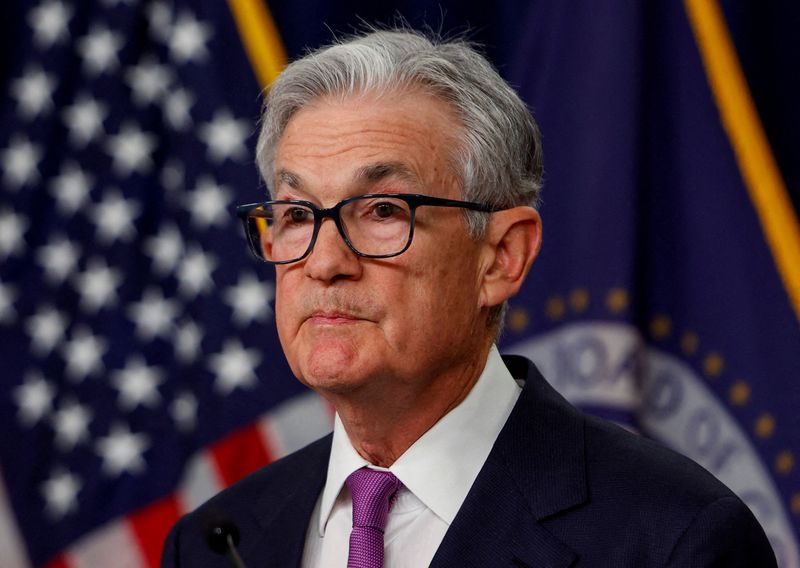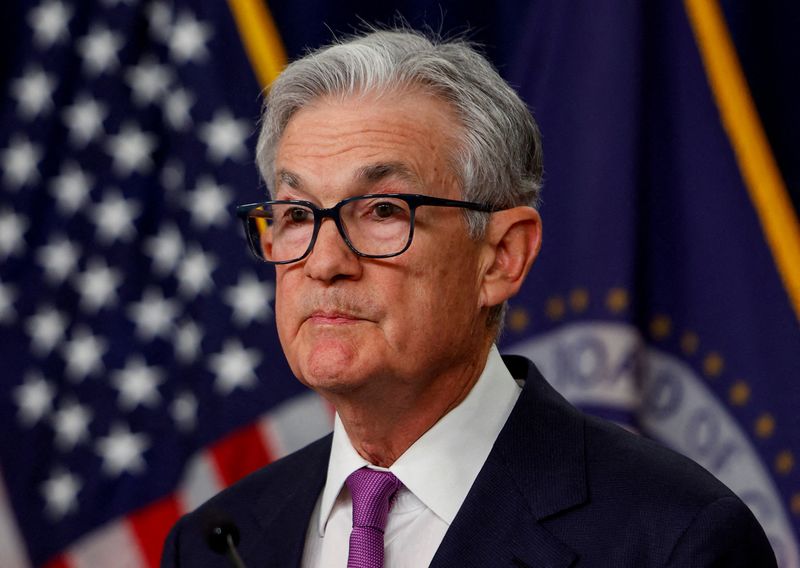 © Reuters. FILE PHOTO: U.S. Federal Reserve Chair Jerome Powell holds a press conference in Washington, U.S, September 20, 2023. REUTERS/Evelyn Hockstein/File Photo
By Howard Schneider
YORK, Pa. (Reuters) – The U.S. economy is still dealing with the aftermath of the COVID-19 pandemic, Federal Reserve chair Jerome Powell said during a meeting with community and business leaders in York, Pennsylvania.
"We are still coming through the other side of the pandemic," Powell said, noting labor shortages in healthcare, ongoing difficulties with access to child care, and other issues heightened by the health crisis. He did not comment on current monetary policy or the economic outlook in brief opening remarks.
Credit Suisse, Mozambique secure out-of-court 'tuna bond' settlement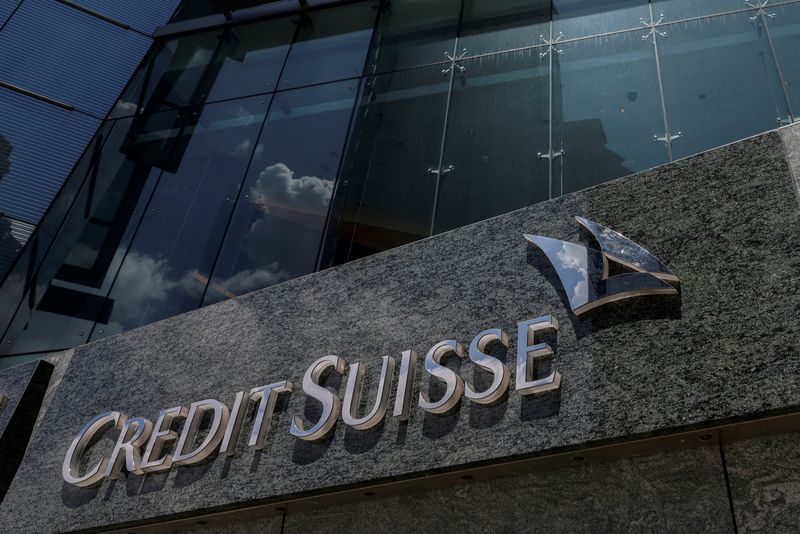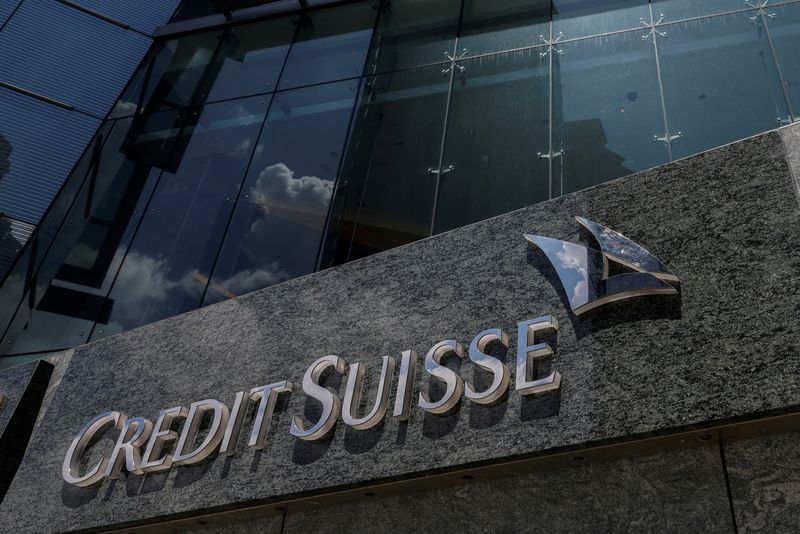 © Reuters. FILE PHOTO: The logo of Credit Suisse is seen outside its office building in Hong Kong, China, August 8, 2023. REUTERS/Tyrone Siu/File Photo
By Noele Illien and Kirstin Ridley
ZURICH (Reuters) -Credit Suisse has reached an 11th-hour out-of-court settlement with Mozambique over the decade-old $1.5 billion-plus "tuna bond" scandal, the Swiss bank's new owner UBS said on Sunday, drawing a line under a damaging dispute it inherited.
"The parties have mutually released each other from any liabilities and claims relating to the transactions," UBS said in a statement. "The parties are pleased to have resolved this long-running dispute," it added without giving further details.
Under the deal, struck one day before a three-month London civil trial was due to start, UBS will forgive part of a loan that Credit Suisse made to Mozambique in 2013, representing less than $100 million, said one source familiar with the situation, who declined to be named because the terms are not public.
In Maputo, the Mozambican Attorney General's Office and Ministry of Economy and Finance said they were calling a joint news conference for Monday morning.
The tuna bond case dates back to deals between state-owned Mozambican companies and shipbuilder Privinvest – funded in part by loans and bonds from Credit Suisse and backed by undisclosed Mozambican government guarantees in 2013 and 2014 – ostensibly to develop the fishing industry and for maritime security.
But hundreds of millions of dollars went missing and, when the government debt came to light in 2016, donors such as the International Monetary Fund temporarily halted support, triggering a currency collapse, defaults and financial turmoil.
The settlement included most of the creditors involved in funding a 2013 loan to ProIndicus, a state-owned Mozambican company, UBS said.
DRAWING A LINE
UBS, which took over scandal-scarred Credit Suisse amid turmoil in the global banking sector earlier this year, has pledged to resolve Credit Suisse's legacy legal disputes.
Since completing the mega merger on June 12, it has paid $388 million to U.S. and British regulators over dealings with collapsed private investment firm Archegos Capital Management and settled a dispute with a finance blog.
The latest settlement leaves French shipping mogul Iskandar Safa and his Privinvest group among key remaining defendants in a High Court battle over the funding and maritime deals that have already triggered U.S. and Mozambican criminal proceedings.
Mozambique has alleged it was the victim of a conspiracy and that Privinvest paid bribes to corrupt Mozambican officials and Credit Suisse bankers, exposing the country to a potential liability of at least $2 billion.
Privinvest has alleged it delivered on all of its obligations under the contracts and that any payments it made were either investments, consultancy payments, legitimate remuneration or legitimate political campaign contributions.
The company did not immediately respond to a request for comment.
NYUSI IMMUNITY
In another twist to the complex case, Privinvest on Friday secured permission to appeal against a London High Court decision to grant Mozambican President Filipe Nyusi immunity from the proceedings. Privinvest has argued that if it is found liable, Nyusi should contribute to any damages.
Officials in the Maputo government did not immediately respond to a request for comment.
Court of Appeal Judge Elizabeth Laing said it was now up to the trial judge to grant any applications for adjournment, a decision seen by Reuters over the weekend showed.
In 2021, Credit Suisse agreed to pay about $475 million to British and U.S. authorities to resolve bribery and fraud charges and has pledged to forgive $200 million of debt owed by Mozambique.
It has alleged three former bankers, who arranged the bonds and have pleaded guilty in the United States to handling kickbacks, hid their misconduct from the bank.
US Congress averts government shutdown, passing stopgap bill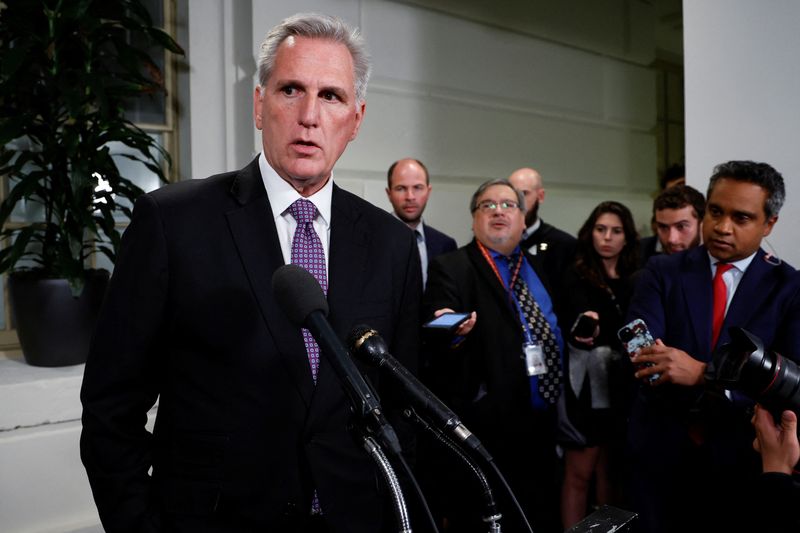 5/5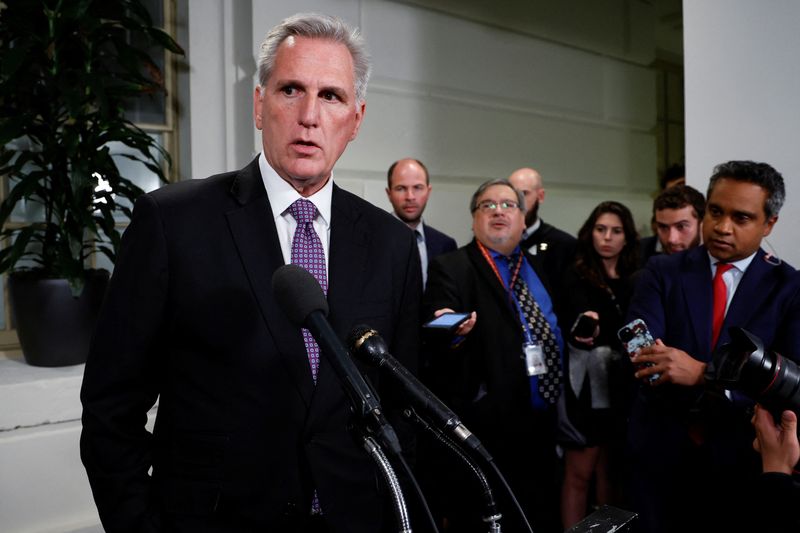 © Reuters. U.S. House Speaker Kevin McCarthy (R-CA) speaks with reporters after a House Republican conference meeting following a series of failed votes on spending packages at the U.S. Capitol ahead of a looming government shutdown in Washington, U.S. September 29,
2/5
By David Morgan, Moira Warburton and Makini Brice
WASHINGTON (Reuters) -The U.S. Congress passed a stopgap funding bill late on Saturday with overwhelming Democratic support after Republican House Speaker Kevin McCarthy backed down from an earlier demand by his party's hardliners for a partisan bill.
The Democratic-majority Senate voted 88-9 to pass the measure to avoid the federal government's fourth partial shutdown in a decade, sending the bill to President Joe Biden, who signed it into law before the 12:01 a.m. ET (0401 GMT) deadline.
McCarthy abandoned party hardliners' insistence that any bill pass the House with only Republican votes, a change that could cause one of his far-right members to try to oust him from his leadership role.
The House voted 335-91 to fund the government through Nov. 17, with more Democrats than Republicans supporting it.
That move marked a profound shift from earlier in the week, when a shutdown looked all but inevitable. A shutdown would mean that most of the government's 4 million employees would not get paid – whether they were working or not – and also would shutter a range of federal services, from National Parks to financial regulators.
Federal agencies had already drawn up detailed plans that spell out what services would continue, such as airport screening and border patrols, and what must shut down, including scientific research and nutrition aid to 7 million poor mothers.
"The American people can breathe a sigh of relief: there will be no government shutdown tonight," Democratic Senate Majority Leader Chuck Schumer said after the vote. "Democrats have said from the start that the only solution for avoiding a shutdown is bipartisanship, and we are glad Speaker McCarthy has finally heeded our message."
DEMOCRATS CALL IT A WIN
Some 209 Democrats supported the bill, far more than the 126 Republicans who did so, and Democrats described the result as a win.
"Extreme MAGA Republicans have lost, the American people have won," top House Democrat Hakeem Jeffries told reporters ahead of the vote, referring to the "Make America Great Again" slogan used by former President Donald Trump and many hardline Republicans.
Democratic Representative Don Beyer said: "I am relieved that Speaker McCarthy folded and finally allowed a bipartisan vote at the 11th hour on legislation to stop Republicans' rush to a disastrous shutdown."
McCarthy's shift won the support of top Senate Republican Mitch McConnell, who had backed a similar measure that was moving through the Senate with broad bipartisan support, even though the House version dropped aid for Ukraine.
Democratic Senator Michael Bennett held the bill up for several hours trying to negotiate a deal for further Ukraine aid.
"While I would have preferred to pass a bill now with additional assistance for Ukraine, which has bipartisan support in both the House and Senate, it is easier to help Ukraine with the government open than if it were closed," Democratic Senator Chris Van Hollen said in a statement.
McCarthy dismissed concerns that hardline Republicans could try to oust him as leader.
"I want to be the adult in the room, go ahead and try," McCarthy told reporters. "And you know what? If I have to risk my job for standing up for the American public, I will do that."
He said that House Republicans would push ahead with plans to pass more funding bills that would cut spending and include other conservative priorities, such as tighter border controls.
CREDIT CONCERNS
The standoff comes just months after Congress brought the federal government to the brink of defaulting on its $31.4 trillion debt. The drama has raised worries on Wall Street, where the Moody's (NYSE:) ratings agency has warned it could damage U.S. creditworthiness.
Congress typically passes stopgap spending bills to buy more time to negotiate the detailed legislation that sets funding for federal programs.
This year, a group of Republicans has blocked action in the House as they have pressed to tighten immigration and cut spending below levels agreed to in the debt-ceiling standoff in the spring.
The McCarthy-Biden deal that avoided default set a limit of $1.59 trillion in discretionary spending in fiscal 2024. House Republicans are demanding a further $120 billion in cuts.
The funding fight focuses on a relatively small slice of the $6.4 trillion U.S. budget for this fiscal year. Lawmakers are not considering cuts to popular benefit programs such as Social Security and Medicare.
"We should never have been in this position in the first place. Just a few months ago, Speaker McCarthy and I reached a budget agreement to avoid precisely this type of manufactured crisis," Biden said in a statement after the vote. "House Republicans tried to walk away from that deal by demanding drastic cuts that would have been devastating for millions of Americans. They failed."