Shutdown showdown in US Congress: Time running short to fund government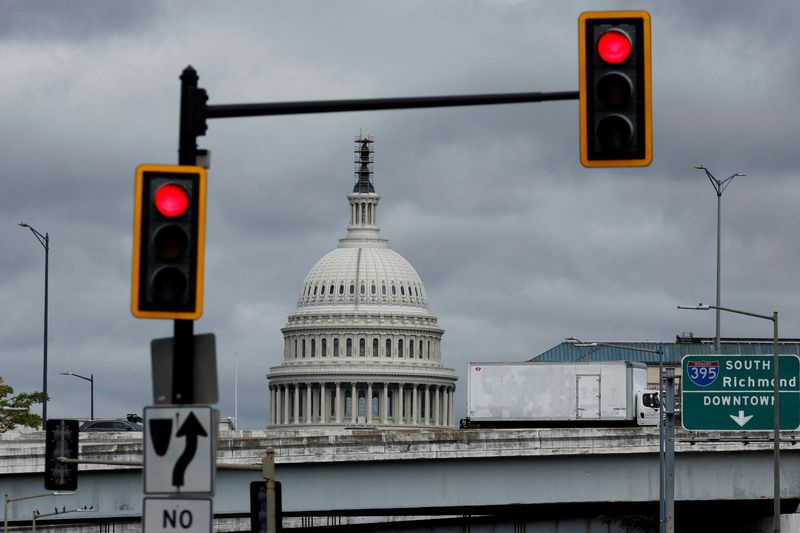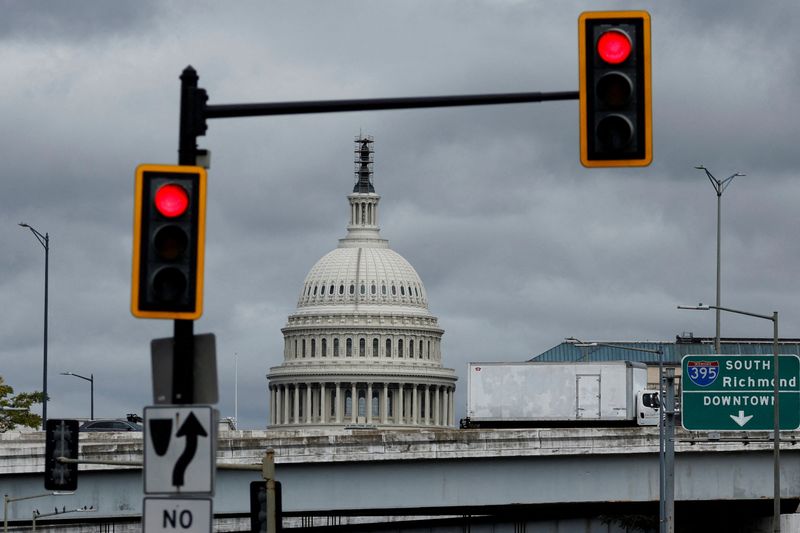 © Reuters. FILE PHOTO: A general view of the U.S. Capitol, where Congress will return Tuesday to deal with a series of spending bills before funding runs out and triggers a partial U.S. government shutdown, in Washington, U.S. September 25, 2023. REUTERS/Jonathan E
By David Morgan and Andy Sullivan
WASHINGTON (Reuters) – The U.S. House and Senate on Tuesday plan to take sharply divergent paths in a high-stakes spending battle, with just five days remaining until a deadline that could force wide swaths of the government to shut down for the fourth time in a decade.
The Democratic-controlled Senate plans to vote on a stopgap funding bill with bipartisan support that would keep the federal government operating after current money runs out at midnight on Saturday (0400 GMT Sunday), giving negotiators more time to agree on full-year spending numbers.
Meanwhile Republican House of Representatives Speaker Kevin McCarthy, aiming to hold off a rebellion by hardline members of his own caucus, will push ahead with four full-year spending bills that reflect conservative priorities and stand no chance of becoming law.
Hundreds of thousands of federal workers will be furloughed and a wide range of services, from economic data releases to nutrition benefits, will be suspended beginning on Sunday if the two sides do not reach agreement. In Washington, the National Zoo says it would have to curtail its farewell party for three giant pandas before they return to China.
Congress has shut down the government 14 times since 1981, though most of those funding gaps have lasted only a day or two. Though disruptive, they have not had a significant impact on the world's largest economy.
But Moody's (NYSE:) warned on Monday that a shutdown this time would have negative implications for the U.S. government's AAA credit rating, as it would highlight how political polarization is worsening the country's fiscal standing.
Democratic President Joe Biden and McCarthy had aimed to head off a shutdown this year when they agreed in May, at the end of a standoff over the federal debt ceiling, to discretionary spending of $1.59 trillion for the fiscal year beginning Oct. 1.
Lawmakers on McCarthy's right flank have since rejected that number, demanding $120 billion in cuts, even as more moderate members of their party including top Senate Republicans voiced support for the agreed-on plan.
That only accounts for a fraction of the total U.S. budget, which will come to $6.4 trillion for this fiscal year. Lawmakers are not considering cuts to popular benefit programs like Social Security and Medicare, which are projected to grow dramatically as the population ages.
Republicans control the House by a narrow 221-212 majority and have few votes to spare, particularly since some Republican hardliners have threatened to move to oust McCarthy from his leadership role if he relies on Democratic votes to pass legislation.
'PAYING THE PRICE'
Biden himself has called on House Republicans to honor McCarthy's deal.
"Just a few months ago the speaker of the House and I agreed to spending levels of the government," Biden said. "Now a small group of extreme House Republicans, they don't want to live up to that deal, and everyone in America could be faced with paying the price for it."
Despite the looming shutdown deadline, the House will turn its attention first to the four full-year bills, which even if they pass would not fund the full government or prevent a shutdown. Success is not guaranteed: Republican hardliners blocked action on spending bills last week and some have said they would try to do so again.
If McCarthy surmounts that first obstacle, debate could consume most of the week, leaving little time to hammer out a stopgap bill before Sunday.
Republican Representative Ralph Norman, a member of the hardline House Freedom Caucus, said on Monday he was "100%" certain that Congress would not be able to keep the government open.
McCarthy said he was more optimistic. "I'm working everything we can to make sure this doesn't happen," he told reporters on Monday. "I always like the ball at the last second."
How that might play out is unclear at this point. If the Senate passes a stopgap funding bill, McCarthy could allow a vote in the House, where it could pass with support from Democrats and more pragmatic Republicans.
But that could prompt Republican hardliners to act on their threat to depose McCarthy, plunging the chamber further into chaos.
Former President Donald Trump, the front-runner for the 2024 Republican nomination, has been cheering on the shutdown talk, saying on his Truth social media site, "UNLESS YOU GET EVERYTHING, SHUT IT DOWN!"
Fed pivot to interest-rate cuts seen likely to start in May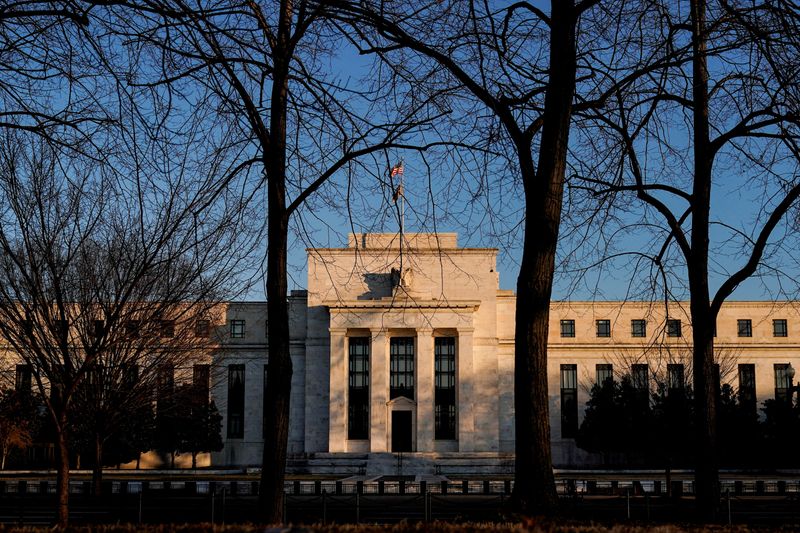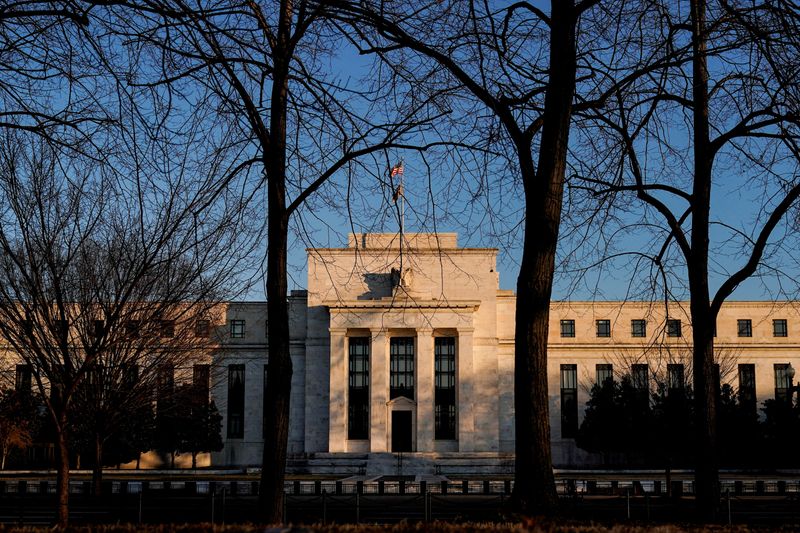 © Reuters. FILE PHOTO: The Federal Reserve building is seen in Washington, U.S., January 26, 2022. REUTERS/Joshua Roberts/File Photo
By Ann Saphir
(Reuters) – A stronger-than-expected U.S. labor market won't keep the Federal Reserve from pivoting to a series of interest-rate cuts next year, but it could take until May for it to deliver the first reduction, traders bet on Friday.
Employers added 199,000 workers to their payrolls in November, the Labor Department's monthly jobs report showed, more than the 180,000 that economists had expected, and the unemployment rate unexpectedly fell to 3.7%, from 3.9% in October.
Hourly earnings ticked up 0.4% from a month earlier, more than expected and an acceleration from the prior month. But the labor force participation rate also rose, to 62.8%, easing the prospect that an overheated job market will short-circuit progress on the Fed's inflation battle.
A separate report Friday showed U.S. consumer sentiment improved more than expected in December as households saw inflation pressures easing.
The U.S. central bank is expected to keep rates in the current 5.25%-5.50% range when it meets next week, leaving policy on hold since July. Traders before Friday's jobs report had put about a 60% probability on a March start to Fed rate cuts, but after the data reduced that to just under 50%, with a first reduction seen as more likely to come in May.
Further rate cuts are priced in for the rest of 2024, with the policy rate seen ending the year in the 4%-4.25% range as the Fed adjusts borrowing costs downward not as an antidote to a weaker labor market but rather to keep pace with an expected continued cooling in inflation.
The pace of that improvement in inflation will help determine the timing of the Fed's pivot to rate cuts, analysts said.
"We maintain our call for the Fed to start cutting rates by mid-year, but it is contingent on inflation continuing to trend lower and further weakening in economic activity," wrote Nationwide economist Kathy Bostjancic after the report.
Fed policymakers will release their own views of where the economy, inflation, and interest rates will go next year when they wrap up their last meeting of the year on Wednesday. 
US consumers' moods brighten as inflation worries subside – UMich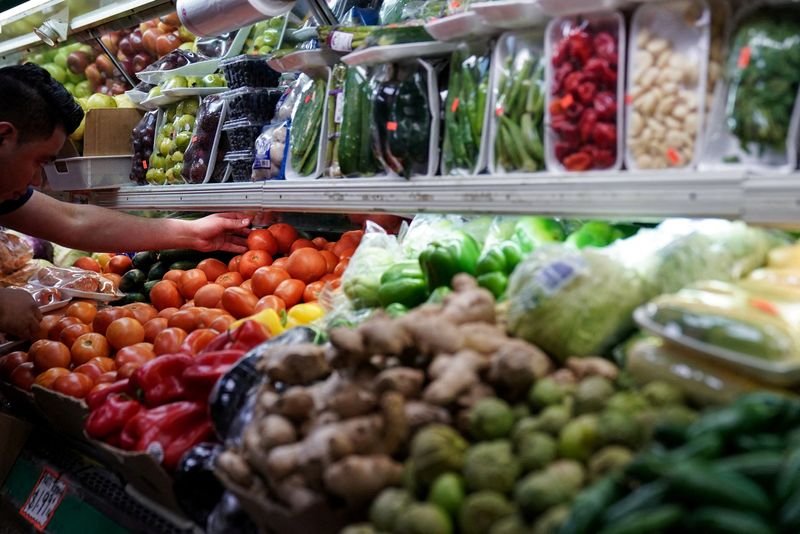 © Reuters. FILE PHOTO: A person arranges groceries in El Progreso Market in the Mount Pleasant neighborhood of Washington, D.C., U.S., August 19, 2022. REUTERS/Sarah Silbiger/File Photo
(Reuters) -U.S. consumer sentiment perked up much more than expected in December, snapping four straight months of declines, as households saw inflation pressures easing, a survey showed on Friday.
The University of Michigan's preliminary reading of its Consumer Sentiment Index shot up to 69.4, the highest since August, from November's final reading of 61.3.
The median expectation among economists in a Reuters poll had been for the index to edge up to 62.0.
"Consumer sentiment soared 13% in December, erasing all declines from the previous four months, primarily on the basis of improvements in the expected trajectory of inflation," survey Director Joanne Hsu said in a statement.
The survey's preliminary gauge of current conditions rose to 74.0 from last month's final level of 68.3, while the expectations index climbed to 66.4, the highest since July, from 56.8 in November.
Consumers' outlook for inflation in the year ahead plunged to 3.1% – the lowest since March 2021 – from November's final expectation of 4.5%. The 1.4 percentage point decline was the largest monthly drop in one-year inflation expectations in 22 years.
Over a five-year horizon, consumers expect inflation to average a three-month low of 2.8%, down from 3.2% in November, which had been the highest since March 2011, when it reached the same level.
Russian inflation accelerates in November, rate hike beckons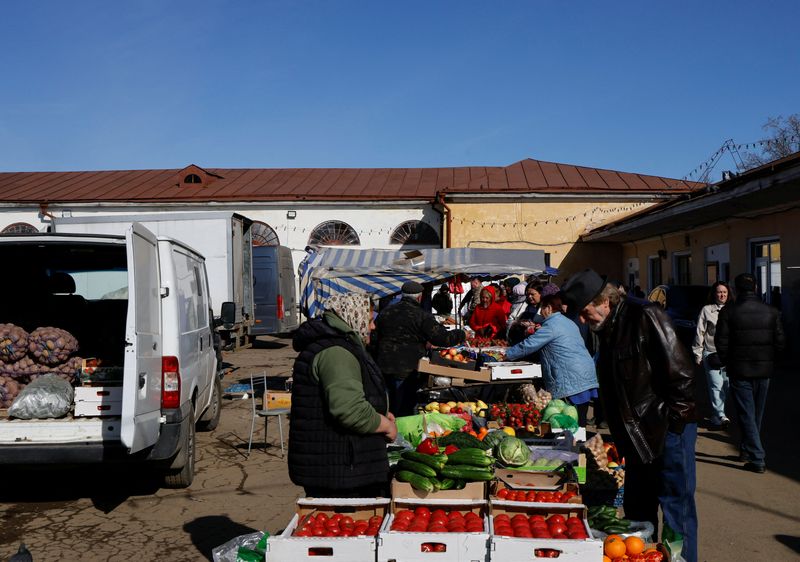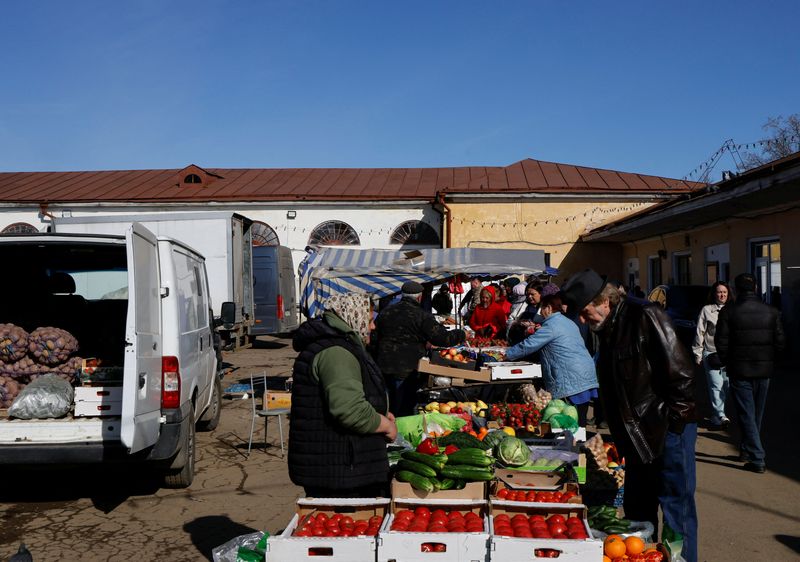 © Reuters. FILE PHOTO: People shop at a local market in the town of Rostov in the Yaroslavl Region, Russia April 15, 2023. REUTERS/Evgenia Novozhenina/File Photo
MOSCOW (Reuters) – Inflation in Russia accelerated in November, data from state statistics service Rosstat showed on Friday, cementing expectations that the central bank will hike interest rates as it meets for the final time this year on Dec. 15.
The central bank has now raised rates by 750 basis points since July, including an unscheduled emergency hike in August, under pressure from a weak rouble, tight labour market and strong consumer demand. Analysts widely expect another hike, to 16%, next week.
High interest rates are one of several irksome economic challenges facing President Vladimir Putin, who on Friday said he would run again for president next year, although none seem insurmountable thanks to Russia's success in evading a Western oil price cap helping to drive a recovery in economic growth.
In November, annual inflation stood at 7.48% year-on-year, up from 6.69% a month earlier and just shy of analysts' expectations of a 7.6% reading.
The data suggests that annual inflation will exceed the central bank's expectation of year-end inflation at the upper end of the 7.0%-7.5% range, which is well above its 4% target.
On a monthly basis, the consumer price index (CPI) rose 1.11% in November after a 0.83% increase in October, the data showed, coming just below analyst forecasts of a 1.2% increase. That was the fastest monthly rise since April 2022.
In the week up to Dec. 4, consumer prices rose 0.12%, separate Rosstat data showed.
Russian households regularly cite inflation as a major concern, with many having no savings after a decade of economic crises, while rising prices dragged living standards down across the country.
Rosstat gave the following details:
RUSSIAN CPI Nov 23 Oct 23 Nov 22
Mth/mth pct change +1.11 +0.83 +0.37
– food +1.55 +1.35 +0.40
– non-food +0.53 +0.55 +0.06
– services +1.23 +0.48 +0.76
Y/Y pct change +7.48 +6.69 +11.98
Core CPI y/y pct change +6.36 +5.50 +15.06