Asia FX treads water, dollar steadies with inflation in sight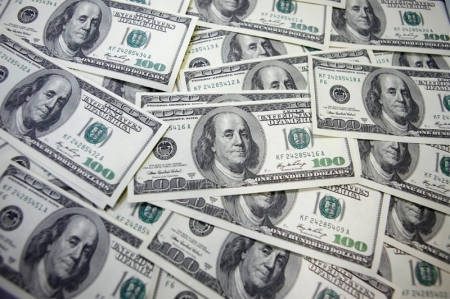 Investing.com– Most Asian currencies moved little on Wednesday, while the dollar steadied below six-month highs as investors hunkered down before key U.S. inflation data that is expected to offer more cues on monetary policy. 
Most regional units were nursing steep overnight losses as markets remained largely risk-averse, while the dollar saw renewed strength in anticipation of the inflation reading.
The and moved little in Asian trade, but were close to their strongest level since mid-March. 
Data due later in the day is expected to show that U.S. inflation picked up pace in August from the prior month, amid higher fuel costs and steady consumer spending.
A stronger inflation print gives the Federal Reserve more headroom to keep raising interest rates, with Wednesday's reading coming just a week before a .
The central bank is widely expected to keep rates steady. But any signs of overheated inflation could invite a more hawkish outlook from the Fed, given that it has already warned that U.S. rates will stay higher for longer. 
The prospect of higher U.S. rates bodes poorly for Asian currencies, with most regional units logging steep losses in recent weeks on that notion.
was among the worst performers in Asian trade, falling 0.3% on Wednesday and remaining within sight of a 10-month low. 
The fell 0.1% as data showed grew less than expected in August. But the reading also indicated some relief for the Indian economy, which is one of the best-performing major economies this year. 
The fell 0.2% and was close to a 10-month low, reversing most recent gains as investors looked past expectations of a potential pivot by the Bank of Japan. BOJ Governor Kazuo Ueda had recently signaled that the bank was considering an end to its negative interest rate regime. 
Chinese yuan gains on PBOC support 
The was among the few outliers for the day, rising 0.1% and staying above 10-month lows amid continued supportive measures from the People's Bank of China.  
The PBOC set a much stronger daily midpoint on Wednesday, adding to a series of strong fixes as it moves to prevent further weakness in the yuan.
The PBOC was also seen instructing state banks to step up intervention in currency markets by selling dollars and lapping up extra yuan liquidity. 
But sentiment towards the yuan remained largely negative, amid persistent concerns over an economic slowdown in China. Markets are also awaiting indicators this week- and – for more cues on the Chinese economy.
Yen weakens as Bank of Japan keeps interest rates negative, dollar strengthens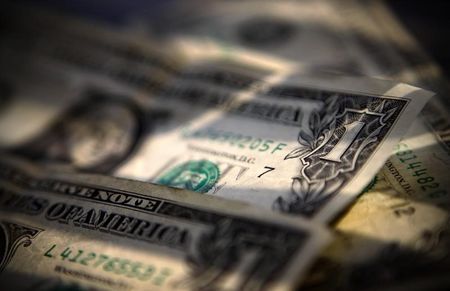 © Reuters.
The Japanese yen fell sharply on Friday after the Bank of Japan (BOJ) decided to keep interest rates in negative territory at -0.1 percent. This decision came just days after the Federal Reserve signaled that U.S. borrowing costs would remain high, exerting pressure on the Japanese currency and raising the possibility of government intervention. The yen dropped to as low as 148.42 against the dollar, nearing the 150 mark, a level at which analysts have suggested government intervention to support the currency could be likely.
BOJ Governor Kazuo Ueda stated at a press conference that the central bank has yet to foresee inflation stably and sustainably achieving their price target. As such, they will continue to maintain an ultra-loose monetary policy until they are confident inflation will remain at their 2 percent target. However, Ueda also noted that policy shifts could occur if they foresee the achievement of their target.
Speculation regarding potential Tokyo intervention to support the yen has been growing. Japan's Finance Minister Shunichi Suzuki warned against a yen sell-off that could harm the trade-reliant economy and did not rule out any options for intervention on Friday. Alvin Tan, head of Asia FX strategy at RBC Capital Markets, suggested that we are moving towards intervention levels due to increasingly explicit verbal intervention warnings from the Ministry of Finance.
Meanwhile, in the United States, the was on track for its 10th consecutive weekly increase following the Fed's decision and weakening economic data from France that led to a drop in the euro. The dollar index rose 0.16 percent to 105.55 on Friday and was set for a weekly increase of around 0.2 percent.
The Federal Reserve maintained interest rates at 5.25 percent to 5.5 percent on Wednesday and emphasized that it would hold them at this level as long as necessary to push inflation back to 2 percent. This stance has pushed yields on 10-year U.S. Treasuries to their highest level since 2007 at over 4.47 percent, making dollar-denominated U.S. bonds more attractive and bolstering the greenback.
Ray Sharma-Ong, investment director of multi-asset solutions at abrdn, stated that the U.S. dollar will perform well due to the Fed's hawkish stance, the reduction in the expected number of rate cuts in 2024, resilient U.S. growth, and expectations of slower growth in the euro area relative to the U.S.
In other currency news, the sterling slipped to a roughly six-month low of $1.22305 on Thursday when the Bank of England halted its long run of interest rate increases after Britain's fast pace of price growth unexpectedly slowed. The Australian dollar saw an increase of 0.25 percent at $0.6433 on Friday.
This article was generated with the support of AI and reviewed by an editor. For more information see our T&C.
Asia FX muted, yen drops after BOJ keeps dovish course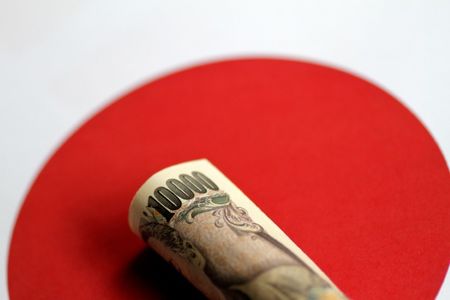 © Reuters.
Investing.com– Most Asian currencies moved little on Friday as markets continued to fret over higher U.S. interest rates, while the yen came close to 10-month lows after the Bank of Japan maintained its ultra-dovish policy.
The dollar remained relatively well-bid in Asian trade, recovering a measure of overnight losses. The and rose about 0.1% each, and remained within sight of a six-month high hit earlier this week. 
Yen weakens as BOJ reiterates dovish stance 
The fell 0.4% to 148.16 against the dollar, and was trading just shy of its weakest levels since November 2022. 
 The Bank of Japan maintained , and said it will and yield curve control policies to foster economic growth.
The bank cited increased uncertainty over the Japanese economy, especially due to weakness in its biggest trading partners, as the main reason for maintaining its stimulative policies. The BOJ also said it will continue to target more wage growth and aim to help inflation reach its 2% annual target.
The decision came just a few hours after data showed Japanese grew slightly more than expected in August. A core reading, which excludes fresh food and fuel prices, remained pinned at an over 40-year high. 
The BOJ statement disappointed some investors hoping for more cues on a potential pivot away from negative rates, given that Governor Kazuo Ueda had recently said that the bank had enough data to consider such a move.
Focus is now on an address from Ueda at 3:30 PM JST (02:30 ET) for any more cues on a pivot. 
Broader Asia FX muted as Fed fears persist 
Most other Asian currencies crept higher on Friday, but were still nursing steep losses for the week after the Federal Reserve warned that .
The and the had also offered similar warnings. 
rose 0.1% amid continued focus on stimulus measures in the country, while the added 0.1% as preliminary business activity data for September showed some resilience. 
The rose 0.3% after being included in JPMorgan's emerging market bond index, which is expected to attract more foreign inflows to the country. But sentiment towards India remained skittish amid a growing diplomatic row with Canada, after Prime Minister Justin Trudeau accused India of killing a Sikh secessionist leader on Canadian soil.
added 0.4%, while the and moved little after their central banks held interest rates as expected.
Still, the outlook for most Asian currencies remained bleak in the face of . The Fed flagged one more potential rate hike this year, and flagged fewer than expected rate cuts in 2024.
Dollar eases after Fed-spurred rise; yen stronger ahead of BOJ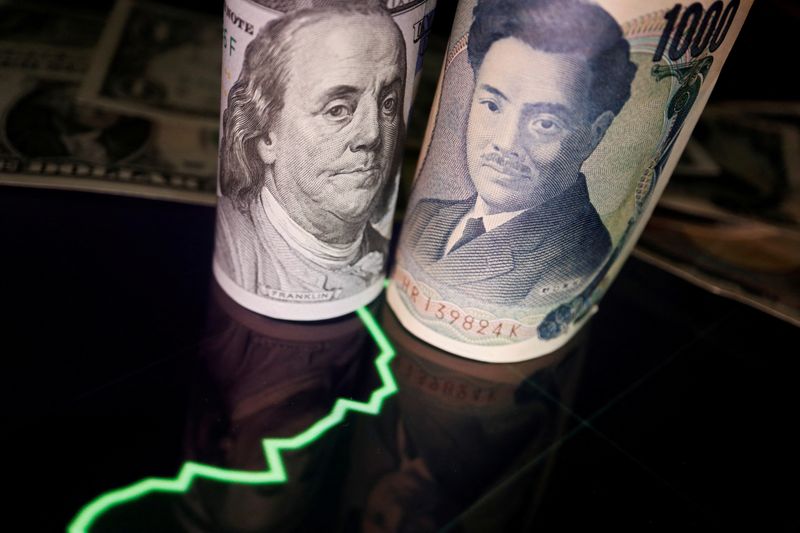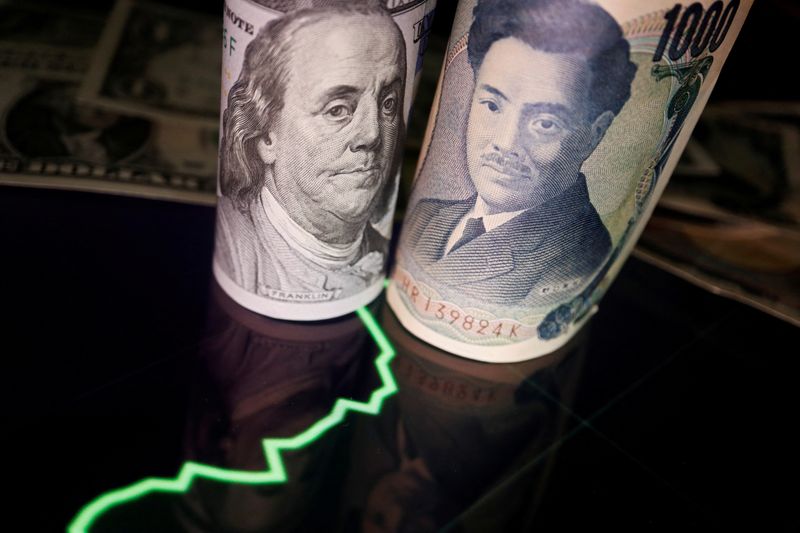 © Reuters. FILE PHOTO: Japanese yen and U.S. dollar banknotes are seen with a currency exchange rate graph in this illustration picture taken June 16, 2022. REUTERS/Florence Lo/Illustration/File Photo
By Saqib Iqbal Ahmed
NEW YORK (Reuters) -The U.S. dollar eased against a basket of currencies on Thursday, but remained near a six-month high, a day after the Federal Reserve signaled U.S. monetary policy will remain restrictive for longer.
The Japanese yen strengthened against the greenback before Friday's Bank of Japan policy announcement, while the pound and the Swiss franc slipped after the British and Swiss central banks kept rates unchanged.
The Fed held interest rates steady at the 5.25%-5.50% range, in line with market expectations on Wednesday, but it signaled that its officials increasingly believe hawkish policy can succeed in lowering inflation without wrecking the economy or leading to large job losses.
Along with another possible rate hike this year, the Fed's updated projections show significantly tighter rates through 2024 than previously expected.
"Dollar bulls absolutely got what they wanted yesterday," Helen Given, an FX trader at Monex USA.
"Though Powell didn't go as far as to say he expects a soft landing, it's pretty clear between the dot plot and the Fed's updated growth forecasts the central bank has convinced markets that is where the U.S. economy may be headed," Given said.
"Of course, this contrasts fairly directly with guidance from the ECB and BoE, facing much more dire economic situations," she said.
The , which measures the currency against a basket of rivals, was 0.10% lower at 105.33, after rising as high as 105.74, its strongest since March.
The yen was up 0.58% at 147.46 per dollar. With the yen still near a 10-month low against the greenback attention remains fixed on the possibility of the Japanese government intervening in foreign exchange markets to prop up the currency.
Japan will not rule out any options in addressing excess volatility in currency markets, the government's top spokesperson said on Thursday, issuing a fresh warning against the yen's decline towards the psychologically important 150-mark per dollar.
"Traders are repositioning before both the meeting tomorrow and CPI releases," Monex's Given said.
The BOJ will end its negative interest rate policy next year, the majority of economists said in a Reuters poll, as the market has begun to envisage the demise of its ultra-easy monetary settings.
"While we are unlikely to get a rate hike tonight we may just hear some comments that imply one is to come," Brad Bechtel, global head of FX at Jefferies, said in a note.
The pound fell to its lowest since March after the Bank of England held interest rates steady on Thursday, following a cooler-than-expected inflation report the previous day.
Thursday marked the first time since December 2021 that the BoE did not raise rates at its monetary policy meeting, a halt to a run of 14 consecutive rate hikes.
The pound was 0.41% lower at $1.22935.
Earlier, the Swiss franc dropped after the Swiss National Bank unexpectedly held rates steady, marking the first time the central bank has not hiked since March 2022, although it kept options open for further rate rises.
Meanwhile, Sweden's Riksbank and Norway's central bank both raised rates by 25 basis points, in line with expectations.
The euro was up 0.18% against the Swedish crown and about flat against the Norwegian crown following the respective decisions.
In cryptocurrencies, bitcoin was down about 2.0% on the day at $26,593.