US dollar's rally supercharged by soaring real yields on Treasuries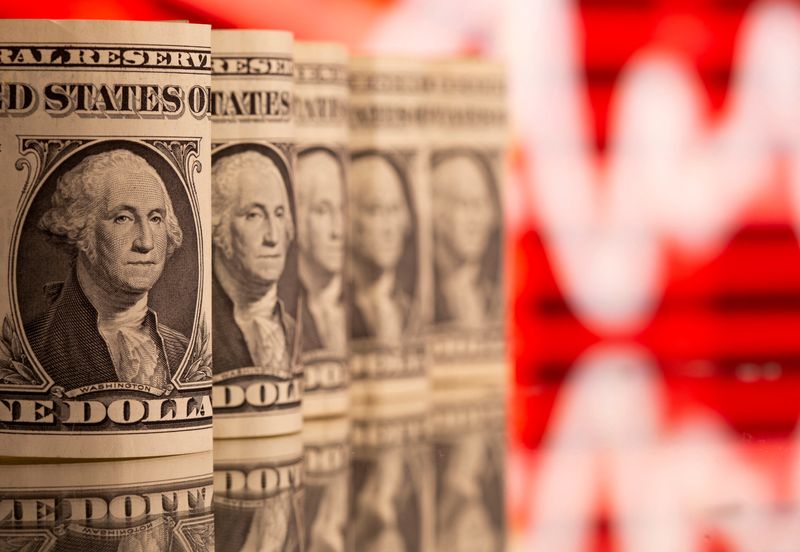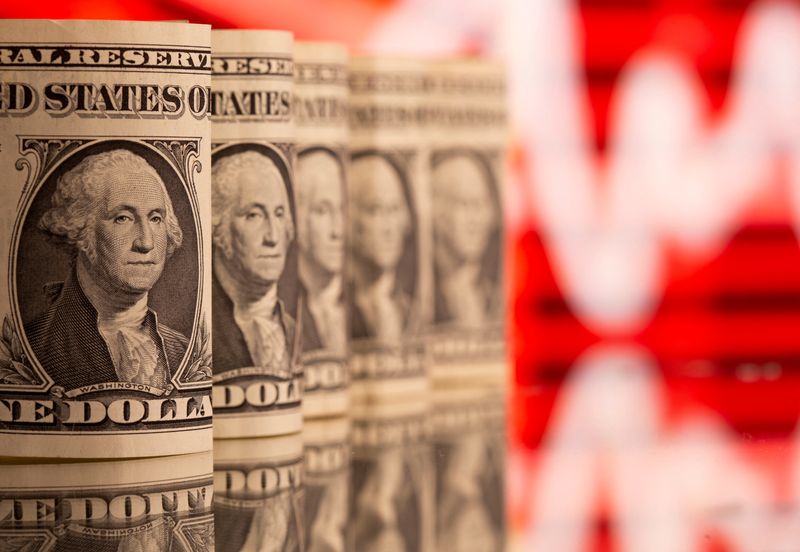 © Reuters. FILE PHOTO: U.S. one dollar banknotes are seen in front of displayed stock graph in this illustration taken, February 8, 2021. REUTERS/Dado Ruvic/Illustration/File Photo
By Saqib Iqbal Ahmed
NEW YORK (Reuters) – Surging U.S. real yields are aiding the dollar's rebound, rewarding bullish investors while making bears think twice before betting against the buck.
The real yield on U.S. 10-year Treasuries – which measure how much investors stand to make on U.S. government bonds after inflation is stripped out – hit 2.47% on Tuesday, the highest in nearly 15 years, according to data from the U.S. Treasury Department.
That has made betting on the U.S. currency more profitable, since bullish investors can collect yield while sitting on their dollar positions. The dollar is up 7% from its 2023 lows against a basket of currencies and stands at a 10-month high.
At the same time, climbing real yields make it more expensive to bet against the dollar. Bearish investors establishing short positions must pay more to borrow the currency.
Dollar positioning in futures markets showed a net long of $3.07 billion for the week ended Sept. 26, according to data from the Commodity Futures Trading Commission. That was a sharp reversal from a short position of $21.28 billion earlier this year.
"The dollar isn't just the nicest house in a bad neighborhood right now, it's the only game in town," said Karl Schamotta, chief market strategist at Corpay in Toronto. With real yields pushing higher, "only the bravest of traders are willing to bet against the greenback," he said.
The Federal Reserve's resolve to keep rates higher for longer along with relatively strong U.S. economic growth has helped push nominal yields to their highest level since 2007. That, combined with a deceleration in inflation, has sent real yields soaring.
Their surge has coalesced with other factors to fuel the dollar's rebound. The greenback is up 3% against a basket of currencies this year.
Other factors include a resilient economy that has made the U.S. a relatively more attractive investment, with growth steadier than floundering Europe and China. The dollar has also gotten a boost from investors nervous about Wall Street's decline, with the down 7% from its July high.
While U.S. rates have stayed high with growth resilient, "Europe and China have disappointed," strategists at UBS Global Wealth Management wrote in a recent note.
"The near-term risks are skewed toward additional US dollar strength, in our view."
The dollar has tracked real yields in recent years, with peaks and troughs closely aligned.
That has made even bearish investors wary of betting against the U.S. currency.
Aaron Hurd, senior portfolio manager at State Street (NYSE:) Global Advisors, said the dollar is overvalued against a broad range of currencies, including the yen, whose sharp decline this year has put investors on the lookout for intervention from Japan's policymakers.
Still, high real yields make him hesitant to short the U.S. currency.
"I am not going to pay away 5.5-6% a year in interest to short that," Hurd said.
"You have one of the highest yielding currencies in developed markets. It's backed by about the strongest growth in developed markets and it provides a hedge to risky assets. That's kind of a nirvana," he added.
For now the dollar remains well positioned, Corpay's Schamotta said.
"A pivot will come – we think relative economic surprise indices will begin shifting against the dollar within the next two months – but for now, the trend is the dollar bull's friend," Corpay's Schamotta said.
Asia FX muted with nonfarm payrolls in sight; Yen scales 4-mth peak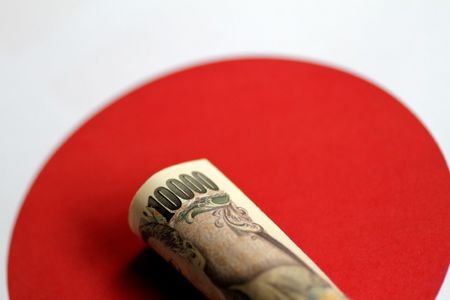 © Reuters.
Investing.com – Most Asian currencies moved little on Friday as traders positioned for a potentially softer U.S. nonfarm payrolls reading, while the yen sat near a four-month high to the dollar tracking hawkish signals from the Bank of Japan. 
The was the best-performing Asian currency this week, up over 2% after BOJ Governor Kazuo Ueda signaled that the central bank was considering an eventual move away from negative interest rates. 
The yen rose 0.2% to 143.88 against the dollar on Friday. 
Ueda's comments, made during an address on Thursday, sparked a sharp reversal in bets for more weakness in the yen, while reinforcing expectations that the BOJ will end its negative rate regime in 2024.
This helped the yen strengthen past data showing that Japan's in the third quarter. Ueda also noted that policy will remain loose in the near-term to keep supporting the Japanese economy. 
Dollar weakens as markets bet on softer nonfarm payrolls 
Broader Asian currencies were muted, while the dollar reversed a recent rebound following a string of soft labor market readings this week.
The and steadied in the mid-103s in Asian trade, after falling sharply on Thursday.
and readings suggested that the U.S. labor market was cooling, potentially setting the scene for a softer reading for November, which is due later in the day. 
Any signs of a cooling labor market give the Federal Reserve less impetus to keep interest rates higher for longer. Friday's reading also comes just days before the for the year, where the central bank is expected to keep rates on hold.
But markets were still seeking more cues on when the Fed could begin cutting rates in 2024. Expectations that had boosted Asian currencies in recent sessions. 
Most regional units moved little in anticipation of the payrolls reading. The fell 0.1%, and was set for mild weekly losses amid persistent concerns over an economic slowdown in China. Dollar selling by Chinese state banks helped limit losses in the yuan this week. 
The was flat after the kept rates on hold as widely expected, and said that monetary policy will remain restrictive to curb persistent risks from inflation. 
The rose 0.2%, but was set to lose 0.8% this week following a string of weak economic readings. A slowdown in China, Australia's biggest export market, appeared to be spilling over into the country. 
Dollar at 2-week high, euro softer as market bets on rate cuts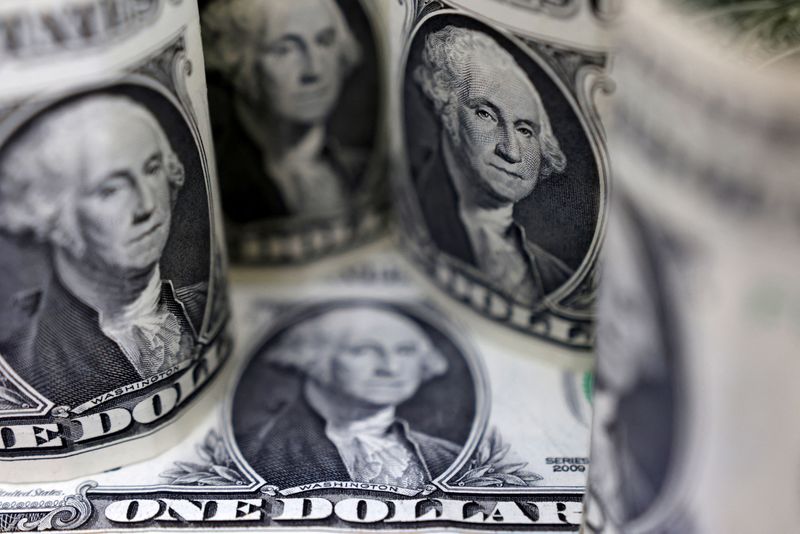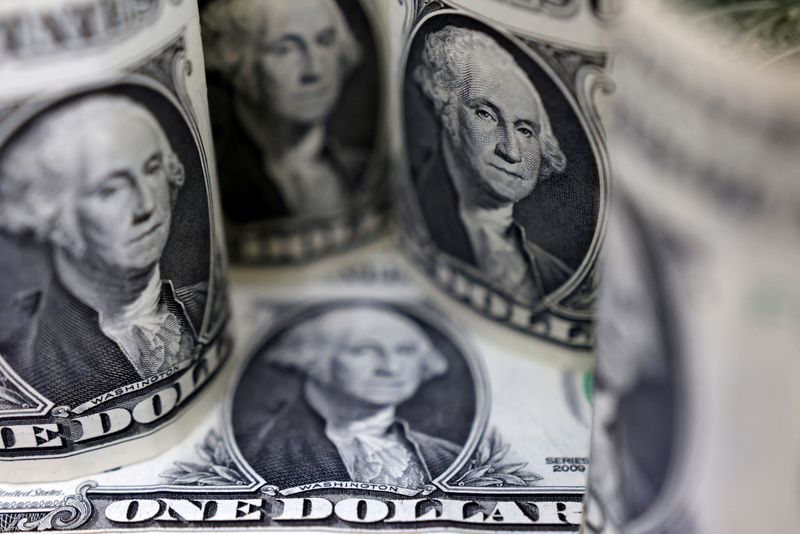 © Reuters. U.S. Dollar banknotes are seen in this illustration taken July 17, 2022. REUTERS/Dado Ruvic/Illustration/File Photo
By Hannah Lang
WASHINGTON (Reuters) -The U.S. dollar was at a two-week high on Wednesday, while the euro was weak across the board as markets ramped up bets that the European Central Bank (ECB) will cut interest rates as early as March.
Although markets are still pricing at least 125 basis points of interest rate cuts from the U.S. Federal Reserve next year, the dollar was able to hold steady as rate cut bets for other central banks intensified.
The , which measures the currency against six other majors, was last up 0.19% at 104.16. The euro was down 0.29% to $1.0764.
Traders are betting that there is around an 85% chance that the ECB cuts interest rates at the March meeting, with almost 150 basis points worth of cuts priced by the end of next year. Influential ECB policymaker Isabel Schnabel on Tuesday told Reuters that further interest rate hikes could be taken off the table given a "remarkable" fall in inflation.
The euro also touched a three-month low against the pound, a five-week low versus the yen and a 6-1/2 week low against the Swiss franc.
"It's a reasonably sized sell-off and the market is trying to digest, is it just a correction? Did the market get over-exuberant in the previous weeks? I think there is definitely an element of that," said Amo Sahota, director at FX consulting firm Klarity FX in San Francisco.
'A BIT OVERBOARD'
The ECB will set interest rates on Thursday next week and is all but certain to leave them at the current record high of 4%. The Fed and Bank of England are also likely to hold rates steady next Wednesday and Thursday respectively.
The Bank of Canada on Wednesday held its key overnight rate at 5% and, in contrast to its peers, left the door open to another hike, saying it was still concerned about inflation.
Traders have priced around a 60% chance of the U.S. central bank cutting rates in March, according to CME's FedWatch tool.
"Markets have aggressively priced in rate cuts, without any kind of confirmation from central banks," said Adam Button, chief currency analyst at ForexLive in Toronto. "As December continues, we need either a change in tune from central bankers or a repricing in markets."
If the Fed were to cut rates as markets expect, it could result in the dollar loosening its grip on other G10 currencies next year, dimming the outlook for the greenback, according to a Reuters poll of foreign exchange strategists.
The spotlight in Asia was on China, as markets grappled with rating agency Moody's (NYSE:) cut to the Asian giant's credit outlook.
The offshore was flat at $7.1728 per dollar, a day after Moody's cut China's credit outlook to "negative".
China's major state-owned banks stepped up U.S. dollar selling forcefully after the Moody's statement on Tuesday, and they continued to sell the greenback on Wednesday morning, Reuters reported.
Elsewhere in Asia, the Japanese yen weakened 0.15% versus the greenback at 147.38 per dollar. The Australian dollar fell 0.02% to $0.65495.
In cryptocurrencies, bitcoin eased 0.06% to $44,049, still near its highest since April 2022.
The world's largest cryptocurrency has gained 150% this year, fueled in part by optimism that a U.S. regulator will soon approve exchange-traded spot bitcoin funds (ETFs).
Canadian dollar forecasts turn less bullish as BoC rate cuts eyed: Reuters poll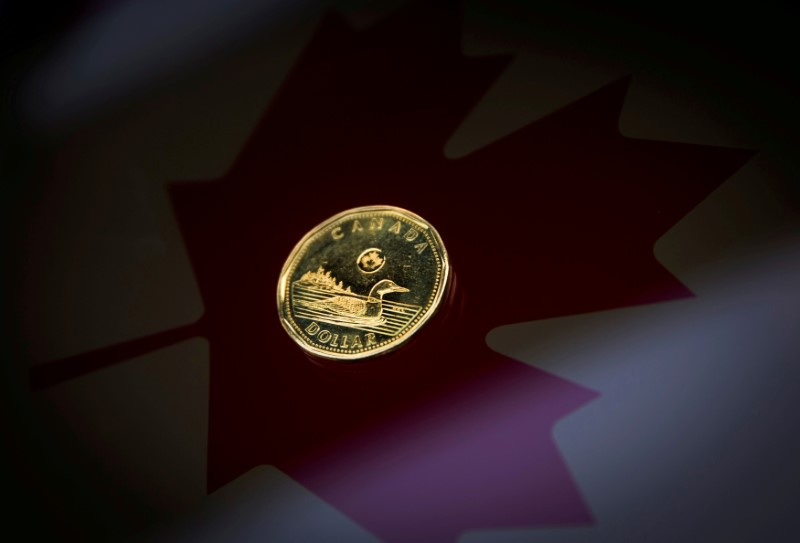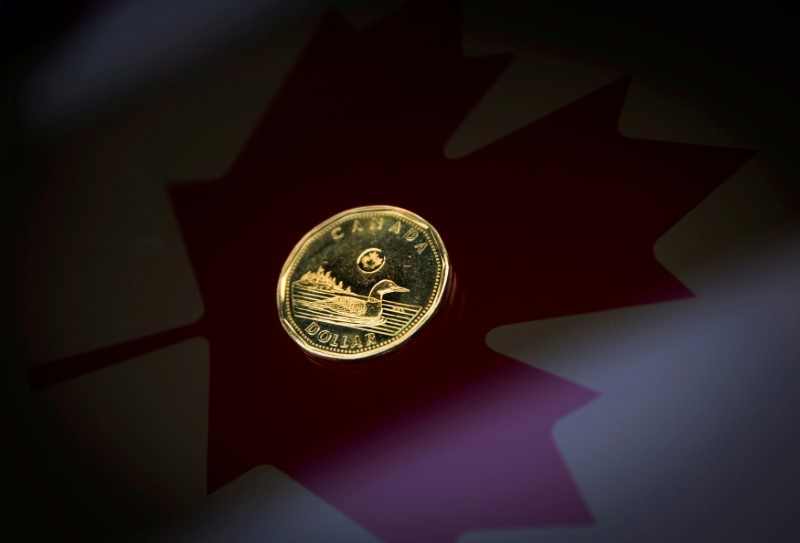 © Reuters. FILE PHOTO: A Canadian dollar coin, commonly known as the "Loonie", is pictured in this illustration picture taken in Toronto January 23, 2015. REUTERS/Mark Blinch/File Photo
By Fergal Smith
TORONTO (Reuters) – Analysts see less upside for the Canadian dollar than previously thought over the coming year as recent data showing a slowdown in the domestic economy brings forward the expected start of Bank of Canada interest rate cuts, a Reuters poll found.
The median forecast of 35 foreign exchange analysts surveyed in the Dec. 1-5 poll was for the Canadian dollar to strengthen 0.4% to 1.3533 per U.S. dollar, or 73.89 U.S. cents, in three months, compared with 1.3450 in a November poll.
It was then expected to advance to 1.3130 in a year, versus 1.3000 in last month's forecast.
"Our view is the Canadian dollar is going to face a difficult next three months as the data starts to look like the Canadian economy is teetering on the edge of recession if not in a mild recession," said Simon Harvey, head of FX analysis for Monex Europe and Monex Canada.
The Canadian economy unexpectedly contracted at an annualized rate of 1.1% in the third quarter, avoiding a recession after an upward revision to the previous quarter but showing growth stumbling.
Soft domestic data "should bring forward expectations of BoC easing, especially relative to the Federal Reserve," Harvey said. "Earlier Bank of Canada easing is going to widen rate differentials in favor of USD-CAD."
Money markets expect the Canadian central bank to leave its benchmark interest rate on hold at a 22-year high of 5% at a policy announcement on Wednesday and then begin easing policy as soon as March. As recently as October, there were no rate cuts priced in for 2024.
A separate Reuters poll, from last week, showed economists expect the BoC to start cutting rates in the second quarter of next year and borrowing costs will drop by at least one percentage point by the end of next year.
The Canadian 2-year yield has fallen further below its U.S. equivalent in recent weeks to a gap of 54 basis points, which is the widest since March.
A lower yield tends to make a currency less attractive to investors.
(For other stories from the December Reuters foreign exchange poll:)