Bank of Israel holds interest rates, eyes turn to possible end of governor's tenure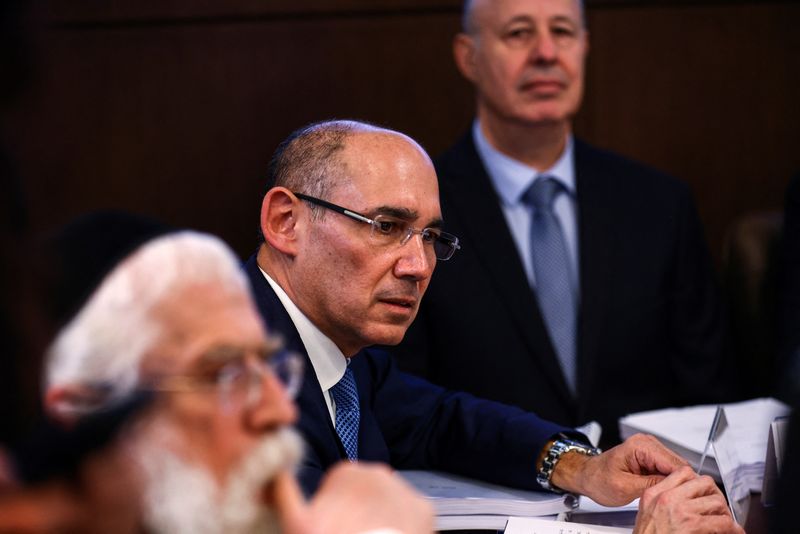 2/2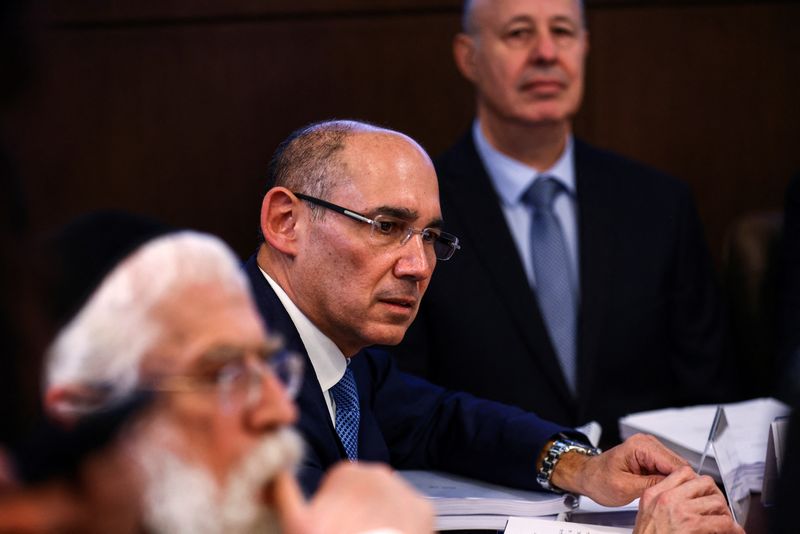 © Reuters. FILE PHOTO: Bank of Israel Governor Amir Yaron attends a cabinet meeting at the Prime Minister's office in Jerusalem, February 23, 2023. REUTERS/Ronen Zvulun/Pool/File Photo
2/2
By Steven Scheer and Ari Rabinovitch
JERUSALEM (Reuters) -The Bank of Israel left interest rates unchanged on Monday citing signs inflation is easing, but its decision was overshadowed by a report – denied by the central bank – that its governor was set to announce he would not seek a second term.
As expected, policymakers kept the benchmark rate at 4.75% for the second meeting in a row, its highest level since late 2006. It had paused at its July 10 meeting after raising short term borrowing costs at 10 consecutive meetings from April 2022, an aggressive tightening cycle that took the main rate from 0.1%.
The central bank had earlier denied a report by one of Israel's two main radio channels that Governor Amir Yaron would say on Monday that he will not seek to stay on when his current term expires at the end of the year.
"The report this morning by Army Radio that the governor will deliver his decision today regarding the extension of his term is incorrect," the Bank of Israel said. "As he has said until now, the governor will deliver his decision on extending his term around the (Jewish) holiday season."
The high holiday season this year is Sept. 16 to Oct. 7.
The issue of whether Yaron will seek or be reappointed for a second term has loomed over financial markets for months.
Them Israeli-born U.S. finance professor, who was nominated by Prime Minister Benjamin Netanyahu in 2018, has been critical of the economic impact of a plan by Netanyahu's government to overhaul Israel's judicial system.
He has also clashed with lawmakers over sharp interest rate increases that have boosted bank profits while hurting mortgage holders.
After keeping rates steady – a break with the U.S. Federal Reserve which raised rates in July – the central bank said economic activity remains strong, with a tight labour market. Inflation is broad and high but appears to be slowing.
Many economists believe the hiking cycle is over and that the Bank of Israel will start rate cuts in 2024. The central bank said on Monday, however, that it still saw a real possibility of having to raise in the future "if the inflation environment does not continue to moderate as expected".
Israel's annual inflation rate dropped to 3.3% in July from 4.2% in June, its lowest rate since March 2022 but above a government target range of 1-3%.
"The tone of the statement was overall neutral but with one hawkish element: the 'real possibility' of further rate hikes reference was not yet removed," said Citi economist Michel Nies, who sees a rate cut in early 2024.
Part of the path of inflation depends on the shekel, which is at a 3-1/2 year low versus the dollar. The exchange rate, which the central bank has said has a pass through of up to 20% on inflation, has weakened more than 8% so far in 2023.
It was down 0.5% to a rate of 3.815 per dollar in late afternoon trading.
"The shekel's depreciation in recent months is contributing to the increase in the inflation rate and the path of the exchange rate in the coming months will have an impact on the dynamics of inflation," the central bank said.
Israel's economy meanwhile grew at a faster than expected 3.0% annualised rate in the second quarter from the prior three months.
Crypto Markets Rally: Bitcoin and Ethereum Lead the Charge, Coinbase and Marathon Digital Shares Rise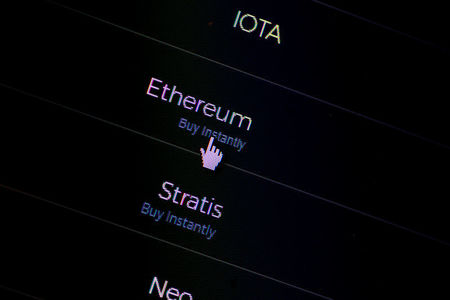 © Reuters
The major players in the cryptocurrency market, and , saw significant gains on Monday, with Bitcoin surging to $28,569.40 and Ethereum rallying to $1,727.98. Other cryptocurrencies including , which reached $24.01, and , which rallied to 27 cents, also experienced notable increases.
In the wake of this crypto rally, stocks related to the sector also saw substantial movements. Coinbase (NASDAQ:) Global Inc.'s shares rose to $78.46 and Marathon Digital Holdings Inc.'s shares jumped to $9.62 on Monday. Meanwhile, the Bitwise Crypto Industry Innovators ETF increased to $7.03 and the Grayscale Bitcoin Trust rallied to $20.12.
However, not all companies in the crypto-related sector experienced gains. Overstock.com (NASDAQ:)'s shares dropped to $15.50 and Tesla (NASDAQ:) Inc., which has previously invested heavily in Bitcoin, saw its shares decrease to $247.66.
In addition to the market leaders Bitcoin and Ethereum, other cryptocurrencies like , , , , and Polygon also moved notably on Monday. NVIDIA Corp (NASDAQ:)., a leading graphics processing unit (GPU) manufacturer that is widely used in cryptocurrency mining operations, also benefited from this uptick in the crypto market with its shares climbing to $447.66.
Overall, Monday marked a significant day for cryptocurrency markets as well as for companies involved in the sector. The reasons behind these movements are varied and complex, reflecting the multifaceted nature of this rapidly evolving industry.
This article was generated with the support of AI and reviewed by an editor. For more information see our T&C.
Fed's Powell: Economy still working through the impact of the pandemic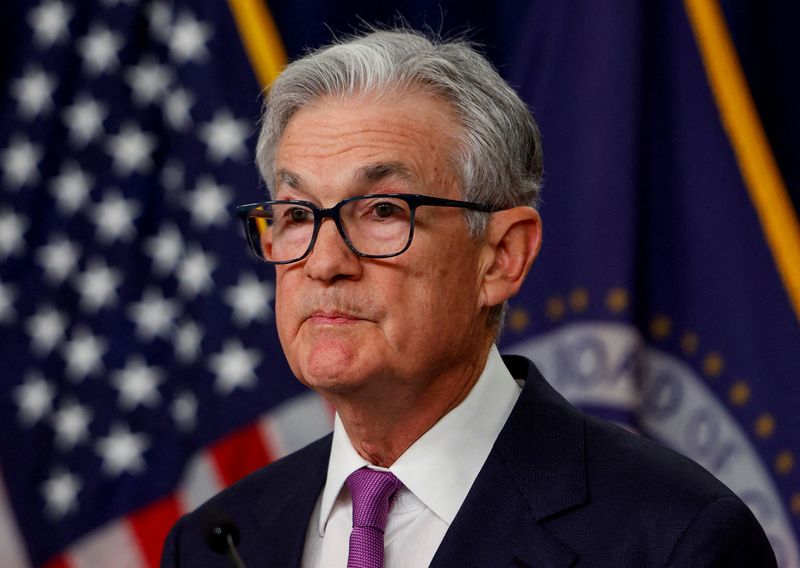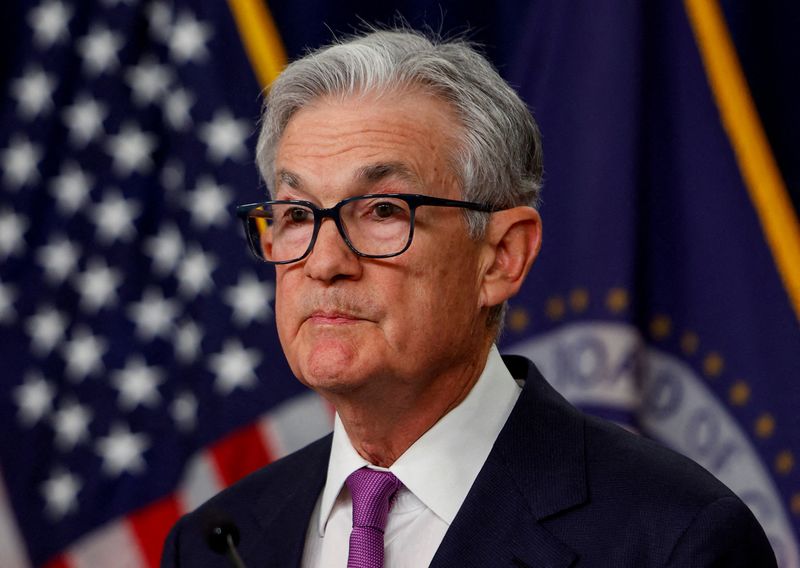 © Reuters. FILE PHOTO: U.S. Federal Reserve Chair Jerome Powell holds a press conference in Washington, U.S, September 20, 2023. REUTERS/Evelyn Hockstein/File Photo
By Howard Schneider
YORK, Pa. (Reuters) – The U.S. economy is still dealing with the aftermath of the COVID-19 pandemic, Federal Reserve chair Jerome Powell said during a meeting with community and business leaders in York, Pennsylvania.
"We are still coming through the other side of the pandemic," Powell said, noting labor shortages in healthcare, ongoing difficulties with access to child care, and other issues heightened by the health crisis. He did not comment on current monetary policy or the economic outlook in brief opening remarks.
Indian Equity Markets End September on a High Note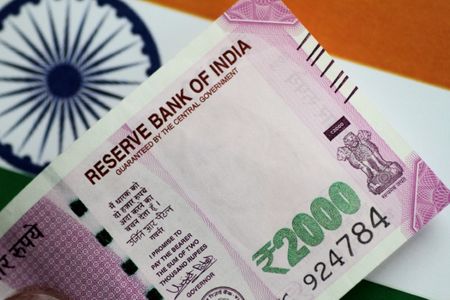 © Reuters.
Indian equity markets concluded the month of September on a positive note, with significant gains recorded on Friday. The rose by 320.09 points to close at 65,828.41, while the NSE's Nifty50 advanced by 114.75 points to settle at 19,638.30. The BSE midcap index also registered gains, reflecting an overall uptick in the market.
These gains were primarily driven by positive global cues and investments in the metal, oil & gas, and power sectors. However, the IT sector showed signs of underperformance as indicated by the Nifty IT index.
Market analysts Amol Athawale and Vinod Nair offered insights into market trends and challenges. They noted encouraging GDP data from Britain that further reinforced market optimism.
In broader markets, Authum Investment & Infrastructure hit an upper circuit of 20 percent. Yet, not all stocks performed well; Shreyas Shipping and Finolex Cables underperformed on Friday.
Among other stocks, Apollo Hospital Enterprises and Sun Pharmaceuticals saw gains while Tata Consultancy Services (NS:) lagged behind. The volatility index, India , also saw a considerable drop, indicating a decrease in investor fear or uncertainty about future market movements.
This positive performance of the Indian equity markets comes even as they face challenges including the underperformance of certain sectors such as IT. Investors will likely continue to monitor these developments closely as they navigate their investment strategies for October.
This article was generated with the support of AI and reviewed by an editor. For more information see our T&C.