Instagram, YouTube, TikTok, Twitter target of EU crypto advertising complaint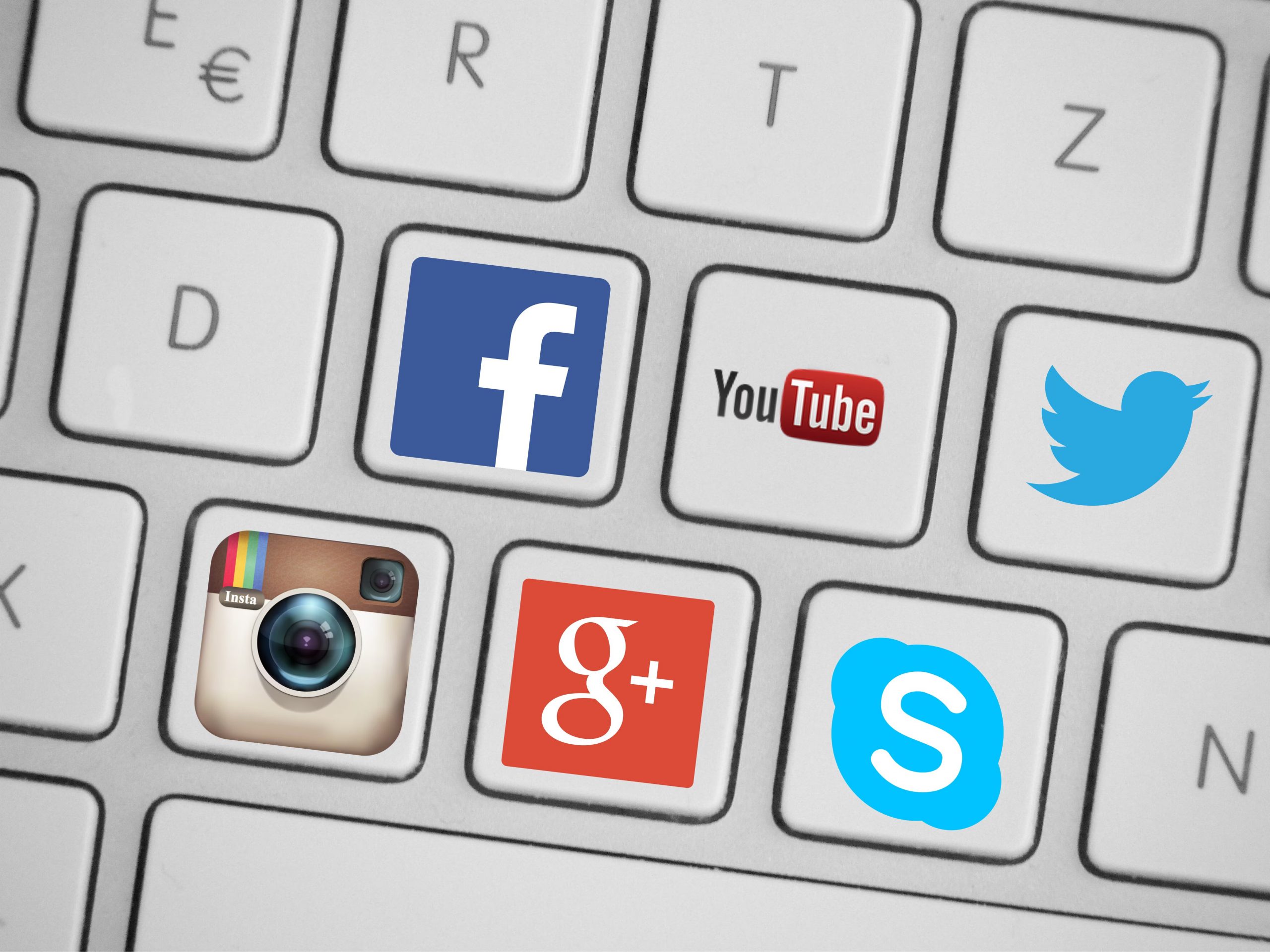 Meta Platforms' Instagram, Alphabet's YouTube, TikTok and Twitter could face regulatory action after European consumer group BEUC complained to the European Commission and consumer authorities that the online platforms allegedly facilitate the misleading promotion of crypto assets.
U.S. regulators suing crypto platforms Coinbase and Binance, along with last year's collapse of FTX, have sparked concerns over consumer protection related to crypto assets such as bitcoin and ether.
The European Union last month adopted the world's first comprehensive set of rules for cryptoasset regulation (MiCa).
BEUC in its complaint filed on Thursday said the proliferation of misleading advertisements of crypto assets on the social media platforms is an unfair commercial practice as it exposes consumers to serious harm such as the loss of significant amounts of money. 
It said this was happening through advertising and influencers.
It urged the Consumer Protection Cooperation Network to require the online platforms to adopt stricter advertising policies on crypto and take measures to prevent influencers from misleading consumers.
The Network should subsequently inform the European Commission about the effectiveness of these measures, BEUC said in its joint complaint with nine of its members.
The group called on European consumer authorities to cooperate with European Supervisory Authorities for financial services to ensure the platforms adapt their advertising policies to prevent the misleading promotion of crypto.
"Crypto will be regulated soon with the new Market in Crypto Assets Regulation but this legislation does not apply to the social media companies benefiting from the advertising of crypto at the expense of consumers," BEUC Director General Monique Goyens said in a statement.

"This is why we are turning to the authorities in charge of protecting consumers to ensure Instagram, YouTube, TikTok and Twitter fulfil their duty to protect consumers against crypto scams and false promises," she said.
Consumer groups in Denmark, France, Greece, Italy, Lithuania, Portugal, Slovakia and Spain also signed up to the complaint. 
Crypto Markets Rally: Bitcoin and Ethereum Lead the Charge, Coinbase and Marathon Digital Shares Rise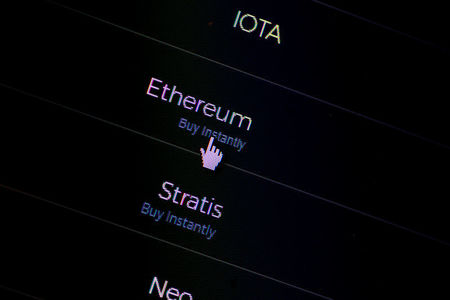 © Reuters
The major players in the cryptocurrency market, and , saw significant gains on Monday, with Bitcoin surging to $28,569.40 and Ethereum rallying to $1,727.98. Other cryptocurrencies including , which reached $24.01, and , which rallied to 27 cents, also experienced notable increases.
In the wake of this crypto rally, stocks related to the sector also saw substantial movements. Coinbase (NASDAQ:) Global Inc.'s shares rose to $78.46 and Marathon Digital Holdings Inc.'s shares jumped to $9.62 on Monday. Meanwhile, the Bitwise Crypto Industry Innovators ETF increased to $7.03 and the Grayscale Bitcoin Trust rallied to $20.12.
However, not all companies in the crypto-related sector experienced gains. Overstock.com (NASDAQ:)'s shares dropped to $15.50 and Tesla (NASDAQ:) Inc., which has previously invested heavily in Bitcoin, saw its shares decrease to $247.66.
In addition to the market leaders Bitcoin and Ethereum, other cryptocurrencies like , , , , and Polygon also moved notably on Monday. NVIDIA Corp (NASDAQ:)., a leading graphics processing unit (GPU) manufacturer that is widely used in cryptocurrency mining operations, also benefited from this uptick in the crypto market with its shares climbing to $447.66.
Overall, Monday marked a significant day for cryptocurrency markets as well as for companies involved in the sector. The reasons behind these movements are varied and complex, reflecting the multifaceted nature of this rapidly evolving industry.
This article was generated with the support of AI and reviewed by an editor. For more information see our T&C.
Fed's Powell: Economy still working through the impact of the pandemic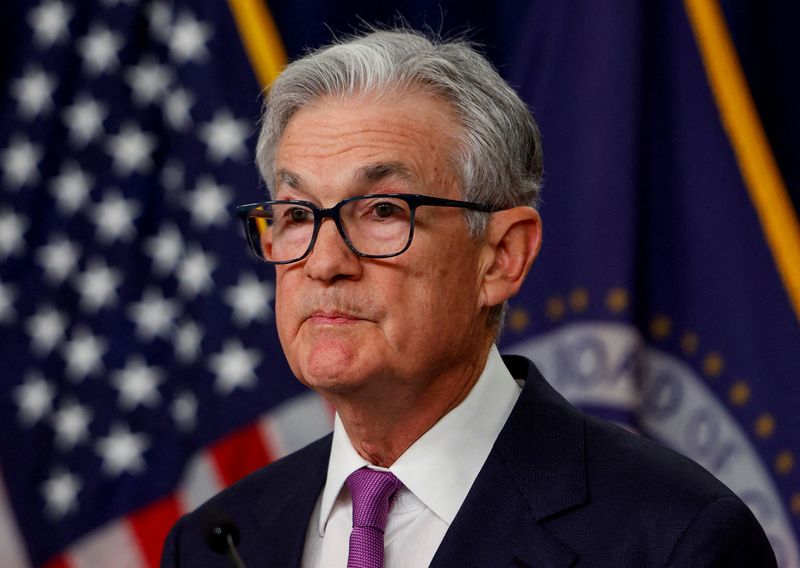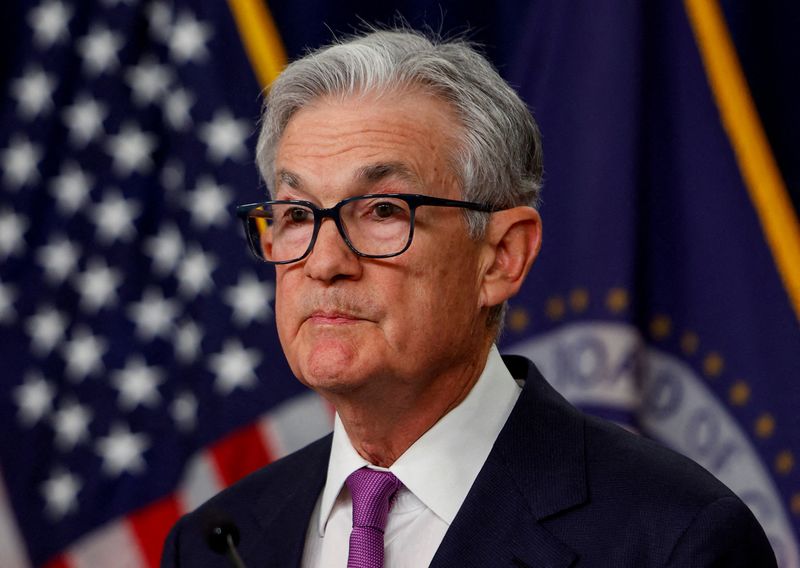 © Reuters. FILE PHOTO: U.S. Federal Reserve Chair Jerome Powell holds a press conference in Washington, U.S, September 20, 2023. REUTERS/Evelyn Hockstein/File Photo
By Howard Schneider
YORK, Pa. (Reuters) – The U.S. economy is still dealing with the aftermath of the COVID-19 pandemic, Federal Reserve chair Jerome Powell said during a meeting with community and business leaders in York, Pennsylvania.
"We are still coming through the other side of the pandemic," Powell said, noting labor shortages in healthcare, ongoing difficulties with access to child care, and other issues heightened by the health crisis. He did not comment on current monetary policy or the economic outlook in brief opening remarks.
Indian Equity Markets End September on a High Note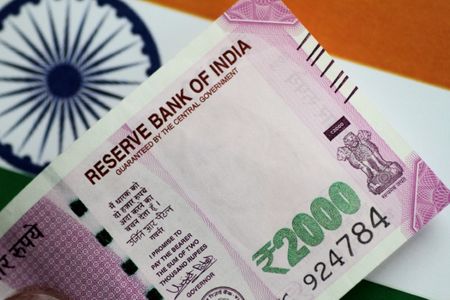 © Reuters.
Indian equity markets concluded the month of September on a positive note, with significant gains recorded on Friday. The rose by 320.09 points to close at 65,828.41, while the NSE's Nifty50 advanced by 114.75 points to settle at 19,638.30. The BSE midcap index also registered gains, reflecting an overall uptick in the market.
These gains were primarily driven by positive global cues and investments in the metal, oil & gas, and power sectors. However, the IT sector showed signs of underperformance as indicated by the Nifty IT index.
Market analysts Amol Athawale and Vinod Nair offered insights into market trends and challenges. They noted encouraging GDP data from Britain that further reinforced market optimism.
In broader markets, Authum Investment & Infrastructure hit an upper circuit of 20 percent. Yet, not all stocks performed well; Shreyas Shipping and Finolex Cables underperformed on Friday.
Among other stocks, Apollo Hospital Enterprises and Sun Pharmaceuticals saw gains while Tata Consultancy Services (NS:) lagged behind. The volatility index, India , also saw a considerable drop, indicating a decrease in investor fear or uncertainty about future market movements.
This positive performance of the Indian equity markets comes even as they face challenges including the underperformance of certain sectors such as IT. Investors will likely continue to monitor these developments closely as they navigate their investment strategies for October.
This article was generated with the support of AI and reviewed by an editor. For more information see our T&C.