US FDA panel backs approval for Eisai-Biogen Alzheimer's drug Leqembi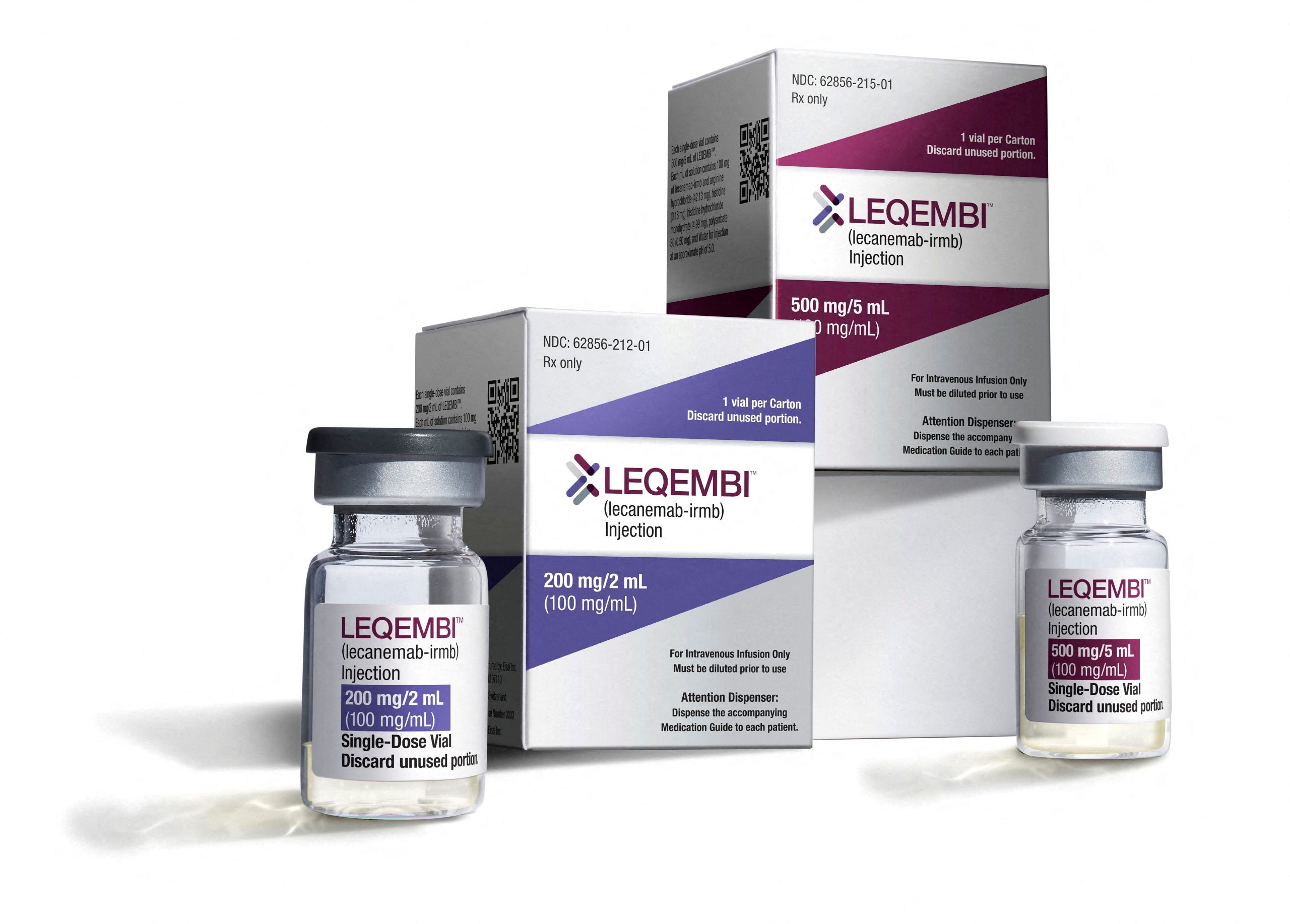 A panel of expert advisers on Friday unanimously agreed that a late-stage trial of Eisai and Biogen (NASDAQ:BIIB)'s Alzheimer's drug Leqembi verified the benefit of the treatment for those at an early stage of the disease, clearing the way for traditional U.S. approval.
All six advisers on the panel voted in favor of Leqembi for treatment of the mind-wasting illness.
Regular approval by Food and Drug Administration – a decision expected by July 6 – is likely to expand Medicare payment for the treatment.
That approval would also make Leqembi the first disease-modifying drug ever to achieve the regulatory milestone. Current treatments only treat symptoms but do not change the course of the disease, which affects 6 million Americans, according to the Alzheimer's Association.
Leqembi won accelerated approval by the FDA in January based on its ability to remove sticky amyloid plaques from the brain. The panel on Friday considered Eisai's large confirmatory trial designed to show the drug benefited patients.
That study, published in November, showed the drug slowed cognitive decline by 27% in early Alzheimer's patients, but was also associated with some serious side effects for some patients, including brain swelling and bleeding or microhemorrhages.
"I believe the benefit versus risk are beneficial, acceptable and in line with this class of therapeutics, especially considering the burden of the disease and the progressive nature of the disease," said panel member Dr. Tanya Simuni, professor of neurology at Northwestern (NASDAQ:NWE) University Feinberg School of Medicine.

"Overall, it demonstrated clearly that this is an effective treatment in the population as it was defined," said Dr. Robert Alexander, committee chair and an Alzheimer's expert at the Banner (NASDAQ:BANR) Alzheimer's Institute. He added that he thought the study "clearly demonstrated a clinical benefit," calling the results "robust."
SIDE EFFECTS
FDA also asked the panel to weigh in on Leqembi's side effects in certain patient populations.
Those included patients taking drugs that prevent blood clots, those who have a gene variant called APOE4 that increases the risk of Alzheimer's, and those with a rare condition called cerebral amyloid angiopathy (CAA), in which the protein amyloid that the drug targets builds up in the walls of arteries in the brain and can cause bleeding.
Members of the panel generally said the risks for those with two copies of the APOE4 gene were balanced by the drug's benefits, although they urged the FDA to strengthen language in the drug's prescribing label recommending genetic testing for the risk gene.
Some on the panel raised concerns about giving Leqembi to patients taking anticoagulants. Others said patients should be given the option as long as they are made aware of the risks.
The panel also said it would not recommend excluding patients with CAA, which can be hard to diagnose, from taking the drug. It suggested limiting Leqembi's use in patients with the most severe cases of the condition, called cerebral amyloid angiopathy-related inflammation, because of the heightened risk of brain bleeding.
Under accelerated approval, Medicare restricted payment of the drug to those in a clinical trial, but no such trials are underway for Leqembi, resulting in negligible sales. Most U.S. Alzheimer's patients are Medicare-eligible.
The federal agency that runs Medicare has said it will pay for the treatment if doctors participate in a health agency database, known as a registry, but has yet to release details of its plan.
Wall Street analysts widely expect the FDA to grant traditional approval for the drug. Analysts have forecast Leqembi sales topping $1 billion in 2026 and reaching $5.7 billion by 2030.
Alzheimer's Association CEO Joanne Pike in a statement urged approval and expanded patient access "without barriers."
"We are in full agreement with the FDA Advisory Committee that Leqembi provides clinical benefit and that this benefit outweighs the risks." she said.
Crypto Markets Rally: Bitcoin and Ethereum Lead the Charge, Coinbase and Marathon Digital Shares Rise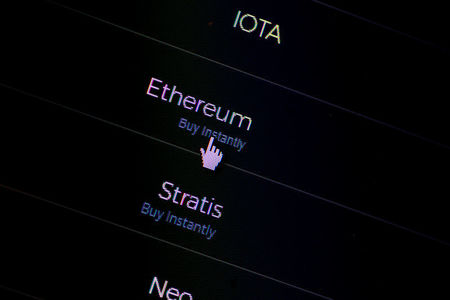 © Reuters
The major players in the cryptocurrency market, and , saw significant gains on Monday, with Bitcoin surging to $28,569.40 and Ethereum rallying to $1,727.98. Other cryptocurrencies including , which reached $24.01, and , which rallied to 27 cents, also experienced notable increases.
In the wake of this crypto rally, stocks related to the sector also saw substantial movements. Coinbase (NASDAQ:) Global Inc.'s shares rose to $78.46 and Marathon Digital Holdings Inc.'s shares jumped to $9.62 on Monday. Meanwhile, the Bitwise Crypto Industry Innovators ETF increased to $7.03 and the Grayscale Bitcoin Trust rallied to $20.12.
However, not all companies in the crypto-related sector experienced gains. Overstock.com (NASDAQ:)'s shares dropped to $15.50 and Tesla (NASDAQ:) Inc., which has previously invested heavily in Bitcoin, saw its shares decrease to $247.66.
In addition to the market leaders Bitcoin and Ethereum, other cryptocurrencies like , , , , and Polygon also moved notably on Monday. NVIDIA Corp (NASDAQ:)., a leading graphics processing unit (GPU) manufacturer that is widely used in cryptocurrency mining operations, also benefited from this uptick in the crypto market with its shares climbing to $447.66.
Overall, Monday marked a significant day for cryptocurrency markets as well as for companies involved in the sector. The reasons behind these movements are varied and complex, reflecting the multifaceted nature of this rapidly evolving industry.
This article was generated with the support of AI and reviewed by an editor. For more information see our T&C.
Fed's Powell: Economy still working through the impact of the pandemic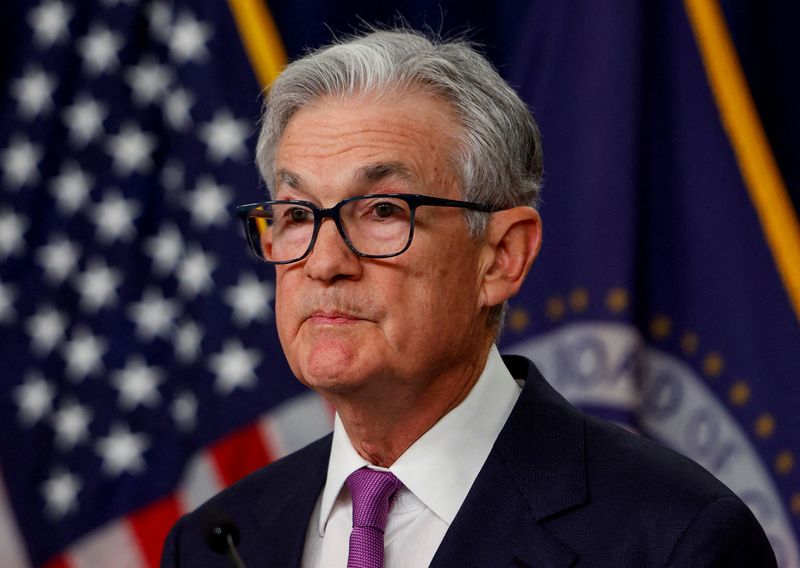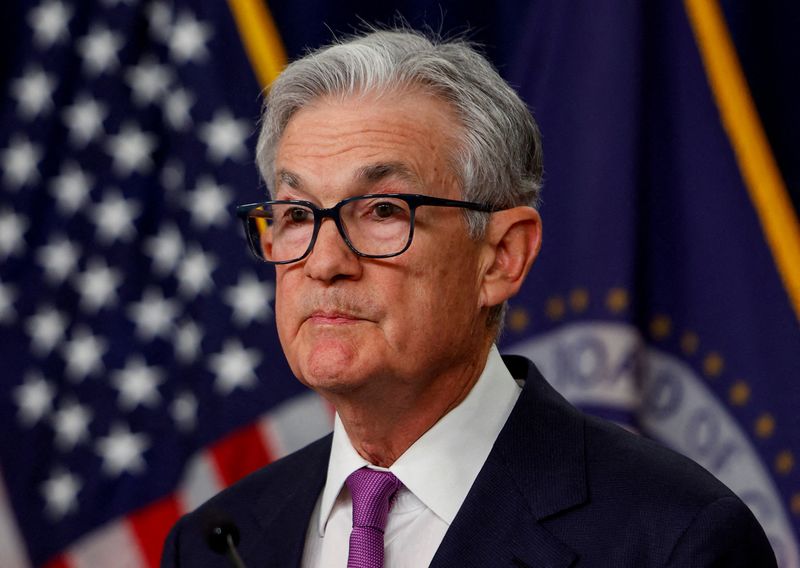 © Reuters. FILE PHOTO: U.S. Federal Reserve Chair Jerome Powell holds a press conference in Washington, U.S, September 20, 2023. REUTERS/Evelyn Hockstein/File Photo
By Howard Schneider
YORK, Pa. (Reuters) – The U.S. economy is still dealing with the aftermath of the COVID-19 pandemic, Federal Reserve chair Jerome Powell said during a meeting with community and business leaders in York, Pennsylvania.
"We are still coming through the other side of the pandemic," Powell said, noting labor shortages in healthcare, ongoing difficulties with access to child care, and other issues heightened by the health crisis. He did not comment on current monetary policy or the economic outlook in brief opening remarks.
Indian Equity Markets End September on a High Note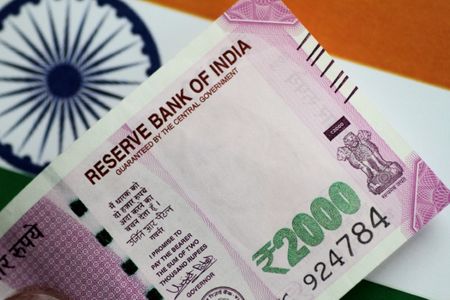 © Reuters.
Indian equity markets concluded the month of September on a positive note, with significant gains recorded on Friday. The rose by 320.09 points to close at 65,828.41, while the NSE's Nifty50 advanced by 114.75 points to settle at 19,638.30. The BSE midcap index also registered gains, reflecting an overall uptick in the market.
These gains were primarily driven by positive global cues and investments in the metal, oil & gas, and power sectors. However, the IT sector showed signs of underperformance as indicated by the Nifty IT index.
Market analysts Amol Athawale and Vinod Nair offered insights into market trends and challenges. They noted encouraging GDP data from Britain that further reinforced market optimism.
In broader markets, Authum Investment & Infrastructure hit an upper circuit of 20 percent. Yet, not all stocks performed well; Shreyas Shipping and Finolex Cables underperformed on Friday.
Among other stocks, Apollo Hospital Enterprises and Sun Pharmaceuticals saw gains while Tata Consultancy Services (NS:) lagged behind. The volatility index, India , also saw a considerable drop, indicating a decrease in investor fear or uncertainty about future market movements.
This positive performance of the Indian equity markets comes even as they face challenges including the underperformance of certain sectors such as IT. Investors will likely continue to monitor these developments closely as they navigate their investment strategies for October.
This article was generated with the support of AI and reviewed by an editor. For more information see our T&C.