Alphabet Inc (Google) Class A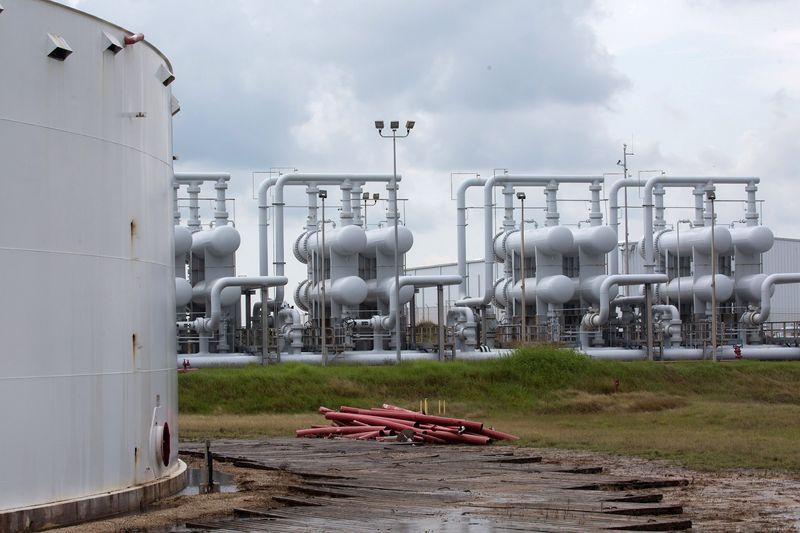 © Reuters. An oil storage tank and crude oil pipeline equipment is seen during a tour by the Department of Energy at the Strategic Petroleum…
Google stock
Google Inc. was incorporated in 1998 by Sergey Brin and Larry Page. The IPO on the NASDAQ stock exchange took place on August 19, 2004, almost 6 years after the company was founded. At that time, the initial Google share price before the split in stock was $85.
In 2015, the founders decided to reorganize to separate the search business from the innovation business. The new holding company became Alphabet Inc., which includes Google, YouTube, and other holding companies. The name changed, but the stock tickers remained the same – GOOGL and GOOG. The year 2021 was Google stock price highest.
Anyone can buy Google stock from the comfort of their own home, because since the 2000s, the stock has only been traded electronically on the stock exchanges. Below you will find a list of stock exchanges and brokers where you can buy Google stock.
Where can I buy it on Google?
The US stock exchange NASDAQ is the main trading venue, but Google shares can also be purchased on stock exchanges in other countries in the form of American Depositary Receipts:
Mexico (Mexico Stock Exchange)
Germany (Berlin, Dusseldorf Stock Exchange, XETRA, Munich, Stuttgart, Frankfurt, Hamburg, Hanover Stock Exchange)
Switzerland (Swiss Exchange, Berne Stock Exchange)
Brazil (Sao Paulo Stock Exchange)
Argentina (Buenos Aires Stock Exchange)
Chile (Santiago Stock Exchange)
Austria (Vienna Stock Exchange)
Italy (Milan Stock Exchange)
UK (London Stock Exchange)
Statistics show that the turnover of these exchanges combined does not exceed 2% of the volume of the NASDAQ in the U.S..
At the moment, to invest in Alphabet stock, you can buy securities:
Class A (NASDAQ: GOOGL) voting shares. Most of these shares are concentrated in the hands of the board to prevent unwanted actions that could hurt the company.
Class C (NASDAQ: GOOG) is non-voting. You can buy and sell securities and receive dividends, but you are not allowed to participate in the company.
Class B shares with 10 voting rights exist within the company and are not traded on the exchange. The founders of Google and Eric Schmidt, who owns them, who was the longtime chairman of Google Inc.
You can also use stock AMZN for investments.
What you need to do to buy Google stock – A Quick Guide
Register on the broker's website, get a username and password from your personal account.
Refill the account.
Install trading terminal or open it in the browser.
Choose the necessary shares from the list, specify the quantity, and press the Buy button.
A person who wants to buy or sell securities through a broker makes an order to the exchange. Bids are of the following types:
Market – to buy or sell a security right now at the market (current) price;
Limit order – to buy or sell a security at or below a specified Google stock price estimates;
Stop order – to buy a paper, if its value rises above a certain level, or sell, if it falls below a certain level.
At the exchange, the order goes to the "stock ticker" – a queue of orders. If the market stack contains both an offer to buy a stock at a certain price and an offer to sell it at the same price in the right quantities, a buy/sell transaction occurs.
How much you can earn on the purchase of Google shares
Since 2006, Google has stopped paying dividends and all profits are used for developing the company. Wells Fargo predicts that share price will continue to rise soon. Depending on the date of purchase, Google could make good money.
On March 23, 2020, Alphabet stock could be purchased for $1,050. On September 3, 2020, the stock was selling for $1,700. People who managed to buy the stock on March 22, 2020, and sold it on September 3, made a profit of about $650. That's 60% of the amount invested, or 120% per annum.
Examples of the largest shareholders
The list of the company's largest shareholders is well known. Financial services investment companies hold 81% of Class A shares:
BlackRock is an international investment company;
Fidelity Investments – an asset management holding company;
State Street Corporation, a holding company that conducts custody and investment activities;
T. Rowe Price, a mutual fund management holding company;
The Vanguard Group, an investment company.
Roughly the same shareholders own 70% of Class C shares.
Google share price prediction – Conclusion
Google is a large, constantly growing company with good financial performance. It is the most used search engine in the world and the largest network for advertisers.
Above, you get a clear idea of how to invest in Google stock as an individual. Being an investor or a trader is a personal choice for everyone. You can invest for years or you can engage in intraday trading. In both cases, people make a profit.
Its share price has been rising steadily in recent years and it is unlikely that its competitors will bring it down anytime soon. Google share price forecasts are only positive. Many U.S. investment firms are predicting further growth and advising investors to buy its shares.
What's the Price of GOOGL Stock
For Today And All You Must Know About the Google Stock
Would you want to learn everything about GOOGL stock price today, and what's the price of GOOGL stock forecast? Enjoy reading this article made by Letizo.com to stay notified with updated info!
What Is the Distinction Of Alphabet's GOOG & GOOGL?
GOOGL and GOOG are stock short names for Alphabet (the corporation once known as Google). The main distinction between the GOOGL and GOOG stock ticker signs is that GOOG shares have no voting authority, only GOOGL shares have such.
The corp created a new category of non-voting stock in April 2014 and issued a Class C share for each Class A share previously held by shareholders. The action maintained the majority power of founders Larry Page and Sergey Brin. When enterprises go public, founders often lose control over the period as additional share offerings and bargains leave them in the minority.
Alphabet's creators are determined to stay in the control of the corporation, a plan shared by other tech tycoons. Markets and investors can be short-sighted in their commitment to quick effects, even at the cost of long-term objectives. The stock divergence allowed Brin and Page to take the dominion of public-market liquidity while maintaining the majority authority of the company.
GOOG Stock Price Chart
FAQ
What's up for today?
The current stock price of GOOGL (Class A) is 2,359.50 USD with a volume total amount of 2,058,184. The middle volume is 1,910,220. The current market cap is 1.559T.
GOOGL stock price target
: is it Increased or Decreased?
GOOGL price is up by +$114.66 (+5.11%). Recommendations are declaring that you should buy or strongly buy!
What's new with after-hours?
GOOGL after-hours stock price is 2,360.60. This signifies that the rate is up, by +$1.10 (+0.05%). After hours: 07:59 PM EDT.
How to understand the
GOOGL pre-market stock price
?
To spot GOOGL pre-market stock price, you need to know that the pre-market stock chart opens from 8:15 to 9:30 a.m. ET. You can know the pre-market price in the trading platform you are operating to hold, buy and sell stocks. Also you can see Goog pre market stock price and Nio stock price chart.
What is the historical HIGH for GOOGL?
On the 1st of December 2021, there was a price on the chart of $2,897.04.
GOOGL stock price prediction
Money.CNN: The 45 specialists suggesting 12-month price predictions for Alphabet Inc have an average target of $3,180.00, with a max price of $4,533.34 and a min estimation of $2,636.00. The average estimate describes a +34.48% growth from the previous price of $2,364.70.
GOOGL stock price prediction
2022-
2025
What to expect about GOOGL stocks in the future? According to Coinpriceforecast, we may see the following rates:
2023 – $3,200

2024 – $3,260-$3,750

2025 – $3,931-$4,373
GOOGL stock price prediction 2025 is up to +84% of the actual price.
Show more