Feel Bad About Your Portfolio's Losers? Hope You Didn't Buy These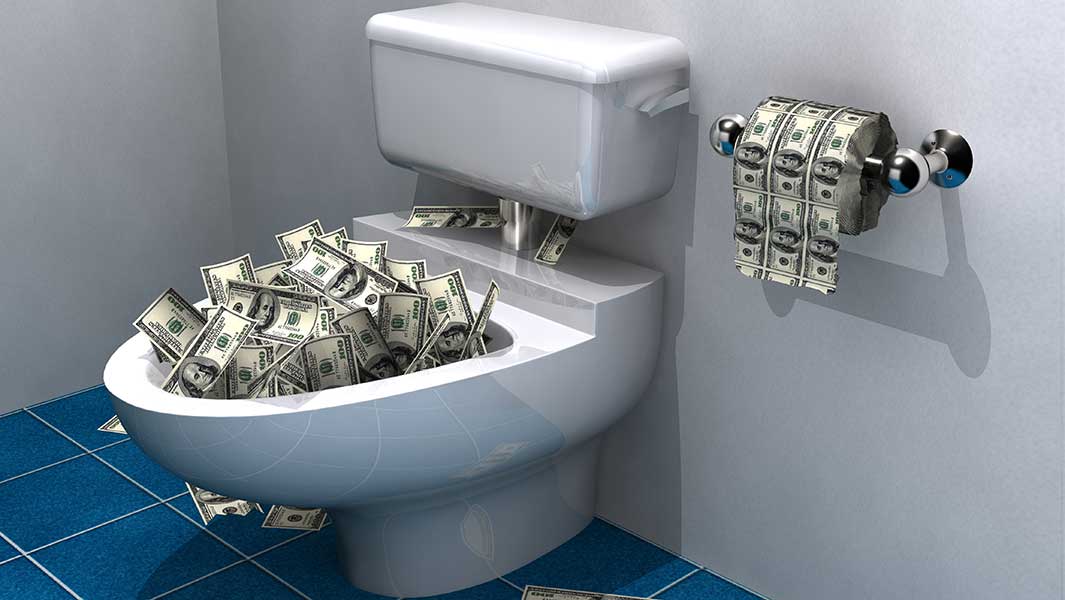 It's been a rough six months for most S&P 500 investors. But if you think that's bad, try owning a money-losing stock for a decade — it's not as unusual as you might think.



X




Nearly 40 stocks in the S&P 500 — including consumer discretionary Carnival (CCL), fallen industrial giant General Electric (GE) and disappointing communications firm AT&T (T) — saw their shares go absolutely nowhere in an entire decade, says an Investor's Business Daily Analysis of data from S&P Global Market Intelligence and MarketSmith. Some of the stocks are actually down by sizable amounts in that time.
Much of these losses, too, accelerated in just the past six months in the bear market. And it's another reminder of how simply holding and hoping doesn't always work out.
"If you want to practice 'buy and hold' for years (if not decades) of investing, then you need to be able to identify companies that have long runways and huge moats that can grow and grow and grow," said Whitney Tilson, of Empire Financial Research, prior to the sell-off last year.
Dangers Of Buy And Hold
It's easy to imagine the end of a bear market if you think it'll be a distant memory in a decade. But what if your money sits dormant for 10 whole years? That's harder to ignore.
And it's more common than you might think. Nearly 35 of the S&P 500 stocks lost 10% or more in the past 10 years. And 14 are down more than 40%. And most painful of all: Two S&P 500 stocks lost 70% of their value in that time.
It's important to note that the ongoing bear market is largely responsible for wiping out many years of gains in a short period of time. Take Carnival. Shares lost more than half their value just this year. And that's a big reason why the cruise ship operator's shares are more than 70% lower than they were 10 years ago. Certainly, the cruising shutdowns during the Covid-19 pandemic haven't helped much.
AT&T And General Electric Not Money In The Bank
Not long ago, investors thought AT&T and GE were true "buy and hold" stocks. But that hasn't been the case in the past 10 years.
Take AT&T, thought to be the ultimate widows and orphans stock. Granted, the stock yields 5.3% and has distributed some shares of spinoffs over the years. Even so, shares of AT&T proper are down more than 40% in the past 10 years. And you can't just blame this year's bear market. Shares are only down 14% this year. That's actually a tad better than the S&P 500's 18.1% drop this year.
And then there's General Electric. Amazingly, GE was the most valuable company in the S&P 500 in 2005, ahead of Exxon Mobil (XOM) and Microsoft (MSFT). It was also No. 1 in 2004, 2003, 2001 and 2000. And for that, you can't fault S&P 500 investors at the turn of the century for thinking it was unstoppable. But that was a mirage. Despite some spinoffs, shares dropped more than 60% in the past 10 years. What's more, its famous yield shriveled up, too. GE now yields less than 1%.
And the whole energy sector, too, is a reminder of the perils of buying and holding. Sure, investors owning energy shares are up this year. But even following this year's powerful rally, seven energy stocks in the S&P 500 are still down in the decade. Who's bragging about owning them now?
'Dead Money' S&P 500 Stocks In The Past 10 Years
They're all down in the past decade (excluding spinoffs and dividends)
| Company | Symbol | 10-year change | Sector |
| --- | --- | --- | --- |
| Carnival | (CCL) | -72.3% | Consumer Discretionary |
| Lumen Technologies | (LUMN) | -72.2% | Communication Services |
| Vornado Realty Trust | (VNO) | -64.5% | Real Estate |
| General Electric | (GE) | -60.6% | Industrials |
| APA | (APA) | -59.7% | Energy |
| Viatris | (VTRS) | -51.7% | Health Care |
| Kinder Morgan | (KMI) | -48.8% | Energy |
| Schlumberger | (SLB) | -47.2% | Energy |
| Warner Bros. Discovery | (WBD) | -45.0% | Communication Services |
| Tapestry | (TPR) | -44.3% | Consumer Discretionary |
| Wynn Resorts | (WYNN) | -42.5% | Consumer Discretionary |
| Healthpeak Properties | (PEAK) | -40.6% | Real Estate |
| DuPont de Nemours | (DD) | -40.4% | Materials |
| AT&T | (T) | -40.3% | Communication Services |
| Bath & Body Works | (BBWI) | -38.6% | Consumer Discretionary |
| Simon Property Group | (SPG) | -37.8% | Real Estate |
| Dish Network | (DISH) | -36.6% | Communication Services |
| Ralph Lauren | (RL) | -35.5% | Consumer Discretionary |
| Franklin Resources | (BEN) | -34.7% | Financials |
| Penn National Gaming | (PENN) | -30.6% | Consumer Discretionary |
| Baker Hughes | (BKR) | -29.3% | Energy |
| Occidental Petroleum | (OXY) | -27.9% | Energy |
| International Business Machines | (IBM) | -26.4% | Information Technology |
| PVH | (PVH) | -26.4% | Consumer Discretionary |
| Invesco | (IVZ) | -26.0% | Financials |
| FirstEnergy | (FE) | -24.3% | Utilities |
| Paramount Global | (PARA) | -20.5% | Communication Services |
| Ventas | (VTR) | -20.0% | Real Estate |
| Mosaic | (MOS) | -18.7% | Materials |
| Boston Properties | (BXP) | -17.8% | Real Estate |
| Las Vegas Sands | (LVS) | -16.7% | Consumer Discretionary |
| Freeport-McMoRan | (FCX) | -16.5% | Materials |
| Marathon Oil | (MRO) | -12.5% | Energy |
| Nielsen Holdings | (NLSN) | -11.1% | Industrials |
| Federal Realty Investment | (FRT) | -8.2% | Real Estate |
| Devon Energy | (DVN) | -6.3% | Energy |
| Dentsply Sirona | (XRAY) | -4.0% | Health Care |
| PPL | (PPL) | -2.4% | Utilities |
Sources: IBD, S&P Global Market Intelligence
Follow Matt Krantz on Twitter @mattkrantz
YOU MAY ALSO LIKE:
Bank Of America Names Top 11 Stock Picks For 2022
12 Stocks Turned $10,000 Into $413,597 In 12 Months
Learn How To Time The Market With IBD's ETF Market Strategy
Join IBD Live And Learn Top Chart Reading And Trading Techniques From Pros
BofA Securities maintains Amazon.com at 'buy' with a price target of $154.00
Six people in critical condition, one still missing after Paris blast – prosecutor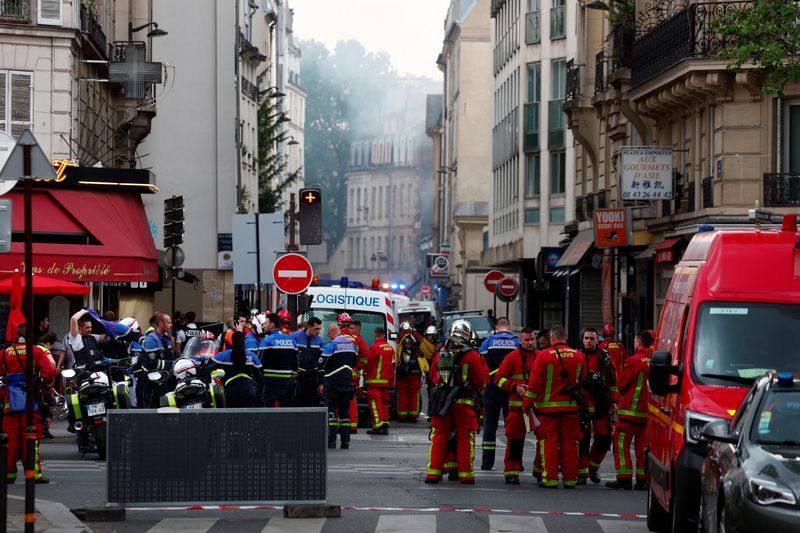 5/5
© Reuters. French firefighters and rescue forces work after several buildings on fire following a gas explosion in the fifth arrondissement of Paris, France, June 21, 2023. REUTERS/Gonzalo Fuentes
2/5
PARIS (Reuters) – Six people remained in a critical condition and one person was believed still missing on Thursday, one day after a blast ripped through a street near Paris' historic Latin Quarter, the city's public prosecution office said. "These figures may still change," prosecutor Maylis De Roeck told Reuters in a text message, adding that around 50 people had been injured in the blast, which set buildings ablaze and caused the front of one to collapse onto the street. Of two people initially believed missing, one has been found in hospital and is being taken care of, the prosecutor said, adding: "Searches are ongoing to find the second person." Authorities have not yet said what caused the explosion, which witnesses said had followed a strong smell of gas at the site. The explosion led to scenes of chaos and destruction in the historic Rue Saint Jacques, which runs from the Notre-Dame de Paris Cathedral to the Sorbonne University, just as people were heading home from work. It also destroyed the facade of a building housing the Paris American Academy design school popular with foreign students. Florence Berthout, mayor of the Paris district where the blast occurred, said 12 students who should have been in the academy's classrooms at the time had fortunately gone to visit an exhibition with their teacher.
"Otherwise the (death toll) could have been absolutely horrific," Berthout told BFM TV. She said three children who had been passing by at the time were among the injured, although their lives were not in danger.
4 big analyst cuts: Alcoa & DigitalOcean shares drop on downgrades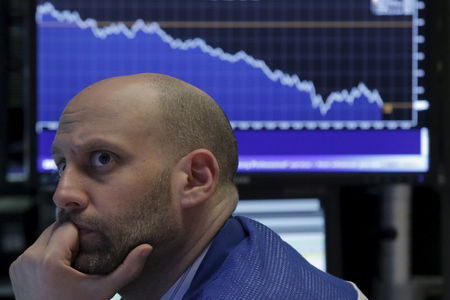 © Reuters.
Here is your Pro Recap of the biggest analyst cuts you may have missed since yesterday: downgrades at Alcoa, DigitalOcean, Teleflex, and Xcel Energy.InvestingPro subscribers got this news in rapid fire. Never be left in the dust again.Alcoa stock drops on Morgan Stanley downgrade Alcoa (NYSE:) shares fell more than 3% pre-market today after Morgan Stanley downgraded the company to Underweight from Equalweight and cut its price target to $33.00 from $43.00, as reported in real time on InvestingPro.The firm sees a significant decline in consensus estimates, and as negative earnings revisions materialize, it believes the stock will face downward pressure and underperform.The analyst's estimates for EBITDA in Q2, 2023, and 2024 are substantially lower than the consensus. The stock is currently trading above its historical average. The firm said its downward revisions in earnings estimates and price target are attributed to the company's high operating leverage to aluminum prices.DigitalOcean stock plunges on downgradePiper Sandler downgraded DigitalOcean (NYSE:) to Underweight from Neutral with a price target of $35.00. As a result, shares plunged more than 5% pre-market today.The company reported its last month, with revenue beating the consensus estimate, while EPS coming in worse than expected. Furthermore, the company provided a strong outlook, which was above the Street estimates.2 more downgradesTeleflex (NYSE:) shares fell more than 3% yesterday after Needham downgraded the company to Hold from Buy, noting that UroLift expectations may still be too high.According to Needham, their checks indicate that urologists are reducing their use of UroLift due to its retreatment rates, reimbursement cuts, and increasing use of competing procedures. This is also supported by their Google Trends data analysis, which indicates decreasing search interest in UroLift.BMO Capital downgraded Xcel Energy (NASDAQ:) to Market Perform from Outperform and cut its price target to $64.00 from $69.00 to reflect the lower-than-expected terms of the company's regulatory settlement in Colorado.Amid whipsaw markets and a slew of critical headlines, seize on the right timing to protect your profits: Always be the first to know with InvestingPro.Start your free 7-day trial now.