'I'm betting the second half turns out better': Jim Cramer believes that the market will soon bounce. Here's what he likes to 'protect you' while the Fed keeps tightening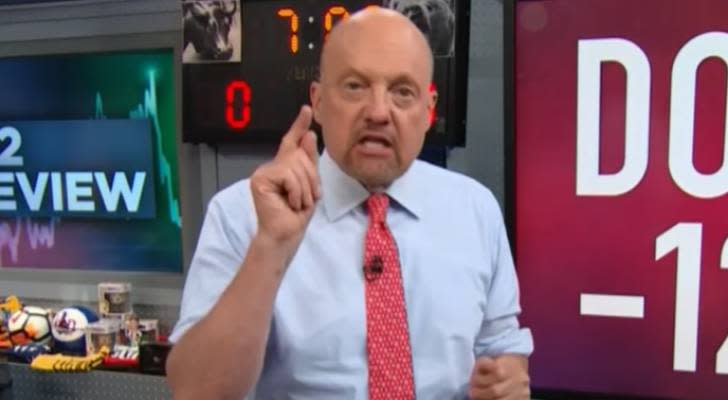 The S&P 500 has plunged nearly 21% in the first six months of 2022, marking its worst first-half performance since 1970.
But not everyone is bearish. CNBC's Jim Cramer, for instance, still sees opportunity in the months ahead — particularly in the Dow Jones Industrial Average.
"These tend to be boring, mature companies that typically pay nice dividends, which is what protects you when the Fed is tightening," he says.
"I know this is a tough market, but I'm betting the second half turns out better than the first for the worst performers and be OK for the best performers."
Among the 30 Dow components, Cramer picked out a few stocks that he thinks investors should consider. Here's a closer look at three of them.
Don't miss
Salesforce (CRM)
Salesforce is a cloud-based software giant. More than 150,000 companies use its customer relationship management platform to scale their business.
Cloud computing is a booming industry, and Salesforce's numbers completely reflect that.
In the three months ended Apr. 30, revenue surged 24% year over year to $7.4 billion. Management expects full-year fiscal 2023 revenue of $31.7 billion to $31.8 billion, which would translate into a year-over-year increase of 20%.
But the stock is down a staggering 31% in 2022, giving contrarian investors something to think about.
Cramer says investors should consider buying Salesforce shares before the company hosts its Dreamforce conference in September.
Last month, Stifel analyst J. Parker Lane reiterated a Buy rating on Salesforce. While the analyst lowered his price target from $300 to $250, the new target still implies a potential upside of 43%.
Merck (MRK)
Healthcare is a classic example of a defensive sector thanks to its lack of correlation with the ups and downs of the economy.
Cramer likes pharmaceutical giant Merck because it is recession-resistant and offers generous dividends.
Paying 69 cents per share on a quarterly basis, the stock yields just under 3%.
The business is growing, too. In Q1, Merck's worldwide sales from continuing operations totaled $15.9 billion, up 50% year over year.
While the broad market is deep in the red in 2022, Merck shares are up an impressive 21% year to date.
Mizuho analyst Mara Goldstein sees more upside on the horizon. The analyst has a Buy rating on Merck and a price target of $100 — around 8% above the current levels.
Coca-Cola (KO)
Cramer is optimistic about Coca-Cola, but that shouldn't come as a surprise.
After the company's Q1 earnings report in April, Cramer said that it showed "how a seasoned management team can overcome just about any challenge you might throw at them" and that it has "long-lasting strength."
When it comes to delivering returns to investors through thick and thin, few companies have done a better job than Coca-Cola.
Coca-Cola went public more than 100 years ago. This February, the board approved the company's 60th consecutive annual dividend increase.
It's not hard to see why the payout has been so reliable: The company's iconic products are sold in more than 200 countries and territories, and even in a recession, a simple can of Coke is still affordable to most people.
The stock is also defying the ongoing market sell-off, gaining 6% year-to-date.
Wells Fargo analyst Chris Carey has an Overweight rating on Coca-Cola and a price target of $74 — 17% above where the stock sits today.
What to read next
Sign up for our MoneyWise newsletter to receive a steady flow of actionable ideas from Wall Street's top firms.

US is only a few days away from an 'absolute explosion' on inflation — here are 3 shockproof sectors to help protect your portfolio

'There's always a bull market somewhere': Jim Cramer's famous words suggest you can make money no matter what. Here are 2 powerful tailwinds to take advantage of today
This article provides information only and should not be construed as advice. It is provided without warranty of any kind.
BofA Securities maintains Amazon.com at 'buy' with a price target of $154.00
Six people in critical condition, one still missing after Paris blast – prosecutor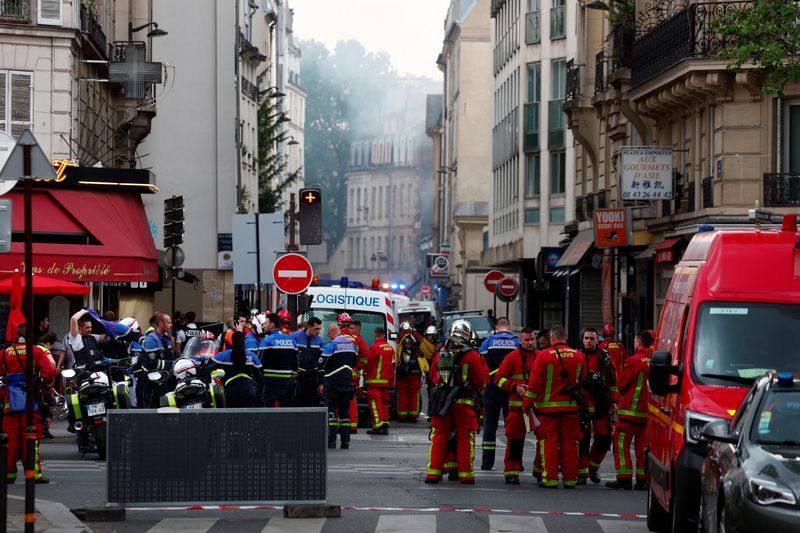 5/5
© Reuters. French firefighters and rescue forces work after several buildings on fire following a gas explosion in the fifth arrondissement of Paris, France, June 21, 2023. REUTERS/Gonzalo Fuentes
2/5
PARIS (Reuters) – Six people remained in a critical condition and one person was believed still missing on Thursday, one day after a blast ripped through a street near Paris' historic Latin Quarter, the city's public prosecution office said. "These figures may still change," prosecutor Maylis De Roeck told Reuters in a text message, adding that around 50 people had been injured in the blast, which set buildings ablaze and caused the front of one to collapse onto the street. Of two people initially believed missing, one has been found in hospital and is being taken care of, the prosecutor said, adding: "Searches are ongoing to find the second person." Authorities have not yet said what caused the explosion, which witnesses said had followed a strong smell of gas at the site. The explosion led to scenes of chaos and destruction in the historic Rue Saint Jacques, which runs from the Notre-Dame de Paris Cathedral to the Sorbonne University, just as people were heading home from work. It also destroyed the facade of a building housing the Paris American Academy design school popular with foreign students. Florence Berthout, mayor of the Paris district where the blast occurred, said 12 students who should have been in the academy's classrooms at the time had fortunately gone to visit an exhibition with their teacher.
"Otherwise the (death toll) could have been absolutely horrific," Berthout told BFM TV. She said three children who had been passing by at the time were among the injured, although their lives were not in danger.
4 big analyst cuts: Alcoa & DigitalOcean shares drop on downgrades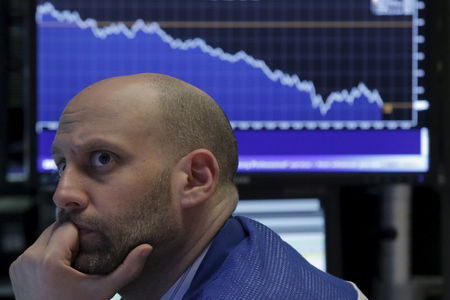 © Reuters.
Here is your Pro Recap of the biggest analyst cuts you may have missed since yesterday: downgrades at Alcoa, DigitalOcean, Teleflex, and Xcel Energy.InvestingPro subscribers got this news in rapid fire. Never be left in the dust again.Alcoa stock drops on Morgan Stanley downgrade Alcoa (NYSE:) shares fell more than 3% pre-market today after Morgan Stanley downgraded the company to Underweight from Equalweight and cut its price target to $33.00 from $43.00, as reported in real time on InvestingPro.The firm sees a significant decline in consensus estimates, and as negative earnings revisions materialize, it believes the stock will face downward pressure and underperform.The analyst's estimates for EBITDA in Q2, 2023, and 2024 are substantially lower than the consensus. The stock is currently trading above its historical average. The firm said its downward revisions in earnings estimates and price target are attributed to the company's high operating leverage to aluminum prices.DigitalOcean stock plunges on downgradePiper Sandler downgraded DigitalOcean (NYSE:) to Underweight from Neutral with a price target of $35.00. As a result, shares plunged more than 5% pre-market today.The company reported its last month, with revenue beating the consensus estimate, while EPS coming in worse than expected. Furthermore, the company provided a strong outlook, which was above the Street estimates.2 more downgradesTeleflex (NYSE:) shares fell more than 3% yesterday after Needham downgraded the company to Hold from Buy, noting that UroLift expectations may still be too high.According to Needham, their checks indicate that urologists are reducing their use of UroLift due to its retreatment rates, reimbursement cuts, and increasing use of competing procedures. This is also supported by their Google Trends data analysis, which indicates decreasing search interest in UroLift.BMO Capital downgraded Xcel Energy (NASDAQ:) to Market Perform from Outperform and cut its price target to $64.00 from $69.00 to reflect the lower-than-expected terms of the company's regulatory settlement in Colorado.Amid whipsaw markets and a slew of critical headlines, seize on the right timing to protect your profits: Always be the first to know with InvestingPro.Start your free 7-day trial now.