Why crude released from U.S. oil reserves may have ended up being exported overseas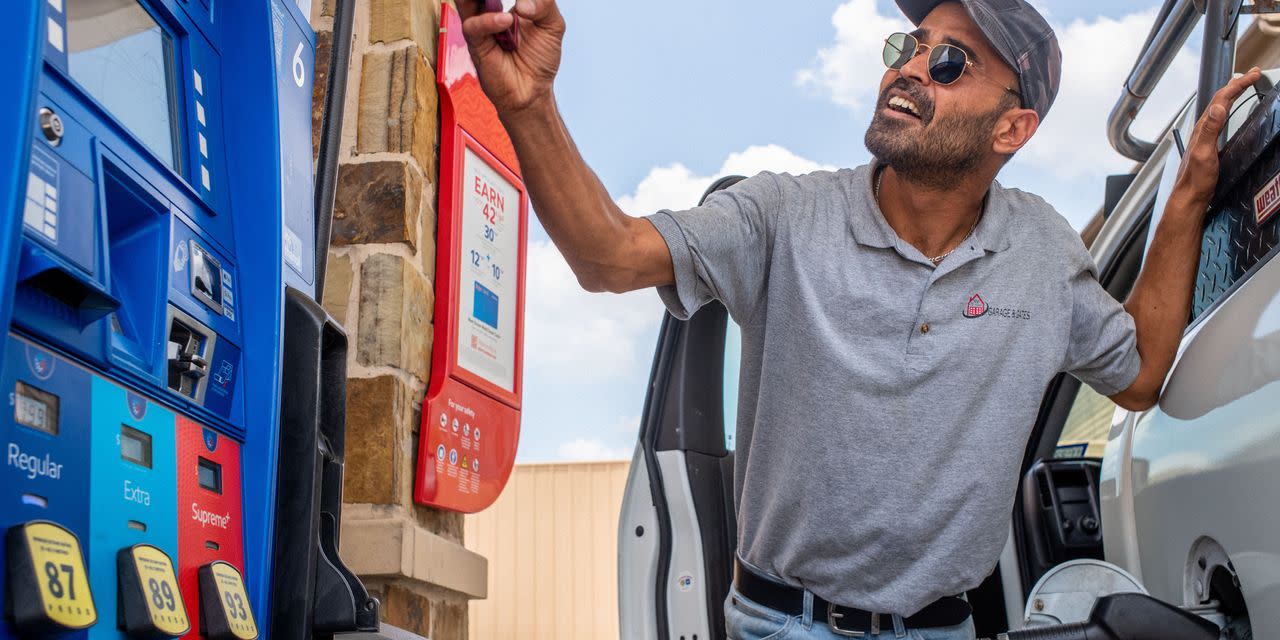 U.S. drivers had high hopes that the historic release of oil from the nation's Strategic Petroleum Reserve would help ease triple-digit prices of crude oil and reduce gasoline prices at the pump, but the costs for both have seen little relief.
More than three months after the Biden administration announced in late March the biggest-ever release from the SPR — one million barrels of oil per day for the next six months — prices for oil still stand above $100, and retail gasoline's down by just around 6% from its record high in June.
Adding to the frustration, the U.S. exported more than 5 million barrels of oil to Europe and Asia last month — oil that was part of the historic release from the SPR, Reuters reported this week, citing data and sources.
The exports were made during the same month that that nation's average prices for regular gasoline hit a record high — at $5.034 a gallon on June 16, according to data on GasBuddy.
"Exports are profitable and they allow some refiners to send products that don't meet U.S. specifications overseas where the formulae are less stringent," Tom Kloza, global head of energy analysis at the Oil Price Information Service, told MarketWatch. OPIS is a unit of Dow Jones & Co., publisher of MarketWatch.
"The refiners also export 'other oils'…that have no home in the U.S.," he said. "Their argument is that this allows them to run at 95% of capacity or more. If the exports were restricted, they would have to run lower."
U.S. refineries operated at 94.5% of their operable capacity for the week ended July 1, compared with just 92.2% a year ago, according to the Energy Information Administration report released Thursday.
The nation's refineries "simply don't have the ability to absorb those new barrels [of oil] suddenly hitting the market and therefore, physical refined product markets remain tight and prices are still elevated," said Tyler Richey, co-editor at Sevens Report Research.
News that SPR oil was exported out of the country came as a surprise to some, as consumers continue to face high inflation.
However, Brian Milne, product manager, editor and analyst at DTN, told MarketWatch that his team "knew immediately upon hearing the government's announcement for big draws from emergency reserves that they would largely go to exports" because U.S. refiners, except for the West Coast, are producing near capacity."
Brian Deese, President Biden's National Economic Council director on Thursday told Bloomberg News that oil analysts would say the Biden administration's release from the SPR was "single-handedly responsible" for keeping oil prices from going higher.
Gasoline prices at the pump averaged $4.739 a gallon early Thursday afternoon, down around 20 cents from $4.957 a month earlier, according to GasBuddy. On a weekly basis, prices had posted a decline in the period ended June 20 for the first time in nine weeks.
Milne said that while he "disagree(s) with the Biden administration's logic in pulling so much oil from the emergency reserves, higher U.S. crude exports have helped lower the international price of crude oil."
It's a global market and "if we don't export crude oil, world prices and U.S. prices would be higher," he said.
U.S. benchmark crude-oil prices
CL.1,
-0.50%
CLQ22,
-0.50%
fell 7.8% in June, while global benchmark Brent crude
BRN00,
-0.24%
BRNU22,
-0.24%
declined by 6.5% last month.
Read: U.S. oil tumbled below $100 a barrel — What that says about recession fears and tight crude supplies
Gas pump prices' slow decline
Still, the fall in retail gasoline prices is nowhere near the roughly 13% drop the market has seen in the last month for reformulated gasoline futures
RBQ22,
-1.13%
RB00,
-1.13%
traded on the New York Mercantile Exchange.
Read: Enjoy the dip in gasoline prices because it may not last
Part of the drop for gasoline futures may come from active month futures contracts rolling forward recently, and speculative traders and funds liquidating longs because the physical market is tight, explained Sevens Report Research's Richey.
But it "typically takes time for moves in the futures market to trickle down to the pump due to hedging actions by downstream supplies," he said.
That doesn't offer much reassurance for drivers, particularly in California where they pay an average $6.171 a gallon.
"You might have heard the adage, 'up like a rocket, down like a feather,' when referring to the price change in retail gasoline," said DTN's Milne.
"Retail gasoline prices do respond quickly to increases in the wholesale/futures markets," he said. "Higher prices are passed through to retail outlets who must quickly lift their street price or encounter a loss."
Retailer's margins on a gallon of gasoline are very thin, said Milne. "So, when wholesale/futures gasoline prices decline, retailers will hold their street price higher to gradually capture margin."
BofA Securities maintains Amazon.com at 'buy' with a price target of $154.00
Six people in critical condition, one still missing after Paris blast – prosecutor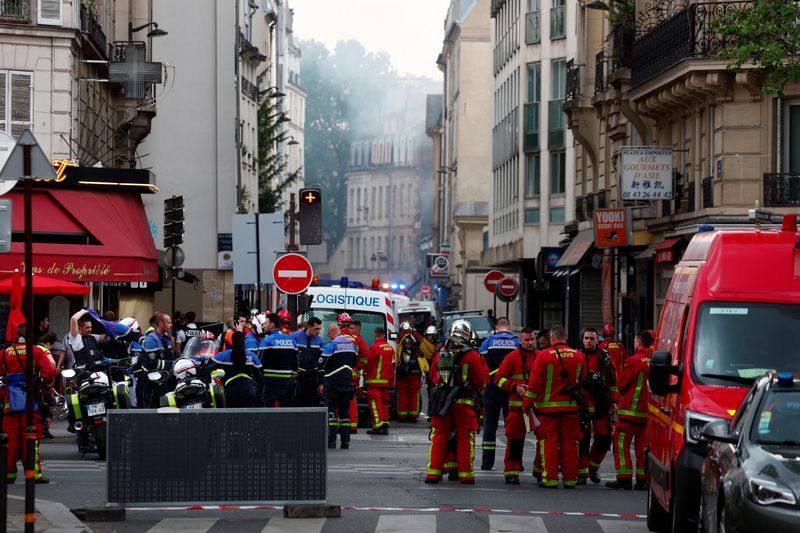 5/5
© Reuters. French firefighters and rescue forces work after several buildings on fire following a gas explosion in the fifth arrondissement of Paris, France, June 21, 2023. REUTERS/Gonzalo Fuentes
2/5
PARIS (Reuters) – Six people remained in a critical condition and one person was believed still missing on Thursday, one day after a blast ripped through a street near Paris' historic Latin Quarter, the city's public prosecution office said. "These figures may still change," prosecutor Maylis De Roeck told Reuters in a text message, adding that around 50 people had been injured in the blast, which set buildings ablaze and caused the front of one to collapse onto the street. Of two people initially believed missing, one has been found in hospital and is being taken care of, the prosecutor said, adding: "Searches are ongoing to find the second person." Authorities have not yet said what caused the explosion, which witnesses said had followed a strong smell of gas at the site. The explosion led to scenes of chaos and destruction in the historic Rue Saint Jacques, which runs from the Notre-Dame de Paris Cathedral to the Sorbonne University, just as people were heading home from work. It also destroyed the facade of a building housing the Paris American Academy design school popular with foreign students. Florence Berthout, mayor of the Paris district where the blast occurred, said 12 students who should have been in the academy's classrooms at the time had fortunately gone to visit an exhibition with their teacher.
"Otherwise the (death toll) could have been absolutely horrific," Berthout told BFM TV. She said three children who had been passing by at the time were among the injured, although their lives were not in danger.
4 big analyst cuts: Alcoa & DigitalOcean shares drop on downgrades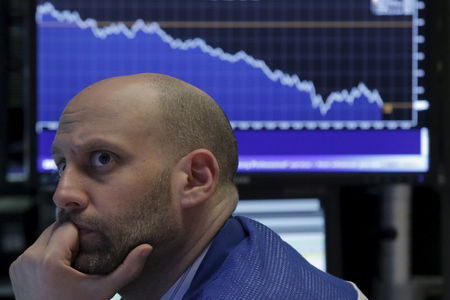 © Reuters.
Here is your Pro Recap of the biggest analyst cuts you may have missed since yesterday: downgrades at Alcoa, DigitalOcean, Teleflex, and Xcel Energy.InvestingPro subscribers got this news in rapid fire. Never be left in the dust again.Alcoa stock drops on Morgan Stanley downgrade Alcoa (NYSE:) shares fell more than 3% pre-market today after Morgan Stanley downgraded the company to Underweight from Equalweight and cut its price target to $33.00 from $43.00, as reported in real time on InvestingPro.The firm sees a significant decline in consensus estimates, and as negative earnings revisions materialize, it believes the stock will face downward pressure and underperform.The analyst's estimates for EBITDA in Q2, 2023, and 2024 are substantially lower than the consensus. The stock is currently trading above its historical average. The firm said its downward revisions in earnings estimates and price target are attributed to the company's high operating leverage to aluminum prices.DigitalOcean stock plunges on downgradePiper Sandler downgraded DigitalOcean (NYSE:) to Underweight from Neutral with a price target of $35.00. As a result, shares plunged more than 5% pre-market today.The company reported its last month, with revenue beating the consensus estimate, while EPS coming in worse than expected. Furthermore, the company provided a strong outlook, which was above the Street estimates.2 more downgradesTeleflex (NYSE:) shares fell more than 3% yesterday after Needham downgraded the company to Hold from Buy, noting that UroLift expectations may still be too high.According to Needham, their checks indicate that urologists are reducing their use of UroLift due to its retreatment rates, reimbursement cuts, and increasing use of competing procedures. This is also supported by their Google Trends data analysis, which indicates decreasing search interest in UroLift.BMO Capital downgraded Xcel Energy (NASDAQ:) to Market Perform from Outperform and cut its price target to $64.00 from $69.00 to reflect the lower-than-expected terms of the company's regulatory settlement in Colorado.Amid whipsaw markets and a slew of critical headlines, seize on the right timing to protect your profits: Always be the first to know with InvestingPro.Start your free 7-day trial now.