Current situation on the gas market: a gas war breaks out in the world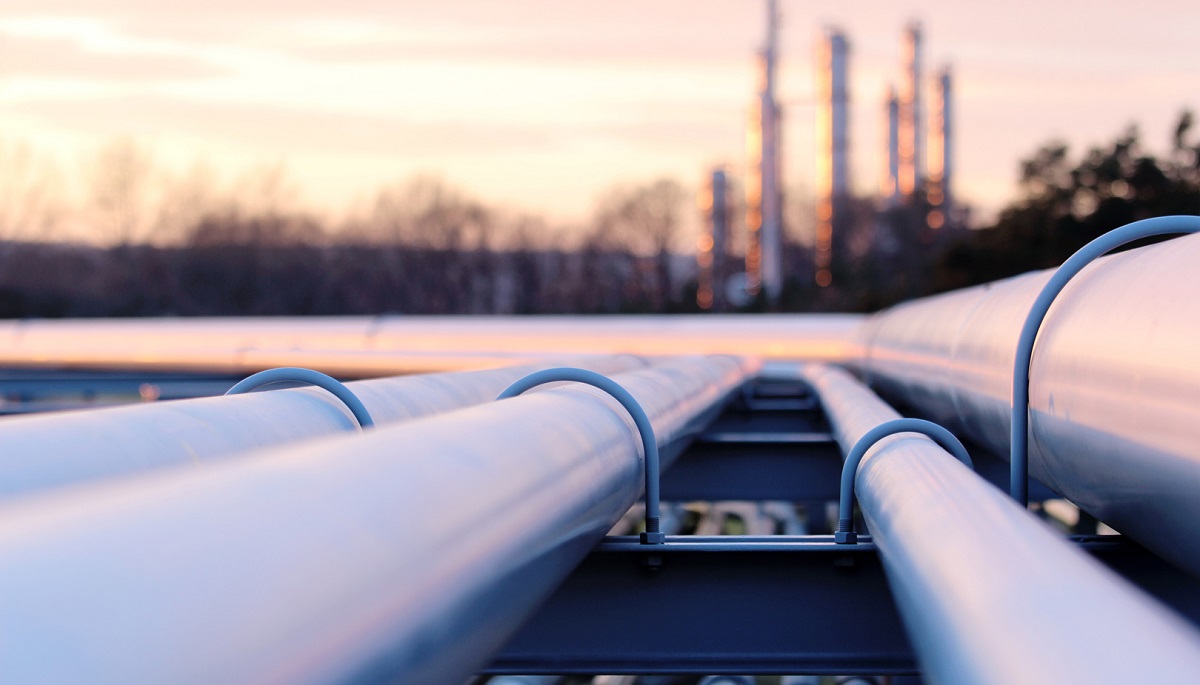 There is discord in Europe: some countries urgently want to reconcile with Russia; others want to buy gas from Nigeria. All this has a strong impact on the European gas market. 
Natural gas market news – market situation
The European gas market has been shaking for many months now, but as we approach autumn the panic is getting worse. While Russia is sorting out problems with the delivery of the turbine for Nord Stream, the EU countries are actively looking for an opportunity to fill their storage facilities and at the same time convince their citizens that they should heat their apartments less in winter. And while citizens will be left with no alternative, the industrial enterprises still need energy to operate. 
Against this background, European politicians are actively looking for a way out of the situation they have created. They realize that they will not be able to reduce gas consumption. This is the opinion of a lot of countries, which demand preferences and do not want to meet the requirements of the EU authorities to voluntarily reduce gas consumption by 15%. According to the Financial Times, it is necessary to cancel such a requirement for at least five countries of the bloc. 
Most countries of the European Union have already begun to save money on everything. In France, they are intensifying measures to save electricity – they will restrict light advertising and prohibit stores with air conditioners to keep their doors open, said Minister of Energy Transformation Agnès Pannier-Runache. 
All new proposals to diversify supplies, even the most exotic ones, are in circulation. For example, Matthew Baldwin, deputy director general of the European Commission's energy department, said that the EU is looking to arrange additional gas supplies from Nigeria. Baldwin said that the EU imports 14% of its total LNG supplies from Nigeria, and there is the potential to more than double this figure. 
Oil and gas production in Nigeria is limited by theft and pipeline vandalism, leaving the terminal of gas producer Nigeria LNG Ltd. on Bonny Island operating at 60% capacity. But if supplies rise to at least 80 percent, it will make Europe feel more secure. 
Hot and cold weather will continue to weigh on the natural gas market
Gas market prices in Europe rose to $1,700 per 1,000 cubic meters last week. The Nord Stream 1 pipeline is up, and running, but it is pumping about 40 percent of its operating capacity, roughly the same as before the shutdown for maintenance. The Siemens turbine has not yet arrived in Russia, which leaves some risk of further low pumping. 
Europe's UGS capacity was 66.24% as of July 23, increasing by 3.7% over the week. EU members oppose the EU's demand for a 15% reduction in gas consumption. Germany raised its gas storage target to 95% for the Nov. 1 state. 
In the US, the Henry Hub (CME futures) gas price continued to rise to $8.299/mmbtu ($297 per 1,000 cubic meters) amid a supply shortfall due to accidents, seasonally higher consumption and high export demand. Natural gas inventories in U.S. natural gas storage facilities continued to grow, but the rate of growth slowed significantly due to rising consumption. On a year-over-year basis, storage inventories as of July 15 remained 10.1% below year-ago levels and 12.09% below the level of the past five years. 
The price of natural gas in Asia on a JKM basis fell slightly to $38.09/mmBTU, or $1,460 per 1,000 cubic meters. Japanese and Taiwanese buyers are once again entering the spot natural gas market with purchases for the coming winter. Japan's LNG imports for the first six months of 2022 were 3.5% lower than in the same period in 2021. China has also reduced purchases due to coronavirus restrictions. 
The oil and gas markets will remain tight in the near term. Prices will directly depend on the supply situation, but they are not expected to ease any time soon. Demand will continue to rise with the coming hottest summer month (August), and gas pumping into storage facilities will increase pressure on the market. 
Pressure from both sides will stabilize the price 
The European gas market showed a slight increase on Monday, from $1,690 to 1715 per 1000 cubic meters. It continues the recent technical correction after a slight drop from $1,900 to $1,500 at the start of last week. 
The natural gas market price is under pressure from opposing strong factors. Its marked "descent" for energy carriers after the June panic is connected not only with the current conjuncture, but also with the growing fears of the impending recession in Europe and the USA. At the same time, high inflation (8.6% in the eurozone and 9.1% in the United States) and higher central bank interest rates are hindering economic growth. 
The eurozone is in a tricky situation, with prices rising from 8.6% to 8.7%. This could be perceived as an increase in inflationary expectations, which would also affect the growth of gas prices. Its price, by the way, is also supported by previous fears of a physical shortage of gas for autumn-winter in Europe due to insufficient supplies. 
Thus, the combination of multidirectional, strong and little predictable drivers of gas quotations will keep them in the same established range of $1,500-1,900 this week. 
Gold prices creep lower as dollar, yields surge on hawkish Fedspeak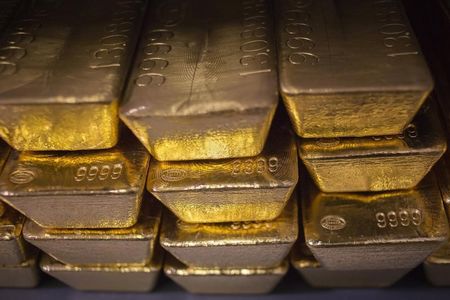 © Reuters.
Investing.com– Gold prices fell in Asian trade on Tuesday, facing consistent pressure from a stronger dollar and higher Treasury yields as Federal Reserve officials reiterated the bank's outlook for higher interest rates. 
Minneapolis Fed President Neel Kashkari said in an address on late-Monday that he saw rates rising at least once more in 2023, and that they were likely to remain higher through 2024.
His comments echoed those made by Fed Chair Jerome Powell last week, who said that sticky inflation and a tight labor market will likely elicit one more rate hike this year. Powell also downplayed expectations for a large band of rate cuts next year, with the Fed's target rate through 2024. 
The outlook for higher rates dented gold's prospects, given that higher yields push up the opportunity cost of investing in the non-yielding asset. This weighed particularly on the outlook for prices, with gold futures losing more than the spot price in recent sessions. 
fell 0.1% to $1,913.62 an ounce, while expiring in December fell 0.2% to $1,932.25 an ounce by 00:02 ET (04:02 GMT). Both instruments were at a 11-day low. 
Dollar at 10-mth peak, yields hit 16-year high with shutdown in focus 
Pressure on metal markets came chiefly from a stronger greenback, as the Fed's hawkish rhetoric pushed the to its highest level in 10 months against a basket of currencies. 
Treasury yields also surged in the wake of the Fed's meeting last week, with the at its highest since 2007. 
Growing fears of a U.S. government shutdown did little to deter the dollar's advance, with higher rates also increasing the greenback's safe haven appeal over gold. 
Congress has less than a week to pass a spending bill and avert a shutdown. But both Republican and Democrat leaders indicated little progress was being made towards reaching consensus. 
While gold is a safe haven, it has seen little actual gains during past government shutdowns. The 2018-2019 shutdown, which was the longest in U.S. history at 35 days, only saw a $20 appreciation in spot prices. 
Copper prices dip, China jitters persist 
Among industrial metals, copper prices extended losses on Tuesday amid persistent concerns over an economic slowdown in China, the world's largest copper importer.
Sentiment towards the country was dealt a fresh blow this week as beleaguered property developer China Evergrande Group (HK:) said it will be unable to issue new debt due to a government investigation. This ramped up concerns over more regulatory scrutiny towards the sector, which is already struggling with a three year-long cash crunch.
The property sector is also a key driver of copper demand. fell 0.1% to $3.702 a pound, and were close to 1-½ month lows.
Focus this week is now on data from China for more cues on business activity. 
Oil prices inch lower as Fed, China fears dent outlook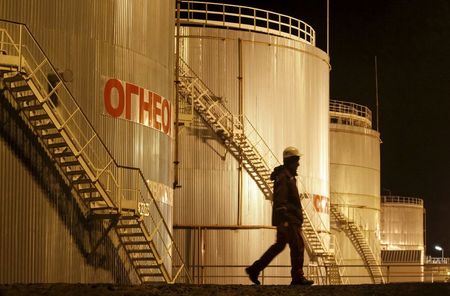 © Reuters.
Investing.com– Oil prices fell slightly in Asian trade on Tuesday amid growing fears that higher-for-longer U.S. interest rates will weigh on demand, while renewed concerns over China's economy also dented sentiment.
Strength in the put a damper on oil prices, as hawkish signals from the Federal Reserve saw the greenback scale a 10-month peak, pushing up crude costs for international buyers.
Markets also grew increasingly wary of more increases in U.S. rates, which are expected to weigh on economic activity this year and potentially hurt crude demand. The Fed had recently warned that higher energy costs, in the wake of surging oil prices, will likely buoy inflation and further the need for higher rates. 
In addition to Fed-related headwinds, oil markets were also grappling with renewed fears of an economic slowdown in China, the world's largest oil importer, as analysts soured further on its growth prospects this year. 
The negative trends saw traders question whether oil prices had the capacity for more gains, especially after they surged to 10-month highs earlier in September. 
fell slightly to $91.69 a barrel, while fell 0.1% to $89.58 a barrel by 21:04 ET (01:04 GMT). 
China fears persist amid GDP downgrades, PMIs awaited 
A string of major brokerages and investment banks- most recently S&P Global and HSBC- downgraded their outlook for Chinese economic growth this year, with analysts warning that gross domestic product could only grow 4.8% in 2023- lower than the government's 5% forecast. 
The downgrades come just a few days before key Chinese (PMI) data for September, which is expected to show continued weakness in business activity.
While PMI readings for August had shown some improvement in manufacturing activity, service sector growth declined through the month. 
Fears of a meltdown in the China's massive property market also came to fore this week after embattled developer China Evergrande Group (HK:) warned that it was unable to issue new debt. 
While China's oil imports have remained largely robust this year, the country's appetite for fuel has struggled to reach pre-COVID levels. Beijing also set higher fuel export quotas for the year, indicating that local demand remained weak. 
On the supply front, expectations of tighter fuel markets in the northern hemisphere were slightly dented after Russia said its planned fuel export ban will be somewhat less severe than initially expected. 
But oil markets are still expected to tighten substantially this year, following deep production cuts in Saudi Arabia and Russia. U.S. rig counts were also seen dropping to a 1-½ year low last week, while recent data showed a consistent decline in . 
JPMorgan analysts expect oil prices to trend between $90 and $100 in the coming year. 
Oil futures retreat amid global economic concerns and potential supply increases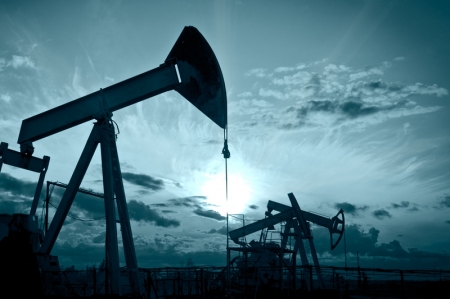 Oil futures, which reached a peak in 2023 due to Saudi Arabia's daily cut of 1 million barrels and restrictions imposed by Russia, have started to decline due to global economic anxieties and the Federal Reserve's persisting high rates. This development comes despite expectations of a record 13.1 million barrels and an anticipated supply deficit by year-end.
The peak earlier this year was primarily influenced by Saudi Arabia's decision to reduce its oil output by 1 million barrels per day, coupled with restrictions from Russia. However, recent global economic concerns and the Federal Reserve's continued high rates have led to a downturn in oil futures.
Robert Yawger, an analyst at Mizuho, highlighted potential increases in oil supply. These include possible contributions from Iran, Iraqi Kurds via the Ceyhan pipeline, Suriname, and Guyana. These potential additions to the supply chain are significant factors to consider against a backdrop of a previously predicted $150 oil forecast.
Despite the anticipation of a record 13.1 million barrels and an expected supply deficit by the end of the year, these potential increases in oil supply could balance out the market dynamics. The evolving situation underscores the influence of global economic conditions and policy decisions on commodity markets.
Overall, these developments indicate that while production cuts and restrictions had previously driven oil prices to their peak in 2023, current global economic worries and potential increases in supply are exerting downward pressure on oil futures.
This article was generated with the support of AI and reviewed by an editor. For more information see our T&C.