Fed's Waller indicates patience before next interest rate decision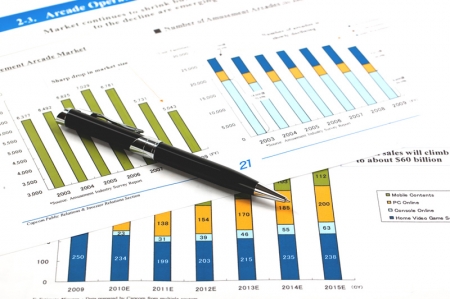 Federal Reserve Governor, Christopher Waller, advocated for a cautious approach towards further adjustments in the policy rate and federal funds rate target range, in a speech delivered in London on Wednesday. Waller hinted at maintaining the current rates in the upcoming policy meeting, preceding Fed Chairman Jerome Powell's views that are expected to be shared before the communication blackout ahead of the November 1st decision.
Over the past 19 months, the Fed has increased its benchmark interest rate from near-zero during the pandemic to a range of 5.25%-5.5% to control inflation. Despite an earlier forecast of another 25 basis point hike this year, derivative market traders now anticipate this more likely to happen in December.
Waller outlined two possible economic trajectories that could influence future interest rate decisions. One scenario involves an economic slowdown leading to decreased inflation and stable rates. The alternative trajectory foresees sustained growth demanding more rate increases to achieve the 2% inflation target. However, he emphasized that the outcome remains uncertain.
The Federal Reserve Governor is closely monitoring various economic indicators including the rise in long-term interest rates, consumer spending behavior, investment trends in non-residential structures, labor market status, and inflation in housing and core services excluding housing. He is also considering inflation expectations and overall economic evolution as part of his policy rate adjustment decisions.
Waller also highlighted the significant tightening of financial conditions since July, as indicated by a nearly 90 basis point increase in the yield of the 10-year Treasury note. This rise could potentially impact consumer spending. Despite these tightened conditions, he acknowledged the surprising resilience of consumer spending.
This article was generated with the support of AI and reviewed by an editor. For more information see our T&C.
JPMorgan CEO Jamie Dimon warns of recession and high interest rates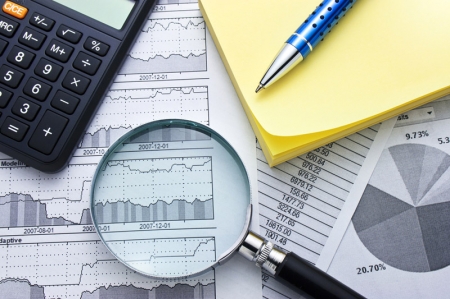 NEW YORK – JPMorgan Chase (NYSE:) CEO Jamie Dimon has issued a stark warning about the potential for a global economic downturn, emphasizing the need for preparedness amid rising inflation and economic headwinds. According to media reports today, Dimon cautioned that high-interest rates, which could peak at 7%, may lead to a soft landing or even a mild recession as the global economy seeks to stabilize after the pandemic.
Dimon pointed out that while the U.S. has managed to avoid a recession throughout 2023, it's crucial not to expect an endless economic boom. He highlighted that severe risks stemming from the pandemic's aftermath could significantly impact both U.S. and global markets. Wall Street and international investors are paying close attention to Dimon's experienced-based insights as they face an uncertain financial climate.
Further complicating the economic landscape, Dimon drew attention to the U.S. economy's "addiction" to debt and central bank liquidity injections, likening it to "heroin." He argued that pandemic-era stimulus measures have created an economic "sugar high," with artificially boosted consumer spending and stock market values. Although these efforts helped prevent a depression, he warned against underestimating the persistence of inflationary pressures and anticipates more interest rate hikes.
Dimon also suggested that significant drops in global corporate profits could be on the horizon as economies attempt to return to normalcy without government stimulus. Additionally, he underscored geopolitical tensions, particularly in the Middle East, as potential triggers for market disruptions that could further complicate the economic recovery.
This article was generated with the support of AI and reviewed by an editor. For more information see our T&C.
China has more space to cut reserve ratio instead of interest rates, says ex-official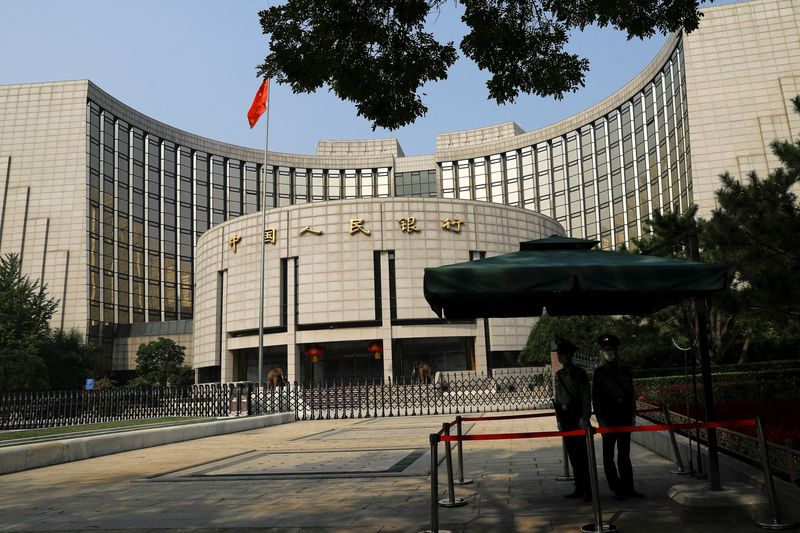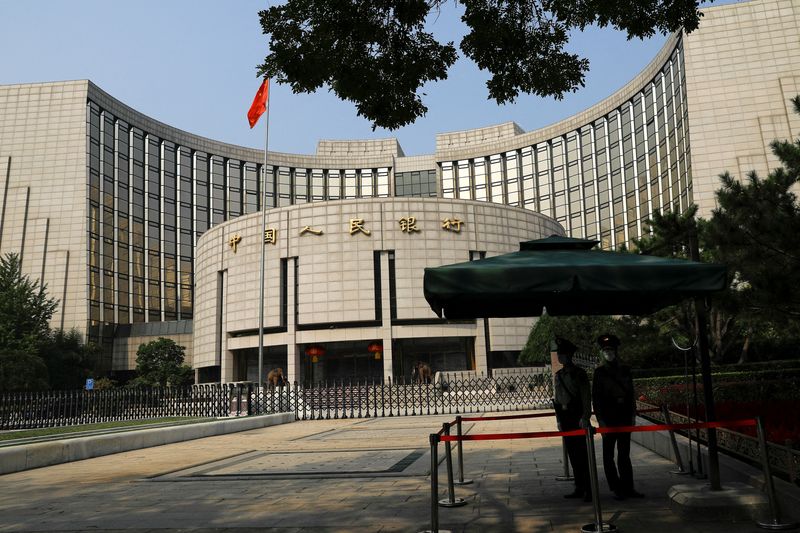 © Reuters. FILE PHOTO: Paramilitary police officers stand guard in front of the headquarters of the People's Bank of China, the central bank (PBOC), in Beijing, China September 30, 2022. REUTERS/Tingshu Wang/File Photo
BEIJING (Reuters) – China is likely to implement proactive fiscal policy next year as there is still a need for the world's second-biggest economy to realise stable growth, a former central banker was cited as saying in state-owned media on Sunday.
The comment comes as the economy struggles for momentum after being hobbled by lengthy pandemic-busting measures, while market watchers fear severe debt woe among major property developers could spill over to other sectors.
"It is expected that next year China will continue to implement positive fiscal policy, monetary policies that are in line with positive fiscal policy, with a relatively large policy space to lower the reserve requirement ratio," Sheng Songcheng, a former statistics and analysis director of the People's Bank of China, said in comments reported by Shanghai Securities News.
With interest rates and loan prime rates at low levels, there is more space to cut banks' reserve requirement ratio (RRR) than to cut interest rates, Sheng said.
The central bank lowered the RRR in September for the second time this year to boost liquidity and support economic recovery. Analysts expect another cut by year-end.
The weighted average RRR for financial institutions was around 7.4% after the cut.
China is prudent in cutting interest rates as its monetary policy needs to consider internal and external balance, Sheng said.
"It is expected that the interest rate differential between China and the U.S. will enter a period of stabilisation, so the (yuan) is likely to maintain a mild appreciation trend, but the appreciation is limited."
'Way too early' to declare victory over inflation, says ECB's Nagel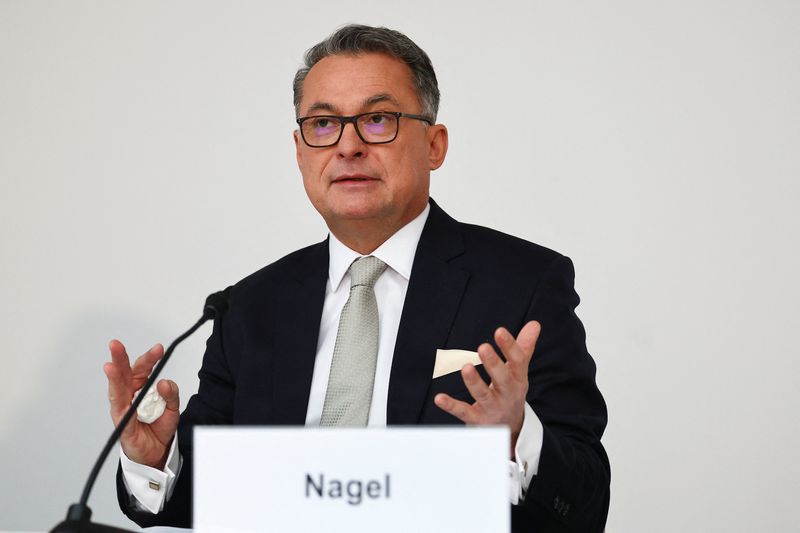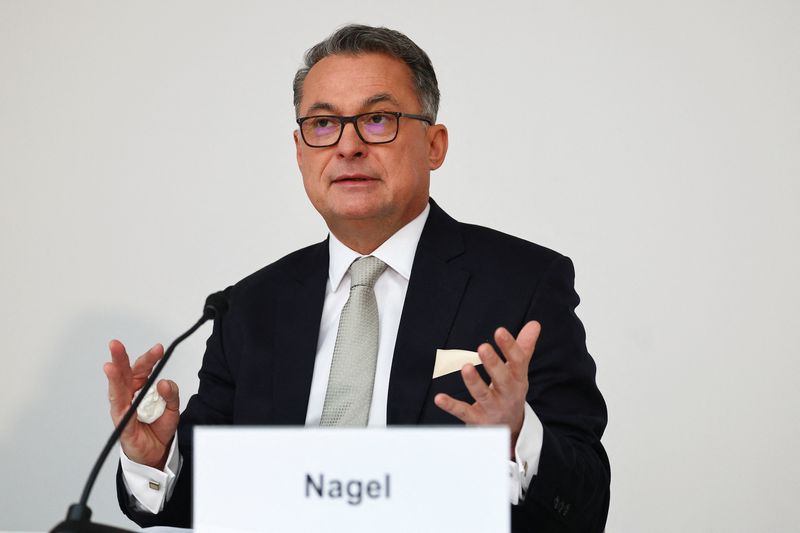 © Reuters. Joachim Nagel, President of Germany's federal reserve Bundesbank addresses the media during the bank's annual news conference in Frankfurt, Germany March 1, 2023. REUTERS/Kai Pfaffenbach/File Photo
NICOSIA (Reuters) – Euro zone inflation will carry on declining in the months ahead but at a slower pace, Bundesbank President Joachim Nagel was quoted as telling Cypriot newspaper Kathimerini on Sunday.
Euro zone inflation eased to 2.4% in November from 2.9% in October, well below expectations for a third straight month and fuelling market speculation that European Central Bank (ECB) rates could come down quicker than the bank now guides.
"We have not yet won the fight against inflation," said Nagel, who visited Cyprus last week. He described inflation as a 'stubborn, greedy beast' and said the next phase of wrestling it down would be more difficult.
"Add in a scenario where an escalation of geopolitical tensions could imply higher inflation and it becomes clear that it would be way too early to declare victory over high inflation rates," said Nagel, an influential voice on the ECB's rate setting Governing Council.
"I can't tell whether interest rates have already reached their peak. On the ECB Governing Council we decide on interest rates on a meeting by meeting basis following our data-dependent approach."
Nagel added that the outlook for inflation was tempered by a weakening of dampening base effects and the phasing out of measures to cap high energy prices in many European countries. He also pointed to an expected continuation of strong wage growth.
"All in all, I expect inflation to carry on declining, but at a slower pace and with possible bumps along the way," Nagel said.