Inflation in Great Britain: Britain has allowed for a national inflation rate of 18.6% in January 2023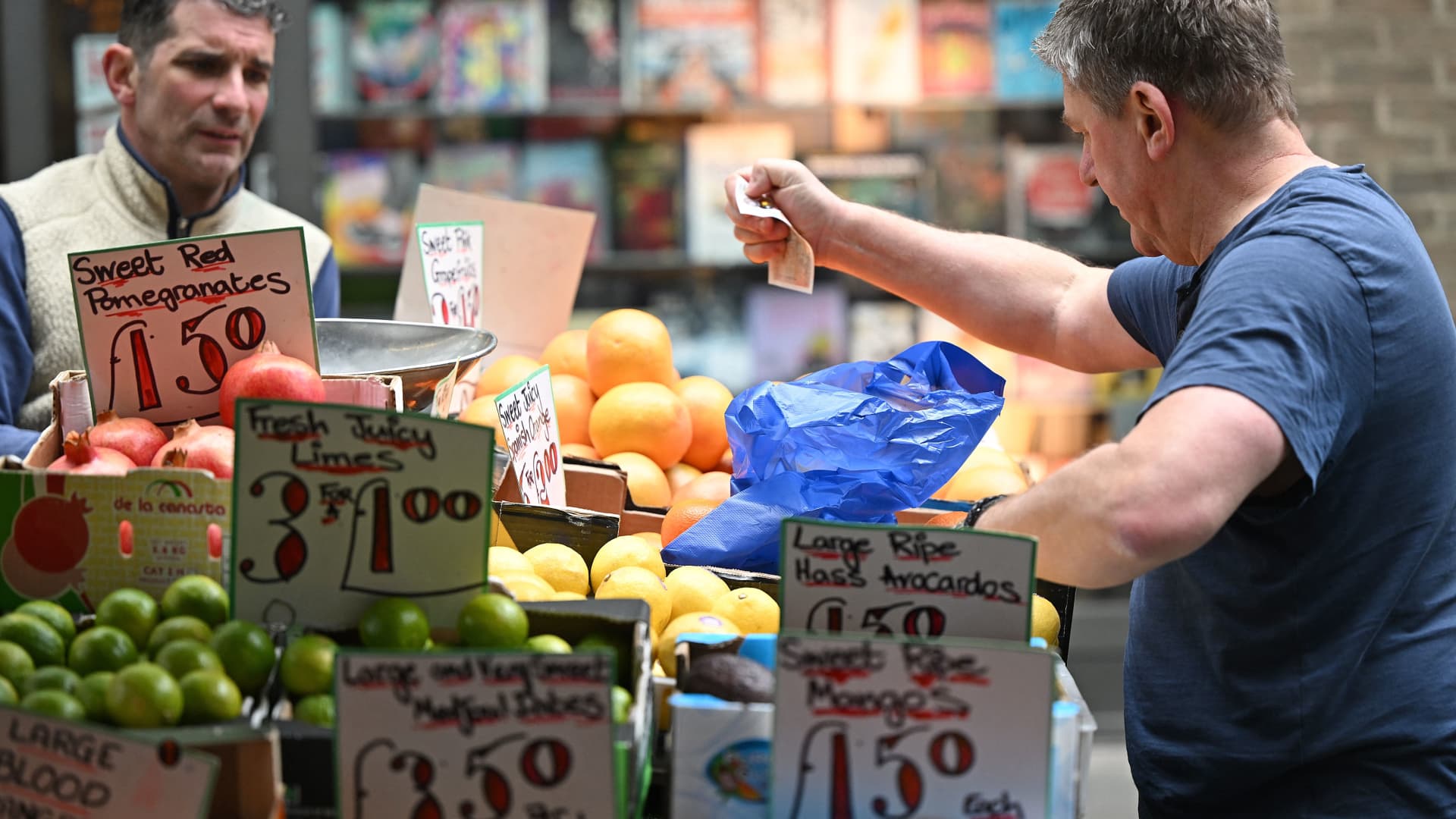 Inflation in Great Britain could reach a record for almost half a century, of 18.6% in January 2023, the Financial Times newspaper reported Monday, citing the forecast of a major international bank Citibank.
"We now expect consumer price inflation to exceed 18 percent in January," the paper quoted the bank's chief economist, Benjamin Nabarro, as saying.
That figure is higher than the inflation rate during the oil shock of 1979, when price increases estimated by Britain's Bureau of National Statistics were 17.8 percent, the paper said.
The reason for this inflation is rising energy prices. The bank predicts that the average annual energy bill will be 4,567 pounds in January 2023 and 5,816 pounds in April, writes the Financial Times.
After the start of Russia's special operation in Ukraine, the West increased sanctions pressure on Russia. The disruption of supply chains led to an increase in fuel and food prices in Europe and the United States. In the UK, the rising cost of living has hit millions of households.
Earlier, the Bank of England raised its benchmark interest rate by a record 50 basis points since 1995, to 1.75% from 1.25% per year. The rate is now at its highest level since December 2008, when it was 2 percent. According to forecasts from the Bank, the UK economy will enter a recession from the fourth quarter of this year.
Earlier, the Office for National Statistics (ONS) said that the annual inflation rate in the UK in July accelerated to a record since 1982 at 10.1% from 9.4% a month earlier.
Earlier, we reported that Chinese robotics raised $735 million in funding.
Shares gain, dollar slips as Fed's Powell sounds caution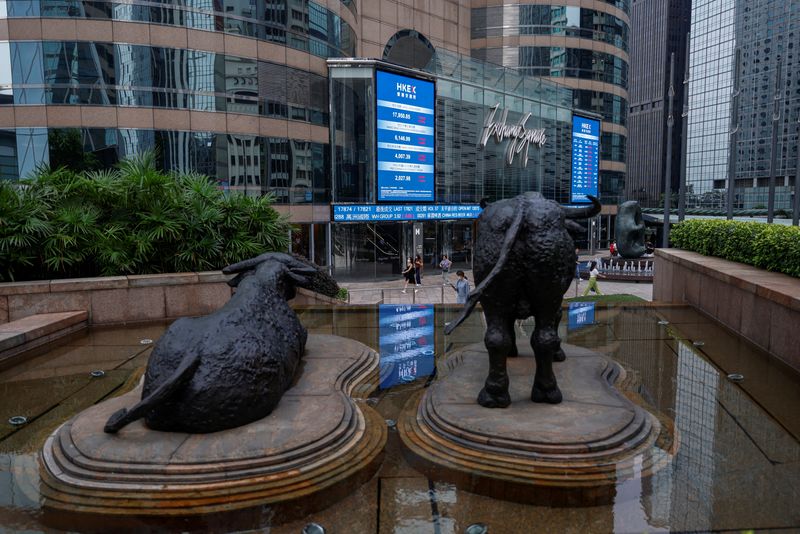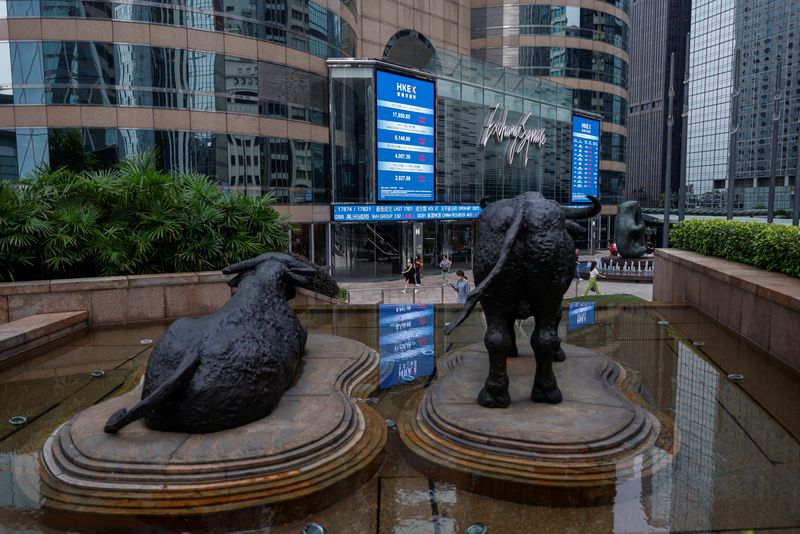 © Reuters. FILE PHOTO: Bull statues are placed in font of screens showing the Hang Seng stock index and stock prices outside Exchange Square, in Hong Kong, China, August 18, 2023. REUTERS/Tyrone Siu
By Sinéad Carew and Amanda Cooper
NEW YORK/LONDON (Reuters) – MSCI's global stock index gained ground on Friday, while the U.S. dollar slipped after Federal Reserve Chair Jerome Powell vowed to move "carefully" on interest rates.
Treasury yields were down in choppy trading after data showed a continued slump in manufacturing and Powell said the risks of hiking interest rates too much and slowing the economy more than necessary, have become "more balanced" with the risks of not hiking enough to control inflation.
"Powell did his utmost to subtly convince markets of the Federal Reserve's commitment to holding rates in restrictive territory for a prolonged period of time," said Karl Schamotta, chief market strategist at Corpay in Toronto.
"But we doubt this will deter investors betting on a dramatic pivot in early 2024," he added citing comments from Fed Governor Christopher Waller earlier this week. Widely seen as a more hawkish policymaker, Waller flagged the possibility of lower interest rates if inflation continued to ease.
"By providing the terms – and the timeline – for a rules-based reduction in policy rates next year, Governor Waller earlier this week cleared the way for a sustained, data-driven decline in yields and the dollar."
The rose 85.32 points, or 0.24%, to 36,036.21, the gained 5.88 points, or 0.13%, to 4,573.68 and the dropped 7.74 points, or 0.05%, to 14,218.48.
The pan-European index rose 0.97%, while MSCI's gauge of stocks across the globe was up 0.21% after registering its biggest monthly gain in three years for November.
Earlier, the Institute for Supply Management (ISM) said its manufacturing PMI was unchanged at 46.7 last month. It was the 13th consecutive month that the PMI stayed below 50, indicating a contraction in manufacturing and the longest such stretch since the period from August 2000 to January 2002.
Mona Mahajan, senior investment strategist at Edward Jones said the data supported the idea of lower inflation and a gradually cooling economy.
"We're encouraged that markets aren't pulling back in any meaningful way after the strong November and may have scope to build on those gains if we continue to see these fundamental drivers play out," said Mahajan.
In Treasuries, benchmark 10-year notes were down 8.4 basis points to 4.266%, from 4.35% late on Thursday. The 30-year bond was last down 6.3 basis points to yield 4.448%. The was last was down 11.7 basis points to yield 4.5984%.
In currencies, the fell 0.058%, with the euro down 0.2% to $1.0864. The Japanese yen strengthened 0.64% versus the greenback at 147.25 per dollar.
Sterling was last trading at $1.2665, up 0.34% on the day supported by expectations that the Bank of England will take longer than either the Fed or the ECB to cut rates.
Oil prices extended losses slightly after Thursday's 2% drop, with the market unconvinced that the latest round of OPEC+ production cuts will be able to lift prices from a recent slump.
recently fell 0.13% to $75.86 per barrel and was at $80.75, down 0.14% on the day.
In precious metals, added 1.1% to $2,058.19 an ounce. U.S. gained 0.64% to $2,051.10 an ounce.
Fed to move 'carefully' on interest rates as 'soft landing' takes shape, Powell says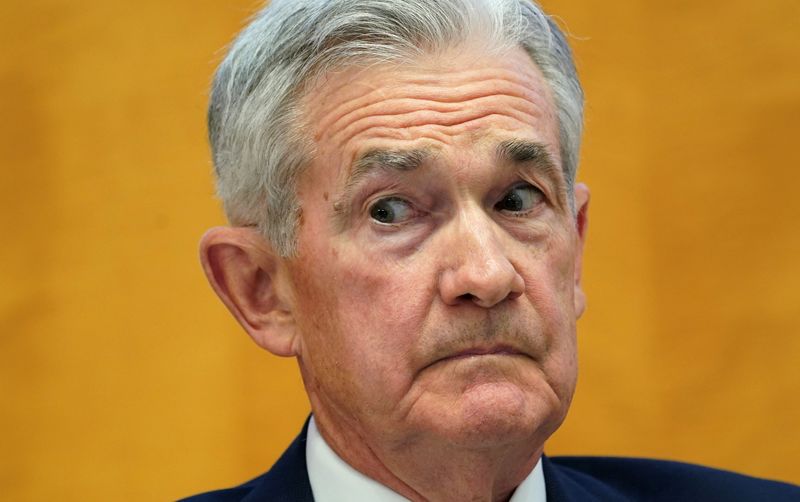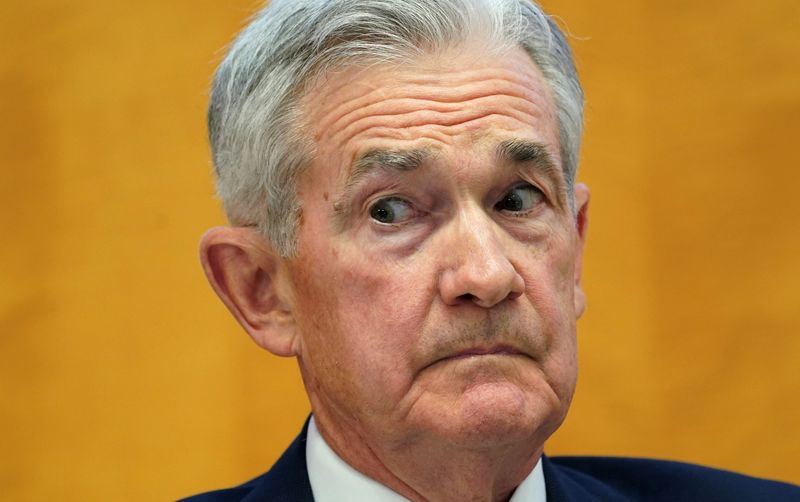 © Reuters. FILE PHOTO: Federal Reserve Chair Jerome Powell reacts to introductory remarks before speaking on "Monetary Policy Challenges in a Global Economy" during the international Monetary Fund's (IMF) annual research conference on "Global Interdependence" in Was
By Howard Schneider
ATLANTA (Reuters) -The risks of the Federal Reserve moving too far with interest rate hikes, and slowing the economy more than necessary, have become "more balanced" with those of not moving high enough to control inflation, Fed Chair Jerome Powell said on Friday in remarks reaffirming the U.S. central bank's intent to be cautious in its upcoming monetary policy decisions.
Noting that a key measure of inflation averaged 2.5% over the six months ending in October, near the Fed's 2% target, Powell said it was clear that U.S. monetary policy was slowing the economy as expected with a benchmark overnight interest rate "well into restrictive territory."
"The full effects of our tightening have likely not yet been felt. The forcefulness of our response to inflation also helped maintain the Fed's hard-won credibility, ensuring that the public's expectations of future inflation remain well-anchored," Powell said in remarks at Spelman College in Atlanta. "Having come so far so quickly, the (Federal Open Market Committee) is moving forward carefully, as the risks of under- and over-tightening are becoming more balanced."
Powell reiterated, as his colleagues have in recent weeks, that it was still too early to declare the Fed's inflation fight finished, with prices rising 3.0% annually by the measure the central bank uses to set its target. Prices as of October were up 3.5% when stripped of food and energy costs, a measure the Fed sees as a better guide of inflation's trend.
"We are prepared to tighten policy further if it becomes appropriate to do so," he said.
But his remarks also reflected increased confidence that the current 5.25%-5.50% policy rate may well be adequate to complete the job. The Fed meets on Dec. 12-13 and is expected to leave its benchmark rate unchanged for the third meeting in a row.
"(Powell) used the word 'balanced,' and the message he's sending is the Fed is not going to change its rhetoric, but things are going the way they want them to go and they're not going to raise rates again," said Peter Cardillo, chief market economist at Spartan Capital Securities. "They're done, they're finished, and that's what the market thinks."
U.S. stocks reversed earlier losses and were trading marginally higher after Powell's remarks, and traders of interest rate futures added to bets the Fed would leave rates steady at its December and January policy meetings, and then start cutting rates at its March meeting.
Powell fielded questions after his speech in a conversation with Spelman College President Helene Gayle. He was scheduled to be joined by Fed Governor Lisa Cook, who earned her bachelor's degree at the historically black institution, in an afternoon roundtable discussion with local entrepreneurs.
'SOFT LANDING'
The Fed chief said policymakers still regard the uncertainty in the economic outlook to be "unusually elevated," one factor in their insistence that rates may still need to rise.
But he also said that the broad outlines of the hoped-for "soft landing" seemed to be falling into place, with the job market still strong even as growth in spending and output slows and price pressures abate.
"My colleagues and I anticipate that growth in spending and output will slow over the next year, as the effects of the pandemic and the reopening fade and as restrictive monetary policy weighs on aggregate demand," Powell said.
"The pace at which the economy is creating new jobs remains strong, and has been slowing toward a more sustainable level … Wage growth remains high, but has been gradually moving toward levels that would be more consistent with 2% price inflation over time, and real wages are growing again as inflation declines," he said.
Shortly before Powell delivered his remarks, a key reading on the health of the U.S. manufacturing sector showed activity there remained subdued and factory employment declined. The Institute for Supply Management's Purchasing Managers Index has now indicated the sector has been in contraction for 13 straight months, the longest such run in more than two decades, as demand for goods continues to soften.
Fed's Goolsbee says inflation is on track to central bank's 2% goal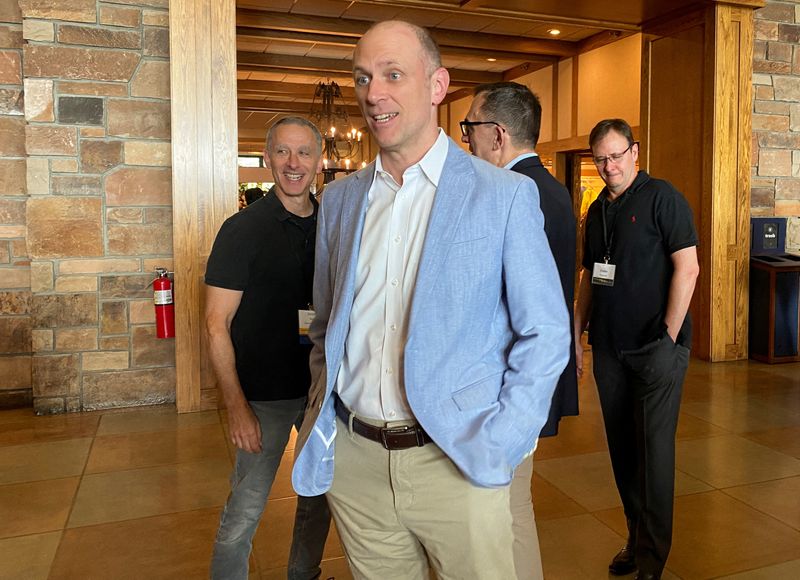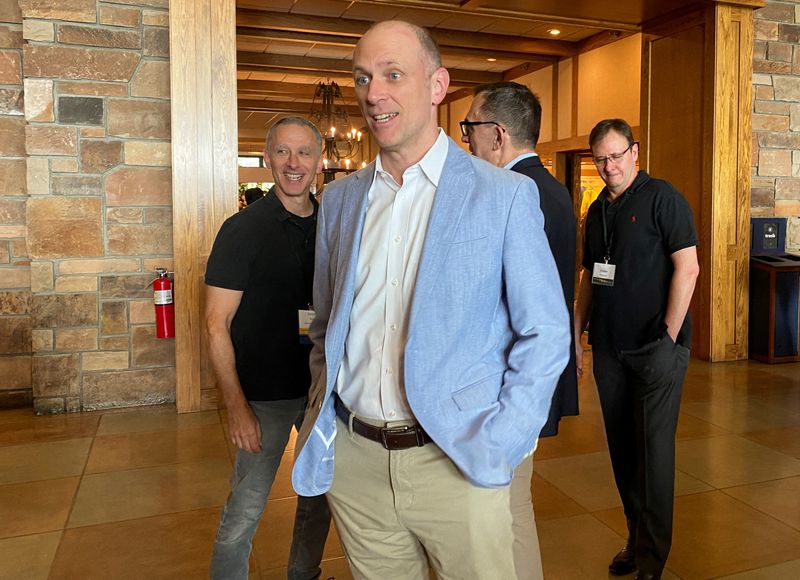 © Reuters. FILE PHOTO: Chicago Fed President Austan Goolsbee heads into the Kansas City Fed's annual economic symposium in Jackson Hole, Wyoming, U.S., August 24, 2023. REUTERS/Ann Saphir/File Photo
By Ann Saphir
(Reuters) -Chicago Federal Reserve President Austan Goolsbee said on Friday he believes inflation is "on track" to reaching the U.S. central bank's 2% target, driven in coming months by what he expects to be a decline in housing inflation.
"It's working through in the way we've anticipated," Goolsbee said at an economic symposium at the regional Fed bank, adding that there is "no evidence" that inflation has stalled at 3%, as some analysts have worried. "I still think it's on track to get to 2%," he said.
Progress has been helped, he said, by public faith in the Fed's determination to beat inflation, which soared to 40-year highs last year.
It has also been helped by improvements in the supply of both labor and goods, which was disrupted during the coronavirus pandemic and its aftermath, he said.
By the Fed's preferred measure, the personal consumption expenditures price index, inflation registered 3% in October.
Meanwhile the labor market is "very strong" even as it gets into better balance, setting up the U.S. economy for a "soft landing" where inflation falls but unemployment does not surge, he said. Unemployment in October was 3.9%.
Fed Chair Jerome Powell said in separate remarks on Friday that the risks of the Fed moving too far with interest rate hikes, and slowing the economy more than necessary, have become "more balanced" with those of not moving high enough to control inflation.
Powell's and Goolsbee's remarks were among the last from Fed policymakers before their Dec. 12-13 policy meeting, at which the central bank is expected to leave its benchmark overnight interest rate unchanged in the 5.25%-5.50% range for the third straight time.
Chief among potential risks to the U.S. economy in the coming year is the possibility of a "meltdown" in China, Goolsbee said.
And if inflation progress stalls, or housing inflation does not improve as he forecasts, or if goods prices resurge, "we're going to do what it takes to get inflation back to target," he said.