Nikkei learns of plans to build next-generation Japan NPP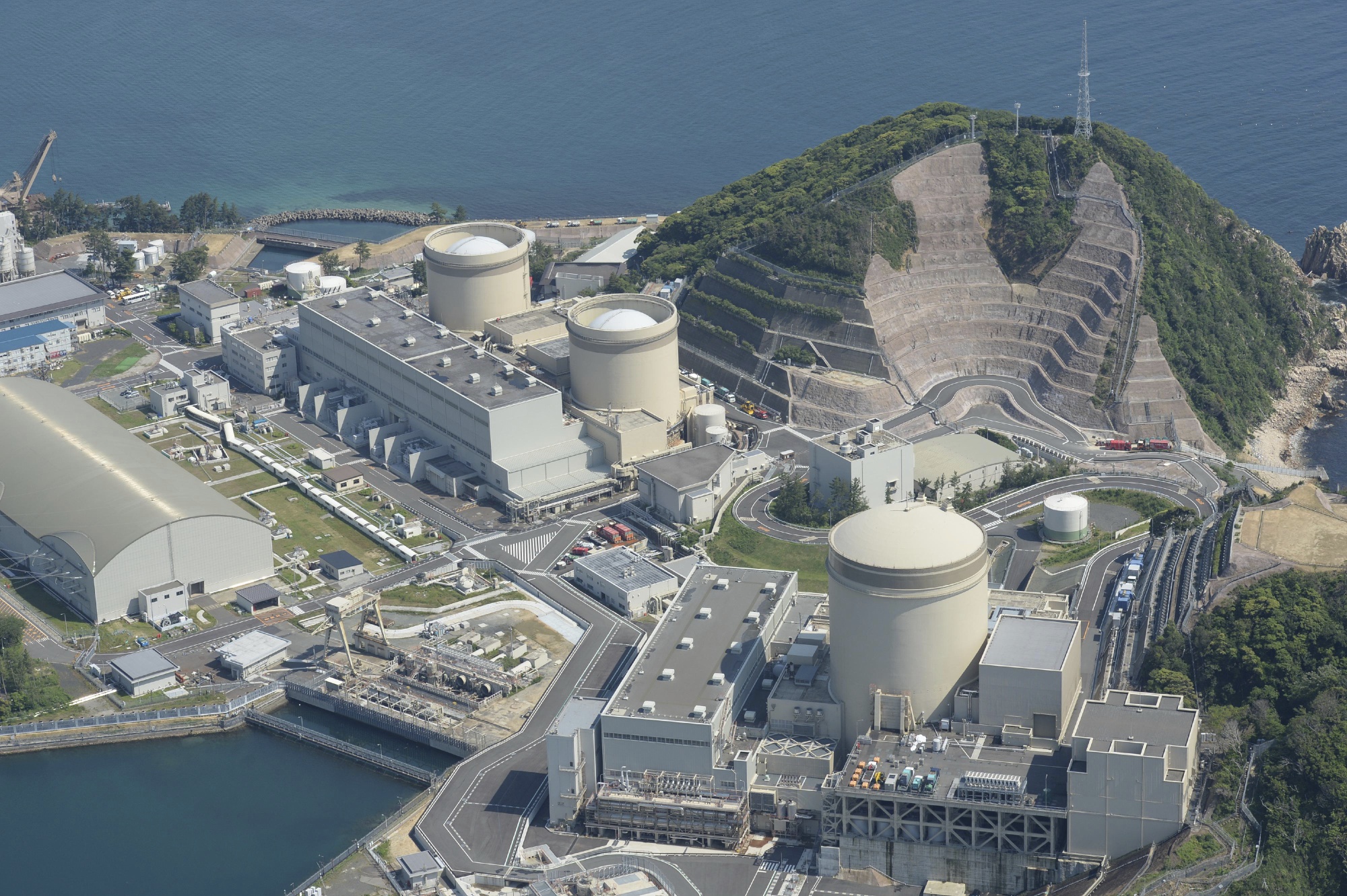 Prime Minister Fumio Kishida will order the preparation of a construction project at the Japan NPP at a government meeting on August 24, Nikkei wrote, citing its own sources.
Kishida believes the move will help reduce carbon emissions – Japanese authorities want to bring them down to zero by 2050. Also, the measure will increase electricity production, and avoid the risk of its deficit, writes the edition.
Specific steps in this direction and timing of the project the government will submit by the end of the year. In total, starting from the summer of 2023, the authorities intend to restart 17 Japanese nuclear power plants. But as early as 2030, if the government approves the initiative, Japan could start building a new generation of nuclear power plants. The Ministry of Economy, Trade and Industry of Japan has already prepared the first draft of these facilities; it envisages, in particular, safer light-water reactors. The plants will not start to be used until the 2030s.
The decision is a turning point for the Japanese energy industry, because in 2011, after the Fukushima accident, Japan banned the construction of new plants and focused on restarting old ones.
Also, Kishida will try to prolong the life of existing Japanese nuclear power plants and individual reactors, according to the publication. Currently, under Japanese law, they are operated for 40 to 60 years, then the reactors are deactivated. Japan has a total of 33 nuclear reactors, 25 of which are inactive. Some of them have already been tested for safety to be restarted.
The authorities want to restart ten reactors, and by next summer to increase their number to 17.
In early July, Japanese authorities introduced the first power-saving regime for the population in seven years amid increasing consumption due to the record heat wave, while the volume of supplies did not increase. At the same time, Kyodo agency wrote that the risk of power shortages was posed by the aging of thermal power plants and the threat to fuel purchases for their operation due to the events in Ukraine.
In mid-May, The Financial Times wrote that the energy crisis in Japan began because of rising gas and oil prices. At the same time, Tokyo buys about 9% of its LNG from Russia, so sanctions in this context would cause an increase in electricity prices. At the same time, Japan buys about 55% of its uranium for use in nuclear power plants from Western European countries. Akihiko Kato, head of Mitsubishi Heavy Industry's core business unit, saw the resumption of operation of the shutdown nuclear power plants as an opportunity to reduce dependence on Russian energy resources.
Earlier, we reported that Goldman Sachs analysts reported that their expectations were not met.
Federal Reserve to participate in $85 billion debt sale reopening in October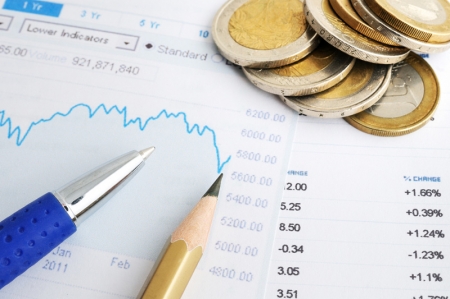 The Federal Reserve is set to participate in the reopening of a substantial debt sale, initially sold on July 5, 2023. The debt, amounting to $85 billion, is scheduled for reopening on October 3 and is expected to mature by the end of the same month on October 31.
The debt sale involves both noncompetitive and competitive tenders. Noncompetitive tenders are typically used by smaller investors who are guaranteed to receive securities at the average price of all competitive bids. On the other hand, competitive tenders are used by larger investors who specify the rate, yield, or discount margin they are willing to accept.
The Federal Reserve's involvement in such a significant debt sale underscores its role in managing the country's monetary policy. By buying and selling government securities, the central bank can control the supply of money and influence interest rates.
The securities associated with this debt sale have been identified with the CUSIP number: 912797HD2. CUSIP numbers are unique identifiers assigned to bonds and other securities to facilitate trading and settlement.
The upcoming reopening of the debt sale marks a crucial event in the financial calendar, offering potential insights into market trends and the Federal Reserve's ongoing monetary strategy.
This article was generated with the support of AI and reviewed by an editor. For more information see our T&C.
Shutdown showdown in US Congress: Time running short to fund government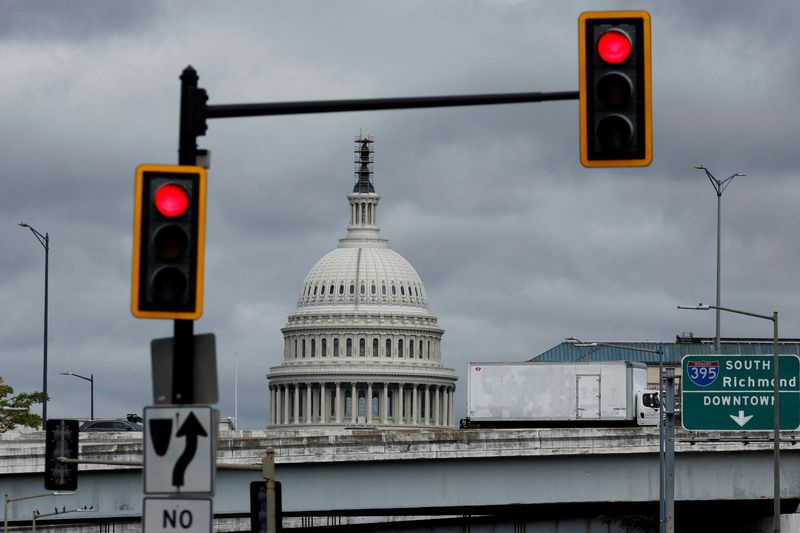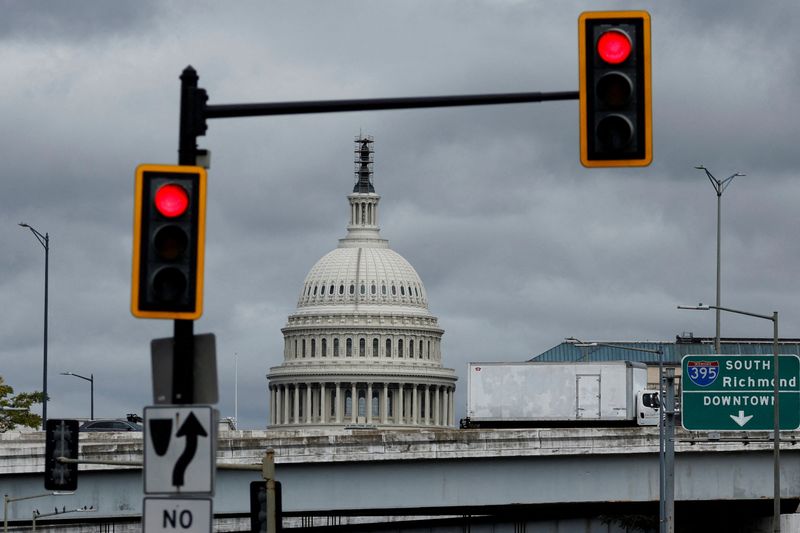 © Reuters. FILE PHOTO: A general view of the U.S. Capitol, where Congress will return Tuesday to deal with a series of spending bills before funding runs out and triggers a partial U.S. government shutdown, in Washington, U.S. September 25, 2023. REUTERS/Jonathan E
By David Morgan and Andy Sullivan
WASHINGTON (Reuters) – The U.S. House and Senate on Tuesday plan to take sharply divergent paths in a high-stakes spending battle, with just five days remaining until a deadline that could force wide swaths of the government to shut down for the fourth time in a decade.
The Democratic-controlled Senate plans to vote on a stopgap funding bill with bipartisan support that would keep the federal government operating after current money runs out at midnight on Saturday (0400 GMT Sunday), giving negotiators more time to agree on full-year spending numbers.
Meanwhile Republican House of Representatives Speaker Kevin McCarthy, aiming to hold off a rebellion by hardline members of his own caucus, will push ahead with four full-year spending bills that reflect conservative priorities and stand no chance of becoming law.
Hundreds of thousands of federal workers will be furloughed and a wide range of services, from economic data releases to nutrition benefits, will be suspended beginning on Sunday if the two sides do not reach agreement. In Washington, the National Zoo says it would have to curtail its farewell party for three giant pandas before they return to China.
Congress has shut down the government 14 times since 1981, though most of those funding gaps have lasted only a day or two. Though disruptive, they have not had a significant impact on the world's largest economy.
But Moody's (NYSE:) warned on Monday that a shutdown this time would have negative implications for the U.S. government's AAA credit rating, as it would highlight how political polarization is worsening the country's fiscal standing.
Democratic President Joe Biden and McCarthy had aimed to head off a shutdown this year when they agreed in May, at the end of a standoff over the federal debt ceiling, to discretionary spending of $1.59 trillion for the fiscal year beginning Oct. 1.
Lawmakers on McCarthy's right flank have since rejected that number, demanding $120 billion in cuts, even as more moderate members of their party including top Senate Republicans voiced support for the agreed-on plan.
That only accounts for a fraction of the total U.S. budget, which will come to $6.4 trillion for this fiscal year. Lawmakers are not considering cuts to popular benefit programs like Social Security and Medicare, which are projected to grow dramatically as the population ages.
Republicans control the House by a narrow 221-212 majority and have few votes to spare, particularly since some Republican hardliners have threatened to move to oust McCarthy from his leadership role if he relies on Democratic votes to pass legislation.
'PAYING THE PRICE'
Biden himself has called on House Republicans to honor McCarthy's deal.
"Just a few months ago the speaker of the House and I agreed to spending levels of the government," Biden said. "Now a small group of extreme House Republicans, they don't want to live up to that deal, and everyone in America could be faced with paying the price for it."
Despite the looming shutdown deadline, the House will turn its attention first to the four full-year bills, which even if they pass would not fund the full government or prevent a shutdown. Success is not guaranteed: Republican hardliners blocked action on spending bills last week and some have said they would try to do so again.
If McCarthy surmounts that first obstacle, debate could consume most of the week, leaving little time to hammer out a stopgap bill before Sunday.
Republican Representative Ralph Norman, a member of the hardline House Freedom Caucus, said on Monday he was "100%" certain that Congress would not be able to keep the government open.
McCarthy said he was more optimistic. "I'm working everything we can to make sure this doesn't happen," he told reporters on Monday. "I always like the ball at the last second."
How that might play out is unclear at this point. If the Senate passes a stopgap funding bill, McCarthy could allow a vote in the House, where it could pass with support from Democrats and more pragmatic Republicans.
But that could prompt Republican hardliners to act on their threat to depose McCarthy, plunging the chamber further into chaos.
Former President Donald Trump, the front-runner for the 2024 Republican nomination, has been cheering on the shutdown talk, saying on his Truth social media site, "UNLESS YOU GET EVERYTHING, SHUT IT DOWN!"
Fed's Kashkari: 40% chance of needing 'meaningfully' higher rates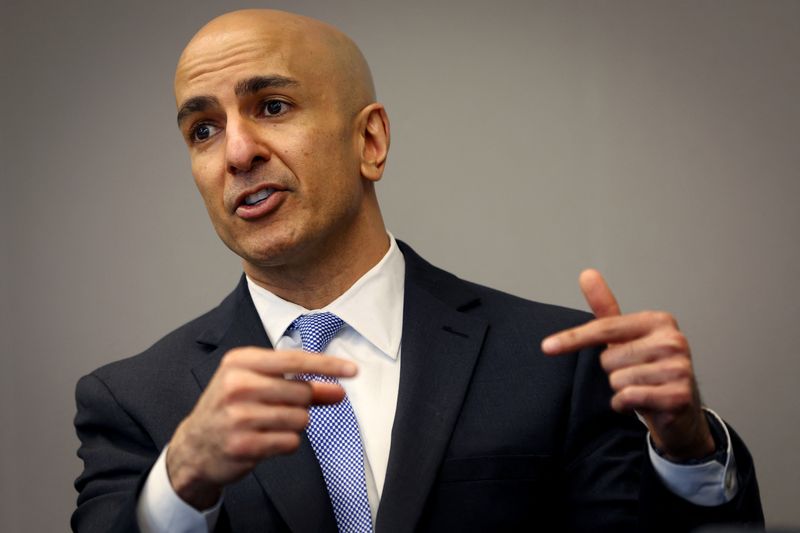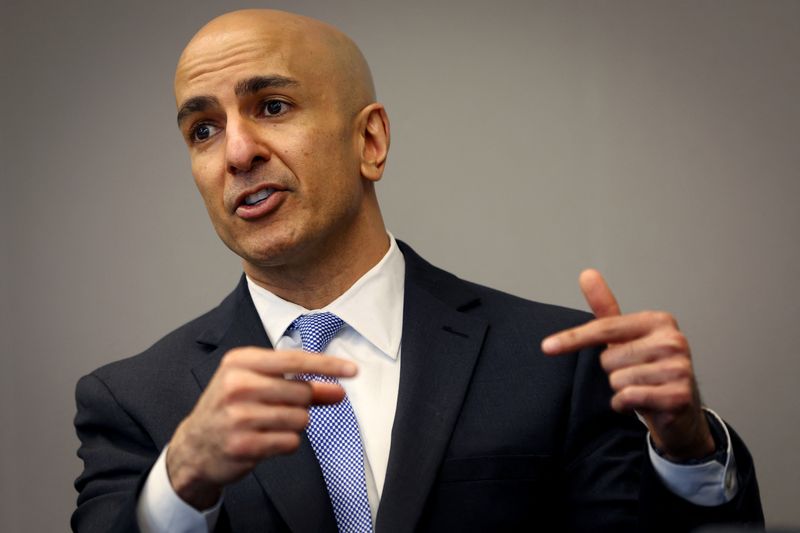 © Reuters. Neel Kashkari, President and CEO of the Federal Reserve Bank of Minneapolis, speaks during an interview with Reuters in New York City, New York, U.S., May 22, 2023. REUTERS/Mike Segar
By Ann Saphir
(Reuters) -A "soft landing" for the U.S. economy is more likely than not, Minneapolis Federal Reserve Bank President Neel Kashkari said on Tuesday, but there is also a 40% chance that the Fed will need to raise interest rates "meaningfully" to beat inflation.
Under the more likely scenario — Kashkari pegged the probability at about 60% — the Fed "potentially" raises rates one more quarter of a percentage point and then holds borrowing costs steady "long enough to bring inflation back to target in a reasonable period of time," he said in an essay published on the regional Fed bank's website.
Inflation by the Fed's preferred measure has dropped from 7% last summer to 3.3% this past July, and U.S. unemployment has only ticked up a bit, reaching 3.8% at last read.
That is substantial progress on inflation and a still-healthy labor market, Kashkari said, and under the more-probable scenario he sees, "the policy tightening we would soon achieve would prove enough to finish the job" and deliver "the proverbial soft landing that we are hoping to achieve."
But under a still very possible turn of events, Kashkari puts the likelihood at 40% — inflation stays sticky at near 3%, but households feel confident enough about the economy that they continue to spend, keeping upward pressure on prices already elevated by post-pandemic supply constraints.
"Once supply factors have fully recovered, is policy tight enough to complete the job of bringing services inflation back to target?" Kashkari said, playing this less-rosy scenario forward. "It might not be, in which case we would have to push the federal funds rate higher, potentially meaningfully higher."
The Fed last week held its policy rate steady in a range of 5.25%-5.50%, but most policymakers signaled they believe one more interest-rate hike by the end of the year will likely be appropriate. Kashkari said on Monday he was in that majority.
"The good news is that we don't need to make this determination right now," Kashkari said in the essay. "We can observe the actual progress in bringing inflation down over the next several months to determine which scenario is the dominant one."
The U.S. economy has displayed suprising resilience in recent months, despite 5.25 percentage points of Fed rate hikes over the last 18 months, and Fed policymakers have become increasingly confident they can avoid recession and still get inflation down to their 2% target with only a little more policy tightening.
To do so they see interest rates on a "higher for longer" path than they had just three months ago, with most expecting rates to still be above 5% by the end of next year.
Financial markets are pricing in an even more benign path for rates, giving a no-more-rate-hikes view about a 60% probability, based on pricing of short-term-interest rate futures, and pointing to the Fed policy rate at about 4.64% at the end of 2024.