Asian stock markets traded multidirectional today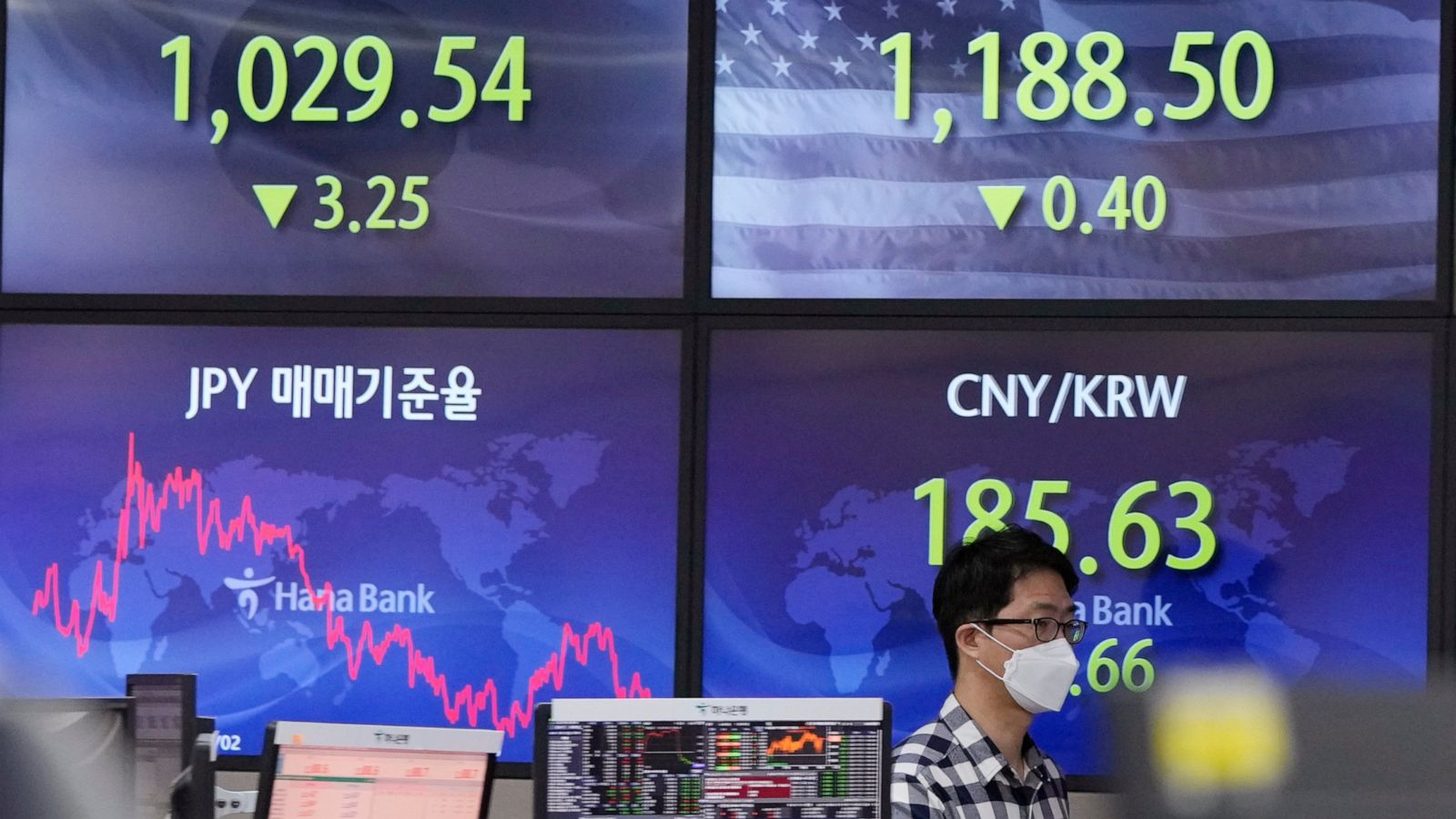 Biggest Asian stock markets traded on Monday showed mixed dynamics.
Asian stock markets today – what's happening in the market?
Stock exchanges in Mainland China are closed with the holidays on the National Day of the People's Republic of China and in South Korea – on the occasion of the Foundation Day. Japan's Nikkei 225 Index rose 0.5% despite weak statistics.
The Tankan index, which measures confidence in Japan's economy among large processing companies, fell to its lowest level in six quarters (since January-March 2021) in July-September. The value of the indicator fell to 8 points from 9 points in the second quarter of this year, the Bank of Japan said. The positive value of the index means that the percentage of respondents who believe the business environment is favorable was higher than the share of those who do not think so.
Analysts on average had forecast an increase in the index to 11 points last quarter, according to surveys by Quick and Trading Economics. The index declined for the third straight quarter. This reflects, among other things, the rising costs of businesses, the falling yen, as well as restrictions imposed by China due to COVID-19. All of this is affecting Asian stock markets today. 
Hong Kong's Hang Seng lost 1.8%. It is at its lowest level in eleven years. Australia's S&P/ASX 200 is down 0.3% since the market opened.
Earlier we reported that European stocks are rising on record inflation in the eurozone.
Big media shares shed gains as focus shifts to actors' strike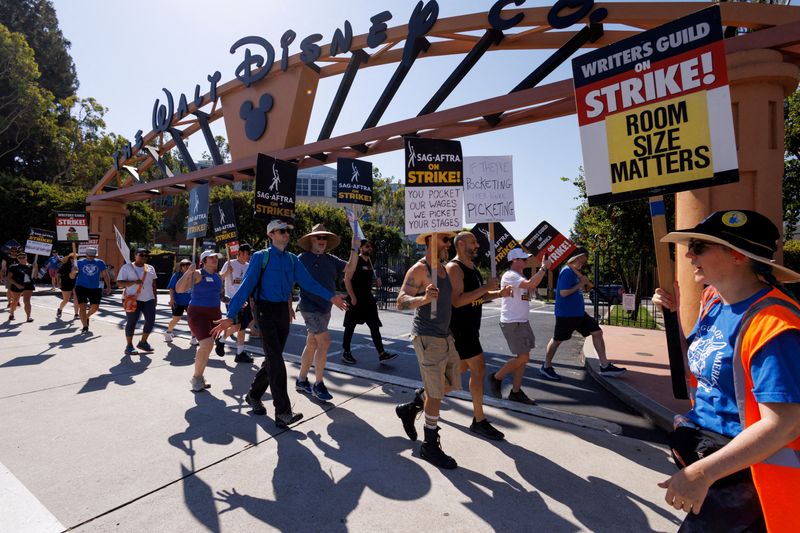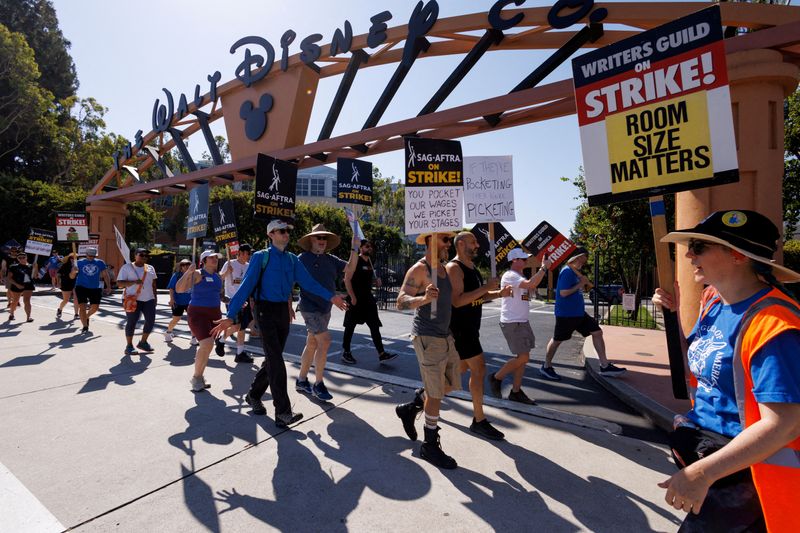 © Reuters. FILE PHOTO: SAG-AFTRA actors and Writers Guild of America (WGA) writers walk the picket line outside Disney Studios in Burbank, California, U.S., July 25, 2023. REUTERS/Mike Blake/File Photo
By Yuvraj Malik and Zaheer Kachwala
(Reuters) -Big media companies gave up early share gains from hopes of an end to screenwriters' strike on Monday as focus shifted to an ongoing strike by actors, whose resolution is crucial for a full return to work in Hollywood.
Warner Bros Discovery (NASDAQ:), Paramount Global, Walt Disney (NYSE:) were down 0.3% to 2.1% in choppy trading, after rising as much as 4% before the markets opened.
The union representing roughly 11,500 film and television writers entered a tentative three-year deal on Sunday, which now needs an approval from the guild leadership and union members.
But a strike by a larger guild of actors is still on.
Nearly 160,000 film and television actors, stunt performers and other media professionals walked off the job in July, demanding higher wages and protection against artificial intelligence use.
Investors of the media companies have been concerned about the financial fallout of the strikes that had initially boosted cash flows due to lower spending, but has now started eating into earnings.
The deal with writers "will also mean the studios and streaming services will now focus fully on actors' demands," said Susannah Streeter, head of money and markets at Hargreaves Lansdown.
"Already it's likely that the big studios will face a significant hit in 12-18 months time, with so little in the pipeline and bosses are now desperate for new content to attract eyes to big and small screens."
WBD, whose CEO David Zaslav played a key role in contract negotiations with the writers, had earlier warned that the company's full-year adjusted core profit would take a hit of up to $500 million due to projects delays from disruptions.
Its shares have dropped nearly 14% since the writers' strike started on May 2, while Paramount, Disney and Netflix (NASDAQ:) have lost between 20% and 45%. In comparison, the benchmark has risen nearly 5%.
Netflix, however, was up about 1% as analysts have said the streaming giant was better placed than its media rivals as it has production operations and staff in regions outside of the U.S., which are not impacted by the strike.
Media reports said the agreement with writers includes increased royalties, mandatory staffing for television writing rooms and protections over the use of AI.
"The total spend on shows will be little changed, as studios will either cut spending from other elements of show production, or reduce the number of new shows they produce (a process already underway) to pay for increased costs from writers," said Rosenblatt analyst Barton Crockett.
Citigroup Resumes Analysis of Golar Lng With Neutral Recommendation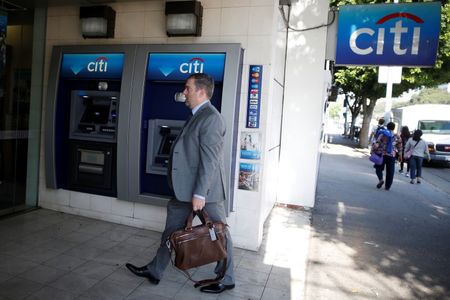 © Reuters.
On Monday, Citigroup (NYSE:) resumed its analysis of marine LNG infrastructure firm Golar Lng (NASDAQ:GLNG), recommending a neutral stance. The financial institution's one-year price forecast for the company stands at $33.15, suggesting a potential upside of 43.32% from its recent closing price of $23.13. The company's annual revenue is projected to reach $372 million, marking an increase of 33.46%. The non-GAAP EPS is projected at 1.85.
Golar Lng, known for developing the world's first Floating LNG liquefaction terminal (FLNG (OL:)) and Floating Storage and Regasification Unit (FSRU), has also completed Front End Engineering and Design (FEED) studies for a larger newbuild FLNG solution. The firm is exploring opportunities for the floating production of blue and green ammonia, as well as carbon reduction in LNG production.
On August 10, 2023, Golar Lng declared a regular quarterly dividend of $0.25 per share ($1.00 annualized), paid out to shareholders on record as of August 21, 2023, on August 29, 2023. At the current share price of $23.13/share, this translates to a dividend yield of 4.32%. Over the past five years, the average dividend yield has been 2.81%, with the highest being 4.69% and the lowest at 1.04%. The current dividend yield is significantly higher than the historical average by 1.48 standard deviations.
Institutional ownership currently includes 394 funds or institutions holding positions in Golar Lng – a decrease of 22 owners or 5.29% in the last quarter. Total shares owned by institutions have decreased by 2.59% to 81,022K shares over the last three months. Among the shareholders, Orbis Allan Gray holds 7,604K shares (7.17% ownership), Rubric Capital Management owns 6,457K shares (6.09% ownership), and Millennium Management holds 4,295K shares (4.05% ownership).
The put/call ratio for GLNG stands at 0.48, indicating a bullish market sentiment.
This article was generated with the support of AI and reviewed by an editor. For more information see our T&C.
Ethereum founder's token transfers fuel market speculation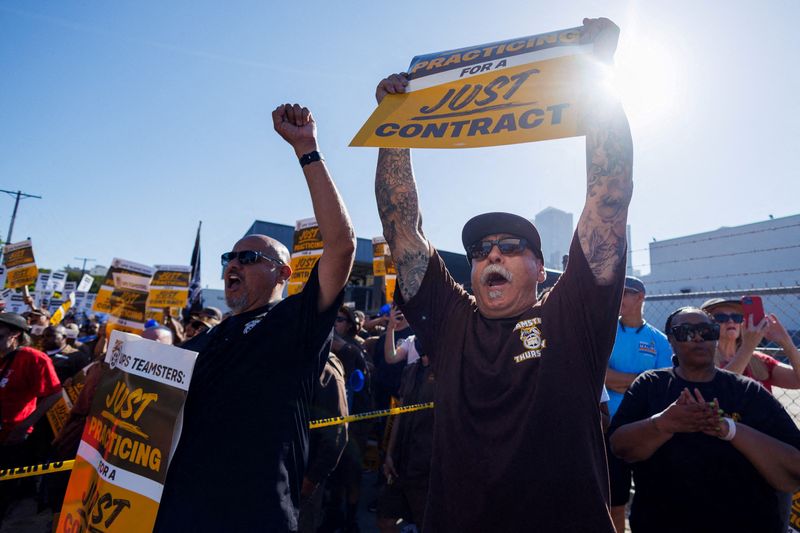 © Reuters
Vitalik Buterin, the founder of , has been actively transferring Ether tokens, sparking speculation among investors and putting pressure on the leading altcoin, Ethereum. Data from Etherscan shows that Buterin's Vb 2 wallet moved 278 Ether to the ox3F62 address over three transactions.
The transactions were divided into portions of 200, 68, and 10 Ether tokens. The reasons behind these transfers remain unclear, with some market observers suggesting that Buterin might be preparing to sell his tokens. If true, this could potentially lead to significant price drops for Ethereum.
Earlier this week, Buterin had transferred 300 Ether, equivalent to roughly $493K, to the Kraken exchange. In addition, Lookonchain reported that an investor with substantial holdings, often referred to as a 'whale', deposited approximately 30,000 Ether (around $50 million) into KuCoin, Binance, and OKX.
These movements by Buterin and other large Ethereum holders typically result in a decrease in ETH prices. This trend has been particularly noticeable recently and has affected Ethereum's expected recovery. On Wednesday, following Binance's failed attempt to dismiss an SEC lawsuit, the cryptocurrency fell below $1.6K due to a broader market decline.
As of today, Ethereum was trading at $1,595.99, representing a minor gain of 0.48% over the past day. For Ethereum's price to stabilize and avoid further dips, it needs to surpass a resistance level of $1,666. Over the past two months, this threshold has repeatedly proven to be a significant barrier for Ethereum's price growth.
The cryptocurrency saw a 3.8% drop over the last 72 hours, suggesting that if this downward trend continues, Ethereum could potentially dip another 4% towards the $1,460 support level. In light of these developments, Ethereum followers should monitor 's performance and broader financial market trends to predict Ethereum's future price movements as Ethereum's price is often influenced by these factors.
This article was generated with the support of AI and reviewed by an editor. For more information see our T&C.