Enbridge dives as market frets over financial hit from $14 billion Dominion deal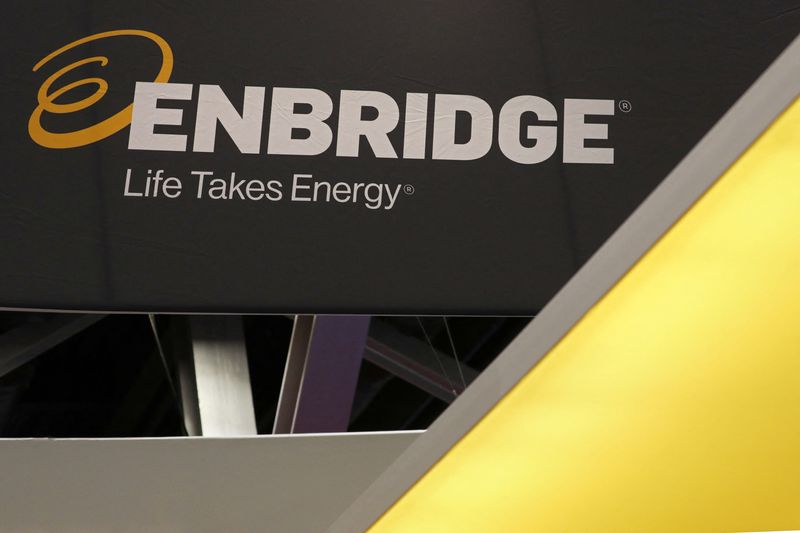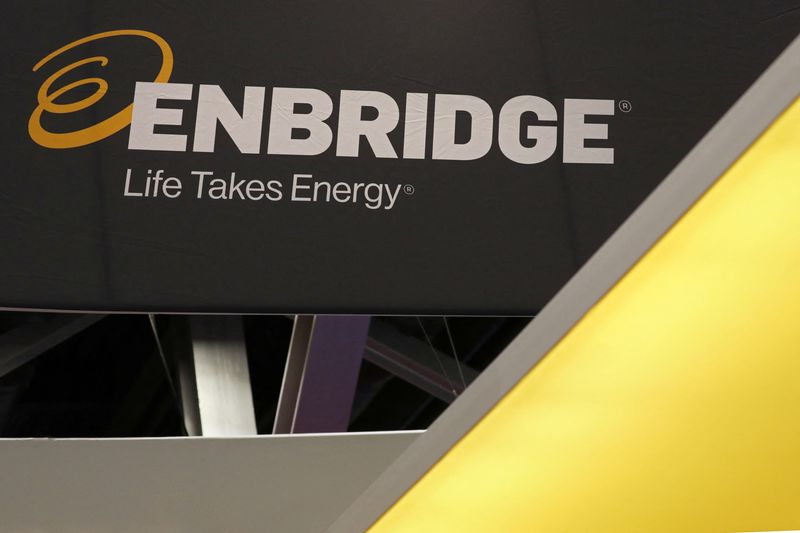 © Reuters. The logo of Calgary-based Enbridge, one of North America's largest energy infrastructure companies, is displayed during the LNG 2023 energy trade show in Vancouver, British Columbia, Canada, July 12, 2023. REUTERS/Chris Helgren/File Photo
By Mrinalika Roy
(Reuters) – Enbridge (NYSE:) Inc shares tumbled nearly 7% to their lowest in more than four years on Wednesday, as some analysts questioned the financial impact of the Canadian pipeline operator's surprise $14 billion bid to buy three utilities from Dominion Energy (NYSE:) doubling its gas distribution business.
The move to acquire East Ohio Gas, Questar Gas, and Public Service Co of North Carolina will make Enbridge the largest gas utility by volume in North America, with the unit accounting for a bit less than a fourth of the company's overall business mix.
The deal is seen as a bet on the future of in a regulated market even as energy companies and consumers are transitioning to a greener future by phasing out fossil fuels.
But some analysts were surprised at the timing, the scale and impact such a deal would have on the company's already leveraged balance sheet. Late on Tuesday, Moody's (NYSE:) cut Enbridge's outlook to negative.
"I do think the market was caught a bit off guard, as this wasn't on my bingo card," Morningstar analyst Stephen Ellis said. "Management had a realistic approach towards allocating capital, so a smaller transaction (perhaps a deeper investment in Canadian LNG?) would have been more expected," Ellis said.
Enbridge struck the deal just over a month after CEO Greg Ebel told analysts the company saw 'tuck-in' acquisition opportunities 'across the board'.
In a note, Ellis described the acquisition a "defensive move" and said despite the size of the deal Enbridge left its 5% annual EBITDA growth expectation over the medium term unchanged, which suggests that the earnings contribution is "replacing weaker results on the liquids side of the business."
By late morning, Enbridge shares were down 5.5% at C$45.50, while the benchmark Canadian share index was off 0.5%. Rival TC Energy (NYSE:) was down 2.7%. Enbridge is selling new shares at a discount of 7.2% to its Tuesday close to part-fund the transaction.
"While Enbridge paid a reasonable price, high leverage and funding gap could act as overhang," Wells Fargo analysts said in a note.
The transaction deploys some of company's near term balance sheet capacity and hence the company will be even more selective on how it deploys remaining investment capacity, the note added.
In July, rival TC Energy said it would focus on transporting natural gas, as it announced the split of the business into two listed companies, saying they would be more valuable apart.
Crypto Markets Rally: Bitcoin and Ethereum Lead the Charge, Coinbase and Marathon Digital Shares Rise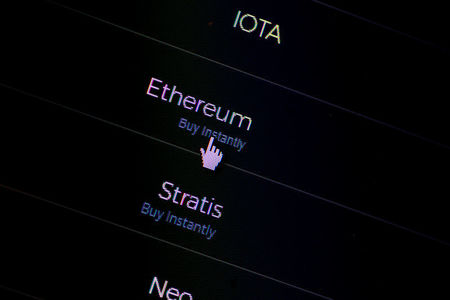 © Reuters
The major players in the cryptocurrency market, and , saw significant gains on Monday, with Bitcoin surging to $28,569.40 and Ethereum rallying to $1,727.98. Other cryptocurrencies including , which reached $24.01, and , which rallied to 27 cents, also experienced notable increases.
In the wake of this crypto rally, stocks related to the sector also saw substantial movements. Coinbase (NASDAQ:) Global Inc.'s shares rose to $78.46 and Marathon Digital Holdings Inc.'s shares jumped to $9.62 on Monday. Meanwhile, the Bitwise Crypto Industry Innovators ETF increased to $7.03 and the Grayscale Bitcoin Trust rallied to $20.12.
However, not all companies in the crypto-related sector experienced gains. Overstock.com (NASDAQ:)'s shares dropped to $15.50 and Tesla (NASDAQ:) Inc., which has previously invested heavily in Bitcoin, saw its shares decrease to $247.66.
In addition to the market leaders Bitcoin and Ethereum, other cryptocurrencies like , , , , and Polygon also moved notably on Monday. NVIDIA Corp (NASDAQ:)., a leading graphics processing unit (GPU) manufacturer that is widely used in cryptocurrency mining operations, also benefited from this uptick in the crypto market with its shares climbing to $447.66.
Overall, Monday marked a significant day for cryptocurrency markets as well as for companies involved in the sector. The reasons behind these movements are varied and complex, reflecting the multifaceted nature of this rapidly evolving industry.
This article was generated with the support of AI and reviewed by an editor. For more information see our T&C.
Fed's Powell: Economy still working through the impact of the pandemic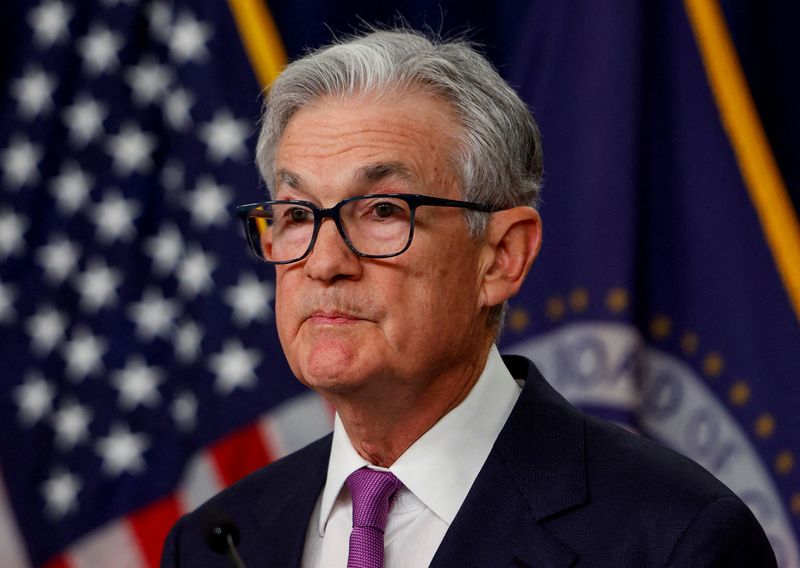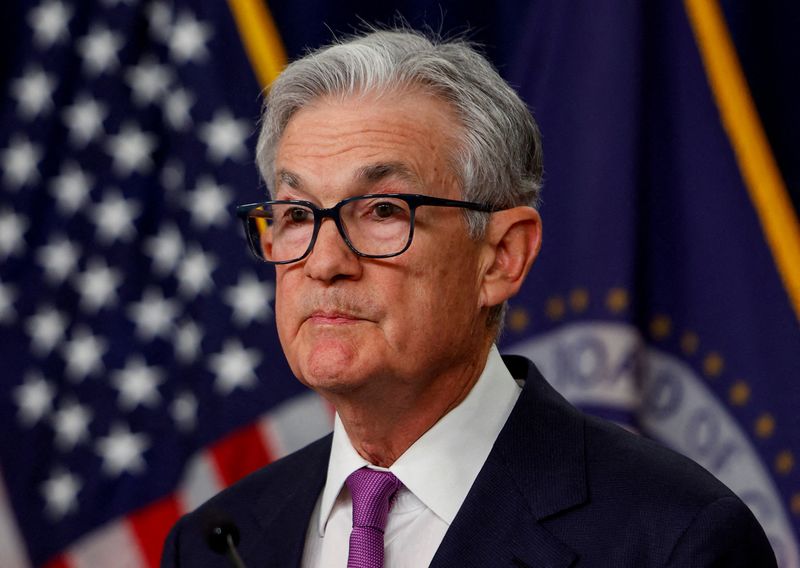 © Reuters. FILE PHOTO: U.S. Federal Reserve Chair Jerome Powell holds a press conference in Washington, U.S, September 20, 2023. REUTERS/Evelyn Hockstein/File Photo
By Howard Schneider
YORK, Pa. (Reuters) – The U.S. economy is still dealing with the aftermath of the COVID-19 pandemic, Federal Reserve chair Jerome Powell said during a meeting with community and business leaders in York, Pennsylvania.
"We are still coming through the other side of the pandemic," Powell said, noting labor shortages in healthcare, ongoing difficulties with access to child care, and other issues heightened by the health crisis. He did not comment on current monetary policy or the economic outlook in brief opening remarks.
Indian Equity Markets End September on a High Note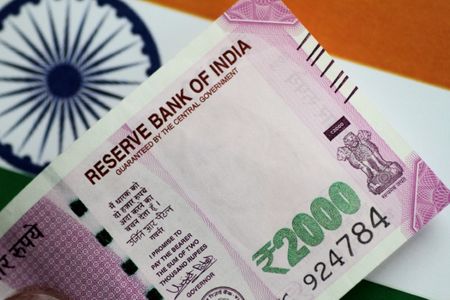 © Reuters.
Indian equity markets concluded the month of September on a positive note, with significant gains recorded on Friday. The rose by 320.09 points to close at 65,828.41, while the NSE's Nifty50 advanced by 114.75 points to settle at 19,638.30. The BSE midcap index also registered gains, reflecting an overall uptick in the market.
These gains were primarily driven by positive global cues and investments in the metal, oil & gas, and power sectors. However, the IT sector showed signs of underperformance as indicated by the Nifty IT index.
Market analysts Amol Athawale and Vinod Nair offered insights into market trends and challenges. They noted encouraging GDP data from Britain that further reinforced market optimism.
In broader markets, Authum Investment & Infrastructure hit an upper circuit of 20 percent. Yet, not all stocks performed well; Shreyas Shipping and Finolex Cables underperformed on Friday.
Among other stocks, Apollo Hospital Enterprises and Sun Pharmaceuticals saw gains while Tata Consultancy Services (NS:) lagged behind. The volatility index, India , also saw a considerable drop, indicating a decrease in investor fear or uncertainty about future market movements.
This positive performance of the Indian equity markets comes even as they face challenges including the underperformance of certain sectors such as IT. Investors will likely continue to monitor these developments closely as they navigate their investment strategies for October.
This article was generated with the support of AI and reviewed by an editor. For more information see our T&C.