Iran's security forces out in force a year after Mahsa Amini's death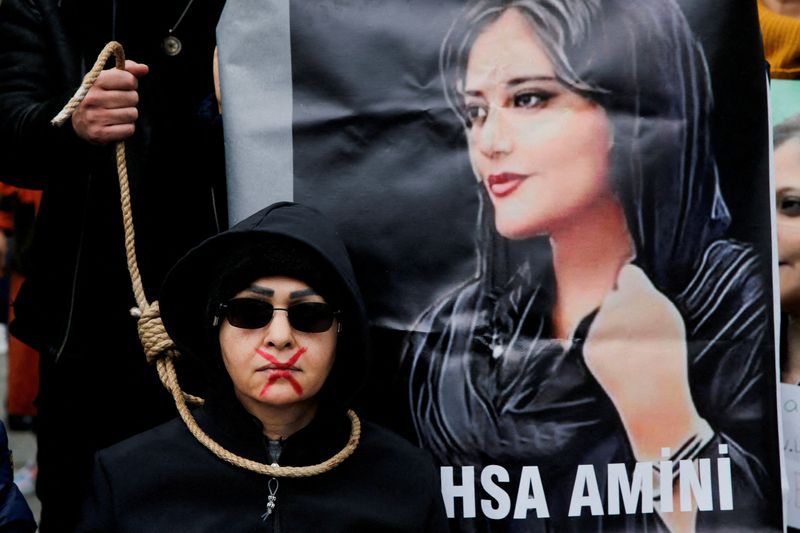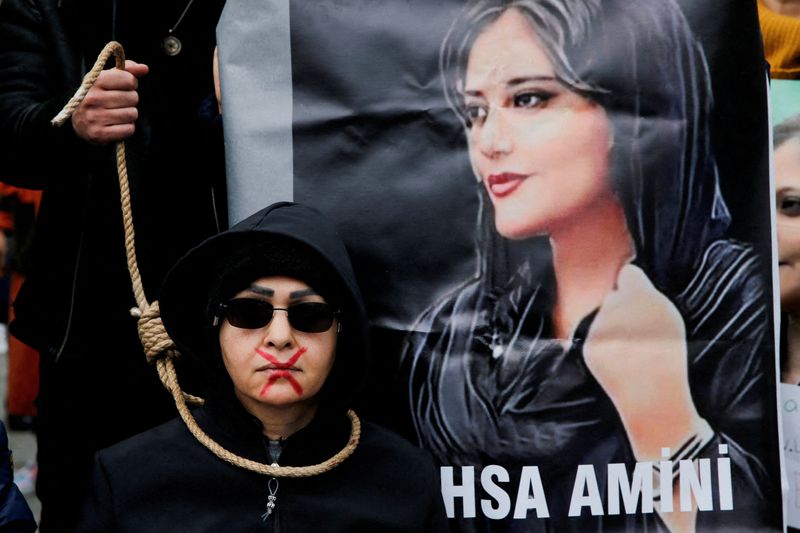 © Reuters. FILE PHOTO: A woman takes part in a protest against the Islamic regime of Iran following the death of Mahsa Amini, in Istanbul, Turkey December 10, 2022. REUTERS/Dilara Senkaya
(Reuters) – Iranian security forces briefly detained the father of Mahsa Amini on Saturday and spread across mainly Kurdish areas of the country, a year after her death in police custody set off some of the biggest protests since the fall of the Shah in 1979.
State-affiliated media reported arrests of several "counter revolutionaries" and "terrorists" in different Iranian cities and said security forces had foiled plots to create disturbances around illegal demonstrations.
The death in custody of Mahsa Amini, a 22-year-old Kurdish woman arrested by the morality police last year for allegedly flouting mandatory dress codes, triggered months of some of the biggest protests against the Islamic Republic's Shi'ite clerical rule ever seen and drew international condemnation.
On Saturday, the first anniversary of her death, a massive security force presence was deployed in Iran's mostly Kurdish areas on Saturday in anticipation of unrest, according to human rights groups.
But footage on social media showed apparent protests in areas including Gohardasht, a neighbourhood of the city of Karaj west of the capital Tehran, and in the northeastern city of Mashhad.
One video posted on social media showed a group of demonstrators in Gohardasht chanting "We are a great nation, and will take back Iran" while drivers honked their horns and shouted encouragement. Reuters could not immediately authenticate the video.
Mahsa's father, Amjad Amini, was warned against marking the anniversary of his daughter's death before being released, the Kurdistan Human Rights Network said. Iran's official IRNA news agency denied that Amjad Amini was arrested, but it did not say if he was briefly detained or warned.
Earlier, social media and reports by rights groups spoke of security forces taking up positions around Amini's home in Saqez, in western Iran.
In a statement on Friday, U.S. President Joe Biden said: "Mahsa's story did not end with her brutal death. She inspired a historic movement — Woman, Life, Freedom — that has impacted Iran and influenced people across the globe."
Britain on Friday imposed sanctions on four Iranian officials and the United States said it was sanctioning more than two dozen individuals and entities connected to Iran's "violent suppression" of protests.
According to social media posts, Amini's parents had said in a statement earlier this week that, despite government warnings, they would hold a "traditional and religious anniversary ceremony" at their 22-year-old daughter's grave in Saqez.
Widespread strikes were reported in multiple cities in Iran's Kurdistan region.
However, IRNA said Amini's hometown of Saqez was "completely quiet" and that calls for strike in Kurdish areas had failed due to "people's vigilance and the presence of security and military forces".
It quoted an official in the Kurdistan province as saying: "A number of agents affiliated with counter-revolutionary groups who had planned to create chaos and prepare media fodder were arrested in the early hours of this morning."
In the protests that followed Amini's death more than 500 people, including 71 minors, were killed, hundreds injured and thousands arrested, rights groups said. Iran carried out seven executions linked to the unrest.
In a report last month, Amnesty International said Iranian authorities "have been subjecting victims' families to arbitrary arrest and detention, imposing cruel restrictions on peaceful gatherings at grave sites, and destroying victims' gravestones".
Many journalists, lawyers, activists, students, academics, artists, public figures and members of ethnic minorities accused of links with the protest wave, as well as relatives of protesters killed in the unrest, have been arrested, summoned, threatened or fired from jobs in the past few weeks, according to Iranian and Western human rights groups.
Iran's Etemad daily reported in August that the lawyer for Amini's family also faced charges of "propaganda against the system". If convicted, Saleh Nikbakht faces a jail sentence of between one and three years.
Crypto Markets Rally: Bitcoin and Ethereum Lead the Charge, Coinbase and Marathon Digital Shares Rise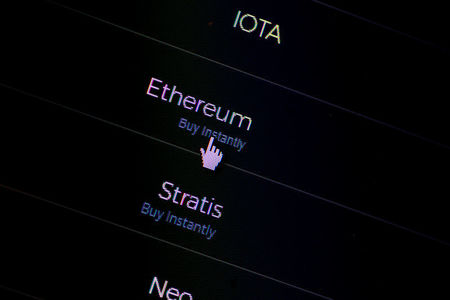 © Reuters
The major players in the cryptocurrency market, and , saw significant gains on Monday, with Bitcoin surging to $28,569.40 and Ethereum rallying to $1,727.98. Other cryptocurrencies including , which reached $24.01, and , which rallied to 27 cents, also experienced notable increases.
In the wake of this crypto rally, stocks related to the sector also saw substantial movements. Coinbase (NASDAQ:) Global Inc.'s shares rose to $78.46 and Marathon Digital Holdings Inc.'s shares jumped to $9.62 on Monday. Meanwhile, the Bitwise Crypto Industry Innovators ETF increased to $7.03 and the Grayscale Bitcoin Trust rallied to $20.12.
However, not all companies in the crypto-related sector experienced gains. Overstock.com (NASDAQ:)'s shares dropped to $15.50 and Tesla (NASDAQ:) Inc., which has previously invested heavily in Bitcoin, saw its shares decrease to $247.66.
In addition to the market leaders Bitcoin and Ethereum, other cryptocurrencies like , , , , and Polygon also moved notably on Monday. NVIDIA Corp (NASDAQ:)., a leading graphics processing unit (GPU) manufacturer that is widely used in cryptocurrency mining operations, also benefited from this uptick in the crypto market with its shares climbing to $447.66.
Overall, Monday marked a significant day for cryptocurrency markets as well as for companies involved in the sector. The reasons behind these movements are varied and complex, reflecting the multifaceted nature of this rapidly evolving industry.
This article was generated with the support of AI and reviewed by an editor. For more information see our T&C.
Fed's Powell: Economy still working through the impact of the pandemic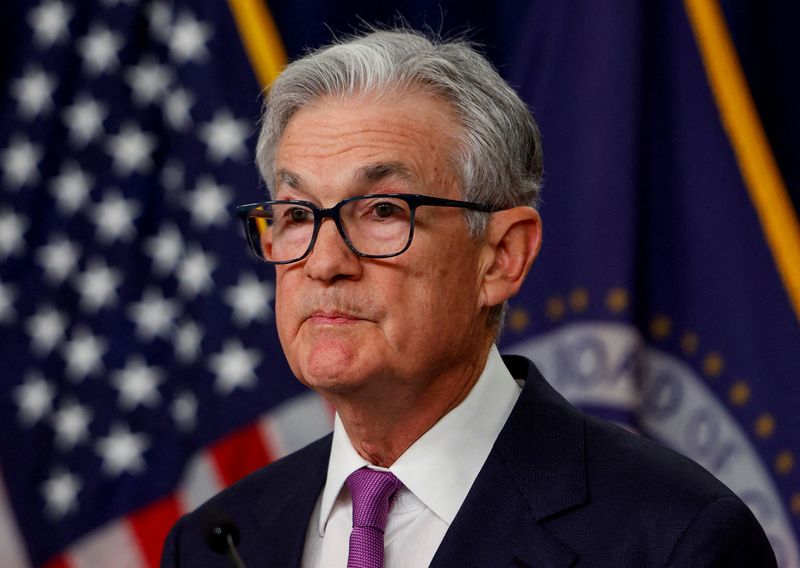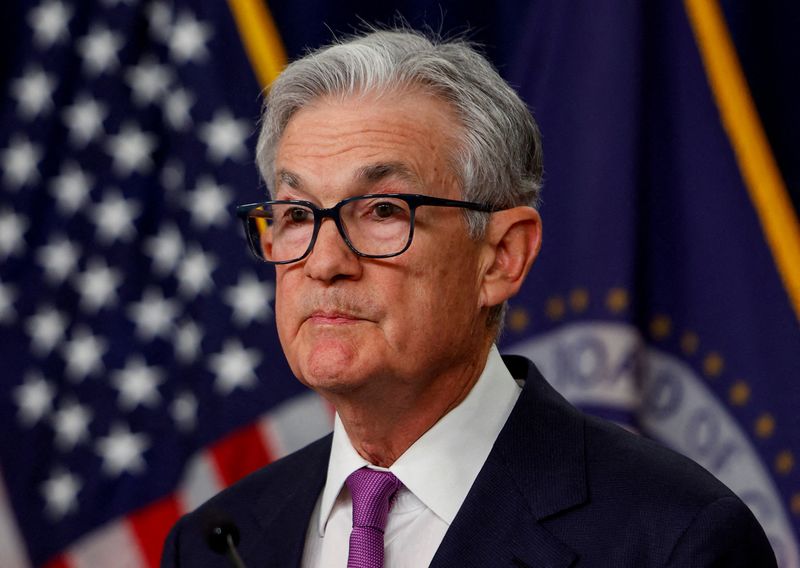 © Reuters. FILE PHOTO: U.S. Federal Reserve Chair Jerome Powell holds a press conference in Washington, U.S, September 20, 2023. REUTERS/Evelyn Hockstein/File Photo
By Howard Schneider
YORK, Pa. (Reuters) – The U.S. economy is still dealing with the aftermath of the COVID-19 pandemic, Federal Reserve chair Jerome Powell said during a meeting with community and business leaders in York, Pennsylvania.
"We are still coming through the other side of the pandemic," Powell said, noting labor shortages in healthcare, ongoing difficulties with access to child care, and other issues heightened by the health crisis. He did not comment on current monetary policy or the economic outlook in brief opening remarks.
Indian Equity Markets End September on a High Note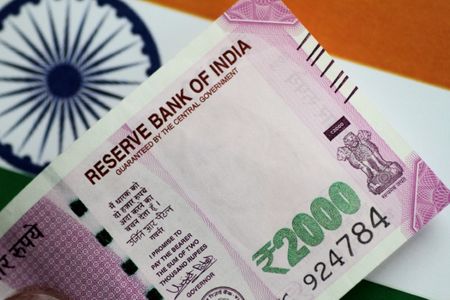 © Reuters.
Indian equity markets concluded the month of September on a positive note, with significant gains recorded on Friday. The rose by 320.09 points to close at 65,828.41, while the NSE's Nifty50 advanced by 114.75 points to settle at 19,638.30. The BSE midcap index also registered gains, reflecting an overall uptick in the market.
These gains were primarily driven by positive global cues and investments in the metal, oil & gas, and power sectors. However, the IT sector showed signs of underperformance as indicated by the Nifty IT index.
Market analysts Amol Athawale and Vinod Nair offered insights into market trends and challenges. They noted encouraging GDP data from Britain that further reinforced market optimism.
In broader markets, Authum Investment & Infrastructure hit an upper circuit of 20 percent. Yet, not all stocks performed well; Shreyas Shipping and Finolex Cables underperformed on Friday.
Among other stocks, Apollo Hospital Enterprises and Sun Pharmaceuticals saw gains while Tata Consultancy Services (NS:) lagged behind. The volatility index, India , also saw a considerable drop, indicating a decrease in investor fear or uncertainty about future market movements.
This positive performance of the Indian equity markets comes even as they face challenges including the underperformance of certain sectors such as IT. Investors will likely continue to monitor these developments closely as they navigate their investment strategies for October.
This article was generated with the support of AI and reviewed by an editor. For more information see our T&C.