SoftBank's Arm eyes $62 billion valuation in likely stellar Nasdaq debut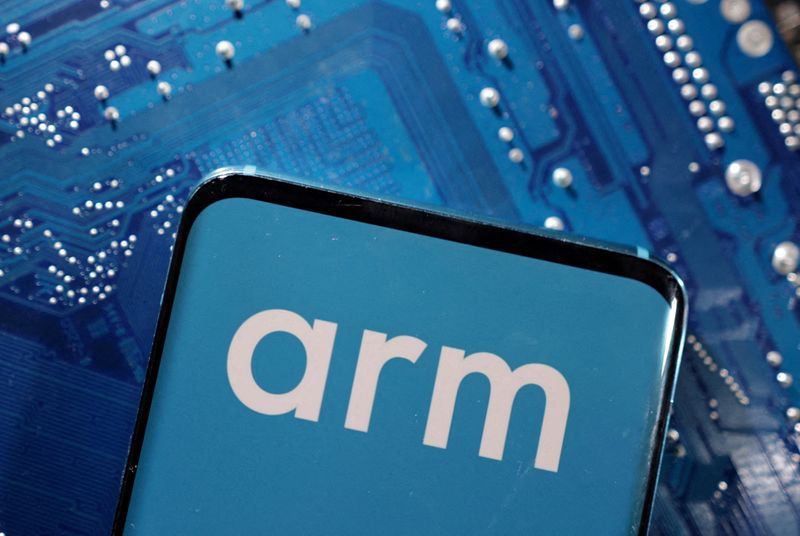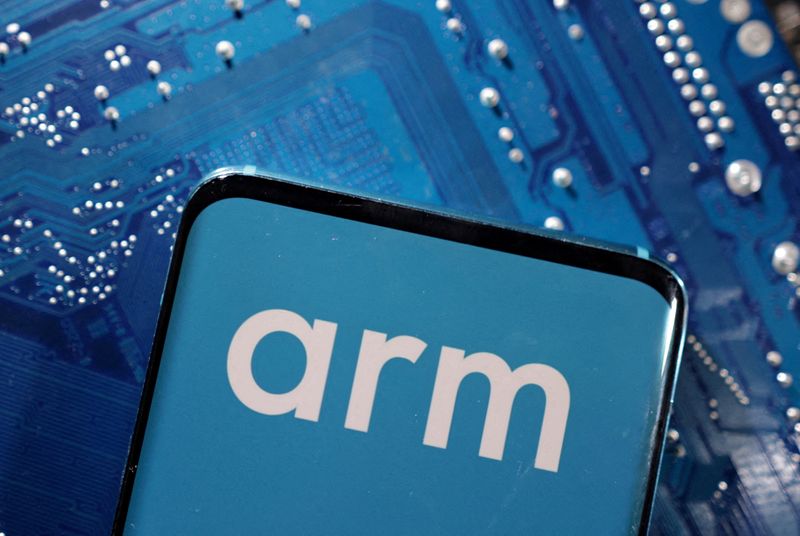 © Reuters. FILE PHOTO: A smartphone with a displayed Arm Ltd logo is placed on a computer motherboard in this illustration taken March 6, 2023. REUTERS/Dado Ruvic/Illustration/File Photo
By Manya Saini, Niket Nishant and Echo Wang
(Reuters) -SoftBank's Arm Holdings was likely to be valued at $62 billion in a potentially strong Nasdaq debut on Thursday, as the shares of the chip designer were indicated to blow past their offer price.
Its stock was set to open at $58 per American Depositary Share compared with the initial public offering (IPO) price of $51, in a sign of confidence for other companies planning to list.
Arm had secured a valuation of $54.5 billion on Wednesday after pricing its IPO at the top end of the marketed range. It fetched $4.87 billion for SoftBank (TYO:), which still holds a 90.6% stake.
"It became pretty clear that continuing to be an independent company was the best path forward," CFO Jason Child said in an interview, noting that Arm has a significant market share of the CPU (Central Processing Unit) industry.
The company was taken private seven years ago for $32 billion by SoftBank, which has been looking to cash out some of its stake since at least 2020, when it signed a $40 billion deal with chipmaker Nvidia (NASDAQ:) for Arm.
That plan, however, was abandoned by the Japanese investment giant less than two years later due to regulatory roadblocks.
Since then it has pivoted towards an IPO, though that also came with its own hurdles, including run-ins with the British government that was campaigning for a London listing for the chip designer.
"The Arm IPO is the most hyped listing we've had in the markets for a while," said Kyle Rodda, senior market analyst at brokerage firm Capital.com.
"It will also be a major test of risk appetite and whether these high-growth, speculative companies still attract interest in a new world of higher interest rates."
Arm's return as a public company represents a climb-down from the $64 billion it was valued at last month when SoftBank bought the 25% stake it did not directly own from its Vision Fund unit.
CFO Child said that had not dampened SoftBank CEO Masayoshi Son's enthusiasm for Arm. "He is quite bullish on the company," Child said.
"The price today or even in the near term isn't really his focus, the focus is where's the price goanna be in the in the future."
Arm disclosed last month its annual revenue had dropped 1% but was hoping to increase it at a time when its two largest markets – smartphones and personal computers – are in a slump.
Child said Arm can still increase its sales as it was reaping a 5% royalty rate on chips made with the newest technology versus 3% with the previous version. Premium phones are more likely to use Arm's most advanced technology.
Arm's successful listing is crucial for a revival in the IPO market that also awaits the high-profile listings of marquee startups including grocery delivery firm Instacart and marketing firm Klaviyo.
Investors have over the last year begun to pay more attention to profitability, shunning cash-burning startups that had in 2021 fetched lofty valuations on the back of a record year for deals.
The 10 biggest U.S. IPOs of the past four years are down an average of 47% from the closing price on their first day of trading, according to the analysis of LSEG data as of Friday.
Investors who bought at the top of an intra-day price surge that often occurs in high-profile listings would have fared even worse, with an average loss of 53%.
CHINA EXPOSURE
Arm has positioned itself as indispensable in the tech hardware ecosystem as its chip designs power nearly every smartphone in the world, from Apple (NASDAQ:)'s iPhones to Samsung (KS:)'s Android-based devices.
However, almost a quarter of Arm's revenue comes from an entity it does not control but nonetheless relies on access to China's massive smartphone market.
"Despite some concerns about its exposure to numerous risks in China, it's not stopped a juggernaut of enthusiasm, with the IPO oversubscribed multiple times," said Susannah Streeter, head of money and markets, Hargreaves Lansdown.
NASDAQ SCORES
Arm's debut also gives the Nasdaq, which won the listing, a potential boost to future revenue growth.
Large deals like Arm provide the Nasdaq with short-term publicity and is a long-term bet to boost recurring revenue the exchange collects from annual listing fees, analysts said.
"Anytime it (Nasdaq) gets a new listed company, it's able to drive revenue not just through the listing, but also through the other services that it sells to these listed companies on their exchange," said Andrew Bond, managing director and senior fintech analyst, at Rosenblatt Securities.
Crypto Markets Rally: Bitcoin and Ethereum Lead the Charge, Coinbase and Marathon Digital Shares Rise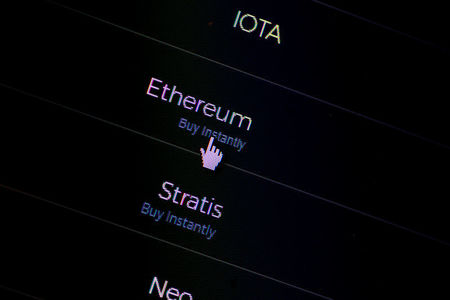 © Reuters
The major players in the cryptocurrency market, and , saw significant gains on Monday, with Bitcoin surging to $28,569.40 and Ethereum rallying to $1,727.98. Other cryptocurrencies including , which reached $24.01, and , which rallied to 27 cents, also experienced notable increases.
In the wake of this crypto rally, stocks related to the sector also saw substantial movements. Coinbase (NASDAQ:) Global Inc.'s shares rose to $78.46 and Marathon Digital Holdings Inc.'s shares jumped to $9.62 on Monday. Meanwhile, the Bitwise Crypto Industry Innovators ETF increased to $7.03 and the Grayscale Bitcoin Trust rallied to $20.12.
However, not all companies in the crypto-related sector experienced gains. Overstock.com (NASDAQ:)'s shares dropped to $15.50 and Tesla (NASDAQ:) Inc., which has previously invested heavily in Bitcoin, saw its shares decrease to $247.66.
In addition to the market leaders Bitcoin and Ethereum, other cryptocurrencies like , , , , and Polygon also moved notably on Monday. NVIDIA Corp (NASDAQ:)., a leading graphics processing unit (GPU) manufacturer that is widely used in cryptocurrency mining operations, also benefited from this uptick in the crypto market with its shares climbing to $447.66.
Overall, Monday marked a significant day for cryptocurrency markets as well as for companies involved in the sector. The reasons behind these movements are varied and complex, reflecting the multifaceted nature of this rapidly evolving industry.
This article was generated with the support of AI and reviewed by an editor. For more information see our T&C.
Fed's Powell: Economy still working through the impact of the pandemic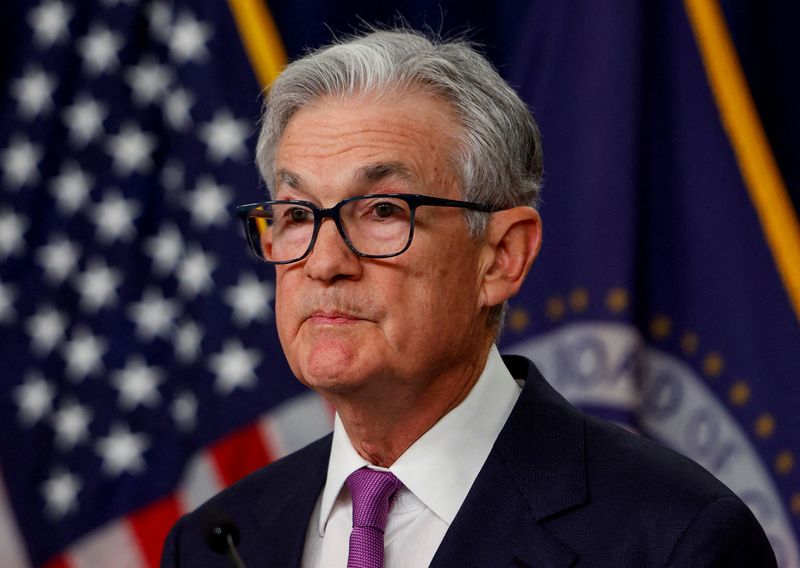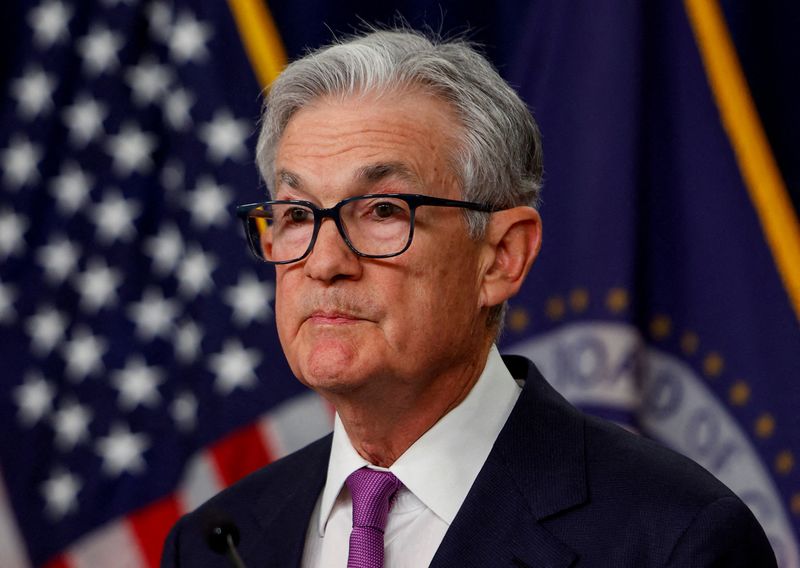 © Reuters. FILE PHOTO: U.S. Federal Reserve Chair Jerome Powell holds a press conference in Washington, U.S, September 20, 2023. REUTERS/Evelyn Hockstein/File Photo
By Howard Schneider
YORK, Pa. (Reuters) – The U.S. economy is still dealing with the aftermath of the COVID-19 pandemic, Federal Reserve chair Jerome Powell said during a meeting with community and business leaders in York, Pennsylvania.
"We are still coming through the other side of the pandemic," Powell said, noting labor shortages in healthcare, ongoing difficulties with access to child care, and other issues heightened by the health crisis. He did not comment on current monetary policy or the economic outlook in brief opening remarks.
Indian Equity Markets End September on a High Note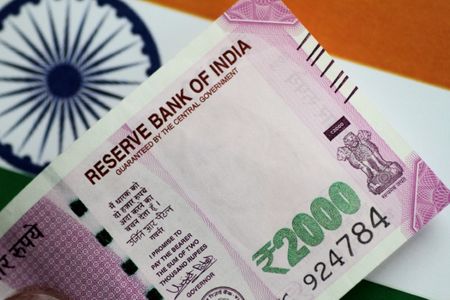 © Reuters.
Indian equity markets concluded the month of September on a positive note, with significant gains recorded on Friday. The rose by 320.09 points to close at 65,828.41, while the NSE's Nifty50 advanced by 114.75 points to settle at 19,638.30. The BSE midcap index also registered gains, reflecting an overall uptick in the market.
These gains were primarily driven by positive global cues and investments in the metal, oil & gas, and power sectors. However, the IT sector showed signs of underperformance as indicated by the Nifty IT index.
Market analysts Amol Athawale and Vinod Nair offered insights into market trends and challenges. They noted encouraging GDP data from Britain that further reinforced market optimism.
In broader markets, Authum Investment & Infrastructure hit an upper circuit of 20 percent. Yet, not all stocks performed well; Shreyas Shipping and Finolex Cables underperformed on Friday.
Among other stocks, Apollo Hospital Enterprises and Sun Pharmaceuticals saw gains while Tata Consultancy Services (NS:) lagged behind. The volatility index, India , also saw a considerable drop, indicating a decrease in investor fear or uncertainty about future market movements.
This positive performance of the Indian equity markets comes even as they face challenges including the underperformance of certain sectors such as IT. Investors will likely continue to monitor these developments closely as they navigate their investment strategies for October.
This article was generated with the support of AI and reviewed by an editor. For more information see our T&C.