This week in tech: Salesforce slowdown; Amazon denies plans to disrupt telecom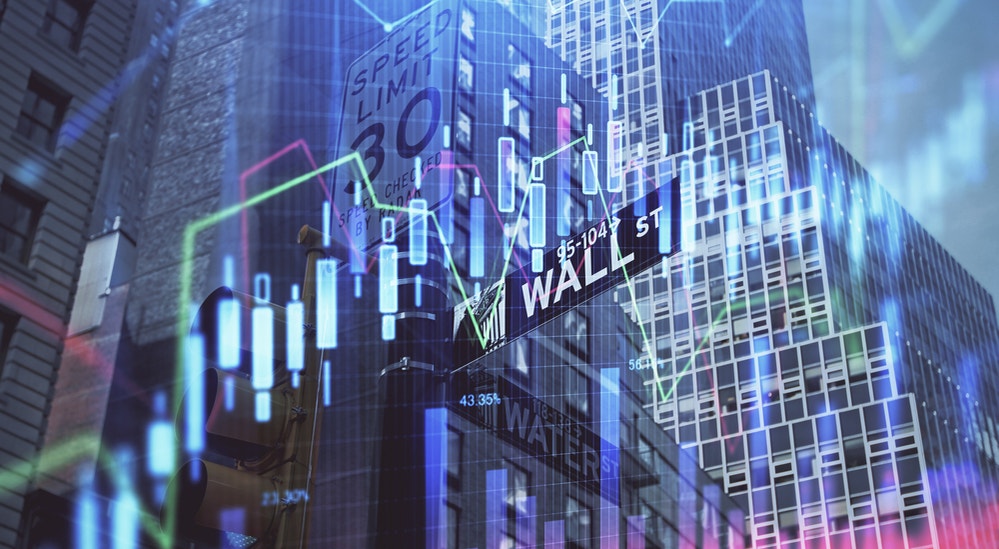 Here is your weekly Pro Recap on the biggest headlines out of a big earnings week for tech: Investors are disappointed by Salesforce and HP; Broadcom and Dell hearten the market; Amazon denies report of its plans to enter the wireless-services game.
InvestingPro subscribers get tech headlines like these in real time. Never miss another market-moving alert.
Soft guidance at Salesforce
Salesforce (NYSE:CRM) shares slumped 4.7% on Thursday even after the company reported better-than-expected earnings.
Analysts say the stock sold off because Salesforce revenue outperformance was below historical trends, and it also missed on under-contract sales expected in the next 12 months (that is, cRPO, or current revenue performance obligation). Moreover, its revenue growth for the quarter came in at its slowest pace since 2010, per Reuters.
For the quarter, adjusted earnings per share totaled $1.69, $0.08 better than the average analyst estimate, and $8.25 billion in sales was ahead of the $8.18B consensus. Next quarter Salesforce expects sales of $8.51B to $8.53B, higher than the $8.49B estimates.
Despite the market's reaction, Goldman Sachs reiterated its Buy rating on CRM shares, saying the results were "strong in light of the challenging macro backdrop."
Bank of America reaffirmed a Top Pick status on CRM, noting it is "impressed" by the 1% guidance beat for cRPO growth "given the tough macro and disruption from restructuring actions."
Shares closed the week at $213.03.
Broadcom's better-than-expected print
On Thursday, Broadcom (NASDAQ:AVGO) said it recorded earnings of $10.32 per share, easily beating the $10.12 consensus, on slightly better-than-expected revenue of $8.73B. It expects $8.85B in sales for the third quarter, comfortably above estimates for $8.72B.
Goldman Sachs said the company delivered "another solid quarter," citing its expectations for that generative artificial intelligence "has the potential to support a 'soft-landing' in the near term and drive above-model growth in the medium- to long-term."
Similarly, BofA argues that Broadcom's AI portfolio is "underappreciated," and assigned the stock a new Street-high price target of $950.
Shares dipped in the premarket on Friday, but ultimately closed the regular session up 2.5%. Shares ended the week at $812 even.
HP sees weakness in PC demand
HP (NYSE:HPQ) shares slid some 6% Wednesday after the PC maker posted its lowest revenue for a quarter since early 2020, noting ongoing weakness in demand for personal computers.
For the fiscal second quarter ended in April, HP reported a 21.7% drop in overall revenue to $12.9B – below expectations for $13.1B – encompassing a 29% slide in PC business sales and a 5% dip in printing revenue.
Adjusted earnings per share of $0.80 beat expectations for $0.76. Third-quarter (ending July) guidance calls for adjusted earnings of $0.81 to $0.91 a share vs. the $0.85 consensus, and it expects $3.30 to $3.50 for the full year, up from a prior analysts' estimate of $3.34.
BofA reiterated its Underperform rating on the company, saying it remains cautious on HPQ shares even though guidance implies a second-half sales recovery: "We expect margins to normalize lower, and estimates to be revised lower over the next couple of qtrs."
Barclays said the guidance may prove to be "aggressive," adding, "We continue to see downside for shares with near term top-line, margin and cash flow pressures, though cost cuts help offset some of the underlying weaknesses."
HP shares staged a partial recovery to end the week, rising 3.8% to $30.55.
Dell throttles estimates amid challenging macro environment
On Thursday Dell Technologies (NYSE:DELL) said adjusted EPS totaled $1.31, smashing the $0.86 average Street estimate, on better-than-expected revenue of $20.9B.
The beat on the bottom line comes even as margins and revenue fell amid a weaker backdrop for PC demand, and Dell guided for Q2 revenue of $20.7B at the midpoint of the range – worse than the Street at $21.1B.
Dell's client solutions group and infrastructure solutions group business saw revenue fall 23% and 18% respectively amid "challenging economic backdrop," the company said.
The stock saw a premarket slump before climbing 4% in Friday's regular session.
Goldman Sachs and Deutsche Bank each kept their buy ratings on the stock, although the former highlighted a weak recovery in Dell's core PC business.
Deutsche said it believes "the risk-reward is attractive" for the stock, noting, "Considering a tough macro environment suggested by other IT hardware peers, we are not too surprised by DELL's cautious comments in the near term, and we view a delayed recovery as reasonable."
Amazon denies report it is setting its sights on telecom space
An Amazon (NASDAQ:AMZN) spokesperson said the company doesn't have plans to add wireless services at this time, Reuters reported, following a Bloomberg story that said Amazon is in talks to offer low-cost or free nationwide mobile phone service to Prime subscribers – news that shook the shares of telecom companies.
"We are always exploring adding even more benefits for Prime members, but don't have plans to add wireless at this time," the spokesperson said, according to Reuters, while AT&T, Verizon and T-Mobile "denied any talks."
Amazon stock had gotten a lift on the initial report, while telecom companies like T-Mobile (NASDAQ:TMUS), AT&T Inc (NYSE:T), and Verizon (NYSE:VZ) took sharp slides.
On the other hand, shares in DISH Network (NASDAQ:DISH) gained as much as 8.3% on the report. The satellite services provider is already working with Amazon and is expected to start selling its wireless services on Amazon in July.
Crypto Markets Rally: Bitcoin and Ethereum Lead the Charge, Coinbase and Marathon Digital Shares Rise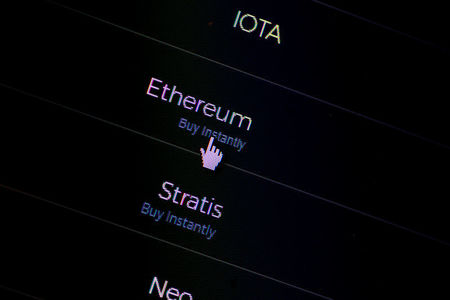 © Reuters
The major players in the cryptocurrency market, and , saw significant gains on Monday, with Bitcoin surging to $28,569.40 and Ethereum rallying to $1,727.98. Other cryptocurrencies including , which reached $24.01, and , which rallied to 27 cents, also experienced notable increases.
In the wake of this crypto rally, stocks related to the sector also saw substantial movements. Coinbase (NASDAQ:) Global Inc.'s shares rose to $78.46 and Marathon Digital Holdings Inc.'s shares jumped to $9.62 on Monday. Meanwhile, the Bitwise Crypto Industry Innovators ETF increased to $7.03 and the Grayscale Bitcoin Trust rallied to $20.12.
However, not all companies in the crypto-related sector experienced gains. Overstock.com (NASDAQ:)'s shares dropped to $15.50 and Tesla (NASDAQ:) Inc., which has previously invested heavily in Bitcoin, saw its shares decrease to $247.66.
In addition to the market leaders Bitcoin and Ethereum, other cryptocurrencies like , , , , and Polygon also moved notably on Monday. NVIDIA Corp (NASDAQ:)., a leading graphics processing unit (GPU) manufacturer that is widely used in cryptocurrency mining operations, also benefited from this uptick in the crypto market with its shares climbing to $447.66.
Overall, Monday marked a significant day for cryptocurrency markets as well as for companies involved in the sector. The reasons behind these movements are varied and complex, reflecting the multifaceted nature of this rapidly evolving industry.
This article was generated with the support of AI and reviewed by an editor. For more information see our T&C.
Fed's Powell: Economy still working through the impact of the pandemic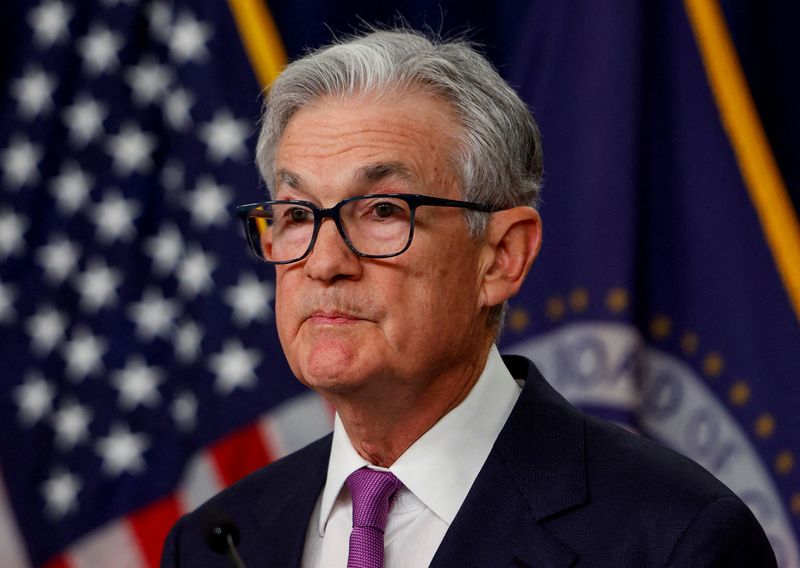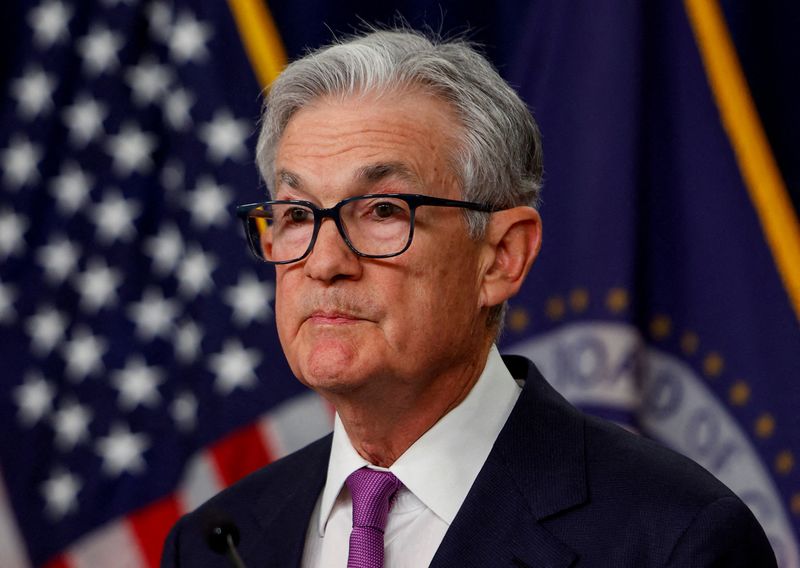 © Reuters. FILE PHOTO: U.S. Federal Reserve Chair Jerome Powell holds a press conference in Washington, U.S, September 20, 2023. REUTERS/Evelyn Hockstein/File Photo
By Howard Schneider
YORK, Pa. (Reuters) – The U.S. economy is still dealing with the aftermath of the COVID-19 pandemic, Federal Reserve chair Jerome Powell said during a meeting with community and business leaders in York, Pennsylvania.
"We are still coming through the other side of the pandemic," Powell said, noting labor shortages in healthcare, ongoing difficulties with access to child care, and other issues heightened by the health crisis. He did not comment on current monetary policy or the economic outlook in brief opening remarks.
Indian Equity Markets End September on a High Note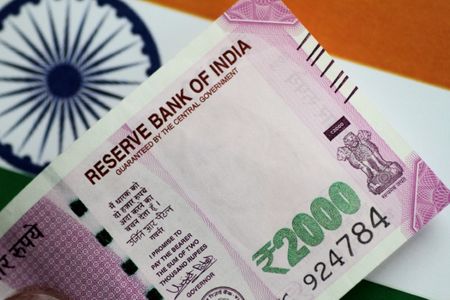 © Reuters.
Indian equity markets concluded the month of September on a positive note, with significant gains recorded on Friday. The rose by 320.09 points to close at 65,828.41, while the NSE's Nifty50 advanced by 114.75 points to settle at 19,638.30. The BSE midcap index also registered gains, reflecting an overall uptick in the market.
These gains were primarily driven by positive global cues and investments in the metal, oil & gas, and power sectors. However, the IT sector showed signs of underperformance as indicated by the Nifty IT index.
Market analysts Amol Athawale and Vinod Nair offered insights into market trends and challenges. They noted encouraging GDP data from Britain that further reinforced market optimism.
In broader markets, Authum Investment & Infrastructure hit an upper circuit of 20 percent. Yet, not all stocks performed well; Shreyas Shipping and Finolex Cables underperformed on Friday.
Among other stocks, Apollo Hospital Enterprises and Sun Pharmaceuticals saw gains while Tata Consultancy Services (NS:) lagged behind. The volatility index, India , also saw a considerable drop, indicating a decrease in investor fear or uncertainty about future market movements.
This positive performance of the Indian equity markets comes even as they face challenges including the underperformance of certain sectors such as IT. Investors will likely continue to monitor these developments closely as they navigate their investment strategies for October.
This article was generated with the support of AI and reviewed by an editor. For more information see our T&C.